Artists
Julia Margaret Cameron
Biography and Legacy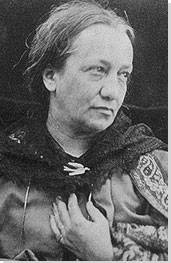 Born: June 11th, 1815 - Calcutta, British India
Died: January 26th, 1879 - Kalutara, British Ceylon

"Growth is a spiral process, doubling back on itself, reassessing and regrouping."
Biography of Julia Margaret Cameron
Childhood
Julia Margaret Cameron was born in 1815 in Calcutta, India. She was the second of seven sisters, born into a wealthy, highly cultured, and well-educated family. Her father James Pattle was a well-respected official working for the East India Company. Her mother, Adeline Pattle was the daughter of French Royalists. As such, Cameron and her sisters spent their youth between India, Versailles, and England. All of the Pattle sisters were known for being vivacious and witty aesthetes, often noticed and commented upon for their unusual beauty and candor.
Education and Early Training
Cameron was educated mostly in France from 1818 to 1834. Her education was well rounded and classical, but not focused on fine art. In 1836 she was recovering from an illness in the Cape of Good Hope. It was there that she encountered two key influences in her personal and artistic development; Sir John Herschel the renowned astronomer and photo chemist, and Charles Hay Cameron, her future husband and a determined liberal reformer whose essay, On the Sublime and Beautiful (1835) had a great impact on her basic aesthetic theories.
Mature Period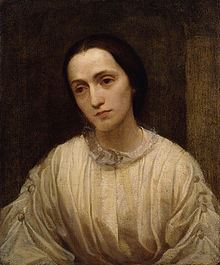 Portrait of Cameron by G.F.Watts (1852)
In 1838 Julia Pattle married Charles Cameron in Calcutta, and the couple went on to have six children together (five biological and one adopted). The family conducted vibrant social gatherings with artists and intellectuals and they were keen philanthropists. At this time, Cameron was still not a photographer - she was, however corresponding with Herschel regularly about all the newest advancements in photographic practice. In 1841, her dear and important friend even sent her some "Talbotypes", early examples of photographs by Henry Fox Talbot.
In 1848, the family moved to England, first to Tunbridge Wells in Kent, then to London two years later where Cameron became involved with the Little Holland House group. This was a Salon run by Cameron's sister, Sarah Prinsep, and the setting that introduced Cameron to the aesthetic hub of London, and especially to her life long friend, the painter George Frederic Watts. The second centre of artistic inspiration for Cameron became the Isle of Wight, where the family moved to in 1860 having purchased a home neighbouring that of poet's Alfred Lord Tennyson, who too became Cameron's great friend and artistic colleague.
Dimbola Lodge, the family home on The Isle of Wight was also where Cameron was given her first sliding box camera as a Christmas present from her daughter, Julia, in 1863. Cameron eagerly transformed her chicken coop into a photography studio, and an old coal shed into her darkroom, quickly setting out to fulfill the practices that Herschel had introduced to her nearly twenty years earlier. Her experiments with portraiture, biblical scenes, Arthurian tableaus, and classical painterly subjects were largely carried out on the Isle of Wight with her friends, family, and passers by acting as her models - or as Tennyson humorously called them, due to her determined and unflinching vision, "her victims".
Late Period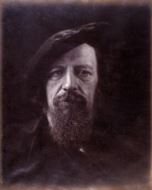 Alfred Lord Tennyson, Photographed by Cameron in 1865
From her "first success" capturing the young Annie in 1864, Cameron worked quickly and diligently preparing photographs with new equipment. She said herself after making the portrait of Annie, "at last came endless success! May I not call them so", revealing her own self-confidence in a long awaited and undoubtedly important developing body of work.
She exhibited widely. Her work was included at the Universal Exposition in Paris of 1867, she had a solo show at the German Gallery in London in 1868, then in the Netherlands in 1869, and again at the Universal Exposition in 1873 receiving a notable award for "Good Taste" in her "artistic studies". The 1870s saw a maturing of the artist's signature soft focus style, more elaborate tableau stage set ups, and rigorous self-reflection. By 1873 Cameron had started to sell her photographs. She was very aware that she was making 'art', and as such acted as a shrewd business woman, registering all of her pictures with a copyright agency.
Cameron also found time to write Annals of My Glass House, a biographical account of her career which she did not entirely complete and which remained unpublished until 1889. Having had so much time to contemplate her career before it actually became fully fledged, when in the midst of her prolific decade of making photographs Cameron assuredly knew that her work was good - she wrote to the director of the South Kensington Museum, Sir Henry Cole that her new prints "should electrify with delight and startle the world. I hope it is no vain imagination." This was the gallery with which she exhibited most frequently and even had a portrait studio where Cameron could take her sitters.
She moved to Ceylon in 1875 to be closer to her sons, and sadly died there the following year having contracted a perilous chill. Prints of her Arthurian legend subjects were exhibited the very same year at the Photographic Society in London, UK demonstrating her full success and influential name in the new world of photography.
The Legacy of Julia Margaret Cameron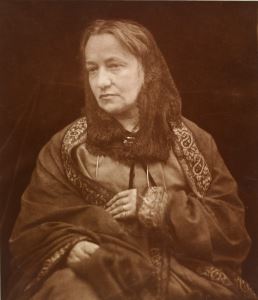 Julia Margaret Cameron portrait by her son Henry Herschel Hay Cameron (c.1870)
The experimental nature of Cameron's practice caught the attention of the Modernists, and in particular The Bloomsbury Group. Cameron was directly related to Virginia Woolf and Vanessa Bell, because their mother, Julia Jackson (Cameron's famous model) was the daughter of Cameron's sister, Maria. In 1926, the Hogarth Press, which was set up by Woolf and her husband Leonard Woolf, published Julia Margaret Cameron: Victorian Photographs of Famous Men and Fair Women. Virginia Woolf contributed an introductory essay, as did Roger Fry, an influential Bloomsbury Group artist and art critic, and these were followed in the book by a series of plates illustrating Cameron's portraits and costumed tableaux. At the time, the press were publishing other revolutionary material including Woolf's own novels and T. S. Eliot's The Waste Land (1922). In 1939, Woolf proudly gave a signed copy of Victorian Photographs of Famous Men and Fair Women to the successful French photographer Gisèle Freund.
Cameron embraced the ambiguity around her portraits and cultivated it intentionally, making her a forerunner to the Pictorialist photographers, particularly Gertrude Kasiber and Heinrich Kühn, and also an inspiration to Surrealist photography thereafter. The blurry quality of Cameron's images, initially achieved by accident, began an ongoing debate on the nature of the medium of photography, and its ability, or not, to "see" the spiritual aspect of a person. The artist experienced gender-based criticism in her own lifetime when other photographers would say that she simply could not "master" photographic techniques and that this was probably because she was a woman. The point was that Cameron had no intention of mastering anything, she did not want to have authority over others. She said herself, "What is focus and who has the right to say what focus is the legitimate focus? From the first moment I handled my lens with a tender ardour." Her gentle and inclusive approach to creation became an inspiration for subsequent generations of women artists to follow.
Indeed, she has provided huge influence to artists interested in creating a space of reciprocity in order to achieve the best photograph. Cameron was well renowned for asking strangers to model for her and Diane Arbus continued this same tradition. Recognizing that it is necessary for trust to be present in order to photograph children, mothers and babies, and other vulnerable figures, Cameron is a forerunner for sensitive photographers working with these subjects. For artist Imogen Cunningham, there has been and still is "no one better" than Cameron at portraying human likeness through the medium of photography.
Most Important Art
Annie, My Frist Success (1864)

This portrait of Annie Wilhelmina Philpot (1854-1930) was considered by Cameron to be her first photographic achievement, tellingly entitled "Annie, My First Success". Annie's three-quarter length portrait shows her head and shoulders on a slight angle to the left of the photograph. Her dark jacket with a peter-pan collar and round buttons complement her loose hair and pale skin. The little girl typifies Victorian notions of innocence and purity thought to be perfectly embodied within children. It also nods to the idea of Victorian children being considered to be miniature adults - Annie's face is locked in an expression of reserved tranquility. Cameron was so happy with the results of the sitting she remembers she "was in a transport of delight. I ran all over the house to search for gifts for the child."

Cameron sent the print to Annie's father, William Benjamin Philpot (1823-89), a vicar who dabbled in poetry with a note describing that the photograph owed "greatly to the docility and sweetness of the best and fairest little sitter."

Cameron's initial experiments began with little knowledge of the practicalities of photography. It is clear from this work that the initial technical issues she was confronted with were surmounted through trial and error. Cameron wrote, "I longed to arrest all beauty that came before me, and at length the longing has been satisfied. Its difficulty enhanced the value of the pursuit. I began with no knowledge of the art."

With the foundations of her practice established, Cameron began to work in more nuanced, unique, and unconventional ways, but this photograph remains iconic, as it was her first success in both the mastery of photographic technique and in her ongoing aesthetic interest in soft blurriness. Cameronian beauty much like that revered by the Pre-Raphaelites tended to be unsmiling and slightly melancholy, as is first demonstrated by Annie here.

Read More ...

Julia Margaret Cameron Artworks in Focus:
Julia Margaret Cameron Overview Continues Below
If you see an error or typo, please:
tell us
Cite this page

Content compiled and written by The Art Story Contributors
Edited and revised, with Synopsis and Key Ideas added by Rebecca Baillie
" Artist Overview and Analysis". [Internet]. . TheArtStory.org
Content compiled and written by The Art Story Contributors
Edited and revised, with Synopsis and Key Ideas added by Rebecca Baillie
Available from:
First published on 07 Aug 2018. Updated and modified regularly.


[Accessed ]