Artists
Hieronymus Bosch
Biography and Legacy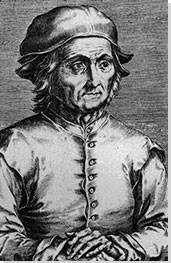 Born: c. 1450 - 's-Hertogenbosch, Brabant (now Netherlands)
Died: August 9, 1516 - 's-Hertogenbosch, Brabant (now Netherlands)

Biography of Hieronymus Bosch
Childhood
Jheronimus van Aken was born in his grandfather's house in the 1450's, in the flourishing Dutch town of s-Hertogenbosch, of the Duchy of Brabant, a state of the Roman Empire located in the low regions of the Netherlands. His date of birth is mere speculation, estimated from a self-portrait drawing he did around 60 years old, which was dated 1516. Although little is known of his childhood, it is known that his grandfather, Jan van Aken was also a painter, and had five children, four of whom were also painters, including Jheronimus's father Anthonius van Aken. In the town's records dated to 1474, the young artist is named and recorded along with a sister and two other brothers. It is also generally accepted that his childhood and youth during the reign of Philip the Good, was a cheerfully secure time for the well-established and prosperous family.
Early Training
Jheronimus later adopted the artistic name of Bosch, paying tribute to his hometown that was generally called Den Bosch (the forest). Besides this basic factual information derived from records, little else is known of Bosch's education and early life. There are no notebooks, letters, books, or any other reference materials from which his life can be understood. However, because of the family's connection to painting, it is generally assumed that one of his family members taught him to paint.
Bosch's personality is also a profound mystery, along with his personal interests, views on art, general studies, and artistic influences. However, as his city belonged to the Roman Empire, it is probable that Bosch was in contact with classical Roman art, and was at least somewhat influenced by the Renaissance that was burgeoning in Rome and other European schools of painting of the time, such as the works of the Flemish painters. Yet, despite these presumed associations rooted in historical context, Bosch's enigmatic style would emerge in a radical departure from the norm.
Mature Period
Whereas artists of the day were focused on creating lushly literal depictions of life, historical tableaus, and illustrative moments from religion, Bosch was interpreting the same fodder through a uniquely independent fashion with decadent color, superb draftsmanship, and a heavy brushstroke in opposition to the silky Flemish mode. He did not merely recreate scenes from the Bible onto canvas; he filtered them through his imagination, transforming them into wild new worlds dense with symbolism and the absurdity borne of the subconscious. These visual cautionary tales concerning the morality of man were rich with hybrid beings, fantastical creatures, and a cast of characters both real and contrived—the first incident of record in which an artist so heavily disowned the confines of known reality to present something entirely new, and a precursor to the Surrealism movement that would come into being half a millennium later.
It is known that Bosch led a workshop, where he taught students how to draw and paint. It is also known that he became a popular painter in Europe, and received various commissions related to his Catholic themes and subjects. The records also claim that between 1479 and 1481 he married a Dutch lady named Aleyt Goyaerts van den Meerveen who was from a wealthy background and had a generous inheritance, including a family home in which the couple lived. Besides painting, Bosch drew profoundly, and he didn't travel much, preferring to stay rooted in his hometown.
In 1488, when he was around 38 years old, Bosch joined the Brotherhood of Our Lady, a philanthropic religious association well respected in his hometown and in Europe in general. The Brotherhood promoted an exemplary religious life, emphasizing charitable actions and a purity of the soul. It is believed that some of his first commissions came from the Brotherhood, however, none of these works survived.
Due to the knowledgeable references that are included in his paintings featuring various religious themes and subjects, Bosch is considered to be a profoundly well-educated man. Due to his place in society as a well-to-do person and his affiliations with religious and charitable groups, we might also surmise that he lived with intention as a superiorly ethical man. Like other artists of similar repute, he easily could have joined the leagues of traditional painters of the time, toeing the line of Renaissance art. But his ingenuity and originality in portraying both the hilarious and the bizarre inner conflicts of man as they perpetually play out between good and evil on earth has confounded even those with a sincere understanding of medieval Netherlandish mysticism and ecclesiastical symbolism. The motivations of Bosch's mind remain impossible to decipher. One might assume that the painter was obsessed with the end of the world, or perhaps, was illustrating visionary apocalyptic messages compelled from somewhere deep within. Art critic Ingrid D. Rowland explains, "Because the records regarding Bosch are so scant and the surviving works are so few and so strange, every aspect of his career is debated and debatable".
Later Work
Later in his life, Bosch's hometown fell under the rule of Charles the Bold and Mary of Burgundy, spurring an unstable environment. This period of crisis and conflict can be seen as a profound influence on his later works. Despite the fact that he remained devoted to his art, only the knowledge of one painting remains from this time—Bosch's first and only self-portrait, which seemed to foretell his need to give a face to his artistic legacy. From a record of the Brotherhood of Our Lady group, it is common knowledge that Bosch died in 1516, and that a funerary service was held on the 9th of August in the church of Saint John.
Although his importance in the artistic and cultural worlds is unquestionable, Bosch's oeuvre is currently only represented by 25 paintings and eight drawings. One reason for this scant legacy stems from a period in the 16th century in which members of the Protestant Reformation destroyed many works deemed immoral. Six of his works were bought or confiscated by Philip II of Spain in the end of the 16th century (now owned by the Museo del Prado in Madrid), and others emerged in the artistic European panorama, still leaving most of their history a complete mystery.
The Legacy of Hieronymus Bosch
Hieronymus Bosch was a visionary painter and although he is indeed a notable representative of the Netherlandish School of painting, his contribution to modern art far exceeds such simple classification. He is considered to be the first "surrealist," and potently described by Carl Jung as the original "discoverer of the unconscious." These attributions, delineated through his incomparable archetypal and iconic style, are what ultimately define his artistic legacy and have influenced artists of every generation since.
During his lifetime, his work was collected in multiple countries in Europe, and he was widely revered and imitated by his students and followers. Despite this general appreciation for his work, and because of his complex language and themes, in the years that followed his life, his influence and impact were not as widespread as other painters of his era, such as the Renaissance painters. However, he did have a particular influence on specific painters of the 16th century such as Pieter Bruegel the Elder.
Most markedly is the influence we find of Bosch on the Surrealist movement, in which artists largely injected symbolic imagery and the strangeness of reality into their work. This can be seen especially in the paintings of Joan Miró and Salvador Dalí, which mirrored the dream qualities of Bosch's work. It is believed that Dalí's The Great Masturbator painted in 1929 drew largely from Bosch's The Garden of Earthly Delights, particularly with its adaptation of a human face imposed within an organic element. Another example is Leonora Carrington, who saw Bosch's works in Museo del Prado in 1939, and culled from his complex compositions the inspiration she needed for her own mystical and spiritual paintings, which also draw upon the vocabulary of the organic kingdom (especially the animals and the vegetation) and the intertwining relationship between man, beast, and nature.
Besides his direct influence on art, Bosch's hand can be seen in various other pop cultural fields. The Garden of Earthly Delights became an icon in popular culture and psychedelic hippie circles in the 1960s as well as in other mainstream media. The band Deep Purple's third album lifted the painting as a cover illustration in 1969. Other contemporary reinterpretations of the work can be found in the paintings of Indian-born British artist Raqib Shaw and in the American digital art of Carla Gannis who also re-imagined the scene.
Bosch has inspired contemporary filmmakers, such as Terry Gilliam, Guillermo del Toro (as seen in the movie Hellboy), and George Lucas. Strains of his visions have appeared in today's fantasy computer games, television shows like The Simpsons, the fashion collections of superstar designers Alexander McQueen, Christian Dior, and Valentino, and even books by writers such as the crime novelist Michael Connelly, who named one of his characters Hieronymus 'Harry' Bosch.
Although only a small cadre of Bosch's works remain, they still measure heavily as important contemporary glimpses into our centuries long conflict with the concepts of right and wrong, and our timeless existential struggles between good and bad that continue to play out on the human stage today.
As art critic Alastair Sooke claims, "It is easy to understand why Bosch continues to fascinate us today: the apocalyptic tone of his work resonates during our era of global conflict and international terrorism," deeply emphasizing the complexities and catastrophic qualities of the work. And, as art historian and early-Netherlandish specialist Erwin Panofsky concluded "I cannot help feeling, that the real secret of his magnificent nightmares and daydreams has still to be disclosed."
Most Important Art
The Garden of Earthly Delights (c. 1490-1510)

The Garden of Earthly Delights is considered Bosch's seminal masterpiece and the most successful and outstanding of his creations. Little is known about the origins of the work, despite the fact that its patron was Engelbert II of Nassau, of Brussels. The large-scale work is an altarpiece triptych, composed of three internal parts and an outer protective case.

In the outer case, Bosch portrayed the origin of the world in grisaille (monochromatic), representing the third day of Creation when the earthly paradise was formed. It features a small figure of God holding an open book in the upper left corner, with the inscription in Latin, "For he spoke, and it came to be; he commanded, and it stood firm".

The interior panels reveal three specific scenes from the Bible that correspond to the origin of mankind. The left (first) panel represents the Garden of Eden where God, who has a central position and is portrayed with a young and youthful appearance, is presenting Eve to Adam for marriage, portraying the divine message to "go forth and multiply." Their glorious surroundings are populated by animals, mythical creatures, trees, water, and an organic hut-like structure which floats on the lake. In the center panel, Bosch illustrates the development of the Garden of Eden and the growth of humanity with various human beings interacting in a blissful manner. Again, they are surrounded by an abundance of fantastic creatures, animals, fruits, and organic pods that seem to serve as habitats. The nudity of the figures indicates that the scene is prior to the expulsion of man from paradise. However, most of the actions being carried out by the figures are associated with personal pleasure and self-absorbed joy, a teaser in anticipation of the judgment, which might follow. The last and right hand panel portrays this Last Judgment, also synonymous with mankind's life after its fall from grace. It features a landscape immersed in darkness and chaos, where nothing seems to blossom or grow and where man is stuck in a tortured and troubled state. The countless musical instruments in the scene are said to be representative of various forms of glut; for instance, the bagpipes purport the symbol of lust and fleshly pleasure. In the center of the scene is a 'tree man,' immersed in the chaos of the disturbing imagery yet somehow shielded with difference, a proposed reference to Bosch himself as merely an observer of the world around him and a fine example of his turning man and nature into hybrid characters. Art historian Walter Gibson summarizes Bosch's artistic language, of which this painting is the most iconic example, as "a world of dreams and nightmares in which forms seem to flicker and change before our eyes."

As with most of Bosch's work, there are multiple interpretations, the first of which was conducted in 1605 by José de Siguenza. He described the painting as "a satirical comment on the shame and sinfulness of mankind," which is perhaps its most popular translation. The strawberry that appears various times in the central panel is believed to represent the ephemeral aspect of personal enjoyment and personal pleasures, because it is a fruit whose sweet taste is both temporary and fleeting. In this sense, the work emphasizes the "transient nature of earthly vanity" as explained by the contemporary art critic Pilar Silva Marato. One other interpretation is found from the panel on the right, in the scene of God with Adam and Eve. Art historian Wilhelm Fraenger points out the fact that God is touching Eve and that Adam's feet touch God's cloak, creating an indivisible link between the three where "a current of divine power flows down, so that this group of three actually forms a closed circuit, a complex of magical energy." In this perspective, the scene is a visualization of the Divine union between man and God.

Read More ...

Hieronymus Bosch Artworks in Focus:
Hieronymus Bosch Overview Continues Below
If you see an error or typo, please:
tell us
Cite this page

Content compiled and written by Sarah Frances Dias
Edited and revised, with Synopsis and Key Ideas added by Kimberly Nichols
" Artist Overview and Analysis". [Internet]. . TheArtStory.org
Content compiled and written by Sarah Frances Dias
Edited and revised, with Synopsis and Key Ideas added by Kimberly Nichols
Available from:
First published on 15 Jan 2018. Updated and modified regularly.


[Accessed ]