Oscar Wilde and Important Artists and Artworks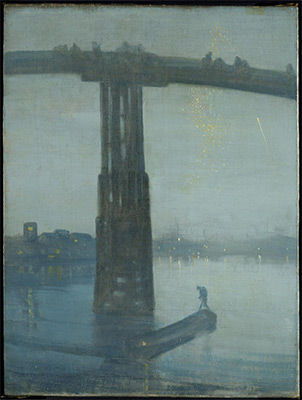 Nocturne: Blue and Gold - Old Battersea Bridge (1872-77)
Whistler's Impressionistic treatment of Battersea Bridge evoked the hushed atmosphere of the river Thames at dusk; the foggy London skyline peppered with exploding fireworks. It was one of a series of paintings that many, including the critic John Ruskin, saw as an affront to standards in art. In June 1888, following the two men's recent re-acquaintance, Wilde gifted a copy of his new anthology, The Happy Prince, to Ruskin. Wilde's gift was accompanied by a note which read: "There is in you something of prophet or priest, and of poet, and to you the gods gave eloquence such as they have given to none other, so that your message might come to us with the fire of passion, and the marvel of music, making the deaf hear, and the blind see".

One of the tales in the book was called "The Remarkable Rocket", a satire about a delusional toy rocket who believes that his "setting off" will take center stage at a royal marriage. The rocket has not realized that he will be "a mere footnote to the party". As the literary historian Anne Bruder describes it, "When the Rocket begins an exhortation on his superiority to the other fireworks and his importance to the future of the Prince and Princess, he pathetically begins to weep, and thus destroys his ability to be ignited. His fuse wet, he gets tossed onto a trash heap where uninterested children, who do not even watch the explosion, set him off as they walk away. And while the narrator tells us, "But nobody saw him," the Rocket dies swearing, "I knew I should create a great sensation". As Bruder concluded, "The placement of this tale in Wilde's oeuvre and his gifting it to Ruskin [...] was almost certainly an allegorical rendering of his former friend and famous egotist J. M. Whistler".

Whistler's painting prompted Ruskin to accuse the artist of "flinging a pot of paint in the public's face". Whistler's detestation of the critic led to him suing for libel, a lawsuit he won at great expense and which brought him just minor financial retribution. Unfortunately, the legal costs bankrupted the painter.
Oil on canvas - Tate Gallery, London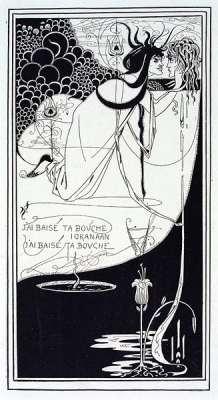 Illustration for Salomé, "J'ai baisé ta bouche Iokanaan" (1893)
Aubrey Beardsley was a fashionable young British illustrator who had made a name for himself by illustrating a book, Mort d'Arthur, by the medieval poet Malory. The book proved a favorite amongst the Pre-Raphaelites, with whom Wilde was initially affiliated through his admiration of the movement's maverick son, Dante Gabriel Rossetti. Beardsley first met Wilde in 1891. He was somewhat spellbound by the author and even displayed a photograph of Wilde on his fireplace. When Salomé was first published (in English) in February 1893, the Pall Mall Budget magazine commissioned Beardsley for a drawing to illustrate the play's content. However, the magazine rejected the macabre, fantastical image that was based on the play's last scene in which Salomé kisses the lips of John the Baptist's severed head. It was a highly decorative, gruesome, and sexually suggestive vision, which Beardsley thought Wilde would appreciate.

In the April of that year, however, an art publication called The Studio ran the illustration as part of its first edition. Wilde saw the drawing pre-publication and liked it so much he presented Beardsley with an inscribed copy of the earlier printing of the book which read thus: "March '93. For Aubrey. For the only artist who, besides myself, knows what the Dance of the Seven Veils is, and can see that invisible dance". The critic Peter Raby argued that "Beardsley gave the text its first true public and modern performance, placing it firmly within the 1890s - a disturbing framework for the dark elements of cruelty and eroticism, and of the deliberate ambiguity and blurring of gender, which he released from Wilde's play as though he were opening Pandora's box".

As an interesting footnote, Beardsley became art editor of the fashionable magazine The Yellow Book which ran from 1894-97. Promoting the ideas of the Aesthetic movement, the magazine took its name from the "dishonourable" covering under which controversial French novels were hidden from public view (as the British Library notes, it is, in fact, a "yellow book" which corrupts Dorian Gray, that book generally thought to be Joris-Karl Huysmans's decadent 1884 novel A rebours (Against nature)). The British Library records moreover that "when Wilde was arrested in 1895, there were rumours he had been carrying a yellow-bound book. Though this was actually Pierre Louÿs's French novel Aphrodite, a confused crowd thought it was a copy of [the] magazine, and gathered to throw stones at the publishers offices".
Line block print on Japanese vellum paper - Victoria and Albert Museum, London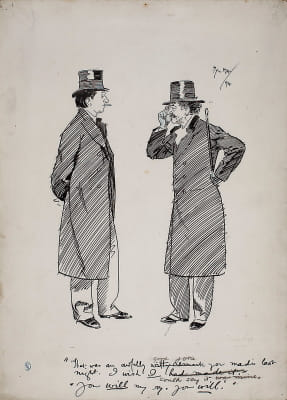 Oscar Wilde and Whistler (1894)
The English satirist Phil May, a member of the Chelsea Arts Club, contributed many caricatures of actors, artists, and writers to London periodicals. His self-assured drawing style and his cutting wit attracted a devoted following with his illustrations published in book collections. His caricature of Wilde and the American painter James Abbott McNeill Whistler was reproduced in Phil May's Sketch-book, first published in 1895. The caption refers to Whistler's repeated accusation that Wilde plagiarized his ideas. May's caption reads: [Wilde]: "That was an awfully good joke you made last night. I wish I could say it was mine". [Whistler]: "You will my boy. You will".

The acerbic Whistler's eagerness to court controversy, and his craving for the limelight, made him and Wilde natural friends and together they fronted the public image of the Aesthetic movement. Twenty-years older, Whistler initially regarded Wilde as a disciple demanding of his master's approval. Indeed, Wilde's editor, Frank Harris, believed that Whistler did more to influence Wilde's wit than any other acquaintance: "Of all the personal influences which went into the moulding of Oscar Wilde's talent, that of Whistler was by far the most important; Whistler taught him the value of wit and the power a consciousness of genius and a knowledge of men lend to the artist".

However, as with many of both men's close friendships, theirs ended in acrimony. Whistler felt increasingly that Wilde, whose reputation was eclipsing his own, had copied his dandyish style of dress and speech (hence the caption in May's caricature). Responding to Whistler's charge of plagiarism, Wilde retorted, "as far as borrowing Mr. Whistler's ideas about art, the only thoroughly original ideas I have ever heard him express have had reference to his own superiority over painters greater than himself". Wilde further opined, "Mr Whistler always spelt art, and we believe still spells it with a capital I". Whistler retorted, "What has Oscar in common with Art? Except that he dines at our tables, and picks from our platters the plums for the pudding he peddles in the provinces". By 1890 the two men's friendship had dissolved entirely with Wilde, ever one to have the last word, basing the murdered artist in his novel The Picture of Dorian Gray on his friend-turned-nemesis, Whistler.
Pen and black ink, with black crayon and touches of blue crayon, on ivory laminate board - The Art Institute of Chicago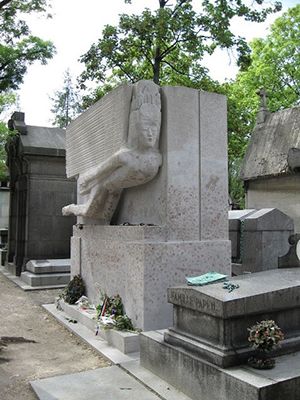 The tomb of Oscar Wilde (1914)
For Wilde's tomb, the modernist sculptor Jacob Epstein created an enormous, horizontally-winged Art Deco Sphinx - carved from a 20-ton block of stone - giving the feeling of forward flight, suggestive of the poet as a messenger. The design may reflect Epstein's early interest in the primal sexuality of Indian and Egyptian art and statues of winged Assyrian bulls in the British Museum.

Epstein was commissioned in 1908 to design the tomb, at a cost of £2000. His original sketches depicted two, grieving young men but, abandoning that plan, he drew inspiration from Wilde's poem, The Sphinx. Epstein initially planned a small angelic figure behind the Sphinx's ear, as a reference to the verse, "sing me all your memories". He also envisaged five figures on the Sphinx's headdress, one with a crucifix perhaps symbolizing martyrdom and Wilde's Catholicism. When the sculpture was previewed in 1912 (in Epstein's London studio), The Guardian reported: "one may see that this flying messenger, incomplete with worn eyes and the strange headdress, flying through our world with incredible swiftness, telling of beauty and of fatal mutiny against life, is at once a revelation and an enigma that will hold the attention of men as long as the great block of limestone lasts".

After arriving in Paris, the Sphinx's unusually large testicles were covered over with plaster to be replaced with a bronze plaque of a butterfly. Epstein was furious and refused to attend the tomb's unveiling. The testicles were then stolen by vandals in 1961, leading to rumors that the cemetery manager was using them as a paperweight. The tradition in which visitors would kiss the tomb after applying greasy lipstick to their mouths led to the surface being eroded. In 2011, a glass barrier was erected around the lower half of the tomb to protect it. According to historian Ellen Crowell, the tomb "stands out like a sore thumb in a nineteenth-century cemetery whose sculptural aesthetic seems, to the modern visitor, overarchingly figurative and representational. It is precisely this aesthetic alterity that has, for one hundred years, prompted viewers to regard Epstein's 'Tomb for Oscar Wilde' as future- rather than past-oriented, more modernist than Victorian, a monument to enlightened pride rather than retrograde shame".
Hopton Wood stone - Père Lachaise Cemetery, Paris
From Oscar Wilde (1974)
In this small and delicate early watercolor, Kiefer depicts a pale pink rose blooming against a dense and fluidly painted organic background. The inclusion of the words "von Oskar Wilde/für Julia" suggests that the rose is a gift from Wilde himself to Kiefer's then wife. It has been suggested that if the picture is turned anti-clockwise, the face of the artist can be seen in the flower.

Keifer has said, "If you have a big idea, a big theme, you need a small format", and here, and in many other works, his interest in alchemy and transformation is reflected in the theme of growth and decay in nature. The image specifically references Wilde's touching fairy tale The Nightingale and the Rose. In it, the songbird sacrifices itself on the rosebush's thorns with the combination of the birdsong and its blood giving life to the red flower of love. The rose is then plucked by a lovestruck philosophy student who presents the flower to his true love. She however rejects him in favor of another suitor who brings her jewels. Brokenhearted, the injured third party turns back to philosophy, the only kind of life knowledge he understands (a knowledge certainly more "knowable" than love).
Watercolor and Gouache on paper - The Metropolitan Museum of Art, New York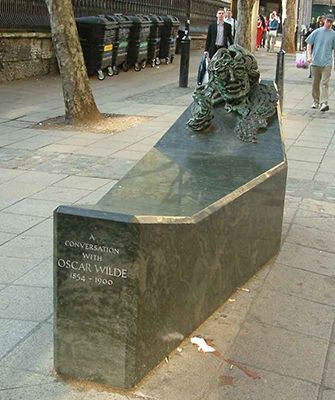 A conversation with Oscar Wilde (1998)
This "witty and amusing" sculpture/bench in central London resembles a sarcophagus with a sinewy bust of Wilde laughing, emerging from one end like the wisps of smoke from his cigarette. It is inscribed with a famous quotation from Wilde's play Lady Windermere's Fan: "We are all in the gutter, but some of us are looking at the stars".

A permanent memorial to Wilde in central London was first suggested during the 1980s and early 1990s by fans of the playwright's work, including the Queer avant-garde filmmaker Derek Jarman. Following Jarman's death in 1994, a committee, including thespians Dame Judi Dench, Sir Ian McKellen, and the Irish poet and Nobel Laurette Seamus Heaney, brough the proposal to fruition with hundreds of individual donors and foundations contributing funds for the project. Following Danny Osbourne's Oscar Wilde Memorial Sculpture which was unveiled in Wild's birthplace (in Merrion Square, Dublin) a year earlier, Hambling's work was chosen from a shortlist of six. Hambling said of her work, "The idea is that he is rising, talking, laughing, smoking from this sarcophagus and the passer by, should he or she choose to, can sit on the sarcophagus and have a conversation with him".

The memorial, while popular with passers-by, met with mixed critical reviews. Tom Lubbock, chief art critic for The Independent acknowledged the need for a Wilde memorial in London, and commended the project for its "real and proper Victorian public spirit", but he dismissed the work itself which he compared to a Madame Tussauds waxwork. He wrote: "We have nothing of the nerve, the folly, the ruin, the glory [of Wilde]. We have nothing for history - only the whimsical notion of us chatting cheerfully with this anodyne figment".

Charles Spencer, chief drama critic of The Telegraph added to the scorn when he wrote: "Hideous is too gentle a word to describe it. [...] The idea is quite witty [...] but the representation of Wilde is loathsome. He looks even worse than the picture of Dorian Gray in the attic, sporting Medusa-like snakes of hair and a vile, degenerate grin. Even Wilde, the master of the aphorism, might have been stumped for words to describe it". It was left to committee member Jeremy Isaacs to highlight the fact that the sculpture "already evokes more favourable response from the public than any other statue I know in London, with the possible exception of Peter Pan".
Granite - Adelaide Street, London
The Oscar Wilde Temple (2017)
Working in painting, film, photography and sculpture, David McDermott and Peter McGough, have explored such themes as religion, medicine, fashion and sexual behaviour throughout their partnership. For many years, they dressed as Victorian gentlemen, living in a townhouse lit only by candlelight, creating a historical fantasy where they could live and work. Initially transforming the Russell Chapel in the Church of the Village in New York, their immersive installation, The Oscar Wilde Temple took 20 years to create, setting out to transport visitors back to Wilde's visit to America between 1882-83.

The artists created a complete, Aesthetic movement interior with fabric wall coverings, architectural and decorative details and furnishings. The Temple's centerpiece was an altar built around a 4'3" wooden statue of Wilde, poised in a devotional style. On the pedestal below is carved C33, Wilde's prison number at Reading Gaol. Framing each side of the statue were eight "stations": paintings tracing the journey of Wilde - depicted as a divine being - from arrest through imprisonment and his hard labor. "Commemorating Oscar Wilde as a martyr", wrote art critic Leon Craig, "subverts traditional Christian teachings on bodily purity and homosexuality, while pointing out the homoeroticism in many medieval and early modern representations of male martyrs".

A second altar honored people who have died, or are suffering, from AIDS. It was complemented with portraits of other contemporary "martyrs" who have contributed to rising worldwide awareness of the disease. McDermott & McGough aimed to celebrate the creative process by which experience is transformed into art and reality abstracted into revelation. Critic Rosemary Waugh wrote, "The Oscar Wilde Temple is essentially a shrine, a devotional offering to all that LGBT+ people have endured, past and present. In this respect, it's intensely sad, a reminder of entirely needless suffering".
Oil on linen - Studio Voltaire, New York