Gala Dalí and Important Artists and Artworks
Au rendez-vous des amis (The Friends' Rendezvous) (1922)
An eclectic gathering of people are featured in Max Ernst's painting which the Museum Ludwig describes as, "individuals from various eras gather together on a craggy massif. Ernst himself, wearing a green suit, sits on Dostoyevsky's lap. Standing further back is the Renaissance artist Raphael, whose balanced compositions served as a model for the [Surrealist] group. From the right the group's spokesperson, Andre Breton, wearing a red cape, rushes by, announcing the new ideas. In the front row the individuals communicate through sign language. Behind them appear a band of adherents, who follow the new art movement. The gathering takes place during a solar eclipse, a symbol of impending change, which the Surrealists desired in art, politics, and social life ".

Within its tribute to the burgeoning Surrealist movement, Ernst acknowledges the presence of Gala, the only woman to, as it were, "make the cut". According to author Tim McGirk, "Ernst also honoured his debt to Gala's influence by painting her in the corner [...] She stands apart from Eluard, next to a bust of Giorgio de Chirico and Robert Desnos, the writer. Her neck is long and milky white; she seems imbued with all the sensuality and composure of a cat. Her eyebrows are arched over big dark eyes, and she manages to signal her attractiveness and independence at the same time ". Gala's placement subtly, but clearly, says a great deal about the woman herself. While Gala never attempted to make a name for herself as a painter or writer, she was, none the less, a driving force among the men of that circle. That she was placed a distance from her husband, not only perhaps showed Ernst's desire to have her to himself, but also can be seen as a foreshadowing for her leaving both of them behind for an unknown Spanish peasant boy named Salvador Dalí.
Oil on canvas - Collection of Museum Ludwig, Cologne, Germany
Gala Éluard (1924)
Here the face of a woman is seen from the middle of the bridge of her nose to the start of her forward. The top of her head has begun to be peeled away revealing a greenish-white sky filled with three round circular floating objects. For Ernst, Gala was not only a model and muse, she was also the wife of his friend, the poet Paul Éluard, and with whom he completed two book collaborations, including Les Malheurs des immortels (1922) which had introduced the strange, dream-like, imagery that would become the seal of the Surrealist movement. Shortly after meeting Gala, Ernst left his wife and young son to move to Paris to live with the couple. A ménage à trois relationship soon developed.

According to the Metropolitan Museum of Art, "this evocative portrait reveals the deeply intertwined personal and artistic lives of members of the Surrealist circle and depicts the movement's fascination with dreamlike states. [Ernst] painted this work based on Man Ray's photograph of [Gala] Éluard's eyes. With curious forms rising from her unfurling forehead, Éluard becomes an imagined embodiment of Surrealism's wide-eyed interest in art's power to explore the mysterious territories of the unconscious mind ". I ndeed, for the Surrealist the eyes were a window to the interior and thus took on almost mystical qualities. It is easy to see here how Gala's hypnotic stare - "the woman whose gaze piece walls" as Paul Éluard once described her - would have entranced the Surrealists who fell under her spell.
Oil on canvas - Collection of The Metropolitan Museum of Art, New York, New York
The Bleeding Roses (1930)
The critic Nina Sophia Miralles wrote: "Dalí's imagination is often seen as a force of its own, but in reality, it was a fragile construct, unable to flourish without Gala, whom he used as a shield. Behind her, he would be safe to create; without her, he would be swept away. Dalí honored this coauthorship of his life. As early as the thirties [when this piece was produced] he began to sign his canvases with both their names even though she'd never so much as lifted a brush. 'It is mostly with your blood, Gala, that I paint my pictures', he told her".

In this painting, a naked woman with long flowing blonde hair, head arched back, and breasts exposed, stands with her left arm wrapped around a pole. In the direct center of the painting her midsection has been replaced with a cluster of red roses which seem to be dripping with her blood. A year after this work was painted, Gala underwent two surgeries. The first was to remove a tumour in her lung and a second to remove a tumour in her uterus. According to author Tim McGirk, this painting, "was oddly prescient of Gala's surgery" and notes that, despite her not being named in the work's title, the figure's "lean body is obviously Gala's ".

While he may or may not have known of his wife's need for surgery, Dalí would have certainly been aware of her history of poor health. At the same time, the painting providing visual proof of Dalí's obsession with Gala's body and his own sexual anxiety and impotence. This aspect is echoed here by the shadow of the figure who is barely visible on the right side of the canvas but which represents the artist as voyeur. The surgery (the hysterectomy) itself had a profound impact on Gala. She had never fostered a nurturing relationship with her only child, Cecile, a daughter with first husband Paul Éluard, and the surgery left her unable to bear children with Dalí. McGirk states how the tumour's "removal was an especially barbarous procedure, and when Gala described the operation to a friend nearly forty years later the experience was still so painful in her mind that she cried. The doctors, she said had 'emptied' her ".
Oil on canvas - Private Collection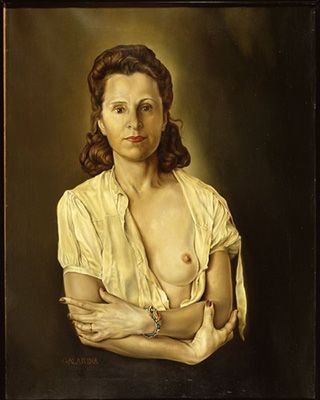 Galarina (1944)
Miralles said of Gala: "At her best [she] was difficult and intense. At her worst, she was nothing short of monstrous. She had no friends and maintained a malevolent distance from her family. Described as 'cruel, fierce and small' [...] she collected stuffed toys but once cooked her own pet rabbit. Her 'demonic temper' asserted itself often; if she didn't like someone's face, she spat at them, and if she wanted to silence someone, she would stub cigarettes out on their arm. Not surprisingly, she was hugely unpopular. Women particularly disliked her. Gala was sexually voracious and had no respect for other people's relationships. Dealers in Paris nicknamed her Gala la Gale - gale means both 'a spiteful person' and 'scabies.' The filmmaker Luis Buñuel, who, with Dalí, made the seminal short film Un chien Andalou, got so sick of Gala's insults that he once tried to throttle her". All that having been said, Miralles added that "Gala performed some special quasi-alchemical function" over her husband. "She sparked Dalí's imagination like nothing else could".

The intimacy of this portrait is in part reflected in the title: Galarina being Dalí's nickname for his beloved wife. Simple in composition, and while lacking many of the Surrealist elements for which he became best known, the work still makes a strong statement. As McGirk explains, "in one of the more remarkable portraits of Gala [...] her shirt is opened, revealing one breast [...] Her arms are crossed, not in modesty but in defiance; her lips are closed and firm. She has all the self-conviction of a Joan of Arc, but none of her religious humanity. Gala's determined sensuality is all the more sinister because she is wearing a bracelet of an emerald dragon with ruby eyes. She looks dangerous, as indeed she must have seemed to Dalí with his raging sexual insecurity ". In the knowledge that he was happier to be the voyeur than engage in the act of coitus with this poisonous "spider woman", the painting reads as the work a submissive observer of his wife's overpowering sexuality.
Oil on canvas - Collection of Dalí Theatre and Museum, Figueres, Spain
The Madonna of Port Lligat (1949)
Drawing inspiration from the time-honored iconography of the Madonna and child theme, Dalí has depicted the duo in segments with open space between them. Even the throne on which Mary sits has been broken down into three sections. A tribute to Port Lligat where Dalí lived with Gala, there are references to the sea and mountains in the background and a large sea urchin on the left (something they ate almost every day when at their home). Where the dove, a symbol of the Holy Spirit, usually appears floating above the Madonna's head, Dalí has replaced with a giant sea shell thereby reinforcing the biographical theme.

This work marks the beginning of a move in focus both through artistic imagery and in Dalí's conversion to Catholicism. According McGirk, "slowly Dalí's mysticism took form, and the shape it assumed was Gala. He painted her as the Madonna of Port Lligat, in angelic levitation above the fishermen in their boats on the sea. There was no change in Gala's behaviour to warrant this idealization - she was still the prowling seductress of young men, the arrogant and ruthless keeper of Dalí. It was not as though Gala necessarily inspired his epiphany ".

Showing the impudence of Dalí, but also the reach of his reputation, McGirk adds, "[Dalí] wanted it blessed by the Pope. This was a gamble: the Vatican's head of protocol was likely to glance through Dalí's press cuttings and slam the door on him. But Dalí managed to arrange a private interview with Pope Pius XII. The pontiff was reportedly impressed by the [painting] and perhaps a bit bemused by the extravagant claims that this surrealist, with his moustache twisted into horns stiffened by date-sugar, would be the twentieth century's unlikely saviour of Christian art ".
Oil on canvas - Collection of Haggerty Museum of Art, Marquette University, Milwaukee, Wisconsin
Galatea of the Spheres (1952)
In this painting, Dalí depicts Gala as a bust portrait broken down into round spheres of color. Surrealist in style, when the spheres are viewed as a whole, the image of his wife becomes clear. Gala seems to float unanchored in a blue sky above a body of water. Dalí's fragmenting of this image, marks an interesting development in his work and displays his growing fascination with nuclear physics and the idea (a revelation to Dalí) that matter was made up of atoms. Dalí investigated these ideas, though never at the expense of his religious beliefs, in several paintings. He referred to works produced during this time as his "nuclear mysticism" period .

Once again, whenever Dalí tested new ideas in his art he turned to Gala for inspiration, using her image here as the vehicle on which to experiment with fragmentation. Miralles writes: "Certainly, it would be fair to say that Gala is the most recurring motif in Dalí's work". But, she then asked, "How, one might wonder, was Dalí able to love her, in his own words, 'more than my mother, more than my father, more than Picasso, and even more than money'?" Accepting she couldn't provide an answer to her own question, Miralles did acknowledge the one "indisputable fact" that "Gala was not just his wife; she was his muse". To help qualify her comments, Miralles cited the activist and author Germaine Greer who wrote: "A muse is anything but a paid model. The muse in her purest aspect is the feminine part of the male artist [...] She is the anima to his animus, the yin to his yang, except that, in a reversal of gender roles, she penetrates or inspires him and he gestates and brings forth, from the womb of the mind".
Oil on canvas - Collection of Dalí Theatre and Museum, Figueres, Spain
Gala Nude from Behind Looking in an Invisible Mirror (1960)
In his analysis of Dalí's numerous post- World War II female portraits, the Rev. Robert Keffer wrote "Women offered Dalí́ the eternal feminine and all the mysteries it contained. Certainly, a beautiful gown and glowing jewelry, the later perhaps designed by the master himself, convey more surface interest than a grey flannel suit, no matter how accomplished the male subject might be". Although this image of Gala may be ranked as the best of post-war female portraits, Dalí clearly distinguishes her by dispensing with any such surface distractions or surrealist embellishments. As the title reflects, here Dalí has painted a portrait of Gala seated naked on a bed, her bare back is turned to the viewer as she looks out over her right shoulder. Her flesh and brown hair contrast with the white of the wall in front of her and the sheet entangled around her legs.

While the argument can easily be made that Gala was Dalí's favorite subject, here we see a depiction of her unlike most others in which she featured. The preference for realism was not typical of Dalí, especially in paintings created this late into his career. There is an intimacy and softness to Gala here that jars with the public persona of the women who was known to be ruthless and uncompromising in the furtherance of her husband's career. Speaking of the importance of this painting, McGirk states, "in his erotic writings Dalí would have us believe that he found Gala to be a sexual, desirable woman - as did Eluard and a great many other surrealists - but Dalí could not paint this aspect of her nature, at least not by showing her face. His most erotic portrait of Gala is a nude study of her back. She sits with her legs crossed as if she were waiting on a rumpled bed for another session with her lover ". It might be added that Dalí's painterly treatment of Gala give us the clearest evidence of the artist's stated ambition to see his work placed in the canon that leads back to the great Renaissance masters.
Oil on canvas - Collection of Dalí Theatre and Museum, Figueres, Spain