Artists
Elisabeth Louise Vigée Le Brun
Biography and Legacy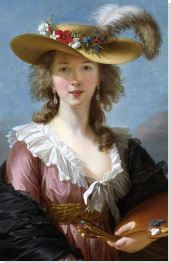 Elisabeth Louise Vigée Le Brun - Biography and Legacy
French Painter, Portraitist
Movements and Styles: The Rococo, Neoclassicism
Born: April 16, 1755 - Paris, France
Died: March 30, 1842 - Paris, France

"But I could now paint no longer; my broken spirit, bruised with so many horrors, shut itself entirely to my art."
Élisabeth Louise Vigée Le Brun
Biography of Elisabeth Louise Vigée Le Brun
Childhood
The daughter of a French pastel portraitist, Elisabeth Louise Vigée was born in Paris in 1755. In her published memoirs, titled Souvenirs, she describes how she was attracted to drawing from a very early age, admitting, "I scrawled on everything at all seasons; my copy-books, and even those of my schoolmates had their margins crammed with tiny drawings of heads and profiles." Her doting father, Louis Vigée, enthusiastically encouraged her nascent artistic efforts, allowing her free reign of his studio and materials.
The young Elisabeth was sent away to a convent for schooling at the age of five, as was customary for a young girl of her class in the mid-18th century. She returned six years later to live with her father, mother, and younger brother Étienne permanently. Her mother, Jeanne Maissin, worked as a hairdresser, which would have put the family in contact with wigmakers and, by association, the aristocratic class, along with the clientele of her artist father. Her father recognized the young child's talent and began her artistic training in earnest upon her return from the convent. However, by the time Elisabeth was 12, her father died, leaving the family both emotionally devastated and financially vulnerable. Perhaps due to the economic challenges faced by the family, her mother remarried a jeweler named Jacques-François Le Sèvre within a year of her father's death, which both Elisabeth and her brother Étienne resented greatly. The marriage proved largely unhappy and fiscally strained, and the young artist soon thereafter began taking painting commissions that helped her to support the family.
Early Training and Work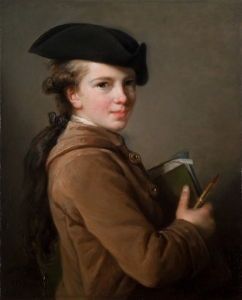 Étienne Vigée (1774) is the artist's brother who was the subject of one of Le Brun's earliest portraits that she used to advertise her talent. Saint Louis Art Museum
The young Elisabeth Vigée was incredibly talented, both socially and artistically, and she achieved fame at an early age despite lacking much formal training beyond that of her father. The limited outside influences she notes in her memoirs include encouragement from other artists she met at her father's studio, including history painter Gabriel François Doyen, a student of Charles-André van Loo whom she credited as having taught her to prepare her palette, and the lesser-known Gabriel Briard. From her father's example, however, she understood the importance of cultivating a strong artistic and intellectual circle, later forming friendships of her own with famous landscapists Claude Joseph Vernet and Hubert Robert, who provided her with advice as well as friendship. To supplement this lack of formal artistic training, Vigée Le Brun would often visit the Louvre (then the site of the Royal Academy of Painting and Sculpture) to study the Old Masters, the state-sanctioned Salon art exhibitions, and also the royal art collection. There, she sketched from plaster casts and copied works by the Italian and Flemish masters on view, later noting her particular admiration for Rubens, Van Dyck, Rembrandt, and Raphael.
At the age of 17, Elisabeth Vigée was a professional artist, receiving commissions for portraits well beyond her immediate social circle. In 1774, officials closed her studio for receiving commissions without paying dues to the guild, whereby Vigée applied to and became a member of the powerful Academy of Saint Luc at age 19 where her father had formerly been a member. The Academy was perhaps second only to the Royal Academy in prestige for artists in Paris, and more lenient in accepting woman artists among its ranks. Two years later, in 1776, she married the influential art dealer Jean-Baptiste Le Brun. The marriage was heartily promoted by her mother and provided Elisabeth with further access to collections of art and important connections in the upper echelons of French society. As feminist art historian Whitney Chadwick describes in her influential text Women, Art and Society, the marriage "established her as a major figure in the social life of aristocratic urban Paris." The marriage began on good terms, beneficial to Vigée Le Brun's budding career and producing her beloved daughter Jeanne-Lucie-Louise Le Brun, known as Julie and nicknamed by her mother as "Brunette." Unfortunately, although the two remained in contact throughout their lives, the union proved to be largely unhappy due, in part, to Jean-Baptiste's proclivity to gamble away the artist's profits.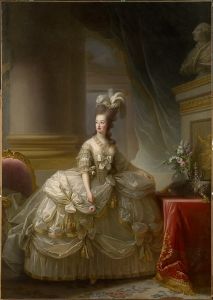 Marie Antoinette in Court Dress (1778), was her first portrait of the young queen, and although very accomplished, the incredibly wide pillar betrays some inexperience. Kunsthistorisches Museum, Vienna
By age 23, Vigée Le Brun received her first state-commission to paint the French queen Marie Antoinette for the queen's mother, Empress Maria Theresa of Austria, in 1778. To this point, both the queen and her mother had been quite unsatisfied with any portraits depicting Marie Antoinette. Vigée Le Brun's flattering portrait depicts the young queen in all her magnificent finery, including the required royal corset, and greatly pleased the queen and queen-mother, initiating a lasting relationship between the artist and her queen. In all, Vigée Le Brun painted two state portraits and 30 documented portraits of Marie Antoinette and her children over the ensuing decade. Katherine Baetjer, Curator of European Paintings at the Metropolitan Museum of Art who organized Vigée Le Brun: Woman Artist in Revolutionary France at the museum, highlights certain similarities between the two women: "Although a woman artist who was the daughter of a hairdresser could not be a friend to the queen of France," Baetjer explains, "perhaps it did matter to the queen that they were exactly the same age, and over the several years that Vigée Le Brun painted her, they were also both of child-bearing age, and both had children, and both lost a child... I have a sense that this must have mattered in some way." Throughout her career, Vigée Le Brun was known for her ability to put her clients at ease, and notes in her memoirs, how she and Marie Antoinette would converse and even sing during their many sittings.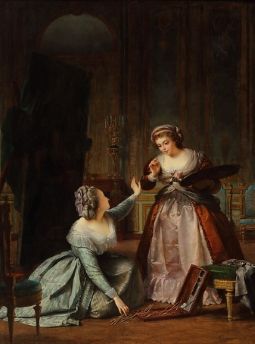 In the 1859 painting Marie Antoinette Gathering the Brushes of Madame Vigée Le Brun, 1784, by Alexis-Joseph Pérignon a mixture of command and humbleness is shown in the queen's pose, with hand extended toward the artist while kneeling to pick up her brushes. New Orleans Museum of Art, New Orleans
The closeness of the relationship was well known, as evidenced in a mythologized episode painted by Alexis-Joseph Pérignon in 1859. Situated within the artist's studio, the scene depicts a seemingly candid moment wherein the queen herself deigns to pick up the artist's dropped brushes, not letting Vigée Le Brun do it herself. This anecdote was described decades later in the artist's memoirs, as to having occurred during her second pregnancy, which sadly ended in a miscarriage. Whether this actually occurred, however, is unclear; it may be that an event from the year prior to the scene depicted partially inspired the event. In 1783, it was only through royal intervention that Vigée Le Brun was allowed admittance to The French Royal Academy of Painting and Sculpture. The institution not only had limited the number of female students to four at any given period, but as Chadwick explains, "Royal intervention was necessary to overcome the Director's opposition, Jean-Baptiste-Marie Pierre, on the grounds the Vigée Le Brun's husband was a picture dealer and election was forbidden to anyone in direct contact with the art trade."
Mature Period
The next decade saw Vigée Le Brun achieve unprecedented success as an artist in the French Royal Court. During this period, in addition to the numerous portraits of the queen, she also depicted other members of the royal family and aristocracy. Between her admittance in 1784 to the breakout of the revolution in 1789, Vigée Le Brun contributed some 50 paintings, mostly consisting of portraiture, to the yearly Royal Salons. She was active in the royal court and held Salons at her home throughout the 1780s, hosting members of the aristocratic class as well as other artists, including the prominent artist Jacques-Louis David, who was said to once compliment her painting by saying it appeared to have been painted by a man. Although the two may easily have been rivals, as Vigée Le Brun commanded the highest prices of any artist in France for her portraits, they were known to be friendly as colleagues.
As the political tide began to turn toward revolution in France, Vigée Le Brun's position as the official portraitist of the queen went from boon to burden for the artist. On October 5, 1789 thousands of Parisians, mostly women, rioted over the price and shortage of bread and marched to Versailles. The following day, King Louis XVI and Marie Antoinette fled the palace. The revolution split French society between those loyal to the monarchy and those who sided with the revolution; Vigée Le Brun and David, for example, would take on opposing sides of this battle.
As a loyalist to the Ancien Régime, Vigée Le Brun was forced to flee France at the onset of the French Revolution. She left Paris on the same day the king left Versailles, travelling in the guise of a commoner with her daughter and governess in a public coach to Italy, with only enough money to cover traveling expenses. Upon arrival, she set up her studio and commenced what she had done since her teenage years, painting portraits to support herself, and now her daughter. Of course, circumstances had much changed over the previous two decades and she now quickly resumed her status as a painter of the aristocratic and ruling families in Italy and beyond. Although she would never see her queen again, the artist remained devoted to Marie Antoinette throughout her life, noting in her memoirs, "the kindness she always bestowed upon me has ever been one of my sweetest memories."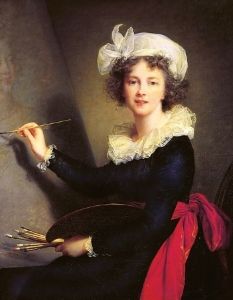 This self-portrait from 1790 shows Le Brun painting, her slightly-opened mouth is a signature detail of prior portraits of Queen Marie Antoinette - very shocking for the time. This was her first major painting after leaving France, made for the Uffizi Gallery in Florence.
Madame Le Brun used the opportunity to view masterworks and hone her education in Italy, a trip commonly known as the Grand Tour. "She had to make a new career for herself," Baetjer explains, "which she did with the largest amount of skill that can possibly be imagined, by seeking out people that she had known in France, including foreigners, and by making these very good connections abroad." Beginning in Florence, Vigée Le Brun contributed a self-portrait to the Uffizi collection in Florence, at once entering her into the canon of European artists, projecting her identity as a female painter at work in her studio. Among her new patrons was Queen Maria Caroline of Naples, sister of Marie Antoinette, herself a generous patron of the arts who had previously commissioned a portrait of Ferdinand IV, King of Naples, and his Family by Swiss-German history painter Angelica Kauffman in 1783, whom Vigée Le Brun also met in Rome.
From Italy, Vigée Le Brun and her daughter traveled to Austria, where her fame spread by that time, not withstanding the connection with Marie Antoinette which also proved beneficial. She stayed for three years (1792-1795), noting in her memoirs the generosity of her Austrian patrons. "As for the people," she recalls, "nowhere have I seen such ease and contentment and there was much to delight the eye in this great town." It was in Vienna that she also had her first of several Russian clients, Count Paul Andreevich Shouvalo, which over time piqued her interest in traveling to St. Petersburg. Ilse Bischoff notes in his article, Madame Vigée Le Brun at the Court of Catherine the Great (1965), "Her good friend Count Razumovsky, Russian ambassador to the court of Vienna, urged her to go, assuring her of Catherine's patronage and promising her many commissions."
A three-month journey led her to the Russian capital, where Catharine the Great had welcomed numerous French exiles upon the outbreak of the French Revolution. The Russian monarch had modeled much of her own court after the sophisticated French aristocracy, from the arts, music, fashion and even speaking French over their native tongue. "The chemise dress, which was the subject of a lot controversy as far is it involved Marie Antoinette, because it was thought inappropriate for the queen to appear in these white gossamer/chemise dresses. By the time Vigée Le Brun got to St. Petersburg, the ladies in fashion in St. Petersburg were wearing the chemise dress," Baetjer notes, "she was carrying French taste, but she was also following it... She was moving with the bubble of French culture, which she represented." As such, Vigée Le Brun was very much at home in the Russian court and continued to command astronomical prices for her work.
Vigée Le Brun and her daughter would stay for six years in the welcoming atmosphere of the Russian court. It was during this period that the once close relationship between mother and daughter grew strained. No longer a child, but a young woman, Julie fell in love with Gaétan Bernard Nigris, secretary to the Director of the Imperial Theaters of Saint Petersburg, a match her mother did not approve but her father would sanction through written correspondence. The relationship was irrevocably changed, such that when Vigée Le Brun left Russia in 1801 to return to France, her daughter stayed and the two would not speak for nearly two decades.
Over the course of the French Revolution, the turmoil in France exponentially escalated, proving Vigée Le Brun's decision for self-imposed exile to be correct. It was not, however, a decision free of consequence. As written in the exhibition catalogue for 1789: French Art and the Revolution, "In 1792, her name was added to the official list of émigrés and like all others who had fled France, her property was seized by the state and she was declared legally dead." In 1793, her estranged husband published a petition signed by 255 artists to allow his wife to return to France that was denied by the authorities. Soon thereafter, both her brother and estranged husband were imprisoned for several months, due to Vigée Le Brun's close association with the former royal court. For his own safety, and to recover his assets, Jean-Baptiste divorced his wife in 1974. She would never remarry.
Late Period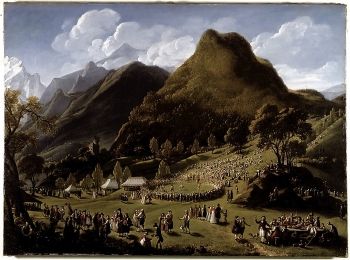 A minor subject in the oeuvre of Elisabeth Vigée Le Brun, lively landscapes such as Festival of the Shepherds at Unspunnen, August 17, 1808, (1808-1809) inspired by the long travels across Europe during her years of exile from France. The Kunstmuseum Bern, Germany
In June of 1800, Vigée Le Brun's name was finally removed from the list of emigres, meaning that she could return to her homeland, thanks to the continued efforts of her family and ex-husband, who long campaigned for reinstating her citizenship. After a long journey, she returned to Paris in 1802. After 12 years abroad, the changes in French culture due to the revolution and rise of Napoleon were difficult for the artist. Unlike her former colleague, Jacques-Louis David, who took on a central role as a chief artist during the Napoleonic era, Vigée Le Brun was not comfortable in the court of the new ruler. Before the year's end, the artist announced a two-year trip to London and Berlin.
Madame Le Brun was preceded by her reputation, once again, and met with numerous commissions for portraits from elite circles in England, but she was not without her critics. Most famous, was an incident with the far lesser-known English portraitist and author, John Hoppner, who in the preface to his Oriental Tales critiqued her and French painting at large: "There are very indifferent pictures ... that still bear relation to good art; but I have no difficulty in affirming that the works of the present French school, whether they be painted by David or Madame Vigée Le Brun, do not." He goes on to criticize both her technique, ability to render objects ranging from fabric to furniture, as well as her prices that he describes as triple the rate of Sir Joshua Reynolds. As she could not read English, Vigée Le Brun was not fully aware of the situation, although upon learning of Hoppner's heavy-handed critique she responded by systematically countering each of his points, undoing his argument, citing Raphael and the ancient Greek sculpture while doing so. She ends the account of the episode in her memoirs with caustic nonchalance: "[Her response] remained no secret to London society, and the laugh was not on the side of M. [the English portraitist], who, all enmity aside, did not know how to do drapings." The last note was a direct rebuttal to one of the attacks on her technique leveled by Hoppner.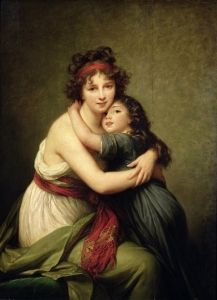 Self-Portrait with Her Daughter Julie (a l'Antique) (1789). Musée du Louvre
After her time in London, she eventually re-settled in her home country, where she purchased a country house. In addition to submitting paintings to the yearly national salon, she also resumed hosted her own gatherings. Jean-Baptiste, her ex-husband, died in 1813. Sadly, her daughter long-estranged from her mother and now separated from her husband, died impoverished in 1819. Apart from Vigée Le Brun's own memoirs, little is known about how and when the artist learned of her daughter's misfortune. "I rushed to her house as soon as I heard that she was in danger;" she wrote, "the illness took a firm hold very quickly, and I cannot express the emotion I felt upon realizing that I could do nothing to save her." The following year, death returned to take the life of Vigée Le Brun's brother Étienne. She recalled of this period, "Such grief in so short a time broke my spirit."
Although she was in exile during the 1789 Revolution, she lived through July Revolution in 1830, which brought Louis Philippe I, the so-called "Citizen King" to the throne. Vigée Le Brun painted late into her life, and published her memoirs between 1835 and 1837, aided by her nieces, Madame de Riviere and Madame Tripper Le Franc. She died in 1842 aged 86, during the reign of Louis Philippe I, having lived through political turmoil and immortalized generations of Europe's leading figures through her work.
The Legacy of Elisabeth Louise Vigée Le Brun
Elisabeth Vigée Le Brun's talent and importance was largely dismissed in the decades following the artist's death, a common fate of many significant women artists. Despite her vast oeuvre, including commissions by the most powerful ruling families throughout Europe, her legacy was largely ignored until the late-20th century. The credit for her work's inclusion in important national and private collections was simply attributed to the significance of the sitter over the stature of the artist. Since the 1980s, efforts have been made to reintroduce her into the canon of Western art history, marked by two major retrospective exhibitions at The Modern in Fort Worth, and the touring exhibit, Vigée Le Brun: Woman Artist in Revolutionary France a collaboration between Réunion des musées nationaux-Grand Palais, in Paris; The National Gallery of Canada, Ottawa; and The Metropolitan Museum of Art in New York.
In academia, also, her works have been freshly examined with close attention and critique of her evocations of female identity and relationships. Reception among feminist historians is mixed, the works receiving praise by Mary D. Sheriff who published The Exceptional Woman: Elisabeth Vigée-Le Brun and the Cultural Politics of Art (1996), and less positive appraisals by early 20th century feminist and social theorist Simone de Beauvoir and postcolonial feminist Griselda Pollock, who critique the artist as having an overly sentimental and feminine style. Her paintings, however, are not interesting merely as records of the great and powerful royal families during a tumultuous period of European history, but are, in actuality, as complex as the times in which they were painted.
It is in her candid and naturalistic style that Vigée Le Brun broke with tradition and set a precedent for the modern era. What looks traditional to modern viewers was, in fact, a break with established decorum. She became known for the nearly casual attitude taken by her sitters, almost seeming to welcome the viewer of the paintings into their presence, a striking contrast to the formality often associated with aristocratic and royal images. Although she had numerous male patrons and sitters, her name instantly conjures famous paintings of Marie Antoinette, as well as her engaging self-portraits, and the intimacy she achieves with her female subjects.
Ironically, it is the subject for which she is best known that she also receives critique as repetitive and formulaic. The Impressionist Mary Cassatt once dismissively noted, "She painted herself." However, it is precisely these images, notably her self-portraits with her daughter, which anticipates the 19th-century works of Impressionist painters Cassatt and Berthe Morisot, artists renowned in their time and subject to similar issues of exclusion in the decades following. Vigée Le Brun is distinctive in her lavish attention to the surface, capturing the luminescence of silks and satin as few other artists before or since. Likewise, the Impressionists were highly attuned to surface as well as subject. Like Vigée Le Brun, both Cassatt and Morisot often looked to the social spheres inhabited by women, and often their children, as a primary subject. The education, subject and genre depicted by these women artists reflects the social restrictions placed on women during their respective lifetimes. Additionally, such familiar and intimate moments among women were largely excluded as important subject matter throughout much of the 20th century, until the rise of Feminist artists in the 1960s, and Judy Chicago's famous Birth Project from the 1980s, began to seriously question the male-favored hierarchy of subject and genre within the established canons of art history.
Most Important Art
Hubert Robert (1778)

Dramatically lit, this Neoclassic portrait of the Landscape painter Hubert Robert does more than present a mere likeness of the sitter. Set in an austere environment, a common trait of Neoclassic portraiture, Robert casually holds his palette and brushes in his left hand, while the right rests on a ledge, creating a sense of fluency and mastery of his trade. Cleverly Vigée Le Brun has utilized the motif common for an artist's self-portrait and used it for the portrait of her colleague; such that the subtext becomes a dialogue between the two painters. It is a conversation interrupted, however, as Robert, momentarily distracted, looks sharply to our right, beyond the view of the canvas. With an almost snapshot like composition, decades before the advent of the camera, she captures in his posture a sense of familiarity, and with his focused gaze, his intellect.

A common misconception of Vigée Le Brun is that she was primarily a portraitist of women. In fact, she painted an almost equal number of men throughout her career. Some of the critique Vigée Le Brun has received by contemporary historians points to an inconsistency between the representation of her male and female sitters; notably that she creates an air of authority in her male portraits, in contrast to the softer style afforded to her woman clientele. As Chadwick notes, "The brusque, taut surfaces and intense gazes of male sitters in Vigée Le Brun's portraits of the painters Joseph Vernet and Hubert Robert are almost entirely missing from her portraits of women. The focused mental energy of these figures (Robert's hair springs from his head as if electrified) are in sharp contrast to the many portraits of women with the softened contours and misted surfaces." Artist biographer Meryle Secrest echoes this sentiment, who notes in contrasting Vigée Le Brun to Gainsborough for ArtNews, "Vigée Le Brun, for instance, was making masterly studies of men, but her women too often conform to the clichés of her age." Whether Vigée Le Brun's portraits of women simply conform to clichés, rather than symbolize their elevated status and social position, remains a source of debate.

Read More ...

Elisabeth Louise Vigée Le Brun Artworks in Focus:
Elisabeth Louise Vigée Le Brun Overview Continues Below
If you see an error or typo, please:
tell us
Cite this page

Content compiled and written by Loïc Desplanques
Edited and revised, with Synopsis and Key Ideas added by Molly Enholm
" Artist Overview and Analysis". [Internet]. . TheArtStory.org
Content compiled and written by Loïc Desplanques
Edited and revised, with Synopsis and Key Ideas added by Molly Enholm
Available from:
First published on 02 Sep 2018. Updated and modified regularly.


[Accessed ]