Artists
Mierle Laderman Ukeles
Biography and Legacy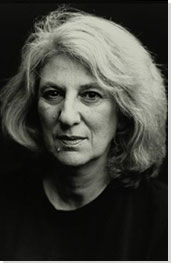 Born: 1939 - Denver, Colorado, USA

"Maintenance has to do with survival, with continuity over time. You can create something in a second. But whether it's a person, a system, or a city, in order to keep it, you have to keep it going. I think that one thing we must do is value and learn from those who provide this service."
Biography of Mierle Laderman Ukeles
Childhood and Early training
Ukeles grew up in a lower-middle-class Jewish neighbourhood on the west side of Denver. Her father was a rabbi. She says that growing up in the 1950s was a "really weird time", especially for a woman. She found the culture very constraining, and decided to pursue her post-secondary studies out of state.
Ukeles studied her undergraduate degree in history and international studies at Barnard College in New York City. She later began her artistic training at the Pratt Institute in New York. She says about attending art school in the 1960s, at the height of Pop art, assemblage, and other artistic developments, "There were many teachers that couldn't handle the change. And a lot of them couldn't handle women." She was told by a sculpture professor at Pratt that women shouldn't be in sculpture.
After dropping out of the Pratt Institute due to feeling unwelcome and limited, Ukeles moved home to Colorado, enrolled in an art education program at the University of Denver, and continued making art, mostly working in fabric sculptures. She then moved on to creating larger inflatable works. Both of these sculptural practices frustrated the artist as they demanded excessive amounts of time and upkeep, or maintenance, and also required a lot of materials.
Mature Period
While Ukeles was working on these sculptural pieces she became a mother. At the time, she felt that her life was "divided in half", between being a mother at home with her children, and being a practicing artist working in her studio while someone else cared for her children. In October 1969, she says she "had an epiphany," wherein she told herself, "You're the boss of your freedom. You're not a copier of Marcel [Duchamp], who can't help you anymore. If you're the boss of your freedom then you have the right to name anything art. Marcel gave me that right. So that's how I turned my maintenance work into maintenance art. That was it. It was a way to keep my life together. I said to myself: I'm an artist. I need to be who I am, and this is who I am."
It was also in 1969 that Ukeles wrote her Maintenance Art Manifesto, in which she proclaims that maintenance tasks (such as domestic chores and childrearing, as well as public/general and earth maintenance) can be performed as creative acts. This pivotal moment laid the groundwork for the focus on maintenance work, including caring for children, families, cities, and the environment, that has defined her career ever since. After Ukeles' Maintenance Art Manifesto was published, feminist curator Lucy Lippard called her up to check if she was actually a real person, and not an invention of the editor. This phone call led to a long friendship between the artist and curator and through exhibiting on shows Lippard curated, Ukeles also formed friendships with other American feminist artists such as Suzanne Lacey and Jenny Holzer.
Ukeles' subsequent performances and exhibitions, including I Make Maintenance Art One Hour Every Day, (1976) and Touch Sanitation (1978-1980), critiqued the low cultural status of maintenance work, with maintenance workers usually earning minimum wage (or no wage at all as in the case of housewives).
Since 1977 she has been the unsalaried Artist in Residence at the New York Department of Sanitation (DSNY). According to Johanna Fateman, journalist for Artforum International, this collaboration came about after art critic David Bourdon joked that the city's sanitation department should apply for artists' grants to resuscitate its slashed budget in his review of Ukeles's I Make Maintanence Art One Hour Every Day (1976) . The artist then cut out the review and mailed it to DSNY Commissioner Anthony Vaccarello, asking if he might be interested in having an artist in residence at the DSNY. Shortly after, she received a call from his assistant, who asked her: "How would you like to make art with 10,000 people?" To this she responded, "I'll be right over."
The Legacy of Mierle Laderman Ukeles
Ukeles has played an important role in the development of the practice of artist as activist, using artistic ideas and processes to pursue the feminist aim of empowering marginalised people and altering societal attitudes, particularly those considering what is important and proper work under capitalism.
Along with her feminist artist contemporaries, including Judy Chicago (The Dinner Party (1979)), Martha Rosler (Semiotics of the Kitchen (1973-1974)), and Mary Kelly (Postpartum Document (1973-1979)), Ukeles challenged the notion of the independent artist as male. Ukeles' work is important in expanding Performance art to include working with non-artists, as well as challenging the male-dominated Conceptual art movement and practices by expanding the readymade from found object to found event, chore, and hidden act.
Ukeles collaborative work with municipal organisations and other maintenance workers has been hugely influential on artists like Suzanne Lacey's socially engaged or 'participatory' art practices, and it is now common for municipal organizations across the world to invite artists to work with them in residence.
Most Important Art
Second Binding (1964)

Second Binding is an early sculptural work composed of a mass of wrapped, stuffed, bulbous forms, which are dyed black, red, orange, yellow, and brown to give the appearance of something organic and fleshy.

This work is one of several sculptures that Ukeles made while attending the Pratt Institute. The work caused a lot of controversy at the school, with administration demanding it be removed from the graduate studio as they considered the sculptures "pornography" created by an "oversexed" woman. When Robert Richenberg, her favorite professor, ignored these requests, he was dismissed from his position. Ukeles herself was not expelled as she had feared, however, she was made to feel "extremely unwelcome", which led to her dropping out after one more semester.

Speaking about leaving the school and these early works she says, "I almost fell apart. But I knew I was onto something very important. The work had value because it was my work." She rejected the idea that these visceral abstract works were "pornographic" and considered these "bindings" to be like "energy pods," stuffed to the point of bursting with rags, "like images of energy captured".

Read More ...

Mierle Laderman Ukeles Artworks in Focus:
Mierle Laderman Ukeles Overview Continues Below
If you see an error or typo, please:
tell us
Cite this page

Content compiled and written by Alexandra Duncan
Edited and revised, with Synopsis and Key Ideas added by Brynn Hatton
" Artist Overview and Analysis". [Internet]. . TheArtStory.org
Content compiled and written by Alexandra Duncan
Edited and revised, with Synopsis and Key Ideas added by Brynn Hatton
Available from:
First published on 09 Jul 2018. Updated and modified regularly.


[Accessed ]