Artists
Laurie Simmons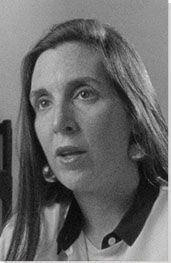 Born: October 3, 1949 - New York City
"My work isn't specifically about my own story. Rather, it's a kind of idealized cultural memory of the position of women when I grew up."
Summary of Laurie Simmons
Laurie Simmons played a significant role in exploring the image and expectations of women in the post-war United States, using photographs centered around dolls and the domestic sphere to quietly subvert familiar models of feminine identity. Simmons was heavily influenced by her suburban childhood, often drawing from her own memories to create a visual universe characterized by a sense of the uncanny created through combinations of the familiar and unfamiliar posed to provoke, rather than to answer, questions about relationships between play, the domestic sphere and sexuality. After establishing herself as a photographer, Simmons used film as a means of further exploring issues of character; she has recently begun working with life-size figures taken from subcultures based around different types of dolls, allowing her work to develop in relation to changed understanding and use of women and toys in the twenty-first century.
Key Ideas
In focusing on inanimate objects, such as dolls or furniture, Simmons challenges the viewer's sense of power, giving the inanimate objects life and the ability to return the gaze, challenging objectification. Simmons' work can be seen as defying male traditions of viewing in the way through borrowing from established modes of representation and subverting them.
Simmons' work draws upon her childhood in postwar suburbia in order to explore the difficulties that lay beneath the image of the United States as promising domestic bliss through conformity. Simmons often uses children's toys as tools to reconsider the postwar celebration of the nuclear family.
Simmons uses photography to recorde and communicate scenes that she constructs, rather than as an end in itself. Simmons is attentive to constructing the worlds that exist within her images, often designing dolls and building sets, influenced by the Conceptual use of the snapshot, a form of image taken by an amateur, to communicate information to an audience.
Simmons distinguished herself from other members of the Pictures Generation through her use of nostalgic imagery associated with the home. Simmons' work probes the messages that are passed through families, rather than employing the mass-media aesthetic for which the group became known.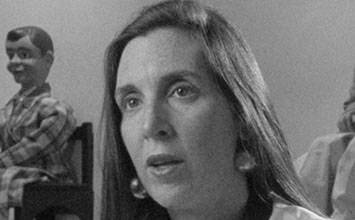 Laurie Simmons was born on the outskirts of New York City, in the beachside neighborhood of Far Rockaway, as the second of three daughters to a dentist and a housewife. Simmons spent much of her childhood in her father's dentistry office, attached to the house, reading Life and Look and watching tropical fish in the waiting room. The family were financially comfortable and had an active cultural life; Simmons has described her mother, Dorothy Simmons, as "an enabler, a housewife of her time," making it possible for her father, Samuel Ira Simmons, to pursue his interests in sculpture, comedy and music in the evenings and on weekends.
Important Art by Laurie Simmons

The below artworks are the most important by Laurie Simmons - that both overview the major creative periods, and highlight the greatest achievements by the artist.


Artwork Images

Sink / Ivy Wallpaper (1976)

Artwork description & Analysis: This photograph shows a dollhouse sink set at an angle to, and casting a shadow on, wallpaper patterned with leaves and lines. The sink is positioned at the center of the photograph, overlapping with an intersection between the lines of the wallpaper and is framed by enormous leaves, on the wallpaper, that draw attention to the ambiguities of scale within the image. These leaves are as large as the sink itself and the faucets and support for the sink overwhelm the small basin, which is filled with water.

Simmons considered Sink/Ivy Wallpaper to be her first mature work. This image simultaneously alludes to the traditions of fine art photography, through the use of black and white film rather than color, and to the snapshot, through the placement of the sink at the centre of the frame. The camera is used to create an illusion of reality, rendering the sink lifelike whilst remaining self-conscious, with the menacing scale of the wallpaper's leaves drawing attention to the ways in which the image is constructed, representing a sink in a performative manner. Simmons has spoken of her own interest in photographing the miniature sink as connected to ideas of memory, time and space; this sense of skewed proportion can be seen as mirroring the distortions of memory or as suggestive of the confining nature of suburban life.

Gelatin silver print - Whitney Museum of American Art, New York


Artwork Images

Untitled (Woman Standing on Head) (1976)

Artwork description & Analysis: Untitled (Woman Standing on Head) shows a doll in a miniature kitchen, complete with countertops, sink, stove and refrigerator. In the centre of the image, a doll clad in the dress and high heels of a suburban housewife, with neatly bobbed hair, is doing a handstand on the tiles, surrounded by miniature plates and cutlery strewn across the floor. This is the most extreme of a series of images taken by Simmons showing the doll in various positions, including sitting at the table and standing in the corner, around the kitchen.

In Untitled (Woman Standing on Head), as in the series' other images, this doll is alone in an everyday domestic setting. The positioning of the camera above, looking down on the scene from an angle, creates a sense of claustrophobia and the image offers no explanation for the odd behaviour of the doll, who can be read as hysterical in her senseless subversion of her body, which mirrors the way in which the image itself quietly questions expectations of women in mid-century domestic settings. Simmons' use of black and white, with strong tonal contrasts, distances the viewer from the image's action and is suggestive of film noir, heightening the sense of the figure's alienation and the scene's uncanniness.

Gelatin silver print - Metropolitan Museum of Art, New York


Artwork Images

Walking Gun (1991)

Artwork description & Analysis: In this black and white photograph, at the centre of the frame stands a revolver pistol that has been attached at its base to a pair of female doll legs. Wires that help the hybrid doll-gun figure stay upright are only faintly visible. The figure is harshly spotlit, and just behind, its own dark, sharp shadow is visible against the plain light-colored backdrop.

This work comes from Simmons' Objects on Legs series, which seeks to question and critique the role of women in society. In the series, many consumer objects, including miniature dollhouses, cakes, guns, purses, cameras, and musical instruments are perched atop shapely feminine legs, sometimes standing, sometimes reclining. The simplicity of these images leaves them open to interpretation. This combination of female legs with a revolver, a weapon which is generally understood as a male object (even as a symbol of the male phallus) creates a bizarrely gendered object which is both alluring and dangerous. Or perhaps we can read the image as a commentary on, and reaction against, violence against women. However, Simmons explains that "When I made that picture in the early 90s I wasn't really thinking about guns and violence. I was thinking about a woman character in a film noir world who put it in her purse, it was more about a caricature who was a gun toting strong woman, a Raymond Chandler kind of character, it was very romantic. Now my friend from New York, who is very active against gun violence, wants to use it as an edition to sell to raise money and consciousness about gun control and gun violence, something I really care about and think about."

As in much of Simmons' work, this image confronts, upsets, and confuses accepted notions of binary relationships (such as male and female). It also follows her trend of playing with scale. The images in this series were presented at life-size, with some prints measuring seven feet tall. Thus viewers of the photographs are faced with inanimate hybrid objects that are the same size as real people, creating a discomforting experience.

Gelatin silver print - Metropolitan Museum of Art, New York
More Laurie Simmons Artwork and Analysis:
Influences and Connections
Influences on Artist
Artists, Friends, Movements
Influenced by Artist
Artists, Friends, Movements

Interactive chart with Laurie Simmons's main influences, and the people and ideas that the artist influenced in turn.
View Influences Chart

| | | | | |
| --- | --- | --- | --- | --- |
| Artists | | Personal Contacts | | Movements |

Influences on Artist

Laurie Simmons
Years Worked: 1976 - present
Influenced by Artist

Artists

| | |
| --- | --- |
| | Laure Tixier |
| | Stacy Leigh |
| | Annie Collinge |
| | Martine Gutierrez |
| | Isabel Magowan |

Personal Contacts

Movements
If you see an error or typo, please:
tell us
Cite this page

Content compiled and written by Alexandra Duncan
Edited and revised, with Synopsis and Key Ideas added by Anna Blair
" Artist Overview and Analysis". [Internet]. . TheArtStory.org
Content compiled and written by Alexandra Duncan
Edited and revised, with Synopsis and Key Ideas added by Anna Blair
Available from:
First published on 24 Sep 2018. Updated and modified regularly.


[Accessed ]