Biography of Amedeo Modigliani
Childhood
Amedeo, or "Dedo," Modigliani was the youngest of four children born to Jewish parents, Flaminio and Eugenia, in Livorno, Italy, home to a large Jewish community. Shortly before his birth, the family businesses had fallen onto hard times, forcing the Modiglianis to declare bankruptcy. Amedeo's timely arrival may have resulted in the rescue of many valuable heirlooms; according to family legend, soldiers were forced to avoid Eugenia in childbirth as they came to repossess the furniture, in accordance with an old Italian custom that forbade the seizure of any possessions in the bed of a woman in labor.
Eugenia's father and sister, Isaac and Laure Garsin, played a significant role in Amedeo's upbringing. The Garsins were highly educated, introducing Amedeo to literature, poetry, philosophy, and the visual arts at a young age. In 1895, Amedeo contracted the first of several serious illnesses that he battled throughout childhood. While suffering from typhoid, he first told his mother of his wish to be a painter. Although Eugenia preferred an academic education for her son, she later acceded to his wishes, as she recounted in her diary: "On the first of August [1898], he begins drawing lessons, which he has wanted to do for a long time. He thinks he's already a painter." The following year, Amadeo gave up his regular schooling entirely to study with his drawing teacher, Guglielmo Micheli.
Early Training
After being diagnosed with tuberculosis in 1901, Modigliani recuperated in southern Italy with his mother. Visits to the museums in Naples, Rome, Florence, and Venice familiarized him with classical Italian painting and sculpture, fueling his enthusiasm for the fine arts. After their return to Livorno, he convinced his mother to allow him to move to Florence, where he studied figure drawing at the Scuola Libera di Nudo. Possibly inspired by his admiration for Michelangelo, he moved to Pietrasanta in 1903 to devote his time to sculpture, but found his strength insufficient for the strenuous and time-consuming stone-carving process.
In Florence, Modigliani became acquainted with Manuel Ortiz de Zarate, an artist who had worked with the Impressionists. Intrigued by Zarate's descriptions of Paris and the avant-garde, Modigliani decided to pursue his ambitions there, but his mother encouraged him to stay in Florence. Restless for new opportunities, Modigliani moved to Venice and enrolled in the Scuola Libera di Nudo at the Istituto di Belli Arti, which he found overly traditional in its curriculum. He discovered a preference for art-making amid the atmosphere of the local bars and cafés, where he was introduced to illicit substances. Growing increasingly dissatisfied with the art scene in Italy, his mother finally allowed him to move to Paris in 1906.
Mature Period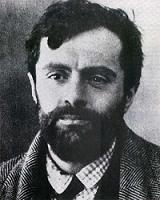 As Modigliani settled into Paris, he enrolled in the Académie Colarossi and spent the first few months visiting area galleries and museums. He was soon absorbed into the Bateau Lavoir circle, which included Juan Gris, Max Jacob, Pablo Picasso, and André Salmon, among other well-known art and literary figures. Searching for an innovative style that could compete with those practiced by the Parisian avant-garde, Modigliani concentrated on painting. Works from this period show a high regard for the Post-Impressionists. Head of a Woman Wearing a Hat (1907) makes use of a curvilinear style that is characteristic of Art Nouveau, but also exhibits the influence of Henri de Toulouse-Lautrec in the tilt of the woman's shoulders and the thoughtful, expressive face, revealing Modigliani's early interest in representing psychological states.
A 1906 exhibition of three paintings at the Laura Wylda Gallery failed to generate any sales or interest in Modigliani's work. He approached galleries door to door, sometimes resorting to trading his art for food or other necessities. Frustration with his lack of success led Modigliani to abuse drugs and alcohol, further exacerbating his health problems. His 1907 meeting with Paul Alexandre, a young physician who became a friend and much-needed patron of his work, gave him a renewed sense of accomplishment and a steady source of work. One of Alexandre's favorite works by the artist was The Jewess (1908), a painting influenced by Paul Cézanne and the German Expressionists. The thickly painted canvas, with its solid shapes and dark colors, contrasts sharply with the delicate outlines of the earlier Head of a Woman. Dominant blue tones lend an air of melancholy to the composition, while the clashing areas of black and white convey strong emotion. Modigliani chose The Jewess and four other pieces for the twenty-fourth Salon des Indépendants, but the work received no attention.
Trying to refocus his attention on sculpture, Modigliani looked to Constantin Brancusi, who he met in 1909 through Alexandre. The simple elegance of Brancusi's simplified forms made a strong impression on Modigliani; the older artist's style began to manifest itself in Modigliani's work, as in the limestone Head (1910-12). In his sculptural oeuvre, Modigliani strove for a purity of form, aided by the use of elements from "primitive" African and Southeast Asian art, embraced at the time by many Parisian avant-garde artists such as Picasso.
Late Years and Death
In 1914, Max Jacob introduced Modigliani to the art dealer Paul Guillaume, who bought several paintings and agreed to promote his work. Modigliani's earnings, however, remained meager, and he continued to offer his drawings door to door. In July, he met the English writer and poet Emily Alice Haigh (known by her pen name Beatrice Hastings), who became his lover and the subject of several paintings. Many of these portraits have an angelic quality that suggests a parallel between Hastings and Dante's own Beatrice - an idea that likely appealed to Modigliani. Hastings attempted to gain exposure for Modigliani's work, but his indulgent lifestyle bred conflict in the relationship. Soon after their separation, he fell seriously ill from malnourishment and alcoholism.
After regaining his strength, Modigliani, unable to meet the physical demands of sculpture, continued to paint portraits. By this time, he had melded the influences of the Parisian avant-garde and arrived at his signature painting style, characterized by elegant linearity and the depiction of stylized, yet expressive figures. The best of these works give subtle glimpses into the personality of the sitter, such as the artist's 1916 portrait of Jacques Lipchitz and his wife Berthe.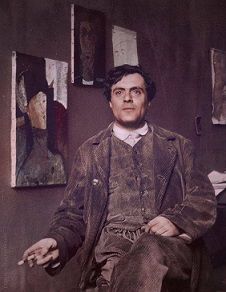 That year, Modigliani began associating with the Polish poet and art dealer Leopold Zborowski, who arranged the artist's first and only solo exhibition in his lifetime, at the Berthe Weill Gallery in December 1917. To entice passersby, Weill installed an attractive nude in the front window. Scandalized, the local police temporarily shut down the exhibition, but the unintended publicity resulted in better sales than usual for the habitually impoverished artist.
In 1917, Modigliani met Jeanne Hebuterne, a young art student from the Académie Colarossi. The two fell in love, and Hebuterne later became his common-law wife. Zborowski, who had committed himself to supporting Modigliani's work, hoped that their relationship would provide both a new source of inspiration for Modigliani's portraiture and a measure of stability for the artist that would help temper Modigliani's dissolute lifestyle. Although his alcohol and drug consumption remained virtually unchanged during their time together, the portraits of Hebuterne reflected the artist's newfound sense of relative tranquility. In 1918, she gave birth to a daughter, named for her mother. New familial responsibilities, combined with his professional obligations to Zborowski, spurred Modigliani to increase productivity despite his fading health. A self-portrait from 1919 suggests a sense of calm and confidence in his work, which afforded him some measure of peace toward the end of his life. Yet, the artist's health ultimately gave way, with Modigliani succumbing to tubercular meningitis the following year.
The Legacy of Amedeo Modigliani
Although his works were not commercially successful during his lifetime, they became increasingly popular after his death. Modigliani is now among the celebrated artists of the twentieth century. While not closely associated with any one particular or formal movement, Modigliani arrived at a signature style that fused aspects of contemporary European artistic developments such as Cubism with non-Western art forms like African masks. His portraits and nudes overturned the conventions of both genres, uniquely combining innovative formal experimentation with probing candor and psychological insight, and earning the admiration of Modigliani's artistic contemporaries such as his close friend and fellow École de Paris artist, the painter Chaim Soutine.
Yet Modigliani's creative legacy remains intertwined with the romantic legend of the quintessential bohemian artist, bound up with a life of excess and Jeanne Hebuterne's tragic suicide the day after Modigliani's death. To date, there are three movies that recount his life and times that all center on this legend, portraying him as a passionate individual with a decadent, self-destructive lifestyle. In addition, at least nine biographies have been written on the artist that address this theme to varying degrees, including one by his daughter, Jeanne Modigliani - aptly titled Modigliani: Man and Myth.
Content compiled and written by Tracee Ng
Edited and published by The Art Story Contributors
"Amedeo Modigliani Artist Overview and Analysis". [Internet]. .
TheArtStory.org
Content compiled and written by Tracee Ng
Edited and published by The Art Story Contributors
Available from:
First published on 21 Jan 2012. Updated and modified regularly
[Accessed ]