Biography of Wyndham Lewis
Childhood
Percy Wyndham Lewis was born in 1882 to Charles and Anne Lewis, an English couple who had emigrated to Nova Scotia, Canada. Charles, a wine salesman, spent much of his life travelling, leaving Anne feeling unhappy and lonely. The family moved to the UK, via Montreal and Portland (USA), when Lewis was aged just six. The Lewis's lived in Eastbourne on England's south coast, before moving to the Isle of Wight. Charles and Anne soon separated, however, and while the boy's father stayed on the Isle of Wight, Anne took her son to live with her mother in Norwood, South London.
Wyndham Lewis's biographer, Paul O'Keeffe, wrote of his time in Norwood: "Percy [he would later drop the "Percy"] played in the rolling grassy parkland surrounding the Crystal Palace under his mother's careful supervision, exchanging this, at intervals, for the heartier holiday pastimes of sea and shoreline with his father". The young artist could be willful and disobedient, however, and at the age ten he was returned from a holiday with his father with a note to Anne which warned: "Am greatly disappointed with the boy and have unpleasant misgivings about his future".
Early Training and Work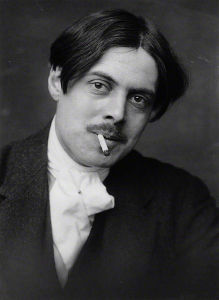 Lewis's artistic talent became apparent when he enrolled at Castle Hill School as a boarder. His ability in wood carving was so impressive in fact that the headmaster gave him special permission to practice his designs on the playground shed. He moved on to Rugby School at the age of 14, where he failed to make his mark academically. He preferred painting to learning, writing: "Instead of poring over my school books, there I would sit and copy an oil painting of a dog". Two years later he joined the Slade School of Art, a prestigious institution whose alumni have included CRW Nevinson, Dora Carrington and Stanley Spencer. He studied sketching and painting, but also began writing poetry. Here he rubbed shoulders with Spencer Gore - with whom he embarked upon a turbulent friendship - and became infatuated with the Welsh painter Augustus John. Lewis left the Slade under a cloud in 1901 after being caught smoking in the corridors outside the principal's office.
In 1903 Wyndham Lewis went on his first foreign excursion, visiting Spain with Spencer Gore, where he would study the Goyas hanging in the Prado. It was the beginning of an itinerant lifestyle that took him to Holland and Germany but it was in France that he was really moved when he discovered Cubism and Expressionism. He existed on cash sent by his mother, and settled in Paris, renting a room at 22 rue Delambre, where he caught lice and ended up sleeping in his studio. A note from the time also reveals that he had forgotten his age; he wrote to his mother: "Am I 22 or 23 years old? Please let me know by return of post". He began an on/off affair with a German lady called Ida Vendel, who he treated terribly, borrowing money from her as he flitted between France, Germany and England. He also suffered bouts of ill health - ranging from gonorrhea and other venereal diseases, to insomnia, depression, chest pains and general irritability.
In 1908 Lewis's literary career commenced in earnest when he began writing his first draught of Tarr, a satirical depiction of Bohemian life in Paris. The following year saw his short story "The Pole" published in the English Review. He moved back to London and in 1910 encountered Futurism while moving in the same circles as Filippo Tommaso Marinetti. That same year Post-Impressionism caught the British public's eye thanks to the runaway success of an exhibition arranged by critic Roger Fry. This prompted Lewis to be more experimental with his art and this earned him some success and favorable comparisons with the continental avant-garde. He produced Cubist-inspired self-portraits as he explored the Return to Order movement (also known as Interwar Classicism) before joining the newly formed Camden Town Group, along with Spencer Gore, Harold Gilman and Walter Sickert.
Mature Period
While Lewis's artistic career began to soar, his personal life floundered. Around this time, Lewis had been having an affair with Olive Johnson a "shop-girl" and "waitress" who would give birth to two of his children, Peter in 1911 and Betty in 1913. The children were sent to live with his mother. In 1919 and 1920 he fathered two more illegitimate children who were less fortunate having been "shipped off" to a "Home for the Infants and Children of Gentlepeople".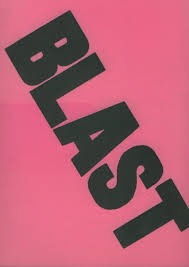 In 1912 Lewis embarked on a series of works that presented humans as robotic figures trapped in a nightmarish, mechanical world. Two years later he published the first of two issues of Blast, an aggressive journal-cum-manifesto that aimed to act as a wrecking ball on what Lewis saw as the hypocrisy and small-mindedness of Victorian Britain. This was the birth of Vorticism - since described as "Britain's only true avant-garde movement". Vorticism was given its name by the poet and playwright Ezra Pound who explained: "The Vortex is the point of maximum energy. It represents, in mechanics, the greatest efficiency". Literary historian Professor David Trotter writes; "There followed, between 1913 and 1915, the period of his most intense commitment to geometrical abstraction. Blast appeared, Vorticism arose". The manifesto was signed by eleven artists, including Pound and Henri Gaudier-Brzeska, and got its name because it "blasted" the things the Vortists hated, while "blessing" the things they loved (though sometimes the same thing would appear in both lists). One passage read: "Blast France, Blast England, Blast Humour, Blast the years 1837 to 1900", followed by, "Bless England, Bless England for its ships which switchback on blue, green and red seas". Only two editions of Blast were ever produced and the Vortist movement had all-but run its course with the intervention of the First World War.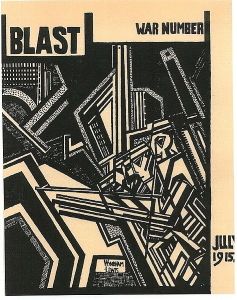 In 1914 Lewis set up the Rebel Art Centre at 38 Great Ormond Street in London, a meeting place for artists to discuss revolutionary ideas and to teach non-representational art. It's co-founder was British Painter Kate Lechmere, with whom he had an affair (and who had been the subject of his 1912 work Smiling Woman Ascending a Stair).
Lewis spent most of his life borrowing money from his mistresses, friends and his mother. By 1915 he found himself in debt to his landlord, printer, frame-maker and other creditors. The following year he enlisted in the Royal Garrison Artillery and while waiting for action his visits to brothels resulted in another bout of venereal disease. He was sent to Europe and fought at Polygon Wood and Third Battle of Ypres. He described the War as a "stupid nightmare", but denied, as his friend William Orpen had recalled, it was "hell". Lewis wrote: "It's Goya, It's Delacroix - all scooped out and very El Greco, but not hell". Lewis was luckier than most - he escaped the war unharmed and, with his mother suffering from pneumonia, was granted compassionate leave in 1917. She died three years later and his children were sent to live with their 73-year-old maternal grandmother. That year he was made Official War Artist for Canada and for Great Britain.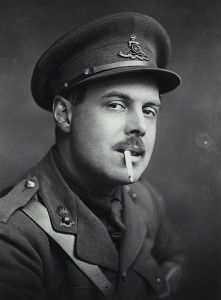 Lewis was a neither a good father nor a decent partner. He lived with Iris Barry between 1918 and 1921, with whom he had a daughter, Maisie Wyndham. Iris had been sent to a nursing home to have the baby while he went on holiday to Saumur with TS Eliot. The surviving correspondence between the pair is a telegram about his dinner dated from June 1920 stating simply: "PLEASE PREPARE CHOP EIGHT - LEWIS" (ergo: "please have my dinner ready for eight o'clock").
In 1920 Lewis set up Group X, a short-lived collective of British artists that aimed to provide a continuing focus for avant-garde art in post-war Britain. Lewis's dream of becoming "England's Picasso", was never realized. After the war, however, he did find noticeable success with portrait painting - producing works depicting his writer friends Edith Sitwell, Ezra Pound and T S Eliot. But he also made many enemies with art critic Laura Freeman describing him as "painter, poet, publisher and picker of fights". She added: "No target was too grand or too trivial: sentimental Victorians and the modern man of government; shark art dealers and the 'atrocious' Royal Academy; compilers of honours lists and editors of literary reviews; thin flapper girls and the fat 'Belgian bumpkins' of Peter Paul Rubens; men who read detective stories and women who liked bowl-of-apple paintings by second-rate Cézannes. People who lived in Putney". Indeed - Lewis's self-awareness was evident when he gave himself the moniker "The Enemy". He nursed a row with the Bloomsbury group for much of his life, describing Virginia Woolf as a timid "peeper" at the lives of others and he dismissed her seminal work Room of One's Own as a "highbrow feminist fairyland". It was views like this, coupled with the treatment of women in his personal relationships, that saw him labelled a misogynist. In the post war years he had become increasingly committed to his writing and published a series of books, short stories and essays on a wide range of topics including political theory, modern art, and Shakespeare. His most notorious work, however, was the satirical novel, The Apes of God (1930), which carried a blunt attack on the wealthy patrons (dilettantes) with whom he had socialized (and from whom he had even accepted commissions for portraits).
The 1930s saw Lewis begin to promote Nazism and he started to write in favor of totalitarianism. He wrote a biography of the dictator, Hitler, and described the führer as "a man of peace". He was disabused of this view seven years later on a visit to Germany when he saw the reality of Nazism, but his support of Mussolini and Franco meant that he never shook off his reputation as a fascist sympathizer. He found later success writing travel books, novels and non-fiction, and in 1930 married Gladys Anne Hoskins in a secret ceremony.
Late Period and Death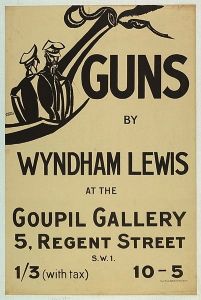 In 1937, Lewis began to lose his eyesight and the following year his portrait TS Eliot was rejected by the Royal Academy. Despite being unable to paint, he continued to write using a Dictaphone, and he entered a prolific literary period, championing art as a critic for the BBC. He also published a trilogy entitled The Human Age. He still struggled to make enough money to live, however, and between 1939 and 1945 moved to Canada in a bid to improve his fortunes.
In 1949 Lewis completed his final portrait and two years later he was struck totally blind by the pituitary tumor that had been growing in his brain. He wrote that blindness was like being "pushed into an unlighted room, the door banged and locked for ever". The tumor killed him six years later but the malignancy itself is stored, somewhat morbidly, in a cross section of his brain in a jar in London's Pathology Museum. Lewis had written more than 50 books, produced 100 paintings and more than 1,000 drawings.
The Legacy of Wyndham Lewis
For many, Lewis's personal morals and questionable beliefs have distracted from his skill as an artist. As art historian Richard Dorment wrote: "Fascistic, racist, misogynistic, homophobic, overweeningly arrogant and personally vicious: you can be all these things and still be a great artist - but I'm afraid that you are unlikely to be a great portrait painter". But the writer Will Self was a little more sympathetic writing: "Wyndham Lewis's great misfortune was to fail to produce what was indisputably one of the great Modernist works, to produce a work that people could batten on to like The Waste Land or Ulysses in literature or in painting to come up with a single defining canvas in the way that Picasso did with Guernica or even some of Paul Nash's paintings from the First World War". It is true that Lewis's name no longer carries the weight of his modernist brothers. But as Will Self observed, Lewis was "Britain's original artist - an agitator and an innovator and a radical force in 20th century art and literature". Indeed the Imperial War Museum said his work provided a template for later rebels, like David Bowie and Tracey Emin.
In socializing with modernist icons including Ezra Pound, T.S. Eliot, James Joyce and Virginia Woolf, Lewis helped found Britain's first avant-garde movement and his influence in the manifesto Blast inspired the radical work of artists Edward Wadsworth, Cuthbert Hamilton, and Lawrence Atkinson. Despite the fact that most of Lewis's Vorticist work has been destroyed, burned or ruined in flooding, his reach can also be seen in the work of British Painter David Bomberg and French artist and sculptor Henri Gaudier-Brzeska.
He also helped a new generation of British titans in his role as art critic for the BBC, where he championed the work of Francis Bacon, Barbara Hepworth and John Minton. The Glaswegian artist William McCance has named Lewis in fact as a major influence in his machine-inspired, near abstract-style portraiture. Meanwhile, the Scottish artist Robert Montgomery dedicated his Estuary Poem to Lewis; setting light to the words "Enemies of the Icebergs and the stars", a title of a play by Lewis that appeared in Blast. The work was exhibited at the end of the estuary at Shellness, where the River Thames meets the North Sea as a warning to all about unsustainable consumption. Montgomery said of Lewis: "He was one of the really important English modernists, a painter and a writer, that very rare thing in British art, a real polymath".
Content compiled and written by Sarah Ingram
Edited and revised, with Summary and Accomplishments added by Antony Todd
"Wyndham Lewis Artist Overview and Analysis". [Internet]. .
TheArtStory.org
Content compiled and written by Sarah Ingram
Edited and revised, with Summary and Accomplishments added by Antony Todd
Available from:
First published on 27 Mar 2020. Updated and modified regularly
[Accessed ]