Artists
Donald Judd
Biography and Legacy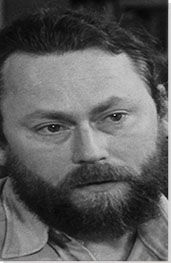 Donald Judd - Biography and Legacy
American Art Critic and Sculptor
Movement: Minimalism
Born: June 3, 1928 - Excelsior Springs, Missouri
Died: February 12, 1994 - New York, New York

From Our Sponsor
"Three dimensions are real space. That gets rid of the problem of illusionism and of literal space... which is riddance of one of the salient and most objectionable relics of European art."

Biography of Donald Judd
Childhood
Donald Judd was born on June 3, 1928, in Excelsior Springs, Missouri. He spent much of his early childhood on his grandparents' farm and continued to live in the Midwest with his parents until they finally settled in New Jersey.
Early Training
Judd served in the United States Army in Korea and subsequently attended the College of William and Mary, the Art Students League in New York, and Columbia University, where he obtained a B.S. in Philosophy in 1953. He went on to work toward a master's degree in Art History, studying under such well-known scholars as Rudolf Wittkower and Meyer Schapiro. Between 1959 and 1965, he supported himself by writing criticism for major art magazines, such as Art News, and in 1968, he bought a five-story, cast-iron office building in Soho, which served as his New York residence and studio for the next 25 years.
In the late 1940s, Judd practiced as a painter and then shifted to the medium of the woodcut, whose linear qualities helped him move from figuration to abstraction. By the early 1960s, Judd had completely abandoned the two-dimensional picture plane and began to focus on three-dimensional forms in which the notion of materiality played a key role. In 1964, Judd wrote Specific Objects, a manifesto-like essay calling for a rejection of the residual, European value of illusionism and advocating an art based upon tangible materials. Judd aligned himself with other artists working in New York, such as John Chamberlain, Jasper Johns, and Dan Flavin, whose work also incorporated non-traditional materials such as found objects, steel, aluminum, and neon lighting. Like Judd, these artists had begun to recognize the physical environment as an intrinsic aspect of the work and that three-dimensional form was the most effective way to address spatial concerns.
Mature Period
By 1963, Judd's presence on the international art scene was beginning to take hold and his second solo show was held at the Green Gallery in New York. In 1966, the influential dealer Leo Castelli organized what would be the first in a long series of solo exhibitions for the artist, which ensured his prominence in the New York art scene. From 1962 though 1964, Judd worked as an instructor at Brooklyn College. Judd served as a visiting artist at Dartmouth College in New Hampshire in 1966 before going on to teach sculpture at Yale the following year. Throughout the 1960s and 1970s, Judd was the recipient of numerous grants and award from such institutions as the National Endowment for the Arts, the John Guggenheim Memorial Foundation, and the Swedish Institute. In 1968, the Whitney Museum of American Art organized the first retrospective of his work, an event that would establish his importance in the world of contemporary art.
In the early 1970s, Judd began to work on increasingly large and complex pieces, such as large, hollow boxes made of steel or copper, often colored with an enameled surface on the inside, which were placed directly on to the floor. By installing his works in this manner, Judd broke with the traditional manner of exhibiting three-dimensional art, which was usually placed on a plinth. Judd's strategy to erase the distance, both physical and psychological, between object and observer served to redefine this inter-relationship; rather than existing as a discrete work of art, Judd's structures form part of the environment and demand to be experienced as part of the viewer's own phenomenological existence.
Late Years and Death
In 1971, Judd rented a house in Marfa, Texas, whose desert surroundings resonated with the artist's aesthetic and which would form an antidote to his New York City studio. In 1979, with the help of the Dia Foundation, Judd purchased a 340-acre tract of desert land outside of the town, which included abandoned buildings from the former Army Fort D.A. Russell and on which he founded the Chinati Foundation, which opened in 1986. The landscape and wide-open spaces resonated with his Minimalist aesthetic. Judd was able to expand his visual language into larger forms, often using aluminum or concrete and integrating the works into the environment. In addition, the development of the Chinati Foundation gave Judd the opportunity to permanently install several large-scale works, according to his own aesthetic standards, as well as to create an exhibition space for other like-minded practitioners. In 1984 he also started to design furniture and expanded his materials to include anodized aluminum and acrylic.
The artist died of lymphoma on February 12, 1994, in New York.
The Legacy of Donald Judd
Donald Judd was a leader of the Minimalist movement and as such, helped to create an appreciation for the clean lines and uncluttered spaces often favored in interior design. By establishing the Chinati Foundation, Judd established a space that now serves as a museum, artist residency, and research center. In 1976, Judd began to turn his attention beyond Marfa and purchased land in Presidio County close to the Mexican border, where he developed his ideas on rural architecture and land conservation, which have influenced practitioners in this area. Judd's writings are, to this day, seen as the most comprehensive statement of Minimalist art; his work both defined a new lexicon of sculptural concerns and contributed to a revised notion of the process of beholding.
Most Important Art
Untitled (1972)

By the 1970s, Judd's "specific objects," as he liked to call these box-like forms that sat directly on the floor, had become, despite their sharp edges and flat color, more complex through his exploration of surface and color. The exterior surface is composed of copper, an industrial material, but one whose warm and reflective surface combines with the richness of the wooden floor as it mirrors its environment. The interior is colored with a highly saturated, red enamel that vibrates in its intensity and contrasts with the static nature of the form in its entirety. The red interior also contrasts with the copper, and yet deepens the viewers' experience by encouraging them to think about the relationship between inside and outside and by asking them to consider the effects of different surface values. Here, the sleekness of the red enamel adds to the seductive aspect of the piece, and may suggest some of the objects, like nail polish or cars, that we choose to purchase as consumers. Moreover, this piece is in some ways the polar opposite of the whole anthropomorphizing tendency that viewers have when they look at sculpture -- the tendency for humans to extend the vertical orientation of their own bodies and see human forms in sculpture, which traditionally was vertically oriented. Instead of seeing in the work a reflection of that usual vertical orientation of the human, organic form, here we have a piece that is more horizontal than vertical and contains inside it empty space rather than "insides" (internal organs).

Read More ...

Donald Judd Artworks in Focus:
Donald Judd Overview Continues Below
If you see an error or typo, please:
tell us
Cite this page

Content compiled and written by The Art Story Contributors
Edited and published by The Art Story Contributors
" Artist Overview and Analysis". [Internet]. . TheArtStory.org
Content compiled and written by The Art Story Contributors
Edited and published by The Art Story Contributors
Available from:
First published on 05 Jun 2014. Updated and modified regularly.


[Accessed ]