"A show in an art gallery is not very confrontational. With film you could get different responses. It's also more public than exhibiting paintings. With my films I went into people's private rooms."
"Sexuality colors my politics."
"Understand that sexuality is as wide as the sea."
"The slow-witted approach to the HIV epidemic was the result of a thousand years of Christian malpractice and the childlike approach of the church to sexuality."
"O blue come forth, O blue arise, O blue ascend, O blue come in."
"My garden's boundaries are the horizon."
"How to survive as a reasonably intact human being undamaged by popular preconceptions and misconceptions? It has been a long uphill battle."
"I believe great artists paint solely for themselves and the idea of audience participation is irrelevant to the act of creation."
"Filmed history is always a misinterpretation.... 'Costume drama' is such a delusion based on a collective amnesia, ignorance and furnishing fabrics."
Summary of Derek Jarman
A pioneering gay filmmaker, Derek Jarman trained as a painter but became known for his film work, which pushed the boundary of experimental cinema and provided some of the first instances of explicit depictions of gay themes in film. His representation of queer sexuality draws on art history and gives a new twist to historical figures, all rendered with a contemporary, punk-inspired sensibility that captures the spirit of street culture in England circa 1970s and 1980s. In his later years, he also became an outspoken activist, who deftly combined aesthetics and politics in his work.
Accomplishments
Through his formally inventive films making use of disjointed narratives and anachronism, Jarman came up with a new genre of arthouse cinema. On the one hand, his work brought narrative back into experimental cinema (at the time dominated by abstract structuralist film), and, on the other, it re-energized the conservative genre of realistic costume drama by injecting it with a more modern and rebellious attitude that blended fiction, history, and his present.
While punk sensibility rejected

classicism

, Jarman stood out among his peers by embracing literature and art in his work. The Renaissance, in particular, provided a well of inspiration, which he drew from but also transformed through his artistic lens.
Jarman's openness about his sexuality and exploration of homoerotic themes in his work contributed to the birth of New Queer Cinema. And by fighting stigma through outspokenness about being gay as well as about his HIV-positive diagnosis, Jarman became a leading artist-activist of his era.
The Life of Derek Jarman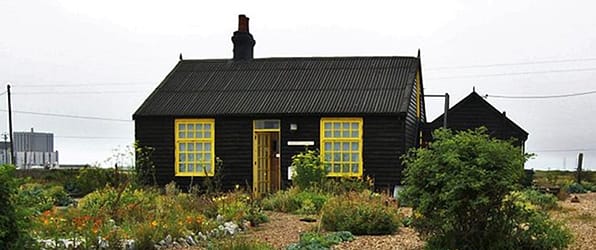 Before his death, Jarman devoted much of his time to gardening on the barren coast of Dungeness in Kent, England. Jarman was a compelling writer, and his gardening provided a background and jumping point for his meditation on life and art in his journals. They were published in book form entitled Modern Nature (1992).
Important Art by Derek Jarman
Progression of Art
1976
Sebastiane
Shot on the coast of Sardinia, Jarman's first feature-length film established the artist as a major player in the independent film world. He co-directed Sebastiane with Paul Humfress and co-wrote the screenplay, entirely in vulgar Latin (partly to get past censorship), with Humfress and James Whaley. The plot depicts the martyrdom of Saint Sebastian, a Christian saint who is said to have been killed in a religious persecution in the 3rd century CE. Saint Sebastian is often depicted chained to a tree and pierced with arrows shot by his persecutors. Jarman's depiction of the historical event features homoerotic tension between Sebastian's fellow soldiers laced with sadomasochistic undertones and other references to gay culture. "There's hardly room for us to kiss," Jarman said of the dominance of heterosexual sexuality in mainstream films. His decision to incorporate queer themes into a religious story established the film as a controversial act of subversion not only against religious orthodoxy but also heteronormative cinema.

Like many of Jarman's films, Sebastiane was a low-budget production. However, instead of suffering from the lack of technical and personnel resources, Jarman used the film's scantly-funded nature (30,000GBP) as a conduit for a comical and self-aware approach to a traditionally somber religious tale. Embracing contemporaneity through references to modern theater, the film makes use of anachronism as a filmic device. As film scholar Niall Richardson explains, "The effect of [Jarman's] anachronism is to collapse the intervening years and emphasize the relevance of his images throughout history," including to contemporary audiences. Weaving together history and sexualized fantasy, the film presented a challenge to audiences. As art historian Bette Talvacchia writes, "Roman history was a shield - but only a metaphorical one, which in one notorious scene did nothing to hide a soldier's state of arousal - that caused extreme genre confusion among critics and distributors' attempts to categorize the film," leading to a "predictably uproarious" and polarizing reception.

Although the queer erotic image of Saint Sebastian is now often associated with Jarman's film, his gay interpretation of the early Christian saint emerged from a line of queer artistic expression including in works by artists and writers such as F. Holland Day, Marsden Hartley, Frank O'Hara, and Marcel Proust. In fact, according to the GLBTQ Encyclopedia, there was already, in the nineteenth century, "an explicitly homosexual cult of Saint Sebastian" inspired by eroticized depictions of the saint by Renaissance and Baroque painters such as Andrea Mantegna and Guido Reni, the same paintings that Jarman drew on in his imagery.
Film
1978
Jubilee
The anachronistic iconography that Jarman explored in Sebastiane became a defining feature of Jubilee, a film that received significant attention and earned the status of a cult classic with its depiction of a "punk apocalypse," as film scholar Jim Ellis describes it. It was released a year after Queen Elizabeth II's silver jubilee (marking the 25th anniversary of her accession) and takes another queen, Elizabeth I, who ruled from 1558 to 1603, as its subject. In the provocative film, Elizabeth I is transported through time to 1970s Britain. There, she encounters a city in a state of decay and overrun with punk rockers, anarchists, and counter-cultural figures. The setting is a grimy, overtly sexual depiction of fraying society. The film was scored by musician Brian Eno and includes appearances by punk icons and cameos by the bands The Slits, and Siouxsie and the Banshees.

Jubilee's multi-layered plot structure combines elements of science fiction, musical, history, fantasy, and satire. Despite its vulgar depictions of punk culture and seemingly random acts of violence, Jubilee retains a sophisticated dedication to high-culture aesthetics and signifiers. Queen Elizabeth I's guide to the modern world, for example, appears in the form of Ariel, a character borrowed from Shakespeare's The Tempest. The screenplay oscillates between punk street slang and Elizabethan poetry. And, as Stuart Jeffries wrote for The Guardian, "Jubilee teems with scenes that switch queasily between juvenile theatrics and droolingly imagined savagery." The film is "giddy, uninhibited, violent and occasionally quite disturbing," writes filmmaker Jonathan Crow, who notes that Jarman "tapped into the same feelings of anger, disillusionment, and nihilism that [iconic punk band] the Sex Pistols articulated." In an interview in the same year as the film's release, Jarman told The Guardian, "We have now seen all established authority, all political systems, fail to provide any solution - they no longer ring true."

Despite its punk sensibility, the film was ill-received in the punk community. It was accused of being a "complete mess" and "wasted celluloid" by punk figures who made cameo appearances (possibly due to its sometimes irreverent attitude towards the idea of punk and incorporation of high culture). Jarman, however, was unfazed: "I don't particularly want people to like the film or what it depicts," he stated, "I simply hope that it makes them feel that something is going on." Despite the initial negative reception, Jubilee is now remembered as one of Jarman's most important films, an iconic depiction of a punk 1970s, as well as a predecessor to "bleak British sci-fi," as described by Alex Denney.
Film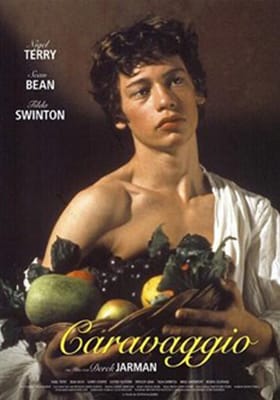 1986
Caravaggio
Building on his aesthetic experiments in earlier films by deftly mixing together history, fantasy, and contemporary street culture, Caravaggio became a career breakthrough for Jarman. The film chronicles the life of Italian Baroque painter Michelangelo Merisi da Caravaggio (1571 - 1610). Jarman imagines Caravaggio's life as one rife with violence, prostitution, homelessness, and recklessness based partly on accounts in art history of his violent temper and trouble with the law. Characteristic of Jarman's films, he incorporates a gay love intrigue into the plot, in this case between Caravaggio and one of his two lovers. The homoerotic depiction of a queer figure at the seedy margins of society follows a modern trope by writers from Arthur Rimbaud to Jean Genet. Jarman also calls upon his signature use of anachronism: as film critic Walter Goodman writes, "the characters manage to exist at once both in Renaissance Italy and in the present; they operate clanking typewriters and thumb through glossy magazines, as the background music changes to suit the period."

Caravaggio received widespread fame in part due to its striking aesthetics, which are replete with references to Caravaggio's dramatic paintings, allowing the film to reach a more mainstream audience than his previous works with their "more jagged, rough-and-ready" aesthetic, writes film critic William Fowler. Caravaggio the painter was known for his use of bold contrasts between light and shadows, as well as for theatrical representations of biblical subjects through his contemporary lens (painting, for example, figures wearing Renaissance-period clothing). Jarman's anachronism therefore echoes his subject's. The filmmaker also draws a parallel between Caravaggio's lifestyle and Jarman's own counter-culture milieu.

In creating Caravaggio-esque tableaus in his film, Jarman initiates a conversation between film and painting as media in the construction of history and reality. As Fowler writes, "the film is about the world as represented in Caravaggio's paintings." But, on another level, it is also Jarman's projection of a history into art. Both the paintings and their context of making informed each other as Jarman set out to create another work in dialogue with them. Beyond depicting and inevitably also fictionalizing the historical Caravaggio, the unstable nature of knowledge about the world was what interested Jarman: "I actually see the news on television as fiction. People say 'reality,' but what they forget is that the streets they walk through come out of people's imagination, and are not real in that sense."
Film
1987-1994
Garden at Prospect Cottage
Jarman moved to the Kent coast of England in 1987, following his HIV-positive diagnosis. With the money he received after his father's death, Jarman bought a former fisherman's cottage called Prospect Cottage, on Dungeness Beach. On its grounds, Jarman cultivated a garden that would come to be a lasting legacy. One wall of the cottage is painted with John Donne's poem "The Sun Rising." It begins: Busy old food, unruly Sun/Why dost thou thus/Through windows, and through curtains, call on us? The gardens spread out from around the cottage, a mixture of plants and sculptures that were mostly assembled from driftwood. It was "as much a metaphor for memory and hope as it was earth and plants," writes art critic Jennifer Higgie. As if defiant against his terminal diagnosis, Jarman selected "plants that could withstand the shingle and the fierce salty winds" of the English Channel. They bloomed beautifully, colorful and vibrant.

Architecture critic Oliver Wainwright describes the garden as a "series of enigmatic stone circles bursting with red and yellow poppies," where "driftwood totems rise above shaggy tufts of sea kale, while talismanic strings of pebbles dangle from rusting iron posts, above the metal balls of fishing floats emerging from clumps of gorse." Jarman biographer Michael Charlesworth makes the case that his gardening should be understood as a part of his aesthetic point of view. The inclusion of varied objects, materials, and flora, he argues, is a testament to Jarman's proposition to his audience: to "consider the world's diversity and worship it," as the character Ariel puts it in Jubilee. Jarman reflected Modern Nature: "There are no walls or fences. My garden's boundaries are the horizon." The gardens served as the set of his films The Last of England (1987) and The Garden (1990).

Despite the beauty and serenity often associated with lavishly cultivated gardens, Jarman's Kent-coast Eden contains, like much of his work, an encroaching bleakness. The site is not far from a nuclear power station, and the constant buzz of the machinery can be heard from the cottage and grounds. Since Jarman's death, the gardens have been kept up by his friend Keith Collins, to whom Jarman left the cottage. After Collins passed away in 2018, the Art Fund raised money to acquire the property and continue to maintain its bizarre, dreamlike vegetation. The site remains a popular destination for artists and students, and though the cottage itself is closed to the public, the gardens are open for visitors.
Sculptures, gardens, and cottage - Dungeness, England
1993
Ataxia - AIDS is Fun
Jarman painted Ataxia - AIDS is Fun when his body had started to deteriorated due to AIDS. The painting is large, measuring roughly 100 x 31 inches, and features a vibrant mélange of abstract color streaks. Ataxia is a term for disorders than affect muscle control and result in a lack of physical coordination; the condition can develop due to HIV. At the time that he made the painting, Jarman was suffering from ataxia: in a 1993 entry in his diary, the artist wrote, "I have acquired a new disability, ataxia, which I call 'wobble' - the HIV is attacking my nervous system so my wobble is in fact a bit of a stagger." He also suffered from a loss of eyesight caused by his HIV treatments. The painting references his onsetting blindness as well as his neurological condition: the text "BLIND FAIL" was scrawled by hand across the paintings, alongside "ATAXIA," "AIDS IS FUN," and "LETS FUCK."

Ataxia - AIDS is Fun renders its difficult subject matter in bright, almost cheery colors, even as the stark streaks of paint suggest a more violent intensity. It was created, notes conservator Roy Perry, "with the frenetic application of a multitude of colors brushed, poured, splattered and dribbled on." As Jarman reflected, "I want to release some of the anger which everyone with HIV feels ... The actual physicality of painting will release the violence in me."

The provocative phrases inscribed into the painting reveal the sense of irony with which Jarman addressed his disease in the public eye. As the Tate Museum, which first showed this work in 1994 to mark his death, notes, "For Jarman, raising awareness of the realities of his condition and maintaining a degree of dark humor about it were important political gestures in light of the homophobic stigma surrounding AIDS in contemporary society."
Oil on canvas - Tate Collection

1994
Blue
Derek Jarman's last film, Blue, is the artist's most somber and direct reflection on his personal battle with AIDS. The film features a single shot of the color blue, a reference to the monochrome blue paintings of the French painter Yves Klein. Klein had famously created and trademarked a pigment of blue, which he had titled International Klein Blue. Jarman had first come across Klein's work in 1974 and had "continued to develop ideas surrounding 'a blue film'" since, writes film critic Paul Attard. When he finally made the film, the color came to stand for his declining eye conditions, which had caused a blue tint to descend on his visual field to the point of total obfuscation of his surroundings. For the film's voiceover, he wrote: My eyes sting from the drops / The infection has halted / The flash leaves / Scarlet after image / Of the blood vessels in my eye.

For both Jarman and Klein, the color blue connotes spirituality, water, the sky, calmness, and escape. Jarman explained that "The monochrome is an alchemy, effective liberation from personality. It articulates silence. It is a fragment of an immense work without limit. The blue of the landscape of liberty." The blue screen is accompanied by music and voiceovers that discuss Jarman's disease and final years in a poetic, sometimes heart-wrenching tone. In addition to Jarman, his long-time collaborators Tilda Swinton, Nigel Terry and John Quentin also provided voiceovers.

Jarman's idea for producing Blue was to create "a world to which refugees from... dark space may journey." The film takes its viewers on a spiritual and melancholic journey through illness, hope, love, and transformation. Death looms as a dark inevitability beyond the edges of Blue, which finishes with the lines: Our time is the passing of a shadow / And our lives will run like / Sparks through the stubble / I place a delphinium, Blue, upon your grave. Through the film, writes Attard, Jarman "asks for us to recognize not just our role as spectator observing a man delivering a postscript on his life, but as beings who share the universal need to find the sublime in never-ending despair, a call to both radical empathy and introspection."
Film
Biography of Derek Jarman
Childhood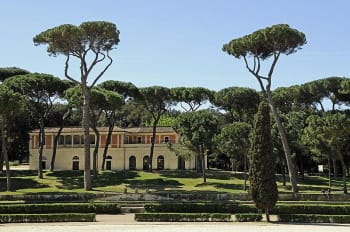 Derek Jarman was born in Northwood, England three years prior to the end of World War II. His father served in the UK's Royal Air Force, an occupation that called for various domestic and international postings. For the last year of the war, Jarman's father was stationed in Italy, where the young artist and his mother eventually joined him in 1946. In Italy young Jarman was enthralled by the Borghese Gardens, the paintings of the Yugoslavian refugee who shared the Jarmans' flat, and his first experience at a cinema. Another formative place was Somerset, England, where the RAF had a base. There the beautiful manor house Curry Mallet would come to stand for an idyllic England to Jarman, "a garden unsullied by repression," writes British film scholar Colin Maccabe. Much of his life centered around those three pursuits - film, painting, and gardening.
Jarman began painting while attending Hordle House School, where he floundered academically and athletically. Away from his family, Jarman turned to art as an escape from his surroundings, a response that he would return to in times of hardship for the remainder of his life. He later attended Canford School, an institution that demanded strict adherence to hierarchy and behavioral decorum. Though traumatizing, his high school years at Canford played a major role in shaping his future artistic career: he found solace in the school's eccentric art teacher, who instructed him on an eclectic mélange of techniques and artistic movements. In the art shack behind the stately Canford School, the art teacher taught Jarman about the Renaissance, Cubism, Futurism, Impressionism, and Romanticism.
Early Training and Work
After his high school years at Canford, Jarman attended King's College in London, where he studied history, continued painting voraciously, and began to exhibit his work in galleries. After three years at King's and several failed attempts at admission, he began attending Slade School of Fine Art. During his years in art school, Jarman's artistic interests and production shifted gradually towards the realms of performance, theater, and cinema. Jarman gravitated to the Slade's theater design room, especially, where "there were sympathetic spirits" and where "homosexuality was accepted quite openly." In such an atmosphere, Jarman, too, became increasingly open about his homosexuality, which he'd previously kept secret out of fear of social and legal consequences. Although homosexuality wasn't decriminalized in the UK until 1967, outside the Slade, the city of London also provided a liberating ground for young Jarman. Figures such as David Hockney and Slade alumus Patrick Procktor - the "dandy art twins" of sixties London - "set the tone," writes Maccabe, "and the tone was openly homosexual." Films such as Michelangelo Antonioni's Blow Up, set in London, was also influential, with its "glowing images and color compositions" impressing on Jarman the possibility of cinema's visual aesthetics. Its long passages of panning shots provided an example of a break from narrative convention.
Alongside his artistic and sexual explorations, Jarman developed what would be a lifelong trait of effervescent charisma, allowing him to collaborate and socialize with members of London's art world. His charm granted him access to gallery spaces, intellectual circles, internationally dispersed acquaintances, and talented artists, actors, and musicians. When the young artist eventually began writing and directing films, he often funded them through his social contacts. Despite these rich social engagements, Jarman understood artistic production as a solitary, inward-looking exploit: "You know you are alone when you paint, you know it is a solitary experience," he recalled in his university years, "you know it depends for its end on you alone, yet you are still afraid of whether or not you are noticed or the judgment of the passer by."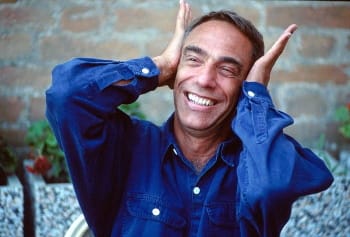 Jarman's first films were shot on a Super-8 camera in the early 1970s. His style was, from his first forays into cinematography, experimental and thematically rich. He explored homosexual desire, theater and art history, poetry, philosophy, and martyrdom. Many of his films told stories of historical through a psychologically complex and contemporary lens. Such was the case in his first feature film, Sebastiane (1976), which interpreted the martyrdom of Saint Sebastian as a homoerotic tale. The following year, his second film, Jubilee, featured the sixteenth century's Queen Elizabeth I transported to 1970s Britain, a landscape rife with punks, nihilist, anarchists, and overt sexuality.
Mature Period
The early 1980s saw Jarman return to painting after having focused primarily on film in the previous decade. His paintings of this era incorporated imagery from nineteenth-century male nude photography, religious iconography, art historical ephemera, and sexual scenes. He displayed his paintings in a solo exhibition in 1982, which he titled After the Final Academy. Two years later the Institute of Contemporary Arts in London hosted a retrospective of Jarman's paintings, which was staged in tandem with the release of the artist's autobiography, Dancing Ledge. The text details the first 40 years of Jarman's life and discusses London's gay scene at length.
Jarman's biggest cinematographic hit, Caravaggio, was released in 1986. The film tells a fictionalized version of the life of Caravaggio, an Italian Baroque painter active in the sixteenth century known for his dramatic paintings and stories of a seedy lifestyle. The film's cast includes Tilda Swinton, who would go on to work with Jarman throughout the duration of his career. Caravaggio also marked a turning point for Jarman with regards to popularity and funding; the remainder of his films would attract a wider audience and receive support from major movie studios. The following year, Jarman released The Last of England, a film that uses a poetic tone to critique Thatcherite politics. Swinton, by then Jarman's close friend, again stars in the film.
Late Period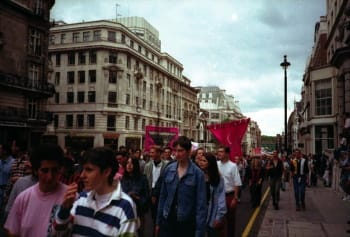 Having grown into a mature artist in London, the clampdown on the sexual liberation of the 1960s and 1970s by the rise of conservatism felt like a personal affront to Jarman. "It is probably no exaggeration," writes Maccabe, "to say that in the early 1980s he became the most articulate and persistent defender of gay rights as the hard-won liberties of the 1960s and 1970s came under attack." In 1984 he published Dancing Ledge, an autobiography that provides a look, at times with graphic detail, into his sexual awakening and exploration, as well as his creative process. Published with explicit photographs of his friends, lovers, and inspirational queer figures, it makes the case for the place of sexuality in art and politics - what Jarman's film work had all along embodied. In 1986, Jarman received an HIV-positive diagnosis. With government ignorance and the rising stigma against gay men, Jarman became even more outspoken, focusing in particular on the AIDS crisis and on campaigning against anti-LGBT legislation, such as Section 28, which became law in 1988 and prohibited "the promotion of homosexuality" by local councils. Along with others, Jarman helped to reclaim the term "queer" from pejorative use. "For me to use the word "queer" is a liberation; it was a word that frightened me, but no longer," he reflected in a diary. This expanded meaning of queer is still in usage today.
At a 1987 screening of his film Sebastiane at the Tyneside Film Festival, Jarman spotted a handsome Keith Collins and befriended him. Collins later starred in several of Jarman's films and they also developed a close relationship (although they were never lovers). Collins was the "HB," or Hinney Beast that Jarman referred to his Modern Nature. With the support of Collins's companionship during the last eight years of his life, Jarman continued making films alongside other projects, including writing, painting, and directing the 1988 tour of the British music group The Pet Shop Boys. Jarman's final film addressed the AIDS epidemic more directly than his previous works. He wrote and produced Blue while his physical state was rapidly declining. It premiered at the 1993 Venice Biennale and was released the following year to great critical acclaim. Jarman passed away of AIDS-related complications that same year, at the age of 52.
The Legacy of Derek Jarman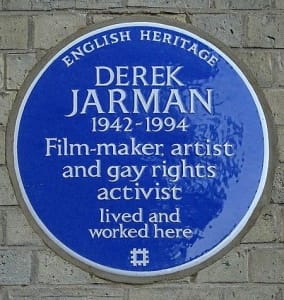 Although his films are considered highly avant-garde and appeal mostly to niche audiences, Jarman made a lasting impression on the cinema and art worlds, particularly in Britain. His fascination with history, writes Maccabe, distinguishes him from other avant-garde filmmakers of the 20th century. Through the use of history as a lens to interpret the present, he imbued his artistic explorations with a sharp political commentary as well as a sense of humor, blending together his unique aesthetic vision and a social message. Jarman's semi-narrative and poetic filmmaking style has inspired subsequent generations of artists and challenged the expectation of what a film can or should accomplish. His work not only helped inspire New Queer Cinema, but also contributed to the contemporary discourse of the essay film as a genre. "Derek paved the way for independent filmmakers, period - not just queer filmmakers," states British experimental filmmaker Isaac Julien.
Influences and Connections
Influences on Artist

Influenced by Artist
Artists
Pier Paolo Passolini

Kenneth Anger

Nicolas Roeg
Friends & Personal Connections
Patrick Procktor

Ken Russell
Movements & Ideas
Avant-Garde Film

Theater

Italian Cinema
Artists
The Pet Shop Boys

The Smiths

Isaac Julien

Todd Haynes

Tom Kalin
Friends & Personal Connections
David Bowie

Tilda Swinton
Movements & Ideas
New Queer Cinema
Useful Resources on Derek Jarman
Books
The books and articles below constitute a bibliography of the sources used in the writing of this page. These also suggest some accessible resources for further research, especially ones that can be found and purchased via the internet.
biography
written by artist
artworks