Artists
Robert Indiana
Biography and Legacy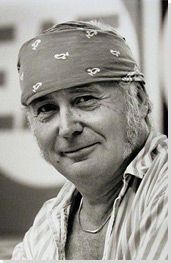 Born: Born: September 13, 1928 - New Castle, Indiana
Died: May 19, 2018 - Vinalhaven Island, Maine

From Our Sponsor
"I have always thought of my work as being celebratory. Let's say it's the three C's - commemorative, celebratory, and colorful."

Biography of Robert Indiana
Childhood and Education
Robert Indiana was adopted as an infant by Earl Clark and Carmen Watters Clark and named Robert Earl Clark. He grew up in a financially unstable environment, as his father held a wide range of jobs, from an oil executive to pumping gas. When Indiana was nine, his parents divorced and his mother went to work; her time as a diner waitress would be influential to Indiana's artistic career. A free spirit, his mother frequently moved; by age seventeen, Indiana had lived in twenty-one different locations.
Indiana's early interest in art was initially encouraged by his first grade teacher, who thrilled him when she asked to keep a few of his drawings because she knew he would be a famous artist one day. Forty years later, Indiana visited this teacher who showed him the saved drawings; he then signed them again as a successful artist.
Graduating high school in 1946, Indiana enlisted in the U.S. Air Force, intending to fund his college studies through the G.I. Bill. In 1949, with his service complete, he enrolled at the Art Institute of Chicago and also studied at the Skowhegan School of Painting and Sculpture in Maine and the Edinburgh College of Art in Scotland before earning his B.F.A. in 1954.
Early Training
Although Indiana originally planned to settle in Chicago upon his return from Europe in 1954, his lack of funds kept him in New York. Once there, his job at an art supply store led to a fortuitous 1956 meeting with the artist Ellsworth Kelly who entered the store to purchase a postcard that Indiana had used in a window display. The two became romantically involved and Kelly both encouraged him to move to the Coenties Slip area of lower Manhattan and to begin creating hard-edge paintings.
The move, which brought him into a community of artists, proved highly influential to Indiana's work. Discarded materials, including metal, wheels, and pieces of wood, from the neighborhood's abandoned shipyards and warehouses were used to make some of his earliest "herms" sculptures. The discovery of a box of 19th century brass stencils in a friend's loft inspired him to include his first words into his works. These materials would define Indiana's approach and give him the tools to integrate the ordinary and common into a history of fine art; words became a way to layer meaning and to blend the personal with the universal. Taken with understanding American identity, especially through popular culture, the artist redefined himself, changing his last name to "Indiana" in honor of his home state.
Mature Period
Words became a prominent theme in Indiana's work. While his graphic style and use of popular language were similar to the artists of the new Pop art movement, Indiana was uncomfortable with this label. He did interact with the group, including an appearance in Andy Warhol's 35 minute film Eat (1963) (which featured Indiana eating one single mushroom), but ultimately, Indiana distinguished himself from the main Pop movement through the autobiographical nature of his work and in creating art that overtly addressed contemporary political and social themes, such as the struggle for Civil Rights.
In 1966, Indiana exhibited his first "LOVE" works, which featured the word itself, stacked in two rows with the "O" slightly tilted. While simple, the word made a powerful statement at a time of national and international unrest. Embraced the world over, "LOVE" proved a source of inspiration even for John Lennon. While viewing an exhibition of Indiana's prints, Lennon responded to a comment that love was surrounding him by replying "All you need is love." This statement would amplify Indiana's message, becoming the title for the Beatle's hit song in 1967 and an indelible and still-popular slogan.
Proud to be "a people's painter," Indiana is proficient in many media. In addition to his well-known sculpted versions of LOVE, he has made prints and posters, designed costumes and sets for the opera The Mother of Us All, and even created the floor design for the Milwaukee, Wisconsin's MECCA Arena basketball court in 1997.
Later Period
A fiercely private person, Indiana moved to Maine's remote Vinalhaven Island in 1978. Despite his physical retreat, his work is still deeply inspired by contemporary events and activist in nature. In response to September 11, he created the painting Afghanistan (2001) and boarded up the windows on the first floor of his home to paint them with images of the American flag. America's 2003 invasion of Iraq inspired his Peace Paintings series. In 2008, Indiana made an artistic statement of support for Barack Obama's presidential campaign with the print HOPE, created in the same graphic style as his "LOVE" works.
Indiana's importance as an artist was affirmed in 2013 with a retrospective at the Whitney Museum of American Art. It was his first major show in New York City, and it marked a coming home of sorts for the artist.
The Legacy of Robert Indiana
Although often having expressed reluctance in being so categorized, Robert Indiana's art greatly shaped the Pop art movement. While his hard-edge style and appropriation have much in common with his Pop peers, he transcended the classification. Through his use of non-art materials and the incorporation of words into his art, he has laid the foundation for many contemporary artists such as Glenn Ligon and Jenny Holzer, not only in their use of text and media, but in their activism as well. He provided an example of how to create work that was both deeply personal and universal, work with a clear message that could also be open to interpretation, work that spoke of its own time and reflected on contemporary events, but also carried a message to future generations.
Most Important Art
Hole (1960)

Hole (1960) is a free-standing sculpture composed of a wooden rectangular column measuring almost four feet tall; near the base protrudes a wooden rod, while iron wheels are attached on both the right and left face of the column, at the same height. Two arrows, one in red and one in yellow, draw the viewer's eye to a small indented hole found near the top of the work, below which the word "HOLE" appears in black letters on a yellow stripe.

The work is one of a series of wooden sculptures Indiana made shortly after his move to Coenties Slip in lower Manhattan. Located along the East River, the area was home to shipyards and abandoned warehouses, which provided a wealth of discarded objects such as the scraps of wood and metal that the artist assembled to create work such as this. Indiana called these sculptures "herms," having drawn inspiration from ancient Greek pillars used to mark intersections and roads that featured the head of the mythological god Hermes. Although we often consider Indiana's work in relation to Pop art because of its use of commercial and readymade materials, the herms are most akin to the combines of his neighbor and contemporary Robert Rauschenberg, a Neo-Dada artist; both used similar refuse materials to create hybrid sculptures.

Importantly, the "herms" mark Indiana's first use of words in his art; as this would become an important theme in his oeuvre. While some Pop artists used words to mimic commercial products or popular culture, as an amateur poet, Indiana's interest in literature often makes literary references in his use of language. In this work, "Hole" is the name of a town, a destination for a father and son bicycle ride in Samuel Beckett's Molloy. Many of Indiana's herms weave together layers of potential meaning, bringing together classical, modern, and humorous references; in doing so, he creates a dialogue between popular, contemporary culture and the high culture of traditional, even classical, art. Commonplace materials and language are transformed to be new vehicles for the continuation of art history. In this piece, the wheels (which he included in many of the herms) suggest not just the bicycle wheels of Beckett's story, but also serve as metaphorical representations of the god's winged sandals, while the protruding wooden peg makes an almost comical reference to male genitalia.

Read More ...

Robert Indiana Artworks in Focus:
Robert Indiana Overview Continues Below
If you see an error or typo, please:
tell us
Cite this page

Content compiled and written by The Art Story Contributors
Edited and revised, with Synopsis and Key Ideas added by Sarah Archino
" Artist Overview and Analysis". [Internet]. . TheArtStory.org
Content compiled and written by The Art Story Contributors
Edited and revised, with Synopsis and Key Ideas added by Sarah Archino
Available from:
First published on 22 Jun 2016. Updated and modified regularly.


[Accessed ]