"As an artist, I got constraints, gravity is one of them. But within all those constraints I have 15 per cent of freedom to make my art."
"A lot of people don't get it, but I design from the inside out so that the finished product looks inevitable somehow. I think it's important to create spaces that people like to be in, that are humanistic."
"Architecture is a small piece of this human equation, but for those of us who practice it, we believe in its potential to make a difference, to enlighten and to enrich the human experience, to penetrate the barriers of misunderstanding and provide a beautiful context for life's drama."
"[Gehry's] buildings are shocking. They don't please the eye the way the Taj Mahal does, but they give you a mysterious feeling of delight."
"Frank understands space; many architects don't.... He uses common materials like an artist, with elegance."
Summary of Frank Gehry
Arguably the most important architect of the contemporary era and certainly the most famous living architect, Frank Gehry's unique style is hard to categorize. Although his earlier work is rooted in modernism, his later designs have consciously rejected modernist tropes. Experimenting with a range of materials from cheap mass-produced items to space-age titanium, his buildings are entertaining and surprising, but also functional. Gehry has designed a number of iconic buildings including the Bilbao Guggenheim, the Walt Disney Concert Hall, and the Biomuseo in Panama City and these have become world-renowned attractions in their own right, often bringing tourists and money into an area. His style continues to evolve to the present day and he is still active in architectural design, creating bold testaments to his own innovative vision.
Accomplishments
Gehry draws much of his inspiration from art, both contemporary and classical. He treats each new commission as "a sculptural object" and he is particularly well-known for his asymmetrical designs which resemble the forms of Constantin Brancusi or Henry Moore, only on a grand scale. The impact of Cubism, and the work of Pablo Picasso and Giorgio Morandi, is also apparent in many of his geometric and deconstructed works.
All of Gehry's designs are united by their sense of movement, he embeds motion directly into his architecture so that his projects, flow, curve, bend, and crumple in novel and unexpected ways, subverting traditional building norms.
Gehry is a pioneer of 3D computer modelling as an architectural tool, utilizing it to transform sketched concepts into actual buildings and this has allowed him to create increasingly experimental forms, particularly in his later 'crumpled paper' buildings
The Life of Frank Gehry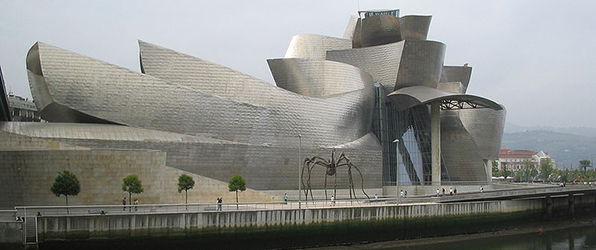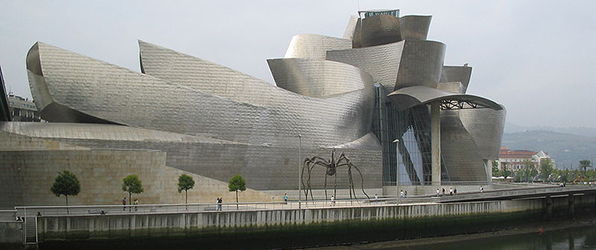 Architect Frank Gehry is well known for his quirky designs, so much so that he has even appeared in the The Simpsons. In 2005 he made a cameo in the hit TV show in which he created a concert hall's form by crumpling a piece of paper.
Important Art by Frank Gehry
Progression of Art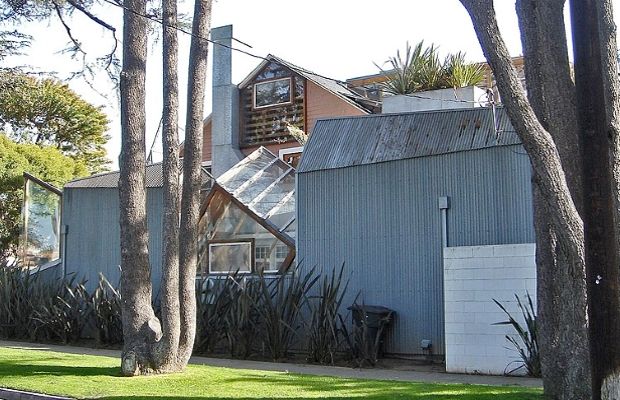 1978
Gehry Residence
During the late 1970s and 80s, Gehry designed a number of residences and small public buildings in California. Of these, the Gehry Residence in Santa Monica was the most influential owing to its unique concept and daring style. The house was home to the architect and his second wife Berta and it evolved from a 1920s Dutch colonial style building which they had purchased. Strikingly, Gehry chose to leave the original building entirely intact and to build around it, linking his design directly into the colonial façade and remodeling the interiors to create a sense of unity and movement between old and new. His contemporary design surrounds the property like a shell and the insertions serve to make it look as if the modern outer layer has been pulled apart, revealing the 1920s building within. Describing this interplay between the structures, Gehry spoke of his intention to "build a new house around the old and try to maintain a tension between the two".

The design makes use of fencing, corrugated metal, plywood - humble materials that some believe give the building an unfinished look. A retrospective at the Whitney Museum in New York (1988) concluded, however, that far from being unfinished, Gehry's work takes into account the shapes and materials of contemporary painting and sculpture and embeds these into his work. His incorporation of large panels of angled glass allowed him to play with light and reflection within the house. The geometry of the building, which recalls Cubist painting, can be seen as a precursor to later "exploded geometric" buildings by Gehry and the house is often cited as Gehry's earliest building in the Deconstructivist style (especially popular in California), which challenges traditional architectural design, particularly the modernist notion that form follows function.

Although the Gehry Residence appalled the architect's neighbours, who threatened legal action, it also attracted positive critical attention and this encouraged Gehry to pursue a similar approach in his commercial work. In 1991, Gehry re-modelled the residence to better accommodate his and Berta's two teenage sons. Despite building further family residences, he is still the owner of the house today.
Santa Monica, California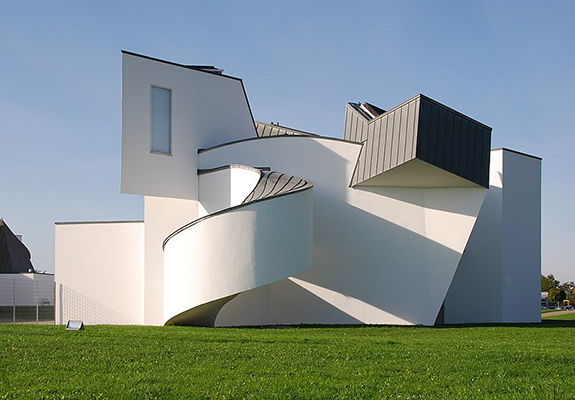 1989
Vitra Design Museum
The Vitra Design Museum, founded by Rolf Fehlbaum in 1989, holds one of the world's largest collections of furniture and is one of a group of buildings designed by notable architects including Tadao Ando, Alvaro Siza, and Zaha Hadid, which make up the Vitra Campus. These buildings were commissioned in response to a fire on the original site in 1981, which destroyed factory buildings owned by the furniture design firm Vitra. Today, the Vitra Campus is not just a production site but a celebration of design and architecture.

The museum was Gehry's first European commission, designed in collaboration with German architect Günter Pfeifer. It owes its innovation, not only to the architects, but to the client's brief that sought an expressive and ambitious design. Built with white plaster and zinc, the museum has both angular and curved elements and appear to reference Le Corbusier's nearby Notre Dame du Haut. Gehry's building also responds to others in the complex, echoing the height of the adjacent factory building by Nicholas Grimshaw. The result combines industrial architecture with modern art - reflecting the ethos of the campus, which celebrates a range of design practices.

The use of zinc can be seen as introducing Gehry's later extensive use of polished metal cladding. In fact, the building as a whole has been cited as exemplifying Gehry's transition from small-scale Deconstructivist projects like the Gehry Residence to later, grander works such as the Walt Disney Concert Hall. Made up of towers, ramps and cubes, the shape of the building responds to the museum's lighting and programming needs. Sections containing production areas, a showroom, test laboratory, cafeteria and offices are joined together to form, as architectural critic Paul Heyer notes, a "continuous changing swirl of white forms...each seemingly without apparent relationship to the other...[which] resolves itself into an entwined coherent display". Gehry himself wrote of its shape: "I love the shaping I can do when I'm sketching and it never occurred to me that I would do it in a building. The first thing I built of anything like that is Vitra in Germany". Thus, the building combines a functional interior with an extravagant and sculptural exterior, the latter concealing the former.
Weil am Rhein, Germany
1996
Dancing House
The Dancing House, more formally called the Nationale Nederlanden Building (after the Dutch insurance company who financed its construction), is a collaboration between Gehry and Croatian-Czech architect Vlado Milunić. The two architects developed Milunić's concept of a building in two parts - one static and one dynamic. This was intended to symbolise the transition of Czechoslovakia from a communist regime to a parliamentary democracy. It is now most commonly associated, however, with two dancing figures. Consequently, the building is sometimes nicknamed Fred and Ginger, after Hollywood dancers Fred Astaire and Ginger Rogers. Although Gehry is keen to discourage the association with Hollywood, which he has come to consider too kitsch, the comparison has stuck.

The two sections of The Dancing House are supported by pillars, which help to anthropomorphize the swaying forms. The glass tower (Ginger) narrows at the "waist" and appears to lean against its concrete counterpart (Fred). The latter is topped with a twisted metal structure, which some have nicknamed Medusa. The building consciously mirrors the vernacular styles on either side of it, appearing as a distorted version of the neighbouring buildings, an effect that is emphasised by the misaligned and protruding windows. The interior spaces, like the exterior form, are asymmetrical. British architect Eva Jiřičná, who designed the interiors, used techniques from the design of ships in order to maximise these limited and potentially awkward spaces.

The site of The Dancing House is extremely small, to the extent that French architect Jean Nouvel turned down the project for this reason. It is, however, one of historic significance, since the house that previously occupied the space was destroyed in the USA's bombing of Prague during the Second World War and the ruin remained on the site for a considerable time afterwards becoming a symbol of the conflict. The area is next to the Vlatava river, in a square of Baroque, Gothic and Art Nouveau buildings, for which Prague is well known. Despite some controversy surrounding the disruption to the area's historic character, it has become one of Prague's most famous and popular modern buildings.
Prague, Czech Republic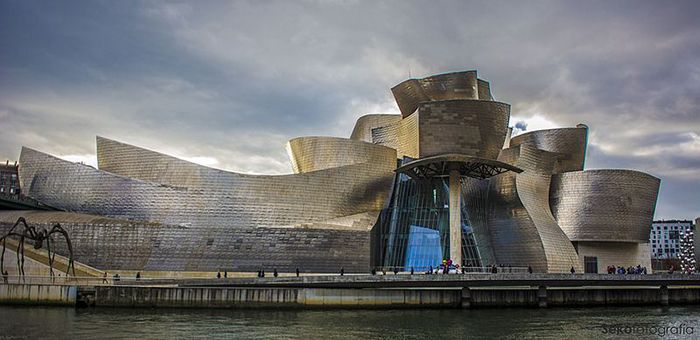 1997
Guggenheim Bilbao
The Guggenheim Bilbao is often considered Gehry's most famous building, positioned along the Nervión River in the old industrial center of the city. The client, director of the Solomon R. Guggenheim Foundation, Thomas Krens, encouraged Gehry to produce an innovative design which would reflect and enhance the contemporary art collection that was to be housed inside. The building received an overwhelming positive critical response, which was, perhaps, best epitomized by the architect Philip Johnson, who called it "the greatest building of our time". It is frequently named as one of the most important works of contemporary architecture in surveys such as the World Architecture Survey.

Designed using pioneering 3D modelling software, the Guggenheim Bilbao comprises a group of interconnected volumes in stone, glass and titanium-clad steel. The random arrangement of protruding shapes on the building's exterior give a very different effect when viewed from different angles, but they belie the organization within. Inside a variety of irregularly shaped gallery spaces (that can accommodate a variety of artworks, including those of a monumental scale) are arranged around an atrium, which is filled with natural light and offers picturesque views of the surrounding hills and estuary. The architect said of the building's geometry: "the randomness of the curves are designed to catch the light".

The metal cladding references the industrial past of the city, whilst also being reminiscent of the sea faring vessels that transported goods into and out of the port. Art critic Calvin Tomkins likened the whole to "a fantastic dream ship of undulating form in a cloak of titanium". As well the sails of a ship, its appearance has also been compared to a fish. Both Gehry and his critics have acknowledged a recurring fish motif throughout his work; in silvery scale-like cladding, in curving protrusions like fins, and, more explicitly, in his fish sculptures El Peix (The Fish, 1992) and Standing Glass Fish (1986). Whilst some suggest the theme is inspired by ancient symbolism, others propose it recalls aspects of Gehry's childhood: the carp kept by his grandparents or even to the traditional Jewish gefilte fish dish. Gehry himself has said: "I never intended to build fish ... In my mind, I say 'Enough with the fish.' But it has a life of its own".

The building, as well as the gallery it houses, has made Bilbao into a popular tourist destination and boosted the city's economy to such an extent that similar surges are now dubbed "the Bilbao effect". (One statistic has the number of foreign visitors to Bilbao increasing seven-fold between 1999 and 2011, with a boost of billions of euros to the local economy). Consequently, the museum has become as famous for its economic effect as its striking appearance. Some have linked the Bilbao effect to the notion of "starchitecture" (architecture of showstopping or celebrity status), but Gehry has repeatedly and violently rejected this label, stating that he is "just an architect", whose job it is to make buildings that are "technically and financially good". Since 1997 there have been other attempts, both successful and unsuccessful, to revitalize areas in this manner, for example Daniel Libeskind's expansion of the Denver Art Museum and Gehry's Walt Disney Concert Hall.
Bilbao, Spain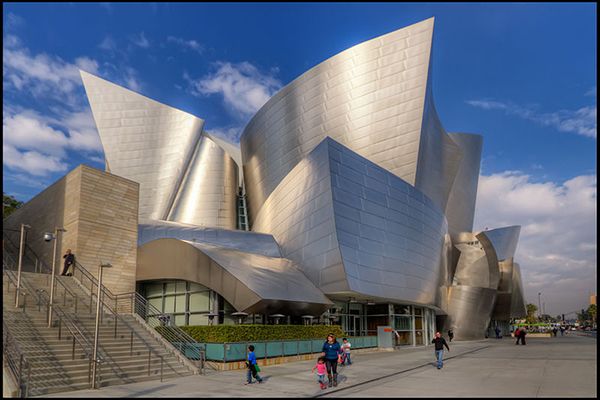 2003
Walt Disney Concert Hall
Walt Disney Concert Hall is the fourth hall of the Los Angeles Music Center. Named in honor of the renowned animator and film producer Walt Disney, it was built with funds donated by his widow. Gehry was appointed as the architect for the project via a competition, with a proposal that combined the design of both the building and outdoor space around it. The hall shares many similarities with the Guggenheim Bilbao, which it predates in design though not in completion. Conceived in 1991, the project faced significant political and managerial impediments in its first three years. Both buildings date from a period during which Gehry was exploring new shapes that could be created using 3D modelling software. As such, they have in common an ambitious and fluid design, developed first in free-hand sketches and then by computer.

Whilst some have compared the form of the Walt Disney Concert Hall to the sails of a boat, others believe the building symbolises musical movement or the motion of the city, as its curved shapes reflect the light differently at different times of day. Initially intended to have a stone cladding, this was abandoned in favour of thin metal panels following the completion of the Guggenheim, as it was found that malleable metal better facilitated the adventurous curves of the design.

Inside, the concert hall was conceived as a democratic space and there is no division between orchestra and audience, nor partitions such as boxes amongst the audience itself. The audience surround the orchestra entirely, such that, unusually, some listeners are facing in the same direction as the players. This arrangement was inspired by the director of the Los Angeles Philharmonic orchestra, who was keen to avoid any sense of hierarchy. In a similar vein, partitions within the interior space are avoided. This is achieved through the use of a steel roof structure that spans the hall in its entirety - a remarkable feat given that it seats over 2000 people. Glimpses of the steel framing can intentionally be caught by those within the hall - perhaps adding to the sense of collaboration. A curved ceiling that echoes the building's external geometry is both visually appealing and helps to achieve spectacular acoustics, for which the building has been praised along with its appearance.

The project was not, however, without its challenges. Whereas Gehry has built a reputation for adhering to budgets, the concert hall was an exception. The architect faced legal action as a result of its having exceeded budget by over a 170 million dollars. Additional problems were identified with the building itself. Specifically, the reflective exterior surfaces under the Los Angeles sun caused the surrounding sidewalk and buildings to increase dramatically in temperature - requiring some of the panels to be sanded to a matt finish to mitigate the glare.
Los Angeles, California
2015
Dr Chau Chak Wing, University of Technology
The Dr Chau Chak Wing for the University of Technology, Sydney marks the introduction of Gehry's architecture to Australia. Named after the Chinese Australian businessman and philanthropist who financed its construction, the 13-story building is a hub for teaching, learning and research for around 1500 students and staff. It serves as an embodiment of the university's progressive ideals and has become an iconic and intentionally controversial landmark.

According to Gehry, the building's design was inspired by the concept of a treehouse. The architect saw it as: "a growing, learning organism with many branches of thought, some robust and some ephemeral and delicate" and it marks a clear departure from his famous silver metal structures. The result, however, is much more closely associated by critics with a "squashed brown paper bag", owing to its undulating, almost crumpling, form. The comparison is often made in good humor, for example Australia's governor general Peter Cosgrove called it "the most beautiful squashed brown paper bag I've ever seen", whilst Gehry acknowledged that "Maybe it's a brown paper bag, but it's flexible on the inside, there's a lot of room for changes or movement."

The building's distinctive front-facing façade is made from over 320,000 hand-placed bricks, whose sandstone color are said to reference Sydney's architectural past. The curving shapes, however, subvert the standard symmetrical design of nearby corporate and industrial buildings and create a sense of texture and movement, whilst the sculptural detailing and rectangular windows bring a human scale to the building. Gehry is said to have drawn inspiration for the folding design from the draped clothing and fabric of classical statues. On the other hand, the reverse façade has a contrasting appearance made up of asymmetric panels of glass, thus it similarly acknowledges its surroundings by offering direct reflections of the neighborhood. The interior of the building is built predominantly in timber, with a central sculptural staircase made from steel. With a range of classroom types to support different types of learning (as well as various facilities such as a theatre and café), the building is particularly well-suited for technology-based study, perhaps reflecting Gehry's own use of technology in his designs.
Sydney, Australia
Biography of Frank Gehry
Childhood
Gehry was born Frank Goldberg in Toronto, Ontario. His parents were Sadie Caplan and Irving Goldberg (a former boxer and a travelling salesman who specialized in pinball and slot machines). They were descended, respectively, from Polish and Russian Jews and, although he rarely used it, Frank was also given the Hebrew name Ephraim. The architect later said of his parents: "my father thought I was a dreamer, I wasn't gonna amount to anything. It was my mother who ... would push me".
Frank Goldberg and his sister, Doreen, were raised not only by their parents but by their grandparents. The young Frank Goldberg spent Saturday mornings at his grandfather's hardware store, using the wood chippings he found there to build miniature imagined cities with his grandmother. Some critics believe that these activities inspired the architect to go on to use everyday materials such as plywood in his work.
During Frank Goldberg's teenage years, his family experienced financial hardship as a result of poor investments as well as new gambling laws that had an impact on his father's business. This, along with Irving Goldberg's ill health, prompted the family to move from Toronto to Los Angeles in 1947 for a fresh start. This was a turning point for Frank Goldberg, who would later become known for his Californian style of design. According to some biographers, it was at this point the family name was changed by Frank's father from Goldberg to Gehry (although others believe this happened after Frank Goldberg's marriage in 1952).
Education and Early Training
Arriving in Los Angeles in his late teens, Gehry initially tried a number of professions including truck driving, radio announcing, and chemical engineering. Struggling to find a course and career that interested him he "remembered art, that I loved going to museums and I loved looking at paintings, loved listening to music. Those things came from my mother, who took me to concerts and museums. I remembered Grandma and the blocks, and just on a hunch, I tried some architecture classes."
Despite finding architectural drafting difficult, Gehry persevered and with encouragement from his teachers and the help of scholarships, he graduated from the University of Southern California with an architecture degree in 1954. By this time, the young architect had married Anita Snyder, a transcriber with whom he had two daughters, Brina and Leslie. Snyder supported Gehry during his years at university and some biographers credit her with the decision to change the family surname, owing to concerns that their children - like Gehry - would be the victims of anti-Semitic abuse. Regardless of when this change occurred, Gehry later said that he regretted changing his name, noting that he "wouldn't do it today".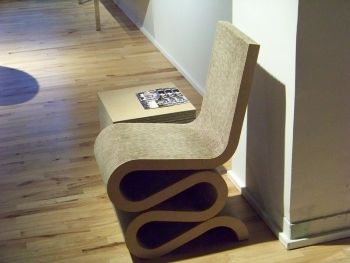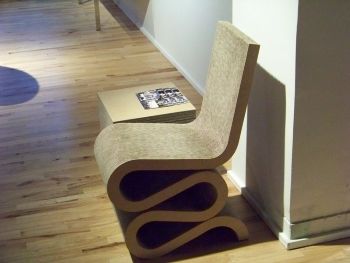 Having graduated in the middle of the post-war housing boom in Los Angeles, Gehry began to work full-time for the architectural firm Victor Gruen Associates, where he had apprenticed as a student. In the same year, however, he was drafted into the US army under a new recruitment drive and, whilst serving, became involved in designing furniture for soldiers. It is said that Gehry's pieces were so well-designed that they continually ended up in the officers' quarters. He would later bring out a line of cardboard furniture called Easy Edges (1969), inspired by this work, and a further line Bentwood Furniture in 1992.
After serving for a year in the army, Gehry moved to Cambridge, Massachusetts, with his wife, to study city planning at the Harvard Graduate School of Design. Here, he became disillusioned by the failure of architecture to address social injustice, taking particular offence at his own professor's involvement in designing a palace for the Cuban authoritarian ruler Fulgencio Batista. Choosing not to complete the programme, he instead returned to California and resumed work with Victor Gruen Associates, under whom Gehry, along with his colleague and friend Greg Walsh, were responsible for building a private residence. This residence, called The David Cabin, established features that would come to identify Gehry's work such as protruding and exposed elements.
Mature Period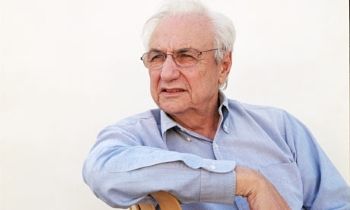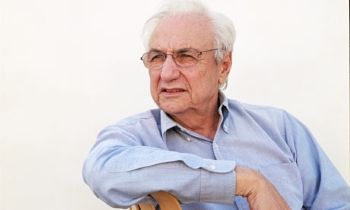 In 1962, Gehry established his own architectural practice in Los Angeles. Whilst his early projects were typical of modernism - characterised by symmetry and clean geometry - Gehry was soon inspired by artists such as Ed Moses and Billy Al Bengstone to pursue a more experimental style that made use of found objects and waste material. He began to expose the usually hidden elements of buildings such as unpainted plywood, rough concrete and corrugated metal, or in the words of journalist Richard Lacayo to "insinuate odd bits of business into his designs" in an attempt to "humanize" them. In 1966 Gehry and his wife divorced and in 1975 he married Berta Isabel Aguilera, with whom he went on to have two sons.
One of the best expressions of Gehry's early experimental style can be found in his own house in Santa Monica (1978), which retained the original 1920s building wrapped in a contemporary design. It was built with the proceeds from the Easy Edges furniture line which attracted national attention and began to popularize Gehry's aesthetic. The house acted as a showcase for his work and although appalling his neighbours it attracted critical attention that encouraged Gehry to pursue this approach in his commercial designs. The writer and broadcaster Kurt Andersen wrote, in the 1980s, "[Gehry] may no longer be written off as an idiosyncratic California bad boy. He must be regarded as one of the two or three more important members of the late-modernist generation". In 1989 Gehry was awarded the prestigious Pritzker Architecture Prize - the panel having been impressed by Gehry's ambition and experimentation (which they compared to that of Picasso) and the theatrical nature of his work.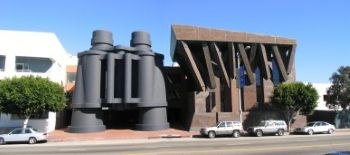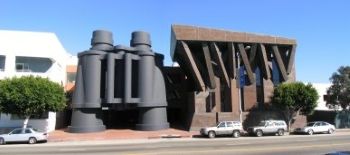 The prize prompted several international commissions for Gehry including the Fishdance Restaurant in Kobe, Japan (1986), the Vitra Design Museum in Germany (1987) and several projects in California such as the Los Angeles Aerospace Museum (1982). In the museum, in particular, Gehry demonstrated his playfulness - placing a futuristic F104 Starfighter jet over the main entrance, angled as though launching from the building. Similarly, his design for the West Coast headquarters of advertising firm Chiat Day featured an entrance that resembled a pair of giant binoculars.
Late Period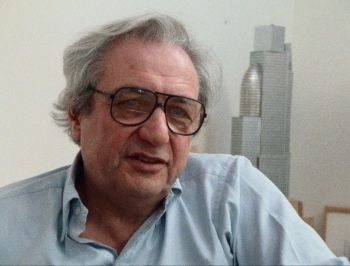 The completion of the Guggenheim in Bilbao (1997), marked another turning point for the architect. The building received critical acclaim both for its appearance and economic impact on the area. It broke definitively with his modernism of earlier decades and, although it attracted some criticism for being "gratuitously eccentric", established Gehry as a leading international architect.
Gehry went on to produce several more landmark buildings including the Walt Disney Concert Hall (2003) in Downtown Los Angeles ("the most effective answer to doubters, naysayers, and grumbling critics an American architect has ever produced" -LA Times), the New World Center (2011) in Miami Beach ("a piece of architecture that dares you to underestimate it or write it off at first glance." -LA Times) and the Biomuseo (2014), a biodiversity museum in Panama City, Panama. A proposal to connect the Walt Disney Concert Hall to Los Angeles City Hall with a new thoroughfare is currently underway and marks the sweeping impact of Gehry's vision on the area.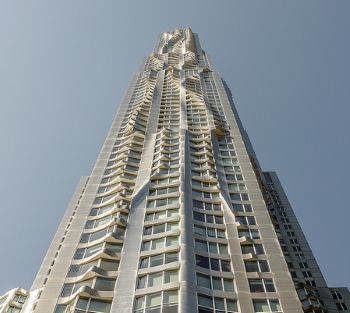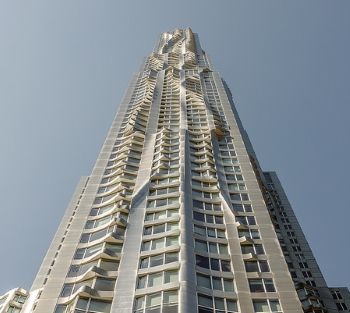 Nevertheless, not all of Gehry's recent buildings have been designed and built smoothly. Those unrealised include the Corcoran Art Gallery expansion in Washington, D.C., a new Guggenheim museum in New York City, and Gehry's contributions to both the Pacific Park (Brooklyn) redevelopment and World Trade Center Performing Arts Center. Furthermore, the architect's 8 Spruce Street (formerly the Beekman Tower of 2010 caused controversy as it exceeded the height of the nearby Trump Building by 1 foot - prompting an exchange of words between Gehry and Donald Trump.
Now in his 90s, Gehry remains a significant presence on the architectural scene. 2014 marked the completion of his dramatic Louis Vuitton Building in Paris, and in 2016 he was awarded the Presidential Medal of Freedom on account of his "bold and thoughtful structures [that] demonstrate architecture's power to induce wonder and revitalize communities" (quoting the presidential award citation). The architect was also praised for his technological innovation and refusal to limit himself to conventional materials, processes, and styles. Outside of his architectural work, Gehry has also been involved in designing exhibitions, jewelry and household items and, most recently, a yacht.
The Legacy of Frank Gehry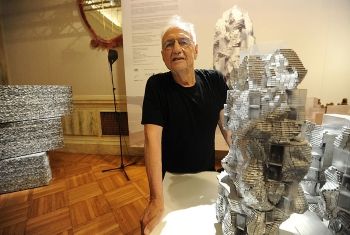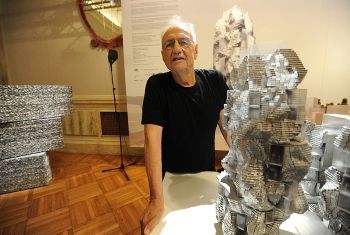 Although Gehry is sometimes associated with the Los Angeles School or Santa Monica School of architecture (a group of influential postmodern architects who studied there including Eric Owen Moss and Thom Mayne), his work defies easy categorisation. Whilst he shares the transformative principles of modernist architects, he breaks away from the modernist style by taking a much more experimental approach, making his designs exciting, and very recognisable. This ability to create a unique and different aesthetic has led to his buildings becoming iconic symbols of an area and tourist attractions in their own right. Gehry's buildings often make use of unusual, everyday materials and he was one of the first modern architects to experiment in this way. As such he has been called "the apostle of chain-link fencing and corrugated metal siding". This has inspired other architects to employ novel building materials in a similar fashion, notably, Philip Johnson.
Gehry is not without critics, however, and amongst the most outspoken of these is art critic and historian Hal Foster, who perceives the architect as playing into the hands of large companies, seizing on iconic architecture to gain commercial recognition. Gehry's formula, according to Foster, uses outrageous design to attract glamour and media attention, whilst having little architectural substance, particularly with respect to the perceived disconnect between interior and exterior, and form and function. The architect has countered claims that " [his] fans tend to confuse his arbitrariness with freedom, and his self-indulgence with expression" by asserting that the movement and feeling in his buildings are essential to revitalize post-war cities, which, at present, are "cold" and "bland". Both men have reacted strongly on this matter - Gehry claiming "Ninety-eight per cent of everything that is built today is pure s**t", whilst Foster is rumoured to have purchased T-shirts bearing equally rude remarks about Gehry.
In the 1990s Gehry's architectural firm pioneered the use of computer software to optimize his designs and translate them into construction and fabrication processes, allowing more fluid and experimental plans. The program they developed is now widely used within the industry including by well-known architectural studios such as Herzog & de Meuron and Zaha Hadid. Furthermore, having lost his daughter to cancer, Gehry spends one month each year with the department of microbiology at Princeton University, sharing the creative methodology and processes of realization that he employs in his architectural practice with experts in cancer research. It is the architect's belief that these iterative methods are transferable, both to the sciences and other businesses.
Influences and Connections
Influences on Artist

Influenced by Artist
Artists
Robert Venturi
Friends & Personal Connections
Robert Irwin

Ed Moses
Movements & Ideas
Funk Art
Artists
Daniel Libeskind
Friends & Personal Connections
Movements & Ideas
Deconstructivism

Starchitecture
Useful Resources on Frank Gehry
Books
The books and articles below constitute a bibliography of the sources used in the writing of this page. These also suggest some accessible resources for further research, especially ones that can be found and purchased via the internet.
biography
artworks
Similar Art