Biography of Henri-Fantin Latour
Childhood, Education and Early Period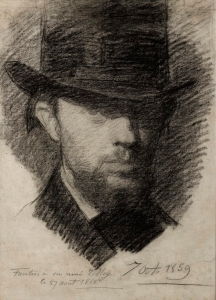 One of three children, Henri Fantin-Latour (née Ignace Henri Jean Fantin-Latour) was born to a Russian mother and the French portrait painter and drawing tutor, Theodore Fantin-Latour. At the age of 5, he and his family moved to Paris, where he began to study drawing under his father's tutelage. Later, between the ages of 14 to 18, he studied with the artist Horace Lecoq de Boisbaudran, who was known for having his students observe works on display at the Louvre and then attempt to reproduce them from memory.
Although he undertook brief spells in 1854 at the École des Beaux Artes, where he first met lifelong friends and future collaborators, James Abbott McNeill Whistler and Alphonse Legros, and a time working in Gustave Courbet's studio, most of his time remained dedicated to copying works at the Louvre. He focused on reproducing Old Master paintings, and throughout much of his early career, he earned a living from these copies. He also met Edouard Manet, Berthe Morisot , Edgar Degas and Victoria Dubourg (his future wife) while practicing at the Louvre.
In the mid-nineteenth century Paris was considered the epicentre for artistic creation and aspiring contemporary artists gravitated towards the French capital. Fantin-Latour, Legros and McNeill Whistler were amongst this group of hopefuls though, in an environment when the individual and individual expression was sacrosanct, they decided to form the Société des trois. The three colleagues adhered to a set of artistic principles that helped in their transition from amateur to professional status. The Société des trois lasted roughly ten years (between 1858 and 1868) before each artists was established enough to make their own way.
During his early career, Fantin-Latour mostly painted self, and family, portraits. Having had one of his portraits rejected by the Salon de Paris in 1859, he turned his attention to still-life painting. Persuaded by Whistler to visit London, Fantin-Latour found his new still lifes, painted in a highly realistic manner, were particularly appreciated. In London he also met Edwin and Ruth Edwards, who would become life-long friends and patrons. The artist did not have to wait long to be appreciated in his home country either. His first exhibited at the Salon de Paris in 1861 and then at the Royal Academy (in London) in 1862. A year later, and although his work tended to be academic in style, he exhibited with the likes of Paul Cézanne, Camille Pissarro, Whistler and Edouard Manet, at the famous Salon des Refusés, an exhibition that did so much to announce the Impressionists.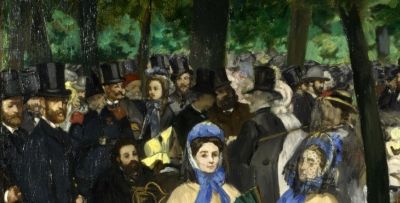 Once back in Paris, Fantin-Latour spent most of his time with a close knit artistic circle who met regularly at the cafes on the Boulevard St. Germain. He spent many hours at Manet's studio and painted a number of portraits of the artistic community there (Manet would reciprocate by featuring Fantin-Latour and others from the group in his painting Music in the Tuileries). However, despite his vibrant social circle, Fantin-Latour remained something of an outsider and as he grew older he spent less and less time at the artist cafes, preferring to spend time on his older friendships. Fantin-Latour's art entered its mature phase around the mid-1860s and early 1870s. Having changed his social circle, he began to experiment purposely with lithography (having learned the technique from Whistler's brother-in-law) and mythological scenes and works inspired by operatic scores.
Mature Period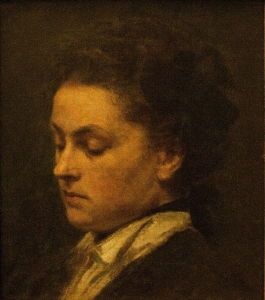 Fantin-Latour's mature period coincided with great personal change. He had long felt that he was immune to the joys of love. Writing to Whistler in 1866 he told his friend: "I feel very little affection for women [...] They frighten me and I do not like them". Artist and writer Elizabeth Kane has conjectured that this disaffection likely took hold in 1867, a year in which he lost his mother. Her death coincided with the "loss" of his two sisters; the first married a Russian general and was never to be seen again; the second became institutionalized. Kane has suggested in fact that he transferred his love for women onto the portraits of his female sitters.
Fantin-Latour's attitude changed when, in 1869, he met and fell in love with fellow still-life painter Victoria Dubourg. Despite being all-but inseparable, the couple were compelled to wait until 1876 to be married. This prolonged engagement was a result of Fantin-Latour's duty of care towards his aging father and his institutionalized sister. Once his father has passed, however, Fantin-Latour, (having collected his inheritance) was financially equipped to support his wife. The couple would spend every summer on Victoria's family's estate in Normandy. The Normandy climate allowed for different sorts of flowers to bloom which afforded Fantin-Latour an opportunity to expand the scope of his still-life subjects. The marriage also meant that he was able to join Dubourg's close family circle which went some way to alleviate his feelings of loss.
Late Period
Though he continued to paint still lifes, from 1876 onward Fantin-Latour began more and more to explore the possibilities of lithography which he used to illustrate both works by his favorite composers and mythological scenes. That same year he exhibited one of his lithographs at the Salon to great acclaim. His standing as an artist was officially recognized when he was awarded the Legion d'honneur medal in 1879. He consistently exhibited his lithographs until the end of his life, vowing in 1901: "Never again flowers or portraits. I amuse myself painting whatever comes to mind and, happily, have a dealer who buys whatever I do".
Little is known about the end of Fantin-Latour's life. The couple settled in the apartment above Henri's studio, and lived there for the rest of their lives. The studio was described by artist Jacques-Emile Blanche as "a sort of wooden barn, painted red, white, and blue which Degas described as Fantin's Orleanist tent, though he was a republican, anticlericalist and antimilitarist". The couple did not have children, and what is known emphasizes a contented and sociable existence. The couple continued to summer in Normandy annually and it was there that Henri passed away in August 1904 (Victoria surviving him by 22 years).
The Legacy of Henri-Fantin Latour
Fantin-Latour remains one of the most recognizable French Realist painters of the 19th century; so well-known in fact that a type of Centifolia rose is named after him. He had a profound impact on his friends (despite not being an Impressionist) such as the portraits of Alphonse Legros who followed Fantin-Latour's dark, realist style. He can also be seen as an influence on the early works of artists such as Gustave Caillebotte. One might also argue that his mythological works laid the foundation for the Symbolists with Odilon Redon citing him as an influence.
His legacy within broader culture was most strongly felt in Britain, where he held considerable prestige as a Victorian era painter. Marcel Proust included mention of his work in his book In Search of Lost Time while more recently his art has reached a new generation by featuring on the cover of Power, Corruption & Lies, the 1983 best-selling album by the British band New Order.
Content compiled and written by Ximena Kilroe
Edited and revised, with Summary and Accomplishments added by Antony Todd
"Henri-Fantin Latour Artist Overview and Analysis". [Internet]. .
TheArtStory.org
Content compiled and written by Ximena Kilroe
Edited and revised, with Summary and Accomplishments added by Antony Todd
Available from:
First published on 23 Dec 2019. Updated and modified regularly
[Accessed ]