Progression of Art
1995
Everyone I Have Ever Slept With 1963-95
This piece first brought Tracey Emin to wider fame, both in the art world and among the general public. To create it, Emin appliqued the names of everyone she had ever shared a bed with onto a small tent. The tent was presented with its door open, lit from within and containing a mattress. Interestingly, Everyone I Have Ever Slept With was initially criticized because many people suggested that the list of sexual conquest was more a form of boasting than a work of art. However, Emin's choice of wording in her title adds a degree of nuance to the work. The list of 102 people she has "slept with" refers more generally to people she has shared a bed with, or literally slept next to. Of the many names listed, notably the non-sexual partners, are her grandmother, her twin brother Paul and her two aborted fetuses. This piece is less about sexual intimacy, as it is about general human intimacy. Furthermore, the small size of the tent and the way in which the viewer had to enter the tent to view the names suggests a sense of intimacy and places an emphasis on the emotional connection gained from sleeping side by side, rather than on sexual conquest. The work was one of many which were destroyed in a warehouse fire in 2004. The fire was widely covered in the media and some have posed that it was either a publicity stunt or a technique to make the remaining work of the involved artists more valuable. However, as art critic Vincent Katz points out, "Emin later turned down one million pounds (the insurance money) to re-create the piece. This refusal to mythologize her aesthetic past marks a distinction from the artist's continual desire to re-create her biographical past." Emin uses art as a cathartic vehicle for healing through confessional acts. The autobiographical nature of her work and the process of physically creating it required Emin to not repeat the process, but rather to keep the work in a metaphoric space where it can still function as part of her (past) life - somewhat like a memory.
Appliqued tent, mattress and light - [destroyed]
1995
Why I Never Became a Dancer
This video features scenes from Margate, Emin's hometown, including the beach, the games arcade and the "golden mile" which is an area with casinos and bars lit with neon signs. Emin narrates a story from her early teens, explaining what her life was like in Margate and how she began having sex with older men between the ages of 13 and 15. After she turned 15, she says, she wasn't interested in sex any more, and turned to dancing instead. When she was dancing in a competition, a group of men whom she'd slept with began shouting "slag" in the middle of her routine, breaking her concentration and causing her to lose focus and in turn lose the competition. The film ends with the older Emin dancing in an unfurnished room with a smile on her face as a rejection of the group of men from her past. Through this personal experience, Emin explores the double standards men often hold for women; they're willing to sleep with them, but equally willing to call them a "slag" for doing so. Dance critic Sarah Crompton describes the film in the following way: "It simultaneously breaks my heart and makes me want to cheer every time I see it because in it Emin transmutes the details of her life into an experience that anyone who has ever been hurt - and recovered - can identify with." The piece is confessional and cathartic for the artist personally too. The images of her hometown are filmed in a different style, which evoke nostalgia and a touch of romance through faded colors and the amateurish handling of the camera. The style of the cinematography changes and lively disco music picks up where the narrative left off. The cut to Emin dancing in a room alone offers a reprieve to an otherwise unfortunate autobiographical story.
Super 8 film - Tate, London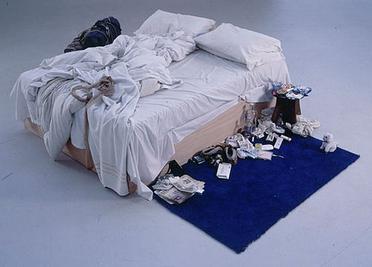 1999
My Bed
The piece is Emin's record of several days spent in bed in the grip of depression. The bed is unmade and the sheets are stained. All around are strewn a variety of items such as condoms, contraceptive pills, underwear stained with menstrual blood, money, and cigarette ends. This object is her actual bed resulting from being bedridden after an end of a personal relationship. She said in an interview from the time, "I got up and took a bath and looked at the bed and thought, 'Christ, I made that'." This is not a sculpture made by molding from the artist's hands, it has more in common with the Duchampian readymade, which can be understood as art making through a process of selecting objects rather than making them. The work was nominated for the Turner prize in 1999 and received a hugely mixed response from the public and press. The piece was a seminal work for Emin and the Turner Prize audience, which introduced art as self-confessional and used biographical items that once belonged to the artist to express a common emotion or state. In this case, the work explores the common experience of depression through a very personal and intimate lens. This artwork draws an important distinction between representation and presentation. This piece is not a representation of an object such as a painting or a sculpture. The art object doesn't refer to another object; it is the object itself. Some have argued that this was the key work in elevating women's experiences to the level of artistic expression. Liz Hoggard claims the work was shocking, and consequently incredibly important, because "it broke so many taboos about the body, sexuality, shame." When the work was exhibited in the Tate for the second time in 2015, Emin commented on how the passing of time has changed the work and its reception: "Back in the 90s, it was all about cool Britannia and the shock factor and now I hope, 15 years later, people will finally see it as a portrait of a younger woman and how time affects all of us."
Box frame, mattress, linens, pillows and various objects - Tate, London
2000
I've Got It All
This photographic self-portrait of Emin deals with two key themes of her work: the artists' body and monetary success. Emin sits in front of the camera with her head down and her legs apart. A pile of money (notes and coins) sits between her legs and she seems to be clutching the money to her groin. As author Lauren DiGiulio points out, "it's a delightfully ambiguous gesture. Is she suggesting an appropriation of an exterior material economy into a physical interior in attempting to incorporate the money into her own body, or has she become a human slot machine, transformed into a progenitor of pure liquid capital?" By 2000, Emin had achieved monetary success with her fame. However, this photograph suggests both that she is celebrating her success, and also that she is somehow overwhelmed by it. Knowing Emin's sarcasm in her own work, one can assume that she is mocking her success, and in turn the creative economy, by this depiction. Money and art have always been interdependent, and the objectified and the objectifier are one in this artistic gesture. Money is used as a behavioral element in this image, and can often lead to shame The photograph also explores the artist's use of her body as a source for her art, and consequently as a source of money, as well as the complex associations of prostitution that it brings. Emin is wearing a dress by designer Vivienne Westwood and Emin's signature gold necklaces. The artist has been featured as a model for Westwood in print advertising, and she often wears the brand with pride at public functions. Emin's association with the Westwood brand only supports her being dubbed as "the bad girl of British art" as the designer herself is among a generation of female rebels. Westwood is responsible for bringing punk into the mainstream through fashion, and through this she has had a long career of being an alternative to the norm since the 1970s.
Photographic print
2002
To Meet My Past
In this work, Emin returns to the theme of the intimacies of one's bedroom, but rather than presenting an unmade bed that she herself had slept in, she presents a perfectly made bed with an elaborate metal frame, which is covered with hand-embroidered fabrics. The images and words embroidered into the quilts, pillows, and hangings create a portrait of a young girl: her fears, sexuality, and experiences of abuse. This is one of several works by Emin that use embroidery and applique techniques, traditionally female activities that are typically considered to be a "craft" and therefore distinct from "fine art." However, here she combines sewing with techniques of collage and the concept of the found object, both aspects which place the work in a firm art-historical context as well as elevating an art long considered "feminine" and of secondary importance. Rather than the real menstrual blood exhibited in her earlier work My Bed, here Emin chose to use fabric and thread to represent female bodily functions, but are meant to signify the same concept. It is the symbol of the stain created through needlepoint handicraft that makes this choice significant, for she is referencing previous work while simultaneously reinventing the idea. The cover of the bed reads, "To meet my past," and other phrases adorn the bed sheets and cushions such as: "I cry in a world of sleep," "Please God don't do this to me," "I cannot believe I was afraid of ghosts," and as if signing and simultaneously time stamping the work, ''Tracey Emin 1969-1974''. These highly emotive statements contrast with the soft, warm, and comforting nature of the bed itself.
Embroidered fabric, metal bed frame - Private collection
2007
You Forgot to Kiss my Soul
In the 2000s, Emin began working extensively with neon lighting. These works feature words and phrases, but unlike the block capitals of iconic neon works by artists such as Bruce Nauman, these are executed in Emin's distinctive handwriting, giving them a personal feel, which is at odds with the mass-produced aesthetic of neon. Emin has commented that, "neon is emotional for everybody." She explained, "the neon and argon gases make us feel positive, that's why you have neon at funfairs, casinos, red-light districts and bars. It's also to do with the way it electronically pulsates around the glass, it's a feel-good factor. Neon can help people who suffer from depression." As columnist and author Vincent Katz argues, Emin's neon works "channel the visual effect of bar or club signage, with their implications of desire and experimentation." In this work, Emin spells out the phrase you forgot to kiss my soul, which as a statement is an unexpected but whimsical idea that arrests the viewer's attention. It features Emin's signature sense of self-revelation and confession, providing an intimate glimpse into the artist's mind. This work is a departure from her appliqued household soft objects and readymades, but it remains true to the Emin aesthetic. She explains "I realized that there was a greater idea of creativity... the essence of creativity - that moment of conception, the whole importance, being of everything... I realized if I was to make art it couldn't be about a fucking picture... it had to be about where it was really coming from." Her version of artistic authenticity is rooted in her ability to be vulnerable despite her well-known brand of artistic commodity.
Neon light
Related Artists
Related Movements & Topics