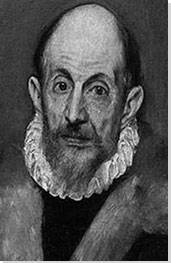 El Greco - Biography and Legacy
Greek-Spanish Painter, Sculptor, and Architect
Movement: Mannerism
Born: October 1, 1541 - Crete, Greece
Died: April 7, 1614 - Toledo, Spain

"You must study the Masters but guard the original style that beats within your soul and put to sword those who would try to steal it."

Biography of El Greco
Childhood
Doménikos Theotokópoulos was born in 1541 in Crete, a Greek island that was part of the thriving Republic of Venice. Little is known of his childhood, other than the fact that he chose to be an artist at a very young age.
Education and Early training
In his hometown, Theotokópoulos trained as an icon painter. The portraiture style was a popular means of depicting religious subjects in a static, devotional way. By the time the young artist was 22 years of age, he had become a master of this post-Byzantine type of art. In the years following his studies, he was commissioned to paint alter pieces for the local Orthodox churches.
Although the date is somewhat uncertain, it is believed that at the age of 26, Theotokópoulos traveled to Venice to pursue his artistic dreams, following in the footsteps of the artists that came before him. In Venice he found the opulence and inspiration he needed, surrounded not only by Byzantine art but also by the Italian Renaissance. He joined the studio of Titian, who was generally considered one of the greatest painters of the time. He began studying elements of Renaissance painting, especially perspective and figural construction, to learn how to depict complex narratives. However, as a young foreign painter his work was not well received.
Mature Period
After three years in Venice, in 1570, Theotokópoulos moved to Rome, where he lived in the quarters of the palace of a wealthy patron named Cardinal Alessandro Farnese. This position makes it clear that he was well connected, possibly recommended by a Venetian friend. Theotokópoulos joined the painters' academy and set up a studio with two apprentices.
It was in Rome that Theotokópoulos further developed his artistic skills and began to formulate a unique style. He drew upon the popular Renaissance style of the time but sought to distinguish himself by finding new ways to interpret the traditional religious subject matter. He found innovation in the Mannerists who were rejecting ideals of harmonious proportion, balance, static beauty, and naturalist presence. This resulted in works that contained both the agile, elongated, and romanticized figures and chromatic framework of the Renaissance with the violent perspectives, strange altitudes, and tempestuous gestures of the Mannerists filtered through his own prolific imagination and expressive view of life. The visual tension he managed to achieve through artificial distortion and unrealistic colors evoked a narrative drama, which lent a sense of emotional, psychological, and spiritual pulse to his paintings.
Although Theotokópoulos had joined the painters' Guild of Saint Luke and seemed to be "on the edge of a brilliant career in the city of the popes," as claimed by art critic Jonathan Jones, after six years in Rome, he still hadn't received any commissions. This is probably due to the fact that he openly criticized Michelangelo, who had died a few years earlier and was still well regarded in Rome. It is believed that he claimed he, "could replace The Last Judgment with something just as good, and more Christian."
His intense commitment to artistic development and understanding led him to Spain in 1577. First he went to Madrid, and then to Toledo, a profoundly commercial, historical, religious, and artistic center. It is generally accepted that it was here that he was named El Greco, 'the Greek,' by his friends. However, the name could have also been derived from his time in Italy, where it was custom to identify an artist by his place of origin. As he always signed his paintings with his full name in Greek letters, the name El Greco further emphasized the background he was profoundly proud of. Shortly after his arrival, he found himself surrounded by intellectual friends and generous patrons, finding the artistic respect he desired by receiving two major commissions for local churches.
This prolific artistic period also coincides with El Greco's conversion to Catholicism. Although other personal aspects of his personality are unknown, his utter devotion to creation is clear when he claims that he painted, "because the spirits whisper madly inside my head." El Greco wasn't only a painter who portrayed religious subjects; he was a profoundly religious man who lived within that spiritual world. This influence on his art was profound, in that it compelled him to articulate his art as an embodiment of a higher realm of spirit, repudiating the experience of painting as one of merely crafting a visually appealing piece. This lent to his position as a great modernist of his time. He was elitist and acted with superiority, considering "the language of art is celestial in origin and can only be understood by the chosen," and that he was created by God to fill the world and the universe with his masterpieces.
In 1578, he had a son named Jorge Manuel with Doña Jerónima de Las Cuevas. Although they were both officially recognized in letters and other documents as a couple, they never married. This unconventional approach has led to various speculations of an unknown previous marriage in Crete.
It is believed that at some point during his mature years, El Greco was commissioned to paint for King Phillip V, the richest and most powerful ruler in Europe at the time. This would finally give him the chance to become a court painter - his lifetime dream. However when he presented the works to the King, he profoundly disliked them and dismissed El Greco forcing him to return to Toledo.
Devoted to his vision, El Greco never changed his way of painting, no matter what type of opposition he encountered. Back home in Toledo however, he was happy to be met with the same appreciation and validation he had found before.
It is also known that in Toledo El Greco worked as a sculptor and an architect, however not many details of these forms of artistic expression exist. He was a man of extensive culture and knowledge, a Renaissance man, and his library is believed to have possessed all the classical Latin, Roman, Spanish, and Greek literature, including the architectural treatises of Vitruvies, Alberti, Serlio, and Palladio. Art critic Jason Farago further claims that, "El Greco was not a lone wolf or a hermit. He was a shrewd businessman and he had supporters, though nothing on the level of such hustling artist-politicians as Titian or Rubens."
Later Work
In 1585, El Greco moved to the medieval palace of Marqués de Villena, most likely in need of a larger painting studio. He enjoyed a stable social life, and was close friends with various scholars, intellectuals, writers, and churchmen. Between 1597 and 1607, he enjoyed his most active period of commissions, being contracted to paint for several chapels and monasteries simultaneously. This phase, considerable for its prodigious output, includes some of his most notorious works.
El Greco fell ill and passed away in 1614 while he was working on a commission for the Hospital Tavera. Although he did not leave a large estate upon his death, he had always enjoyed a comfortable life.
The Legacy of El Greco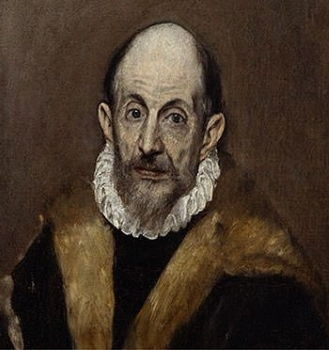 Presumed self-portrait (c. 1600)
El Greco is generally considered one of the leading figures of the Spanish Renaissance that defined the 15th and 16th centuries. Although at the time, due to his greatly individualistic expressive style, his art was received with much reluctance and confusion, he is now considered to be one of the "select members of the modern pantheon of great painters," as claimed by art historian Keith Christiansen, and is regarded as a true visionary artist that lived well ahead of his time.
His work found great appreciation in the 19th century, when a group of collectors, writers, and artists, especially the Romantic artists that admired his passionate eccentricity, brought it into a new light. However, it is generally considered that his unique artistic language, with its focus on expression was only fully understood in the 20th century, when the artistic panorama of the time developed a deeper appreciation for his art.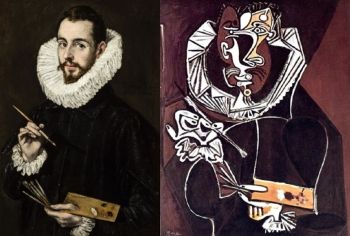 Left: Portrait of the Artist's Son Jorge Manuel Theotokopoulos by El Greco (1600-05) Right: Portrait of a Painter, after El Greco by Pablo Picasso (1950)
Fascinated by his imagination, sense of personal visual style, and overall composition, El Greco's work established a foundation for the development of Cubism, a movement in which artists began to abandon a single viewpoint perspective to play with geometric shapes and interlocking planes. He exerted a major influence on Pablo Picasso, who studied some of his works intensively and saw in El Greco's language a 'modern' approach to art. Picasso's painting entitled Portrait of a Painter, after El Greco (1950) can be interpreted as a tribute to the early master.
In a broad way, El Greco can be further seen as a precursor to the canon of modern art, leading the path away from traditional naturalistic approaches into a new artistic dialogue which emphasized culling from emotion, inner drama, and bold new renditions of color and free flowing figuration. His work laid a significant groundwork for the development of Expressionism and the Blaue Reiter Group. We can see a direct link to El Greco in many Expressionist landscapes that utilized a more organic approach to color and form like in the works of Vincent van Gogh.
Christiansen has written that above all, El Greco "was both the quintessential Spaniard and a proto-modern - a painter of the spirit," who rejected a materialist culture and chased the "inner mystical" constructions of life. He emphasizes, that, aside from El Greco's immense influences on various art movements and artists, it remains the spiritual and mystical attributes of his work that establishes his universal legacy.
Most Important Art
The Holy Trinity (1577-1579)

The Holy Trinity, painted between 1577 and 1579, depicts God holding a dying Christ in his arms, as they float amidst clouds in heaven, with the dove of the Holy Spirit flying over their heads. Surrounding them are six angels in colored robes, and behind them, coming from above is a bright golden light. The painting is part of El Greco's first major commission for the Church Santo Domingo in Toledo, and, as soon as it was completed it established him within the community as a revered artist. Today it is considered one of his masterpieces, and noted as one of Édouard Manet's favorite paintings.

This early example of El Greco's work presents a synthesis of the two major influences that define him: the Renaissance masters and the Byzantine iconic tradition. Although the composition shows affinities with the works of Michelangelo and Dürer, and both artists are believed to have been a profound inspiration for this painting, the work also already shows various unique attributes that defined El Greco's body of work and composed his signature language. Art historian Keith Christiansen claims that, "He made elongated, twisting forms, radical foreshortening, and unreal colors the very basis of his art." All of these aspects are present in The Holy Trinity: the brilliant and expressive use of color in the robes, the continuity between forms and substance in the intertwining of the bodies of the figures, the elongation of the figures, especially in Christ's body, and the imaginative dream like quality that defines the overall feeling of the painting. One of his main characteristic techniques is also already used in the work profusely, which is the use of highlights next to dark and thick outlines to create a profoundly dramatic effect.

A specific interpretation can be found in the colors employed, where the gloomy aspect of the clouds can be seen to represent death, opposing the golden rays above that symbolize the eternal; the two emphasize the duality between life and the ever after. Overall, this is the main interpretation of the work: an embodiment of the eternal as a reality thereby instilling a new sense of hope and devotion in the faithful.

Read More ...

El Greco Artworks in Focus:
El Greco Overview Continues Below
If you see an error or typo, please:
tell us
Cite this page

Content compiled and written by Sarah Frances Dias
Edited and revised, with Synopsis and Key Ideas added by Kimberly Nichols
" Artist Overview and Analysis". [Internet]. . TheArtStory.org
Content compiled and written by Sarah Frances Dias
Edited and revised, with Synopsis and Key Ideas added by Kimberly Nichols
Available from:
First published on 10 Jan 2018. Updated and modified regularly.


[Accessed ]