Biography of Mark di Suvero
Childhood and Formative Years
Marco Polo di Suvero was born on September 18, 1933 in Shanghai, China, one of four children of Matilde Millo and Vittorio di Suvero, an Italian naval attache. Although the family had been relocated to Tientsin in 1936, with the outbreak of World War II, they immigrated to the United States. By February 1941 they had settled in San Francisco where the artist grew up. Di Suvero attended San Francisco City College before transferring to the University of California, Santa Barbara (1954-55), and ultimately receiving a degree in philosophy from Berkeley.
Mature Period
Di Suvero was one of many young artists at the time that admired and became strongly influenced by the Abstract Expressionists, who had become a significant international art movement before di Suvero had completed his schooling. Di Suvero was attracted to their expressive freedom and wanted to follow suit. After graduating from Berkeley in 1957, he moved to New York City. Having avoided being drafted for the Korean War, di Suvero moved in with Bea Wheeler on St. Marks Place where Milton Resnick and Pat Pasloff were among his early and influential New York friends. The Abstract Expressionists and other young artists like himself became known as the New York School.
Despite showing his sculptures in the late 1950s, in New York, di Suvero labored in construction in order to support himself. His construction jobs often provided the raw materials for some of sculptures: the wood and metal he salvaged from demolition sites. While these construction locations provided inspiration, they were also perilous, and in March 1960, just shortly before his first solo exhibition at Green Gallery, di Suvero suffered a nearly fatal elevator accident while working at one. His back was broken and his spinal injuries were severe, so much so that he was uncertain whether he would ever be able to walk again. Even with such severe injuries, di Suvero was able to recover in only four years - walking without assistance by 1965.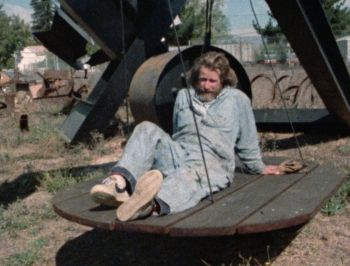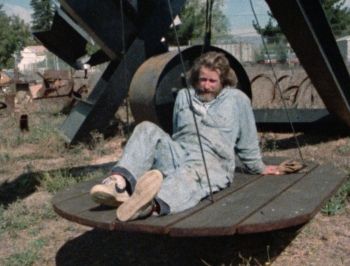 Di Suvero had struggled his way through rehabilitation with the assistance of his brother Hank, and maintained his focus on his art by developing his steel-working skills, including welding, cutting, and cold-bending, which were the fundamentals of his labor-intensive technique. After recovery, di Suvero embraced the tools used in construction, such as a crane and cherry-picker, in order to further expand the possibilities of his work.
In 1971, di Suvero left the United States in protest of the Vietnam War; this self-imposed exile lasted four years. The artist settled in Chalon-sur-Saone, France (he maintained one of his studios on a barge until 1989) and continued to exhibit and teach. He believed that his work could act as an antidote to illogical behavior, political unrest, and overwrought human emotions by giving viewers an experiential encounter with his large constructions. It was important to him that visitors to his work felt the work physically, rather than simply viewed it - for that reason he always built his work with a scale in relation to the human figure, as if to substantiate these lofty objectives.
With the help of Marcel Evrard, his studio in Chalon-sur-Saone was repurposed in 1989 and called La Vie des Formes, serving as an experimental artist's space. In 2009 it was moved to Montceau-les-Mines and entitled Reve de signes, and has since found a new incarnation as an atelier for emerging artists.
Upon di Suvero's return to the United States in 1975, he first moved to Petaluma, California before settling back in New York City, where he brought together a team, which first included Lowell McKegney and later his nephews Enrico and Matteo Martignoni, to assemble his sculptures. In 1977, Di Suvero founded the Athena Foundation with Anita Contini to award grants to artists.
Late Period
He currently lives in Astoria, Queens with his second wife, Kate D. Levin. He has continued to make his large outdoor sculptures, many of which are installed in public spaces and parks, such as Storm King, a large outdoor sculpture park in New Windsor, New York. There he has had an ongoing partnership with his longtime art dealer and friend, Richard Bellamy, who devoted his last decade to the artist and his work.
Di Suvero, is a lifelong activist whose disapproval of the Vietnam War developed into a constructivist approach to the link between humanity and art. He believed, "There's a question of what used to be called 'social consciousness', which is the kind of responsibility you feel toward other human beings. I think that there's a huge amount of current art that deals with the art market and that has absolutely no relation to social consciousness. I think that we are all related, all interconnected, if not by language certainly by some of our beliefs, whether religion or dreams or art or poetry and emotions, and that this is part of our responsibility." This belief and dedication has been the impetus for his involvement in large public projects.
The Legacy of Mark di Suvero
Di Suvero has diligently continued to pursue his monumental abstract style. Almost all outdoor public sculpture was influenced in some way by di Suvero because of the materials, forms, and construction techniques he pioneered. In order to create the works, di Suvero's process mimics that of construction, with the artist essentially acting as the architect, contractor, and builder - true to his background work history as a union crane operator. Using materials such as I-beams, which are the skeletal structures of architecture, his work has been embraced by builders and the public.
In conjunction with the Athena Foundation and with Enrico Martignoni, di Suvero also created the Socrates Sculpture Park in Long Island City, New York, an outdoor space where sculptors are invited to create and exhibit their work. A unique opportunity for large-scale and multi-media sculpture, di Suvero long recognized the need for a location for such endeavors as well as the benefits of having so many in one place so as to act in discourse with one another as well as a destination for public interaction with works of art. Originally a landfill and dumpsite, it also marks di Suvero's continuing involvement in repurposing the modern landscape for aesthetic purposes. This reflects his belief that the artist is crucial and should serve society.
Content compiled and written by The Art Story Contributors
Edited and published by The Art Story Contributors
"Mark di Suvero Artist Overview and Analysis". [Internet]. .
TheArtStory.org
Content compiled and written by The Art Story Contributors
Edited and published by The Art Story Contributors
Available from:
First published on 07 Feb 2017. Updated and modified regularly
[Accessed ]