Biography of Piero della Francesca
Childhood
Around the year 1420, in the small Tuscan town of Borgo San Sepolcro, Piero della Francesca was born to Romana and Benedetto dell Francesca. His parents were merchants who plied their trade in leather and wool, through which they made a substantial living, and both of their families had a noble lineage. Piero was his parents' third child, and he likely would have attended school in his town where, according to 16th-century historian Giorgio Vasari, he applied himself to mathematics in particular.
Early Training and Work
At a very early age, as was often the case with Renaissance painters, Piero began an apprenticeship with the local painter Antonio d'Anghiari. As early as the age of 11, his work on painting "poles and candles" for the master is recorded.
Around 1438, Piero left his hometown and moved to Florence, a large city and the artistic hub of Tuscany. There he began to work with increasingly illustrious artists on large-scale commissions, such as the fresco paintings for the hospital of Santa Maria Nuovo with Domenico Veneziano. In this city, as well as those he travelled to during this time (including Ferrara, Venice and Rimini), Piero was exposed to a new milieu of painters, noblemen, academics and philosophers.
This cultural whirlwind allowed him to make connections with wealthy patrons, who would later commission artworks from him. More importantly, however, Piero interacted with the artistic and philosophical sources that would influence his mature works. He saw the neat lines and bold colors used by Fra Angelico, Filippo Lippi, Masaccio, and Brunelleschi. He also learned of new scientific and mathematical treatises, particularly those of Leon Battista Alberti that aimed to bring together mathematics, science, and art. Above all, Piero became entwined in the atmosphere of humanism in Florence. Renaissance Humanism was a philosophical stance that cherished the work of classical writers, the study of the humanities (including rhetoric, history, and poetry), and the enactment of "human virtue." In the artistic sphere, humanism resulted in the promotion of returning to classical ideals of the human figure, while introducing an element of individual expression.
Mature Period (1442-66)
Piero continued to return to his hometown, Borgo San Sepolcro regularly between trips to cities around Italy, and in 1442, he was elected to the town council. Having achieved his master status, Piero began to paint a range of works for patrons across Italy, from panel paintings to frescoes upon the walls of churches. He occasionally would work in his hometown and remained faithfully bound to it, even signing paintings as 'Piero from Borgo'. However, the fact that he never married allowed him a freedom to travel for his work.
While very little is known about Piero's personal life during this time, he forged a name for himself as a skilled painter, perhaps in part by using his family's status to make connections with illustrious patrons throughout the country. He was clearly well respected by his clients, who would allow him to spend several years working intermittently on their commissions, presumably confident that the finished works would be of the highest quality. Around 1452, he was called to complete a large-scale cycle of frescoes in the church of San Francesco in Arezzo, possibly his most ambitious project, which took him 14 years to complete. His popularity was such that he received patronage from both the Dukes of Urbino and Ferrara. In 1459 he received a commission which would be considered a crowning glory for any Italian Renaissance artist: a fresco for Pope Pius II in the Vatican (now destroyed).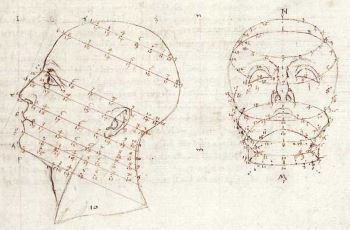 Nurtured by the humanistic atmosphere of Florence, Piero also kept up his childhood interest in mathematics. In the 1450s, he copied out the classical writings of Archimedes on geometry and met his intellectual idol, Alberti. Piero began to write his own treatises on mathematics, perspective, and their relationship to painting in terms of shape, line, and perspective. These studies contributed greatly to his own style of painting for which he is so famous today.
Late Period (1467-88)
At the end of the 1460s, Piero moved to the court of Urbino, where he worked for the Duke and nobility for over a decade. Piero had already painted for the Duke before, but now they formed a closer relationship, as shown by Piero's dedication of two mathematical treatises to the Duke and his son respectively. This relationship can be seen in the personality and verism that Piero injected into paintings that featured the Duke himself. Piero thrived in the humanistic and creative atmosphere of the court of Urbino, and it is believed that his last works were painted there.
Piero returned to his hometown of Borgo San Sepolcro around 1480, where he would die eight years later. Vasari wrote that Piero went blind in his old age, and so was unfortunately unable to paint at all in his final years.
The Legacy of Piero della Francesca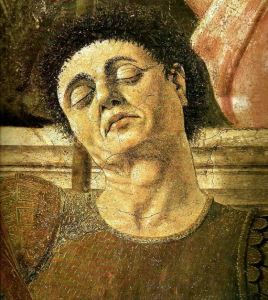 While Piero was an eminent artist during his lifetime, he was better valued as a mathematician after his death. Although he was declared a "monarch of painting" in 1494, his work had fallen into relative obscurity by the 17th century. Because most of his best works remained in situ, that is, in the churches and building in which they were painted, one had to travel to see his works, and as a result, his general reputation suffered. With the exception of his pupils, Perugino and Luca Signorelli, few Renaissance artists took inspiration from his work. This reputational oversight was only rectified in the mid-19th century, when his works began to be studied, appreciated, and proudly displayed in museums and galleries. By happy coincidence, the rediscovery of Piero's works shortly preceded the first inklings of modern art in Europe. His use of exact geometry, simplified forms, and blocks of color, along with the powerful sense of serenity exuded by his paintings made him popular with artists from the end of the 19th century to the present day. Drawn in by the atmospheric beauty of Piero's paintings, modern artists took inspiration from his mathematically based compositions and his flat blocks of color. Cezanne looked to his background landscapes, Balthus and Seurat to his arrangement of figures, and De Chirico to his use of perspective. To this day, he is praised as the "most modern of all Renaissance painters".
Content compiled and written by Jacqueline Kent
Edited and revised, with Summary and Accomplishments added by Valerie Hellstein
"Piero della Francesca Artist Overview and Analysis". [Internet]. .
TheArtStory.org
Content compiled and written by Jacqueline Kent
Edited and revised, with Summary and Accomplishments added by Valerie Hellstein
Available from:
First published on 08 Sep 2018. Updated and modified regularly
[Accessed ]