Artists
Robert Capa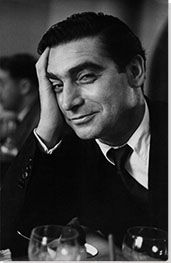 Born: October 22, 1913 - Budapest, Hungary
Died: May 25, 1954 - Thái Bình, Vietnam

"If your pictures aren't good enough, you're not close enough."
Summary of Robert Capa
A war photographer that hated war, Capa used a small 35 MM camera to get close to the action and close to his subjects, thus he was able to show the devastating effects of violence on the lives of those in its midst. His approach to Photojournalism was rooted in the idea that photographs could tell stories, that single images could get to the essence of the subjects they captured, and thus his photographs of conflict were imbued with narrative and pathos. His iconic images of the Spanish Civil War and World War II are known today through their widespread reproduction on the printed page.
Through his work as a war correspondent, and the publication of his photographs in magazines and newspapers, Capa set the standard for future photographers and their collaboration with major news outlets.
Key Ideas
Throughout his career Capa made use of the 35MM Leica camera. Small enough to be held in one hand, it was lightweight, and its 35MM film was compact and easy to use, allowing Capa to shoot roll after roll in quick succession. This meant that Capa could immerse himself in conflict zones around the globe and bring photography ever closer to the action. Thanks to photography's seemingly endless reproducibility, Capa's images were featured in magazines and newspapers around the world.
Robert Capa had an early and abiding interest in journalism and its capacity for bringing current events to the attention of the public. He brought this interest to bear on his photography, often borrowing from journalism's tendency toward narrative accounts and storytelling, by focusing in on the plight of individuals. He believed that photojournalists should get as close as possible to their subjects in order to get to the heart of the story and re-humanize the often de-humanizing effects of war. As he later stated: "If your pictures aren't good enough, you're not close enough."
Capa's work as a photographer and war correspondent was emblematic of a period that saw the rise of photojournalism and the ever-increasing demand for photographs by the mass media. Indeed, the necessity of providing images to newspapers and magazines ultimately led Capa and other famous photographers, including
Henri Cartier-Bresson
and David "Chim" Seymour, to band together to advocate for their own work and its publication. The result was Magnum Photos, a collective photography agency that was (and still is) run by its members (primarily photojournalists) and supplies images to news outlets around the world. Photographing important events in human history, Magnum's members have set the standard for professional photographers and photojournalists by controlling how, when, and where their images are used.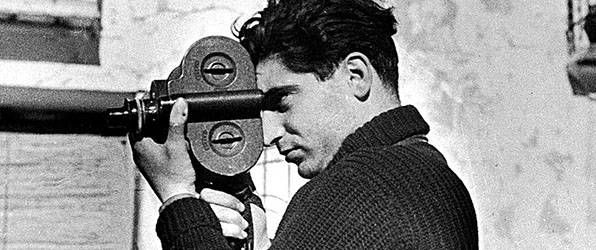 Robert Capa was born Endre Friedmann into a working-class Jewish family. His parents, Dezsö Friedmann and Julianna Berkovits, ran a dress salon in Pest, Hungary where his father worked as a tailor. His brother Kornel was born five years later.
Important Art by Robert Capa

The below artworks are the most important by Robert Capa - that both overview the major creative periods, and highlight the greatest achievements by the artist.


Artwork Images

The Falling Soldier (1936)

Artwork description & Analysis: In this iconic photograph a loyalist soldier is shown mere moments after being fatally shot. Isolated in a barren field, the soldier's body falls backward; his knees buckling and arms flailing. The rifle he was clutching in his right hand has begun to loosen from his grip. Full of movement and stillness, this grainy black and white image is emblematic of photography's singular ability to capture what photographer Henri Cartier-Bresson called the "decisive moment." Unflinchingly direct in its depiction of sudden death, Capa's photograph is now widely considered to be the most famous war photograph ever made.

The photograph's dramatic composition - of a soldier's outstretched arms near the moment of death - is reminiscent of Francisco Goya's The Third of May 1808 (1814), which illustrates another key moment in the history of modern Spain. This image, taken during the Spanish Civil War (1936-39), is from the first military campaign that Capa shot during his career as a war correspondent. The Falling Soldier is characteristic of his approach to photography and his uncanny ability to capture the most dramatic moments of war with startling realism. With this photograph Capa initiated a new form of photojournalism, which was made possible in part by the introduction of the handheld 35-mm Leica camera. The Leica allowed for maximum mobility and quick exposures, thus bringing photography onto the battlefield in a way had been impossible during World War I (when larger tripod-mounted cameras and glass plate negatives made instantaneous shooting untenable). The Falling Soldier brought Capa instant notoriety and, more importantly, it set the bar for war photography in the decades that followed. By 1938, at the age of twenty-five, Capa was hailed by the British magazine Picture Post, "the greatest war photographer in the world."

Controversial from the start, viewers were stunned by the photograph's violence when it first appeared in various European magazines, including Vu (1936), Paris-Soir (1937), and Regards (1937). Journalist Alex Kershaw has noted that when the image appeared in a 1937 Life magazine spread, "several readers wrote angrily to the editor complaining about such graphic depiction of violence. No such image had ever appeared in the homes of Middle America." In the ensuing years, further controversy has surrounded the authenticity of the photograph and whether or not it was staged for the camera. Some have claimed that the photograph was made during training exercises, rather than in the heat of battle, while others have disputed the location where the photograph was made. Kershaw reminds us that despite the controversy, "what has never been in doubt is that the publication of The Falling Soldier marked a point of no return. The photograph ensured..." that Robert Capa would be remembered as, "...the American photographer so daring, so determined to get as close as possible to the intensity of war, that he was even able to record the very instant of a man's death."

Gelatin Silver Print - Collection of Metropolitan Museum of Art, New York


Artwork Images

Man carrying a wounded boy, Battle of Teruel, Spain (1937)

Artwork description & Analysis: Here Capa focuses in on the face of a man who visibly struggles under the weight of the wounded child he carries in his arms. This close focus on the individual was a means of re-personalizing the war and its effects. Wearing a hat, with a cigarette dangling from his mouth, the man carries the young boy to safety in the aftermath of the siege of the Spanish hilltop town of Teruel. The young boy, whose left arm is slung across the man's chest, has been seriously injured, his right pant leg ripped open exposing his bare thigh and its blood-soaked bandage.

This photograph is one of a series of images Capa took while photographing the horrors of the Spanish Civil War. It is an excellent example of Capa's desire to show the devastating impact of war on everyday people in a way that the public could identify. According to journalist Alex Kershaw, through these important images, Capa sought to memorialize "the saddest faces of war," and "in so doing, he became the first photographer to bring the full horror of war into the homes of readers around Europe and beyond. In his images, the battle for Spain was pitiless, sparing none." For Capa, photographing the Spanish Civil War was about more than photographing the frontlines, it was also about telling the stories of those affected by it.

Gelatin Silver Print - Collection of International Center of Photography, New York


Artwork Images

An American medic treats a captured German soldier, Sicily, July 1943 (1943)

Artwork description & Analysis: In this 1943 photograph by Robert Capa an American medic treats an injured German soldier recently captured by Allied forces. A closely cropped image, taken from the side, it shows a medic, wearing a helmet and white medical armband, as he treats a visibly bloodied German soldier. His eyes closed, the German soldier seems remarkably calm in the aftermath of a long and arduous battle that ended with his capture. This image is emblematic of Capa's ability, even in the face of unspeakable acts, to humanize his subjects and imbue his photographs with narrative and feeling.

Despite his relative fame as a war photographer, it was not until 1943 that he was officially sent to North Africa as a correspondent. Traveling with the U.S. Army, Capa followed the troops into battle first in North Africa and later in Sicily in the summer of 1943, where this photograph was taken. The sheer exhaustion of the German soldiers, who were captured after a week-long siege in the hills of Sicily, is palpable in Capa's photograph. Throughout his career as a photojournalist, Capa was committed to showing the harsh realities of war, from the heroism of the Allied soldiers, to the defeat and capture of the German forces. As journalist Alex Kershaw has written, "Capa's photographs expressed better than words the awful truth of the Italian campaign."

Gelatin Silver Print - Collection of International Center of Photography, New York
More Robert Capa Artwork and Analysis:
Influences and Connections
Influences on Artist
Artists, Friends, Movements
Influenced by Artist
Artists, Friends, Movements

Interactive chart with Robert Capa's main influences, and the people and ideas that the artist influenced in turn.
View Influences Chart

Artists

Personal Contacts

| | |
| --- | --- |
| | Martha Gellhorn |
| | Ernest Hemingway |
| | Henry Luce |
| | John Morris |
| | Richard de Rochemont |

Movements

Influences on Artist

Robert Capa
Years Worked: 1932 - 1954
Influenced by Artist

Artists

Personal Contacts

| | |
| --- | --- |
| | Martha Gellhorn |
| | Ernest Hemingway |
| | Henry Luce |
| | John Morris |
| | Richard de Rochemont |

Movements
If you see an error or typo, please:
tell us
Cite this page

Content compiled and written by Jessica DiPalma
Edited and published by The Art Story Contributors
" Artist Overview and Analysis". [Internet]. . TheArtStory.org
Content compiled and written by Jessica DiPalma
Edited and published by The Art Story Contributors
Available from:
First published on 20 Oct 2019. Updated and modified regularly.


[Accessed ]