"I suppose my ultimate aim would be to paint the Great Picture, or if not the great one, then some very good ones."
"I see lovers as victims. They suffer from being unprivate, watched. Love becomes guilt because it is frustrated."
"I think it is a very good idea to be able to turn to a number of different techniques. A new medium offers the artist a variety of keys: it allows him to re-state and sum up without repeating himself."
"The only way to deal with [guilt] as an artist was to paint it out of my system. To expunge my own guilt by painting it and in a way face up to it. I mean guilt in a general sense, because although I do the painting, everyone else who then looks at it is in the same position as myself. I hopefully have helped them to face their guilt also."
"It would be nice to have a flag with two lovers. They needn't be lying down, they can stand up - and they'd be rather good. When it blew in the wind, they'd wiggle, hopefully a lot ... I think that would be a wonderful flag, I mean it. I'd have a black man and a white woman entwined on a flag."
Summary of Arthur Boyd
Boyd was one of Australia's most widely respected and prolific modern artists. A man of strong moral conviction, his most important paintings conveyed his deep concern for humanitarian matters and Australia's natural environment; themes he often brought together in a single canvas. Boyd's painting style, which has seen him described as a "figurative Impressionist", was often informed by biblical sources and carried lyrical allegories on themes such as wartime genocide and the plight of dispossessed Aboriginal communities. His painting also addressed the topics of family relations, religious faith, and the conflicting human emotions of love and aggression.
Accomplishments
Boyd was profoundly affected by the onset of World War Two and the large number of refugees, and those deemed "unfit for service", wandering the city streets of Melbourne. These pieces, including key works such as The Gargoyles, formed part of his drive to not only represent the sense of desolation felt by the displaced and dispossessed, but also to create an alternative historical perspective on Australia's war years.
Boyd's famous postwar "religious" series revealed European influences as wide reaching as Impressionism, Surrealism, and Social Realism. His great triumph was to develop a uniquely Antipodean painterly style that also represented a personal sense of mental chaos (triggered specifically by newsreel images of the Nazi death camps). Within his intense vision of personal torment, however, one could always seek out and find hidden symbols of love and hope.
Having seen first-hand the poor conditions under which Aboriginal people lived, Boyd produced his expansive Brides series; the "Bride" representing a person of mixed descent who is an outcast in both Aboriginal and white communities. The curator Kendrah Morgan suggested that "In terms of Boyd's attempt to raise awareness of discrimination against Indigenous people", the Brides series stands as "a milestone in the advancement of [Australian] modernism".
In his later career, Boyd produced his Nebuchadnezzar (Babylonian king) series of landscapes set in the tangled Australian bushland. The works were a form of catharsis that helped Boyd process Australia's (unnecessary) involvement in the Vietnam war and childhood recollections of seeing his own father in the grip of epileptic seizures. In art critic John Neylon's opinion, these works stand as the epitome of the "topography of modern Australian art as a primal landscape".
The Life of Arthur Boyd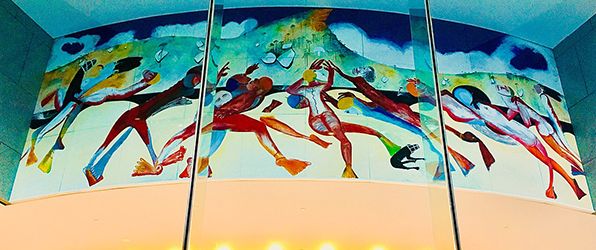 Responding to the general view that he was at the very forefront of Australian modernism, Boyd mused "I like to feel that through my work there is a possibility of making a contribution to a social progression or enlightenment".
Important Art by Arthur Boyd
Progression of Art
Biography of Arthur Boyd
Childhood
Arthur Merric Bloomfield Boyd was one of five children born to Merric and Doris Boyd. Boyd's grandparents (Arthur and Emma Boyd) were both accomplished painters, exhibiting at London's Royal Academy and in various galleries in Melbourne. Arthur Boyd (Snr) was also affiliated with the late nineteenth-century en plein air Heidelberg School. The Boyd's were very well off, living a genteel life of travel and art thanks to a substantial inheritance. In addition to the family home in Murrumbeena (a suburb of Melbourne) they owned properties in the UK, Melbourne and on Victoria's Mornington Peninsula.
In 1913, Merric Boyd designed "Open Country" on family land in Murrumbeena. Open County was conceived of as a home workplace and meeting place for the extended Boyd family and other creative individuals (notable visitors included Sidney Nolan, Albert Tucker, Joy Hester, Yosl Bergner and John Perceval). Merric and Doris (nee Gough) married in 1915 and it was she who became the driving force behind the family business. Boyd recalled how his mother was "the backbone of the family", suggesting that "without her, the entire family would have fallen apart". Boyd's father, on the other hand, was more of an idealist; a kindly man who raised his children to respect nature and all living creatures. His paternal grandmother, too, who was a devoutly religious woman, would also read young Arthur parables from the bible.
Merric Boyd suffered from severe epileptic episodes. However, in the early twentieth century the medical profession did not fully understand the illness. As curator Barry Pearce explained, many medics still believed that epilepsy "was a condition where a demonic alter ego inside is released, coming out through sound, through contortion. Like the horror movies: an alien force inside the normal human body". Pearce added that "As a child Arthur asked, 'What is the creature inside my father?' The trauma entered his DNA". When Boyd was still just six years old, his father, who was considered a pioneer in Australian studio pottery, was experimenting with high heat in a gas kiln. His trials led to a fire that resulted in the destruction of the studio and recipes for glazes. As a direct result of the accident, Merric suffered a breakdown and his epilepsy worsened. The tragedy also led to deep financial difficulties for the family.
Education and Training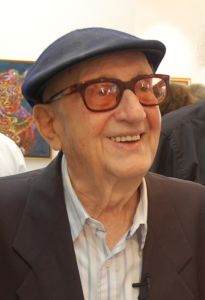 Despite winning the First Award for Art for three years in a row at the Murrumbeena State School, Boyd left school at fourteen, and worked briefly in his uncle's paint factory, using his wages to help support his struggling family. The fifteen-year-old Boyd briefly attended classes at the National Gallery School in Melbourne. While there he painted portraits of his siblings and self-portraits. He also fell under the influence of the Jewish immigrant artist Yosl Bergner who introduced Boyd to novelists such as Fyodor Dostoyevsky and Franz Kafka; writers who would help shape his humanitarian worldview.
When Boyd was sixteen, he moved in with his paternal grandfather on the Mornington Peninsula at Rosebud. Under Arthur Snr's guidance, Boyd developed his skills by focusing on portraiture and seascapes of Port Phillip. He enjoyed exploring the nearby bay and creeks by boat, and constructed a cart so that he could carry painting supplies behind his bicycle.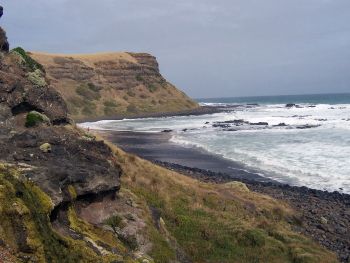 Around the time of the outbreak of World War Two, Boyd moved to central Melbourne where he came into contact with a number of European refugees and Australian nationals whose physical disabilities barred them from joining the war service. These displaced and desolate souls were the first inspiration for the tortured characters that would populate many of his later paintings. Although Boyd did not face combat duty himself - he was conscripted in 1941 to serve with the Cartographic Unit - he produced several paintings that, according to the artist Sue Smith, were "painful images of the dispossessed and the outcast".
On March 6, 1945 Boyd married fellow painter Yvonne Lennie whom he had met while in military service. They lived at Open Country, and Arthur's first studio was built in the grounds there from a modernist design by his cousin, Robin Boyd. Soon after, Boyd, John Perceval (his brother in law) and Peter Herbst founded the Arthur Merric Boyd Pottery Workshop at Murrumbeena where he and his colleagues turned their attentions to pottery, ceramic decoration, and sculpture. Meanwhile, Boyd created a series of paintings, including two of his best known, The Mourners and The Expulsion, that drew on biblical narratives of human cruelty as a way of broaching the theme of horror and suffering in war. Boyd liked to touch the paint, using his hands and fingers to manipulate his oils; like a potter would shape his or her clay. Indeed, Boyd disliked being called an "artist" and dismissed it as a "phoney romantic" ideal when he saw himself rather as "a painter [...] a tradesman".
In the late 1940s and early 1950s, Boyd travelled throughout the Wimmera countryside of Victoria and Central Australia, devoting his energies to landscape painting. In 1951 he visited Alice Springs where he met Aborigines for the first time and was shocked at their near destitute living conditions. This experience initiated his Love, Marriage and Death of a Half-caste series of 31 paintings (also known as The Bride) which represented the Aboriginal figure of mixed descent as a maltreated outcast. He later said: "I'd like to feel that through my work there is a possibility of making a contribution to a social progression or enlightenment" but the Bride series, when first exhibited in Melbourne in 1958, caused considerable controversy.
During this time, Boyd also formed close friendships with members of the modernist Heide Circle of artists. These included Albert Tucker, Joy Hester and Sidney Nolan, and the art patrons John and Sunday Reed. Boyd, however, maintained a cool distance from the group and its hierarchical structure, preferring to root his artistic identity in the Boyd family. Nevertheless, he felt an allegiance with the Heide artists' commitment to Figurative Modernism as opposed to the fashion amongst many modernists for abstraction.
Mature Period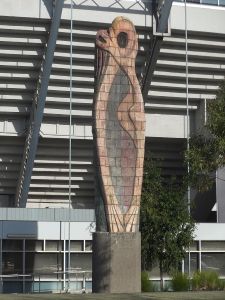 In 1958, Boyd, with fellow Australian landscape painter Arthur Streeton, represented Australia at the Venice Biennale. The following year, he became affiliated with a newly founded group of Melbourne-based artists (with Charles Blackman, David Boyd, John Brack, Robert Dickerson, John Perceval, and Clifton Pugh) who called themselves the Antipodeans, and who, like the Heide circle of artists, worked to promote figurative painting.
In 1959, a year after the death of his father, Boyd and his family relocated to London where they lived until 1971. The move, which coincided with the Antipodeans exhibition at the Whitechapel gallery, saw Boyd earn a living by designing sets for the ballets and operas, and by producing etchings and ceramic paintings. In 1966, he made his only trip to Paris, along with fellow Australians Sidney Nolan and Barry Humphries, to view a major Picasso exhibition. Boyd made frequent trips to London's National Gallery where he became captivated by the works of Poussin, Veronese, Tintoretto, Piero di Cosimo, and Rubens, as well as other Venetian, Sienese and Florentine painters. During a trip to Venice, meanwhile, he fell in love with the works of Giorgione.
The art critic Bryan Robertson noted that, "Some aspects of Boyd's painting could be said to have been marginally affected by American art, notably Abstract Expressionism, but Boyd's allegiances were as direct to European art as his roots were in the splendid Australian impressionism". Boyd's years in England had in fact marked a more intense focus on Australian subjects and landscapes. The eminent English art historian and museum director Kenneth Clark was one of the first European collectors to support Boyd, purchasing one of his paintings of the Australian outback. Boyd's stay in London was capped off in 1970 when he was appointed an Officer of the Order of the British Empire (OBE) for his services to the arts.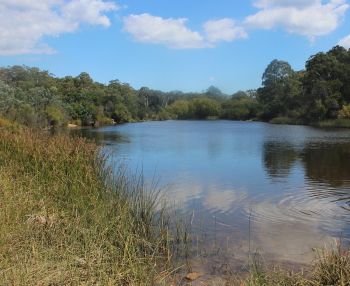 In 1971, Boyd and his family returned to Australia, eventually settling at Bundanon on the Shoalhaven River in New South Wales where he continued to paint landscapes. Boyd was awarded a Creative Arts Fellowship from the Australian National University and, in 1975, donated several thousand works including pastels, sculptures, ceramics, etchings, tapestries, paintings and drawings, to the National Gallery of Australia. The following year, he was appointed an Officer of the Order of Australia for his service to the visual arts. Around the time that his son, Jamie, came of age for military service, Boyd signed a petition protesting against Australia's involvement in the Vietnam war.
Although he would continue to return periodically to England (always by boat, as he feared flying), Boyd and his wife Yvonne settled permanently on the Shoalhaven River in 1978, where they purchased two properties at Bundanon and Riversdale. Boyd built additions onto the preexisting buildings at both sites to extend the homes and created new studio spaces. The rugged scenery surrounding the Shoalhaven river inspired many of his later landscape paintings.
In 1979, the ABC and BBC TV networks co-produced a documentary film, A Man of Two Worlds, based on Boyd's life and work. In the early 1980s, he protested against sand mining on the Shoalhaven river, one of Australia's greatest natural assets. Around that time, he was made an Honorary Doctor of Letters by the University of Melbourne and in 1982 he donated his family villa in Paretaio, Tuscany to the Australia Council's artist-in-residence program. This gesture was followed by his so-called Australian Scapegoat series. Featuring violent imagery and archetypes associated Australian military history (to once more condemn the futility of war), Boyd explored constructions of Australian identity in the lead up to the bicentenary of the arrival of the First Fleet in 1988.
Late Period and Death
In 1988, Boyd was commission by Time Magazine to paint Earth and Fire as the cover for a special issue about environmental conservation in Australia. In 1993, a major retrospective of his work was held at the Art Gallery of New South Wales. In 1997, he and other family members (his brothers, his son Jamie, and nieces Lenore and Tessa Perceval) held an exhibition of painting and sculpture titled The Best of Boyd at the Galeria Anjela Fine Art Gallery and Sculpture Park in New South Wales.
Boyd again represented Australia at the Venice Biennale in 1988 and 2000. In 1992 he was appointed Companion of the Order of Australia, and, in 1995, Prime Minister Paul Keating named Boyd "Australian of the year" in recognition of his contribution to Australian art, and his philanthropic work. Three years later, the Australia Post produced a series of stamps featuring Boyd's photograph and images of his works. In February 1999, aged seventy-eight, Boyd suffered a heart attack during a return journey from England. He recovered and was released from hospital, but suffered a second, fatal, heart attack on April 24. He was survived by Yvonne and their children, Jamie, Polly, and Lucy who all continued to work as artists.
The Legacy of Arthur Boyd
According to Edmond Capon, the Director Art Gallery of New South Wales, "Few Australian artists have cast their vision across so broad a landscape of ideas and traditions, both real and mythological, as Arthur Boyd and few have sustained their creative powers with such force and energy". His landscapes, biblical allegories, and other works, many of which foreground the wild beauty of the Australian wilderness, served as a model for subsequent generations of Australian artists. Most notably, through his involvement with the Heide circle of artists, and the Antipodeans, he participated in the promotion of figurative art at a time when abstraction was dominating the art market, inspiring other Australian artists, like Piers Maxwell Dudley-Bateman, Robert Dickerson, and John Brack, to do the same.
Moreover, Boyd's commitment to foregrounding humanitarian and social issues in his works gave his art a deeper, more universal value. In this way, he connected art with everyday life and pressing issues relevant to each historical moment he lived through. Curator Barry Pearce notes that Boyd struggled with the demands of the commercial art market, stating that "he found it very hard being enslaved to the collectors [and] was constantly riven with anxiety". Despite his reservations, however, John Neylon summed his importance to Australian modernism when he wrote: "Along with others of his generation ([Sidney]Nolan et al) Boyd represented, for aspiring young artists in the 1960s, a model of what art should be about - defiantly different to all the Australian art that had gone before. When Nolan populated his 'Australian' landscapes with mytho-poetic figures, emerging local artists were inspired. Boyd also fuelled this hunger for new, creative narratives about Europism Down Under. But he was, and remains, remarkably different".
Influences and Connections
Influences on Artist

Influenced by Artist
Artists
Piero di Cosimo
Friends & Personal Connections
Wilfred McCulloch

Yosl Bergner

Albert Tucker

Joy Hester

Sidney Nolan
Artists
Piers Maxwell Dudley-Bateman

Robert Dickerson

John Brack
Friends & Personal Connections
Peter Herbst

John Perceval

Franz Philipp

Barry Humphries

Arthur Streeton
Movements & Ideas
Antipodeans

Figurative Modernism

Heide Circle
Useful Resources on Arthur Boyd
Books
The books and articles below constitute a bibliography of the sources used in the writing of this page. These also suggest some accessible resources for further research, especially ones that can be found and purchased via the internet.
biography
artworks