Artists
Sofonisba Anguissola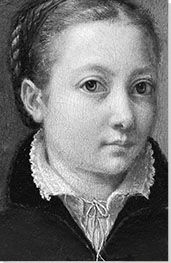 Sofonisba Anguissola
Italian Painter
Movements and Styles: Mannerism, The Baroque
Born: c.1532 - Cremona, Italy
Died: 16th November 1625 - Palermo, Sicily, Italy

"[Sofonisba Anguissola] has shown greater application and better grace than any other woman of our age in her endeavors at drawing; she has thus succeeded not only in drawing, coloring and painting from nature, and copying excellently from others, but by herself has created rare and very beautiful paintings."
Synopsis
Sofonisba Anguissola was the first female artist of the Renaissance to achieve international fame during her lifetime. She had the ability to create life-like, sophisticated portraits that were intellectually engaging and flattering at the same time. She used self-portraits to promote and define herself, and she then turned this skill toward creating official portraits of the Spanish royal house that advertised their ability to rule.

She was described as a marvel of nature and her work as a marvel of art. Ironically, these descriptions both marked her as a strange anomaly and catapulted her to fame. She was also noted to be virtuous and beautiful, a superbly educated conversationalist, accomplished in music, and a charming dancer - all of which endeared her to the Spanish and Italian nobility and did not threaten the cultural norms about what women could or could not do. Nonetheless, she turned cultural limitations to her advantage, surpassing all expectations and becoming one of the most famous portraitists of her age.
Key Ideas
In the 16th century, Italian artists, writers, and collectors were interested in art theory. The idea that art was about art itself was being born. Sofonisba's paintings are not simple depictions of the people she represented. Many of her works are meditations on the nature of art that invite the viewer to think about the relationship between the artwork, the viewer, and the artist.
In the Renaissance, opportunities for learning painting were usually reserved for sons and daughters of painters. Most female artists worked for their family workshops and very few were recognized independently for their talents. Sofonisba did not fit in these categories. She became a renowned portraitist at a time when female painters were rare. She and her sisters became ground-breaking examples of what women could achieve in the arts.
Because she was a noblewoman, it would have been inappropriate for her to receive payment for her works. Instead, her sitters presented her with valuable gifts to express their gratitude. In addition, she did not sign the portraits she created in Spain. For these reasons, and likely because she was a woman, many of her works were later attributed to male artists. The continuing process of reattribution is difficult and sometimes controversial.
Her family's ambitions and fame were secured (and possibly why she is quite well-known today) when she was invited to become a lady-in-waiting and tutor to the consort queen of Spain, Elizabeth of Valois, who was married to Philip II of Spain. Philip's family (the Habsburgs) ruled most of Europe and the New World. Her painting abilities elevated her from being a minor noblewoman to the intimate circle of the most powerful rulers in Europe.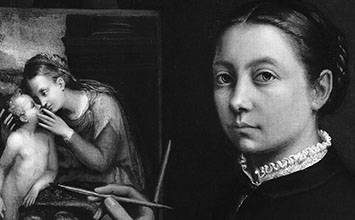 Born into the minor nobility, Sofonisba was the oldest of six daughters and one son. Growing up in her native Cremona, a northern Italian city then under Spanish dominion, Sofonisba developed under the careful guidance of her ambitious and erudite father. Following an Anguissola family tradition, her parents, Amilcare and Bianca (née Ponzone), gave her an ancient Carthaginian name to emphasize their ancient noble roots and possibly because of their allegiance to the Spanish king. Amilcare also gave her an extensive humanist education as was expected of all elite children during the Renaissance. This classical education would have included studying Latin, Ancient Greek and Roman writers, painting and music, as well as contemporary humanist authors. Nonetheless, her level of learning seemed to people who met her to be truly exceptional, as was her ability in painting. In providing this education above and beyond expectations, Amilcare perhaps sought to increase her chances of an advantageous marriage when she came of age - after all, he himself had made such convenient marriage to Bianca, who was slightly higher than him in social rank. At the very least, he wished to give Sofonisba some degree of independence, as some of his wealthier relatives had done for their daughters.
| | | |
| --- | --- | --- |
| Sofonisba Anguissola's childhood, life, career, and various anecdotes | | Read Sofonisba Anguissola's Biography |
Influences and Connections
Influences on Artist
Artists, Friends, Movements
Influenced by Artist
Artists, Friends, Movements

Interactive chart with Sofonisba Anguissola's main influences, and the people and ideas that the artist influenced in turn.
View Influences Chart

Artists

| | |
| --- | --- |
| | Bernadino Campi |
| | Bernadino Gatti |
| | Parmigianino |
| | Giulio Clovio |
| | Correggio |

Personal Contacts

| | |
| --- | --- |
| | Michelangelo |
| | Anthony Van Dyck |
| | King Phillip II of Spain |
| | Pope Pius IV |
| | Elizabeth of Valois |

Movements

| | |
| --- | --- |
| | The Baroque |
| | High Renaissance |
| | Naturalism |

Influences on Artist

Sofonisba Anguissola
Years Worked: 1550s - 1620s
Influenced by Artist

Artists

| | |
| --- | --- |
| | Artemisia Gentileschi |
| | Lavinia Fontana |
| | Caravaggio |
| | Anthony Van Dyck |
| | Peter Paul Rubens |

Personal Contacts

Movements

| | |
| --- | --- |
| | The Baroque |
| | Mannerism |
If you see an error or typo, please:
tell us
Cite this page

Content compiled and written by Ellie Birch , Alejandra Gimenez-Berger
Edited and revised, with Synopsis and Key Ideas added by Alejandra Gimenez-Berger
" Artist Overview and Analysis". [Internet]. . TheArtStory.org
Content compiled and written by Ellie Birch , Alejandra Gimenez-Berger
Edited and revised, with Synopsis and Key Ideas added by Alejandra Gimenez-Berger
Available from:
[Accessed ]