Beginnings of Les Nabis
When in the summer of 1888, Sérusier first visited Pont-Aven, he at reluctantly (thinking Gauguin too avant-garde) agreed to meet Gauguin through the artist Émile Bernard. Together they visited a beautiful natural area called the Bois d'Amour where, under the direct guidance of Gauguin and his Synthetist technique, Sérusier painted the work that he brought back to Paris and named The Talisman (1888). He thereupon decided to preach this new style to his own group of friends. Around the same time, Sérusier was also influenced by the current ideas circulating amongst the Symbolists including Neoplatonic philosophy, which combined pagan and Christian thought, and other spiritual directions.
Sérusier the theorist then organized his friends into a secret society - the Nabis. On Saturdays, the group met at the home of Paul Ranson - who served as the social "glue" that helped keep the group together - where they were treated to puppet shows and given nicknames by Ranson. The group also included Maurice Denis, Félix Vallotton, Pierre Bonnard, Édouard Vuillard, Vuillard's brother-in-law Ker-Xavier Roussel, Georges Lacombe, and Aristide Maillol. The group published their work in the progressive journal founded by the Natanson brothers, La Revue Blanche, from 1891 to 1900.
Les Nabis: Concepts, Styles, and Trends
Nabi Diversity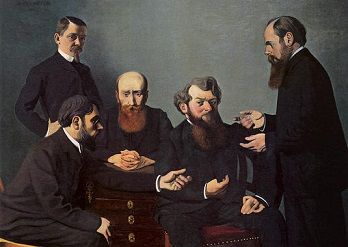 Amongst the other most noted Nabis, Sérusier and his friend Ranson were the more serious, mystical, philosophical, and Neo-Catholic amongst the group, reviving sacred art and studying theosophy. Ranson's work bears the closest resemblance of all the Nabis to the decorative and organic style of Art Nouveau. The Swiss artist and anarchist Vallotton created portraits of many Symbolist writers and in the last decade of the 19th century executed many wood engravings of high quality, following in the footsteps of Gauguin's use of the medium. Roussel, also an anarchist, was unusual in choosing mythological subjects, combining the 18th-century Rococo style of Jean-Honoré Fragonard with the interests of the fin-de-siecle - a kind of "drawing-room paganism," as it has been called.
Japonism and The Nabis
Japonism describes the influence of Japanese art, especially Ukiyo-e prints (literally, pictures of the floating [or everyday] world), on French artists in the second half of the 19th century. These prints were first exhibited in the Japan Pavilion at the 1867 Paris World's Fair, but also later at the École des Beaux-Arts in 1890. The term Japonism was coined in 1872 by the French art critic Phillippe Burty to describe the influence of Japanese decorative objects as well as woodcuts on European art. Usually, the term is applied to the work of the Impressionists and Post-Impressionists, who were specifically influenced by the flat blocks of color, the emphasis on design, and the simple, everyday subject matter. However, the woodcuts of Vallotton also demonstrate this influence with their flat shapes and asymmetrical design, as do many of the works of Bonnard and Vuillard, who painted scenes of everyday life taken from unusual points of view.
The Symbolism of Maurice Denis
Denis wrote several articles that outlined Nabi ideas. He perceived Symbolism in general and its rejection of Naturalism and its tendency to abstraction as a means to a new spirituality. For him, the feeling of the work of art derived from the "state of the artist's soul." Meaning does not originate in the subject matter, but in the painting itself, from the forms and colors. Denis is famous for having made one of the key statements that was seized upon by modernist painters of the 20th century: "A picture - before being a war horse, a female nude, or some anecdote - is essentially a flat surface covered with colors in a particular order." He added that "... every work of art is a transposition, a caricature, the passionate equivalent of a received sensation." This theory of "equivalents" helped distinguish the Nabi work from that of Gauguin. Denis acknowledged having learned the rudiments from Gauguin, but suggested substituting his "over-simplified idea of pure colors" with a variety of color harmonies as in nature, adapting all the "resources of the palette to all the states of our sensibility." He favored the subjective viewpoint in the face of reality, seeking "equivalents in beauty." A devout Roman Catholic, Denis often painted Biblical subjects in modern settings as well as decorative murals.
The Intimism of Bonnard and Vuillard
The two most significant Nabi artists were Bonnard and Vuillard, who, as friends, shared a studio at the foot of Monmartre. They were both enthusiastic readers of the French symbolist poet Stephane Mallarme. Bonnard executed a number of graphic works including the 1895 cover for La Revue Blanche and a number of book illustrations. He ascribed to the Nabi doctrine of abandoning three-dimensional modeling in favor of flat areas of color, but did not adhere to the Symbolist subjects seized upon by others of the group. Vuillard's Au Lit (1891), evenly painted in flat areas, shows the influence of Denis's ideas. However, he is more known for his interior scenes, creating a system of value tones and surface patterns.
In truth, Bonnard and Vuillard were more interested in the fashionable Symbolist milieu - where all the talk about neo-platonism and Mallarme took place - as well as the fashionable women who were in attendance. Vuillard, for example, became a kind of "court painter" to Misia Sert, who had been the wife of Thadee Natanson, editor of La Revue Blanche. Bonnard's and Vuillard's work has frequently been describe as "intimist"; They preferred to paint the contemporary and daily life around them rather than remote peoples as Gauguin did, or biblical scenes, myths, or the transcendent.
Later Developments - After Les Nabis
The movement disintegrated as, one by one, its members became more conservative. Vuillard turned to a more naturalistic, conventional style, catering to his upper class patrons, and Bonnard seldom exhibited after 1914. Denis published his collected historical and theoretical work as Nouvelles theories sur l'art moderne, sur l'art sacré (1922) (New Theories of Modern and Sacred Art). In later years, he told his friends that what he had really envisioned was not abstraction, but the tension between flat pattern and the "fullest realization of subject matter." The subjects of his mature works included landscapes and figure studies, particularly of mothers and children. But his primary interest remained the painting of religious subjects, like The Dignity of Labor (1931), commissioned by the International Federation of Christian Trade Unions.
Vuillard, Roussel, and Bonnard later renounced the Nabi doctrines in favor of their own personal styles, while Ranson and Sérusier upheld the Nabi aesthetic. Indeed, Ranson and his wife Marie-France founded the Academie Ranson to extend its influence. Although Ranson died in 1909, Denis and Sérusier taught classes there, and Roussel, Vallotton, and Vuillard attended. There were many students, but none who attained the stature of the original Nabis, with the possible exception of the American artist Maurice Prendergast, who studied in Paris between 1891 and 1895 and was acquainted with both Vuillard and Bonnard. However, in a broader sense, it was Denis's famous and oft-quoted pronouncement that a picture was "essentially a flat surface covered with colors in a particular order" that resonated with countless modern artists on the abstract and non-representational path. In addition, Bonnard's graphic work has exerted its influence on modern advertising design and art students to this day, who study his paintings specifically to learn about color.
Key Artists
Paul Gauguin was a French Post-Impressionist artist who employed color fields and painterly strokes in his work. He is best known for his primitivist depictions of native life in Tahiti and Polynesia.

The French artist Pierre Bonnard, although dismissed as old-fashioned by some of the avant-garde in his lifetime, was esteemed by contemporary colorists like Matisse. A member of the Nabis group in his youth, his innovative paintings play with light, decorative surfaces, and Impressionist techniques.

Maurice Denis was a French painter and writer, recognized as an important member of the Nabi and the Symbolist movements. A pioneering theorist who insisted on the flatness of the picture plane, Denis created brightly colored Post-Impressionist works that profoundly influenced the next generation of modern artists.

Édouard Vuillard was a French Post-Impressionist painter especially known for his interiors and domestic scenes. A member of the Les Nabis group, his works are characterized by rough areas of color, pointillist daubs and dots, and decorative patterns that spread out across background fabrics and wallpaper.

Sérusier employed bold colors and flattened forms illustrating his visions on canvas and leading the group - Les Nabis.

Félix Vallotton was a major figure of the French avant-garde group Les Nabis. Recognized for his interest in decorative aesthetics, Vallotton painted landscapes, still lifes, and portraits and was heralded for his inventive use of woodcut printing.
Do Not Miss
Post-Impressionism refers to a number of styles that emerged in reaction to Impressionism in the 1880s. The movement encompassed Symbolism and Neo-Impressionism before ceding to Fauvism around 1905. Its artists turned away from effects of light and atmosphere to explore new avenues such as color theory and personal feeling, often using colors and forms in intense and expressive ways.

Symbolism is an artistic and literary movement that first emerged in France in the 1880s. In the visual arts it is often considered part of Post-Impressionism. It is characterized by an emphasis on the mystical, romantic and expressive, and often by the use of symbolic figures.
Content compiled and written by The Art Story Contributors
Edited and published by The Art Story Contributors
"Les Nabis Movement Overview and Analysis". [Internet]. .
TheArtStory.org
Content compiled and written by The Art Story Contributors
Edited and published by The Art Story Contributors
Available from:
First published on 05 Dec 2014. Updated and modified regularly
[Accessed ]