Movements, Styles, and Tendencies
Bay Area Figurative Movement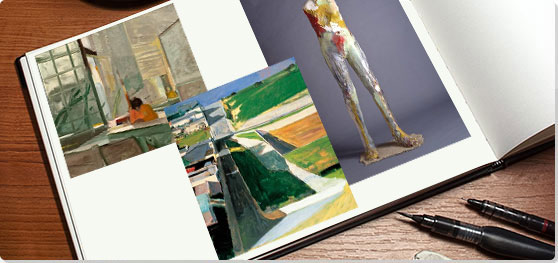 Bay Area Figurative Movement
Started: 1950
Ended: 1970

"I have found that in accepting and immersing myself in subject matter I paint with more intensity and that the 'hows' of painting are more inevitably determined by the 'whats.' I believe that my work has become freer of arbitrary mannerisms... "
Summary
The work of the Bay Area Figurative Movement represents an important moment in the development of abstract painting after the Second World War, when artists such as David Park, Richard Diebenkorn, and Elmer Bischoff - all based in the Bay Area of San Francisco - reincorporated subject-matter into their work in defiance of the pure abstraction favored by the so-called New York School: Mark Rothko, Jackson Pollock, et al. Named after an exhibition held at the Oakland Museum of Art in 1957, and working in a range of genres, from landscape painting to portraiture, the Bay Area Figurative artists created a body of work which is both a paean to local landscape and culture and represents a formal development of global significance within modern art.
Key Ideas
The work of the Bay Area Figurative Movement arguably signifies the most significant and subtle challenge to the dominance of Abstract Expressionism in post-Second World War North-American art. If the revolt of the Pop Artists was defined by a contrarian embrace of the superficial, artists such as David Park, Elmer Bischoff, and Richard Diebenkorn embraced the spirit of abstraction while turning to landscapes, figures, and contemporary settings in which their compositions could be grounded.
The Bay Area Figurative Movement was widely seen as the first significant North-American art movement to be based on the West Coast. With their sunlit terraces, moody seascapes, and atmospheric city scenes, the artists of the Bay Area created work which was both intensely responsive to locale and redolent of a whole tradition of European urban abstraction: from the Post-Impressionism of late-nineteenth-century Paris to the Expressionist canvases of early-twentieth-century Berlin and Northern Europe.
Just as East-Coast painters of the 1950s-60s such as Jane Freilicher were associated with a community of poets - in Freilicher's case the New York School of Frank O' Hara et al - so the Bay Area Figurative artists responded to the literary culture of their home city as well as its enveloping art scene. Writers such as Robert Duncan and Jack Spicer gravitated around the group, which was also influenced by the West Coast Beat scene, an infusion of genres and media epitomizing the boundary-defying spirit of the era.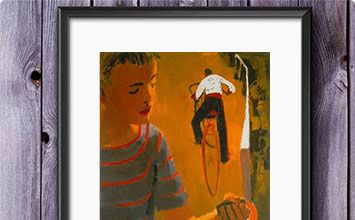 Beginnings:
Much of artistic life in San Francisco in the early 1950s revolved around the California School of Fine Arts, where many of the painters associated with the Bay Area Figurative Movement taught or studied. David Park established important creative friendships with Elmer Bischoff and Hassel Smith at the school, when all three were teaching there in 1946. Richard Diebenkorn, then a student at the school, also became attached to the group, which met for lunch or at weekends at the various artists' studios. In 1946, Clyfford Still, whose Abstract Expressionist work had been lauded at the Art of This Century Gallery exhibition held at Peggy Guggenheim's New York gallery in 1945, joined the school faculty. Still became a dominating influence, and in 1948, Park, Bischoff, and Smith exhibited Abstract Expressionist work at a major show at the San Francisco Museum of Art. But by the following year, Park had turned to figurative work, while continuing to employ the gestural brushwork of Abstract Expressionism, and maintaining its emphasis on form and color. Park became the de facto founder and leader of the Bay Area Figurative Movement. In 1950, after Still left the California School of Fine Arts, partly in protest at Park being named as acting director, the school became a hub for the new figurative movement.
If you see an error or typo, please:
tell us
Cite this page

Content compiled and written by Rebecca Seiferle
Edited and revised, with Synopsis and Key Ideas added by Greg Thomas
" Overview and Analysis". [Internet]. . TheArtStory.org
Content compiled and written by Rebecca Seiferle
Edited and revised, with Synopsis and Key Ideas added by Greg Thomas
Available from:
First published on 10 Jul 2018. Updated and modified regularly.


[Accessed ]