Biography of Titian
Childhood
Tiziano Vecellio, known as Titian, was born in Pieve di Cadore, a small village in the Alps, the son of Gregorio Vecellio, a wealthy councillor and captain of the Venetian militia in the region. The exact date of his birth is uncertain, however, modern scholars usually set it between 1488 and 1490 on the basis of Ludovico Dolce's Dialogue of Painting, which states that, at the time of the lost frescoes at the Fondaco dei Tedeschi, Titian was not yet 20 years old. At around the age of ten, he moved to Venice with his elder brother Francesco to take an apprenticeship as an artist. He initially studied mosaic at Sebastiano Zuccato's workshop and was later apprenticed to Gentile Bellini. After Gentile's death, Titian went to work for his brother Giovanni Bellini, one of the most important painters in Venice at the time. Here he met Giorgione, a previous apprentice of Bellini's, who helped Titian develop his early style.
Early Years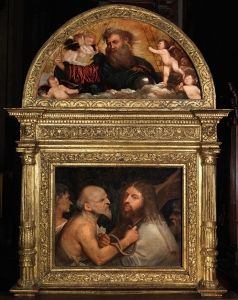 Around 1508 Titian collaborated with Giorgione on the external decoration of the Fondaco dei Tedeschi (the state-warehouse for the German merchants). The relationship between the two masters is still much debated by art historians, with some suggesting an open rivalry and others a close friendship between them. What is certain is that distinguishing between their works in this period is still controversial. For example, the famous, Christ Carrying the Cross (1508-09), hosted in the Scuola Grande di San Rocco, long believed to be Giorgione's work, has recently been attributed to Titian. Although Titian moved away from Giorgione's style in terms of color palette and lighting effects, his influence continues to be apparent in Titian's work for some years.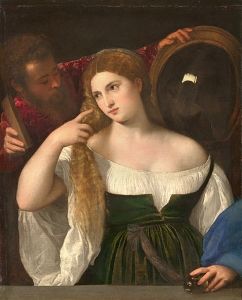 In 1510 Titian launched his independent career in Venice and the following year he travelled to Padua to paint frescoes in the Scuola of St. Anthony. Upon returning, the artist set up an atelier on the Grand Canal, at S. Samuele, administered by his brother Francesco. In 1516, after the death of Bellini, Titian was appointed as the official painter of the Republic of Venice. This appointment was crucial for his artistic career: he enjoyed an annual fee of a hundred ducats and a healthy tax exemption. He held this office for almost 60 years investing his earnings in the lumber trade of his native Cadore, a very important business for the naval industry of the Republic (it is said that Titian became the richest artist that ever lived at the time). In the same year, he completed the Assumption of the Virgin, for the Basilica di Santa Maria Gloriosa dei Frari, a painting that created a huge sensation for its majestic scale and innovative use of color. During this period he also produced several half-length paintings and busts of young women, these included Flora (c. 1515) and Woman with a Mirror (c.1515) as well as a series of small Madonnas for a number of wealthy patrons.
Mature Period
In 1525 Titian married Cecilia Soldani, a woman with whom he already had two sons, Pompeo and Orazio (who later became Titian's assistant), but she died in 1530. Later Titian remarried but little is known of his second wife. Although already well-regarded, Titian's popularity continued to increase, royalty and nobles in Italy and beyond began to seek out his work and he became the principal painter to the Imperial Court. He was also appointed the official painter of King Philip II of Spain and his work was commissioned and bought all over Europe by those wealthy enough to afford it. Towards the end of the 1520s, Titian met Jacopo Sansovino and Pietro Aretino, artists who introduced him to what came to be know as Mannerism and the style began to appear in his paintings from this period onwards. In 1532, shortly after painting a portrait of the emperor Charles V in Bologna, the artist was made a Count Palatine. During this period, Titian began to paint depictions of a reclining Venus and he continued to experiment with this subject matter for the next two decades, examples include The Venus of Urbino (c.1534), Venus and Love (1550), and Venus with an Organist and a Dog (1550).
In the 1540s Titian produced some of his most famous portraits including Portrait of Pietro Aretino (1545), Portrait of Pope Paul III (1543), and Equestrian Portrait of Charles V (1548) and this latter painting established a new genre of grand equestrian portraits. In 1546 he travelled to Rome where he was given the freedom of the city and where he met Michelangelo. From the early 1550s Titian worked regularly with Philip II, producing a series of pictures with mythological themes which he referred to as 'poesie'.
Late Period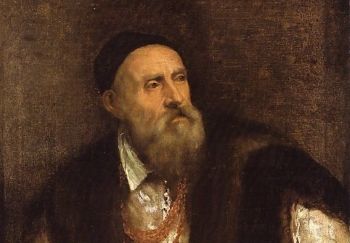 From the late-1550s the artist developed a less realistic approach to representation and used wide, loose brushstrokes in his work and his pieces became increasingly abstract throughout the last years of his life. Titian died of the plague on 27 August 1576, shortly before his son Orazio succumbed to the same disease.
The Legacy of Titian
Titian inspired a number of his contemporaries with his Mannerist style, particularly those who formed part of his workshop including Paris Bordone, Bonifazio Veronese, and Polidoro da Lanciano as well as his nephew Marco Vecellio. It has also been suggested that he employed El Greco in his later years influencing his famously vibrant use of color. In 1590 the art theorist Giovanni Lomazzo called Titian, "the sun amidst small stars not only among the Italians but all the painters of the world" and masters such as Rubens, Rembrandt, and Tintoretto show a debt to Titian in terms of composition, color, and use of looser brushstrokes. This influence extended well into the seventeenth century with Marco Boschini writing in 1674, nearly a hundred years after Titian's death, that: "Titian truly was the most excellent of those who painted: because his brushes always gave birth to expressions of life".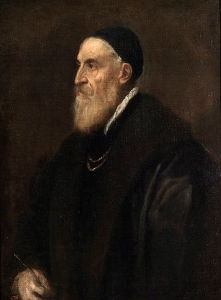 Artists returned to Titian in the eighteenth and nineteenth centuries. Sir Joshua Reynolds was so fascinated by his work that he scraped away layers of paint on a canvas that he owned to discover Titian's processes and techniques and both the Neoclassicist, Jean Auguste Dominique Ingres and French Impressionists including Manet drew inspiration from the artist's later, freer canvases. As Eugène Delacroix wrote: "Titian is one of those who are closer to the ingenuity of the ancient [...]. Those who in Titian do not see that the greatest of colorists are in great error: it is indeed, but at the same time is the first of the designers".
Content compiled and written by Pamela Breda
Edited and revised, with Summary and Accomplishments added by Kate Stephenson
"Titian Artist Overview and Analysis". [Internet]. .
TheArtStory.org
Content compiled and written by Pamela Breda
Edited and revised, with Summary and Accomplishments added by Kate Stephenson
Available from:
First published on 20 Jun 2018. Updated and modified regularly
[Accessed ]