Biography of Giambattista Tiepolo
Childhood
The fifth and youngest child of Domenico Tiepolo, a merchant and ship's captain, and Orsetta (maiden name unknown), Giambattista Tiepolo was born on April 16th, 1696 in the Sestiere of Castello, Venice. Both of his brothers, Domenico and Lorenzo, were to become eminent artists in their own right, particularly Domenico, but it was Giambattista Tiepolo who was to be the greatest of them all. While the family into which Giambattista was born was thoroughly bourgeois, it bore no aristocratic lineage. Giambattista, and indeed his siblings, all had high-born godparents but why this was so remains a mystery, though, at an educated guess, it might have been a result of Domenico's business connections. Tragedy stuck early in the life of the young Giambattista, however, when, in 1697, his father died. Domenico had left the family a decent inheritance, but the mother decided to entrust her youngest son to the care of Gregorio Lazzarini, an academic painter who taught his pupils basic painting techniques.
Training and Early Work
Beyond what we have just said, very little is known of Tiepolo's childhood and one has to wait until 1719 for documented facts to become available. 1719 was the year of his marriage to Maria Cecilia Guardi, sister to the veduta ("view") painters: brothers Gian Antonio and Francesco Guardi. Maria bore Tiepolo no fewer than ten children (two of whom would take up painting and became apprentices to their father). Following his marriage, his dark, fledgling style - owing much to the chiaroscuro of Giovanni Battista Piazzetta - became lighter, his palate more brilliant and his touch noticeably more elegant. Tiepolo had learnt the rudiments of fresco from Lazzarini but it was Piazzetta, Ricci, and above all Veronese, who would exert the greatest influence over him.
Although he had painted The Sacrifice of Abraham in 1716 for the church of the municipality of Ospedaletto, historians are divided as to when Tiepolo might have left Lazzarini's charge. There is some consensus that is was 1717, the year that saw him accepted into the ranks of the Fraglia (the Venetian Guild of painters). It was not until 1725 however that he started to solidify his style working on the Archbishop's residence at Udine. It would take him some three years to complete the work, during which time, his mature manner - vertiginous perspectives, pastel palettes married to flickering brushwork - emerged in its first blossom of glory. Soon thereafter, he travelled across Northern Italy, painting frescoes for churches, grand residences (palazzi) and a number of altarpieces. The enormous Gathering of the Manna and The Sacrifice of Melchidezek (c. 1740-42) were both produced during this tour.
Middle Period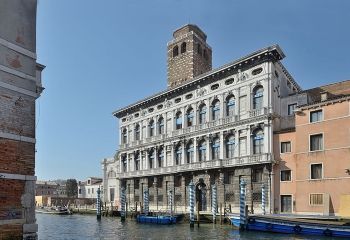 Tiepolo's middle period found its culmination in the Anthony and Cleopatra series, which he completed for the Palazzo Labia, Venice in 1750. The year also marks the start of his magnum opus, the fresco cycle for the Prince-Bishop of Wurzburg, Karl Phillip Von Greiffenklau. Tiepolo and his sons journeyed across the Alps during the summer months and remained in Bavaria until 1753. Following his return to Venice, Tiepolo's reputation was such that he was elected the first president of the Venetian Academy in 1755.
Late Period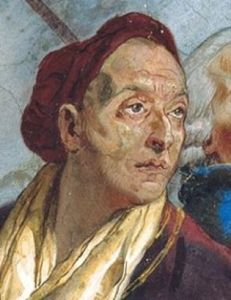 1761 brought an invitation from the court of Charles III, King of Spain, to paint the Palacio Real in Madrid. During his sojourn in Spain (again accompanied by sons), he came into contact with the thoroughly obnoxious Anton Rafael Mengs, whom the King had also commissioned to paint the palace's ceilings. Mengs took an instant dislike to Tiepolo and became intensely jealous, fearing a loss of the King's favor. He lost no time in plotting against the Venetian at court. What is more, as the champion of Neoclassicism par excellence, he thought Tiepolo's style somewhat passé and said that Tiepolo was "able but lacks warmth".
As objectionable as he was (or might have been), Mengs might have had a point. When, in 1761, Charles III commissioned Tiepolo, the Venetian's signature of sunny Apollonian air-borne allegory, Rococo excess, bravura brushwork and virtuoso feats of perspective, were, by current thinking at least, beginning to look somewhat gauche. Neoclassicism, with its emphasis on balance, order and proportion, was the new order. What is more, public opinion in pre-revolution France would have cast aspersions on such aristocratic fripperies. When Tiepolo died suddenly in 1770, Mengs prevailed on the powers-that-be at San Pascual and Aranjuez not to use Tiepolo's seven altarpieces but to install his and those of his Spanish apprentices instead. Charles did not object, finding Mengs's brand of cold classicism more befitting the image of a strong Catholic King. The proverbial writing was on the wall. Nevertheless, Tiepolo's spectacular fresco cycles in Wurzburg and Madrid had done much to popularise the Rococo style in those countries in the immediate years after the artist's death in Madrid.
The Legacy of Giambattista Tiepolo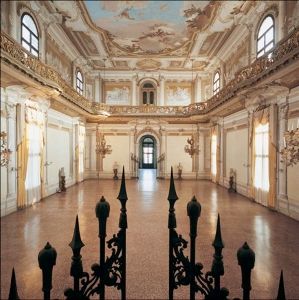 In a series of Discourse in Art lectures spanning the decade immediately after Tiepolo's death, Sir Joshua Reynolds, the first president of the British Royal Academy, called Tiepolo the first master of what he called the Grand Manner. Reynolds's argument was that, in a return to the styles of the ancient Greeks and Romans, Grand Manner art should devote itself not so much to accuracy and fine natural detail but rather to "the grand style of invention, to composition, to expression, and even coloring drapery." Indeed, a golden thread runs from Byzantine art via Bellini, Giorgione, Titian, Tintoretto, and Veronese to Tiepolo; and from Tiepolo to Fragonard.
Of all his contemporaries, perhaps Fragonard owed Tiepolo the greatest debt, for it was Fragonard who adopted both his loose, flickering brushwork, and his creamy, often unblended, pastel palette. Fragonard would, in turn, influence the likes of Delacroix, Goya, and Renoir. Tiepolo's oil sketches and drawings meanwhile - which could be by turns troubling and dream-like, featuring as they do a cast of Punchinellos, sorcerers and centaurs - may well have influenced Goya directly.
Though his standing suffered following the rise of Neoclassicism, Tiepolo's reputation underwent a process of reassessment in France at the end of the nineteenth century. Historian Adriano Mariuz observes that "The Belle Époque rediscovered Tiepolo and made him its own, seeing him above all as a brilliant decorator and the creator of a kind of beauty suffused with sensuality." Indeed, the novelist Marcel Proust admired Tiepolo principally for his use of pink; the air of fin de siècle optimism that clung to Tiepolo spoke to Proust and others at the dawning of a new century.
Today, Tiepolo's reputation as a serious artist is firm. Rather than a mere decorator for the titled classes (as rather few continue to suggest) Keith Christiansen of the Metropolitan Museum of Art argues that Tiepolo "should be seen above all as one of the loftiest examples of [...] pictorial intelligence." Indeed, there is, according to Christiansen, "something of Matisse in his serious pursuit of the pleasurable," and something of de Chirico in the way Tiepolo "generates a feeling of malaise and enigma with his arbitrary combinations of costume and juxtapositions of seemingly disconnected elements in a composition." One may agree or disagree with Christiansen's assessment, yet on one point there can be no dispute: Tiepolo is a fixture in the pantheon of Western art.
Content compiled and written by The Art Story Contributors
Edited and revised, with Summary and Accomplishments added by Antony Todd
"Giambattista Tiepolo Artist Overview and Analysis". [Internet]. .
TheArtStory.org
Content compiled and written by The Art Story Contributors
Edited and revised, with Summary and Accomplishments added by Antony Todd
Available from:
First published on 15 Dec 2018. Updated and modified regularly
[Accessed ]