Biography of Pussy Riot
Early Years
Feminist punk protest group Pussy Riot formed in Moscow in 2011. Their rebellious art arose in the wake of Moscow Actionism, where artists and activists publicly rejected the oppressive and censorial politics of modern Russia through provocative and risky interventions in public space. In the early stages of the group's activity, Pussy Riot were an entirely anonymous group of around 15 young women who wore brightly coloured balaclavas to conceal their identity.
Before founding Pussy Riot, several members belonged to a much larger protest group of around 60 members of all genders known as Voina, ("war" in Russian). Primarily based in Moscow, Voina were known for creating politically engaged Street Art with an uncompromising, frequently seditionist aesthetic. They lived a life of extreme poverty, squatting illegally in accommodation and shoplifting for food, arguing that they "made the lifting of food and drink from supermarkets a form of art."
Projects staged by Voina included Mordovian Hour in 2007, a celebration of International Workers' Day in which they threw live cats over a McDonalds counter to "break up the drudgery of workers' routine day." In response to President Medvedev's proposal to raise Russia's birth rate, Voina mocked him by staging a group orgy in Moscow's State Biology Museum. They also organised a wake for the absurdist poet Dmitry Prigov in a Moscow Metro car, setting up a table serving food and vodka. Following a series of internal disputes Voina dispersed into a series of smaller groups around 2010.
One of these splinter groups was Pussy Riot. In their earliest interventions, Pussy Riot staged situationist-style, guerrilla performances, mostly combining angry punk music with lyrics that rejected Vladimir Putin's dictatorial leadership of Russia with theatrical stunts aimed at grabbing attention. One of the group's now most outspoken members, Nadezhda Tolokonnikova, stated: "Pussy Riot's performances can either be called dissident art or political action that engages art forms. Either way, our performances are a kind of civic activity amidst the repressions of a corporate political system that directs its power against basic human rights and civil and political liberties."
Mature Period
In 2012, Pussy Riot staged their most notorious performance in Moscow's Cathedral of Christ the Saviour, which is only a few hundred metres from the Kremlin. Wearing coloured balaclavas, they vaulted into the fenced off area in front of the altar, miming along to a pre-recorded song, "Punk Prayer". Less than a minute long, their rendition was broken apart by the church's security before they could finish. Among the lyrics, they chanted "Birth-giver of God, drive away Putin!" They also attacked the Russian Orthodox Church for its support of Putin, and its conservative attitudes towards LGBT and women's rights, calling for the Virgin Mary to drive out Putin, before shouting "Shit, shit, the Lord's shit!". Despite media reports to the contrary and tabloid outrage in Russia, there was no church service taking place at the time of the performance, and the cathedral was largely empty.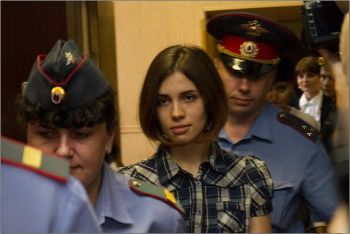 Following the performance, three of the women were identified and arrested by the state police: Nadezhda Tolokonnikova, Maria Alyokhina and Yekaterina Samutsevich. Held without bail, they first denied participation in the performance, and both Alyokhina and Tolokonnikova began a hunger strike in protest at being separated from their young children. On March 25th 2012 Amnesty International named them "prisoners of conscience" due to their harsh treatment. The length of their pre-trial imprisonment (Feb-July) prompted several statements of support from within Russia, including from opposition politicians and, crucially, several supporters of Putin. The Orthodox Church condemned the group throughout Russia during religious services, attempting to wield their own influence on public opinion against Pussy Riot.
Throughout their much-publicized trial, the global media transformed the young women into feminist icons, sparking a huge uprising of support from activists around the world, with many calling for the Russian government to "Free Pussy Riot." Thanks to the relentless campaigning of Tolokonnikova's husband, Pyotr Verzilov, high profile support came from world leaders including US President Barack Obama, heads of state within the European Union and actors, musicians and other celebrities including Sting, Madonna and Yoko Ono, who all called for their release. In Russia, opinions were divided, because the Russian press portrayed them as terrorists who threatened the security of the church.
Deeply eloquent throughout their trial, the young women earned an international following, but even so, they were still sent to prison, where they were forced into hard labour and spells of isolation. Both Tolokonnikova and Alyokhina were sentenced to two years in a penal colony, accused of "hooliganism motivated by racial hatred," while Samutsevish was released on appeal. Although they had both asked to be sent to a Moscow prison so they could be near their families, they were sent instead to separate penal colonies that were hundreds of miles away in Mordovia and Perm Oblast. Tolokonnikova made complaints of abuse by prison staff, and again went on a hunger strike at points throughout her incarceration.
Theologian Harvey Cox has likened the plight faced by Pussy Riot to the great many religious figures from Biblical history who were punished for making their views heard, but he also compared them with "Holy Fools," writing, "Holy fools are not dismissed as crazy or criminal, but as people who, in using annoying or provocative acts, are saying something people need to hear."
Late Period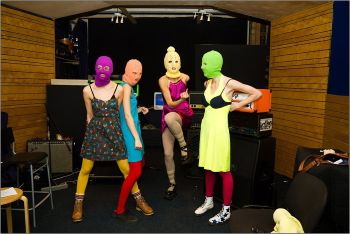 After serving 21 months in prison, Tolokonnikova and Alyokhina were released in December 2013, three months before their full sentence was up. Their early release was thanks to an amnesty law that was signed by the Russian parliament. But critics of Putin claimed their early release was a political stunt, provoked by enduring public interest in the group and to prevent them from upstaging the Russian Winter Olympics in February. Alyokhina was even reported as telling the press that she would have preferred to stay in prison for another 3 months.
Following their release from prison, Alyokhina and Tolokonnikova became increasingly focused on music, performing on stage with celebrities who supported their cause, including Madonna, as well as at popular music festivals such as Glastonbury in the UK. Their first U.S. concert was in December 2017, which they called a "subversive mix of activist art and live set." As their fame and public profile again rose, something of a schism formed between the populist wing of Pussy Riot, led by Alyokhina and Tolokonnikova, and the activist strand still operating underground and in relative obscurity in Russia. Unable to reconcile their differences, the activist group declared themselves dead in 2014, although they still staged occasional pop-up events.
Alyokhina and Tolokonnikova continued to maintain the new, more high-profile strand of Pussy Riot by producing politicised music and protest art, along with establishing a platform for supporting the rights of political prisoners. More recently, Alyokhina and Tolokonnikova have mostly parted ways to focus on solo projects, including book releases and theatre appearances. Tolokonnikova's choice to develop a solo career in pop under the Pussy Riot name has attracted much criticism from her former activist friends, including artist Alexei Plutser-Sarno, who argued, "Regrettably, everything Pussy Riot is doing these days is glamorous and shocking pop," adding, "when street art goes out into the commercial market, that means its spiritual and intellectual death."
The Legacy of Pussy Riot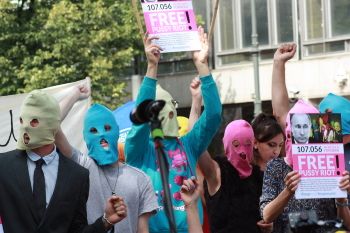 Even more than the individual artists that may have been influenced by their aesthetic or political intentions, the most enduring legacy of Pussy Riot has been the new global interest in Russian activist art, as well as in the political situation within the county. In this sense, Pussy Riot were incredibly successful, mobilising a vast army of supporters and raising awareness of the injustices that take place within Russia. Many other artists, even where some would more accurately be described as contemporaries than as influenced by the group, have benefitted from this new awareness and interest.
In direct response to the imprisonment of Pussy Riot, Russian radical Performance artist Pyotr Pavlensky stitched his lips shut, resembling a scene from American artist David Wojnarowicz's film A Fire in my Belly (1986-87). Pavlensky's raw and disturbing commentary on the Russian state's censorship on freedom of speech was directly influenced by Pussy Riot, as he explains. "I began political art in 2012 ... the authorities themselves catalysed this with their punitive action against the group Pussy Riot." He continued to perform visceral and often shocking actions within Russia in the time since, although has since moved to France, where he was granted political asylum in 2017.
Also in 2017, London's Saatchi Gallery staged the exhibition Art Riot: Post-Soviet Actionism. Commemorating the 100 year anniversary of Russia's October Revolution it displayed 25 years of Russian and Ukrainian protest art, placing Pussy Riot at the centre of the exhibition and examining their practice in a wider historical and contemporary context. Amongst contemporary voices in the show were Russian duo the Blue Noses, who call their work "hooligan improvisation." Like Pussy Riot, their art, which takes the form of photographs, videos and performances, parodies Russian political powers through humour and the grotesque - one of their most recent iterations shows Trump and Putin standing over Kim Jong-un, who kneels on all fours.
Russian artist Vasily Slonov, also produces political art aimed at causing provocation and has suffered under the hands of censorship. Like Pussy Riot, he saw the 2014 Winter Olympics in Sochi as a public masquerade hiding the harsh brutality of Russian life. For his exhibition Welcome! Sochi 2014, at the Perm Museum of Contemporary Art, he produced a series of satirical posters aimed at exposing the truth, but it was swiftly shut down by the authorities. The curator of the exhibition, Marat Guelman, was sacked.
Under the strict regime of the current Russian government, any form of opposition art can be almost impossible to make, although Siberian artist Damir Muratov has responded to the same desire for freedom as Pussy Riot with a more private language, creating his own separatist Siberian state where his own rules can lead the way. He calls his fictional, liberated state Bednotown, or "poor city," and had produced his own coat of arms, flag, postal stamp and even a currency.
But perhaps the most widespread strand of culture influenced by Pussy Riot is a resurgence in feminist punk music made by young women in a global context. English protest signer Louise Distras explains how "Pussy Riot have inspired me by showing how we absolutely have to speak out against media portrayals of women as subordinates." English feminist choir Gaggle also share the collective spirit of female power, performing hard-hitting messages about social awareness while wearing brightly coloured capes. Gaggle founder, Deborah Coughlin, describes Pussy Riot as "a living illustration of what needs to change in their country, because we can see them suffering for it."
Content compiled and written by Rosie Lesso
Edited and revised, with Summary and Accomplishments added by Lewis Church
"Pussy Riot Artist Overview and Analysis". [Internet]. .
TheArtStory.org
Content compiled and written by Rosie Lesso
Edited and revised, with Summary and Accomplishments added by Lewis Church
Available from:
First published on 02 Jul 2020. Updated and modified regularly
[Accessed ]