Progression of Art
1970-84
LOVE Balloon
Leonard Knight's LOVE Balloon is difficult to date, as it was worked and reworked over 15 years. One of his first artistic endeavors, the LOVE Balloon came from a moment of inspiration he had in 1970, when he witnessed the excited engagement that a hot air balloon flying over Vermont inspired in spectators. Leonard felt that portraying God's everlasting love for every individual person was the most important message he wished to portray through his art. He became convinced that a hot-air balloon was the perfect way to spread this message. Innovatively, he was considering the value of visual spectacle to spread a more serious message, a platform that was becoming more common for social and political causes during the 1960s and 70s. After many years of trying and failing to raise donations to buy a balloon, Knight decided that despite having no technical training or background in art, he would make one himself.

His work on the balloon began in earnest in the late 1970s and early 1980s after his van broke down on a trip out west, leaving him stranded in Nebraska. With a second-hand sewing machine donated by a friend, pieces of bed linen, and scraps of fabric bought with money earned through apple picking, cutting cord wood, and other odd jobs, Leonard began to stitch together his LOVE balloon.

An expansive patchwork of bright, luminous color, the LOVE balloon was made up of leafy greens, vibrant reds, warm oranges, and sunny yellows. Reminiscent of fields and rolling hills as seen from above, each patch was decorated with different delicately stitched patterns. Interspersing these sections are embroidered religious words such as "Bible" and "repent" (in reference to the Sinner's prayer). In the center of the balloon, on a creamy background in poppy-red lettering is the word "LOVE."

The patchwork quality of the balloon calls to mind two fields of influence. The American quilting tradition draws on a rich history of untrained, home-spun artists, often working in the fringes or minorities of society, to create a piece with warmth, texture, and both emotional and creative expression. On the other hand, Christian artwork worldwide has been based in mosaic and stained glass styles for hundreds of years. The LOVE balloon perfectly encapsulates Knight's first forays into an artistic career that would embody parts of both of these traditions.

The LOVE balloon was the first example of his extreme levels of dedication and ingenuity. He even tried to build his own special machine to inflate the balloon; however after years of trying, the balloon was simply too large and heavy to operate. The fabric began to rip and rot, and Leonard was forced to abandon the project.

The LOVE Balloon was restored and first exhibited at the American Visionary Arts Museum in Baltimore in 1996, and now remains an iconic constant fixture of the museum's First Floor exhibit.
Assorted cloth and linen - Photographed in its restored state at the American Visionary Art Museum, Baltimore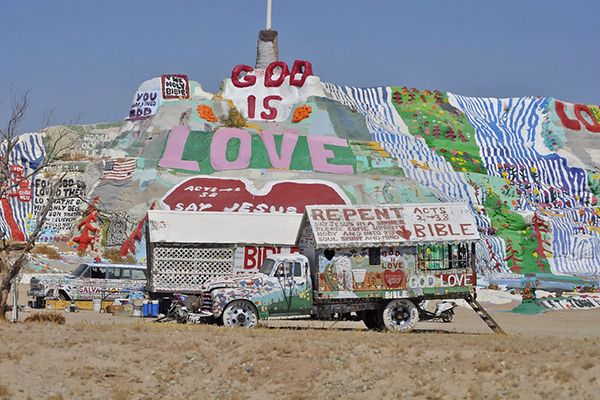 c. 1972
REPENT Truck
Trucks comprised Leonard Knight's only homes for over 25 years while he lived onsite at Salvation Mountain. They were a recurring theme in his life and work overall. From his early 20s, Knight spent weeks at a time in his various trucks, drifting and driving across the country doing odd jobs. He had previously trained as a vehicle mechanic in the Army. In 1969, Knight's spiritual awakening took place in a truck outside his sister's house. One of the odd jobs he most enjoyed (although was not particularly successful at) was painting cars.

Once Knight converted to Christianity in the late 1960s, he immediately tried to join various churches in Vermont. However, he found their messages overcomplicated and felt they had strayed from the simple messages of Christ, which were to repent, and to love. One of his initial actions was to decorate his current truck at the time, a rusty old 1939 white Chevrolet. He covered it in ornate nature motifs; flowers, polka dots, swooping birds, rolling hills and trees. Even the front bumper and the wheels of the car were decorated. These colorful decorations clearly brought to mind Eastern European Gypsy and folk wagons. Amongst these illustrations were Knight's oft-repeated mantra "God is Love," and the Sinner's prayer was inscribed on both sides, and the front of the roof; the prayer that Leonard felt converted him. He seemed aware of the advertising properties of the truck; he was conscious of the concept of making an eye-catching display, a spectacle, which was essentially a huge billboard for Christ.

Knight drove around the country in this truck while working on his balloon venture, and it later became his constant home in Slab City. When his truck broke down in the California desert, as if by divine planning, he found the site for his mountain and his biggest life's work. For the next 26 years, he lived in this burnt out old Chevrolet fire truck, adding to the decoration as the years went on. The truck functioned simultaneously as an artwork and as a home, something that is specific to Folk Art and Outsider Art traditions.

Trucks and vehicles have long been a symbol of American freedom and nomadism. The significance of trucks in Knight's life and work positions him on the fringes of society; a drifter, a free spirit, and a man free of societal constraints. It is interesting that in this period, Jack Kerouac's On The Road was immensely popular, as was the lasting impact of the 1969 movie Easy Rider. Both of these stories depicted countercultural figures finding freedom and a break from conformity by travelling across America. Knight's life, rooted in the act of travelling in trucks and vans, identified with not only alternative religious believers, but also alternative lifestyles in general.

Positioned just a stone's throw from the mountain base, Knight's truck home was as simply equipped as possible. His close friend Bob Simms wrote, "Leonard's house of 26 years is built on the back of an old 1939 white fire truck decorated as ornately as his mountain. He has no electricity, gas, running water, phone, heating, air conditioning, or any of the other things that so many of us take for granted. He is also one of the happiest men I know."

Inside, surrounding Knight's simple belongings, he painted more decorations in bright multi-colors on every wall, including a cut- out green tree on the door with branches holding bright red fruit labeled as various virtues: "Love," "Joy," "Meek-ness," "Gentleness," "Peace," "Goodness," "Temperance," and "Long-suffering." He also installed dozens of small heart-shaped, hinged windows. The fact that one must physically open up these hearts is clearly symbolic of a philosophy of openness to love.

Knight lived in this truck, with his multiple cats, until he was nearly 80 years old.
Vehicle decorated with house paint and plaster
1984-89
The First Salvation Mountain
Once Leonard Knight's LOVE Balloon failed to inflate one final time in 1984 in Slab City, he decided to stay for around a week determined to build a successful monument of some kind. He set up camp near Slab City, a few dozen miles from the Salton Sea. Knight recalled, "I walked way down the ridge and I thought - that's too far from the road. And I remember carrying the bag of cement back and I just happened to start right here. And I think I picked a real good place for not knowing what I was doing."

Knight began to build, without a plan, with dirt, cement, and scrap materials scavenged from the local dump. "With a rubber bucket and a shovel... I'd mix the cement in the bucket and I'd pack it in on the mountain. And then the next day I'd go a little bit higher on the mountain." Soon, a week turned into several, which then turned into months and years. Knight continued to build his mountain higher and higher, adding layers of house paint. Soon the mountain was 75 by 50 feet tall, with a huge white banner section on the front proclaiming, "God is Love" in red.

In these early years, Knight worked alone in the desert. The act of building Salvation Mountain has clear parallels to Biblical figures and stories. Most obviously, there are links to the lore of Noah and the Ark (a seemingly ordinary man is called upon by God to build an Ark, he is derided by his neighbors, but continues with his lonely task). As Knight said himself, "Sometimes God picks little people to do things." Additionally, Salvation Mountain draws from Christian motifs of deserts and mountains as spaces for martyrs or prophets to act; specifically, Christ wandering in the desert, his Transfiguration atop a Mountain, and Moses receiving the Ten Commandments on Mount Sinai. Knight's first Salvation Mountain makes a statement about his commitment to God and the Christian folkloric tradition not only in its content but in the act of building it.

However, in 1989, the Mountain began showing signs of instability and slowly began to collapse, the dirt and cement beginning to crack and shift. Knight was forced to watch yet another of his creations fail.

However, Knight had a different approach to the notions of success and failure. Indeed, like many outsider artists, Knight was hesitant to even identify as an artist, saying "when people started calling me an artist for the first time, I scolded them but good. Don't say such a dumb thing as that. I don't like artwork, I don't know nothing about it, that's it." He eventually softened into allowing himself to be described as an artist, but said, "For the most part, God did all the thinking and the planning, and God put me in this place. And I believe that God guided my paintbrush an awful lot. Because, honest, when I started, I could dig with a wheelbarrow and move sod, but that was about the 'it' of my ability to paint."

Indeed, when the mountain fell down, Knight joked, "I believe that everything real good, God did it. And everything that's falling apart, Leonard has got too much involved with it." Because he did not see himself as a struggling artist, Knight was not crushed by the collapse of the Mountain. In Annalise Flynn's thesis Something in the Water: The Sea, the Slabs and Leonard Knight's Salvation Mountain, she examines the way in which Knight re-defined the ideas of success and failure that make up the traditional American dream, and instead leaned into his failures. Flynn writes, "...it was Knight's eagerness to reject the credit for his work and focus rather on just completing the work - the daily ritual of engaging with the physical stuff of the place - that allowed him the perceived freedom to take on his twenty-eight year experiment. Rather than submit to self-censorship or become distracted by feelings of ineptitude - even when the mountain fell down - Knight persevered by concentrating on the task at hand."
Cement and dirt installation/sculpture - Slab City, Niland, California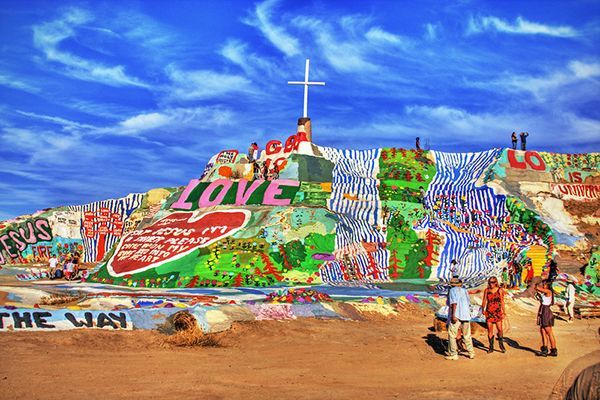 1989-Present
The Second Salvation Mountain
Immediately after the collapse of Knight's first Salvation Mountain project, he began work on rebuilding it. Despite the fact that Knight was now in his 70s, there never seemed to be a possibility that Knight would abandon the project; only to strive on, to make one bigger, better, and more stable. The second Iteration of Salvation Mountain proved to not only do this, but also become his most extraordinary life's work and legacy.

Knight decided to build his second mountain out of native "adobe"(a type of mudbrick) and straw, tightly packed down and reinforced with palm leaves at points. This material proved to be far more flexible, and so able to withstand layers of weight, and the heat of the desert - even earthquakes. The adobe and straw are then sealed with many layers of house paint, approximately ten layers over everything. It is estimated that over half a million gallons of paint have been used so far, and the mountain requires constant re-painting and reinforcing as layers are worn away by visitors. Patrick Rea, the creator of the documentary The Love Story of Leonard Knight, said, "I think that the mountain is one of the most significant structures in the world, because it was built without blueprints, funding or even a patron, by a man with no engineering, construction, or even artistic background, using found materials."

Knight's second Salvation Mountain featured a huge cherry-red heart on the front face, with the Sinners Prayer written inside. Above, are 3D letters proclaiming "GOD IS LOVE," and on the summit stands a large white cross. Much of the mountain is painted in shades of leafy greens, patchworks of colors like Knight's original LOVE Balloon. Flowers wind around the base of the mountain and up its rolling plains. Waves of blue and white striped intersect the green, and a bright sunny "Yellow Brick Road" path winds its way through the different sections of the mountain to the summit. Unlike the first mountain, the second mountain became a much more all-encompassing, sensory, and participatory art environment. Decoration extends beyond the Mountain itself - more decorated vehicles, a bright blue mailbox, and a large welcome sign make the site a multi-dimensional installation. By the 2000's, visitors could purchase Salvation Mountain posters and puzzles.

In Patrick Rea's 2013 documentary, a visitor is quoted as saying "[the mountain] actually contains a feeling of movement, it is not static at all..." The idea of a living, breathing Art Environment is still innovate and rare, but draws on artistic developments made in the late 60s and 70s counterculture. In Art Historians Elissa Auther and Adam Lerners' book The Counterculture Experiment: Consciousness and Encounters at the Edge of Art they observe that countercultural art is "about active participation, requiring participants to immerse their entire bodies into the art rather than remain spectators. It is about indeterminate processes, not static objects..."

Not only did visitors become more involved in the second Salvation Mountain project, but the local community too. As the popularity and fame of the mountain grew, Slab City residents saw it as a vital part of their community, and many came from further afield to donate paint, straw, or their time and expertise to help Knight. When legal issues began in 1994, the local community rallied round to save the mountain from closure. Salvation Mountain became a project that in many ways was defined by a single man's vision - but in many other ways was a palimpsest of many attempts, threats, contributions and visits.
Adobe, straw, paint, and found material multi-dimensional installation - Slab City, Nilad, California
1998
The Hogan
In 1998, Knight began experimenting with bales of straw and adobe, considering what else he could build on the site once the Mountain itself was completed. He decided to build a Hogan, which was a sort of domed shelter used by the native Navajo tribes. The Navajo made use of the packed mud to create homes that could efficiently insulate the dweller from extreme cold and heat, and Leonard saw the Hogan as providing him shelter from over 115-degree heat of the desert summer. Navajo tribes also traditionally used Hogans for religious and ceremonial practices.

Knight stacked up the adobe and straw bales to form a 10-foot high domed room. However, he never moved into the Hogan, ultimately preferring to stay in his truck, and instead the Hogan began an altar-like space for visitors' prayers and offerings. The mix of Native and Christian purposes and traditions was typically eclectic of Knight.

The Hogan was painted sky blue and white, with four steps leading to the altar ledge that runs around the room. In art historian and curator Annalise Flynn's thesis about Salvation Mountain she writes, "The room is quiet and contemplative like a chapel, and the addition of the personal effects, letters and photos give the private space the feeling of a vernacular shrine or memorial - though it is unclear what or who is the object of remembrance."

While the Hogan clearly serves a religious purpose, it is also a space for non-religious offerings and remembrances from visitors who have been moved by Salvation Mountain. Photographer Grace Hughes says, "The last place I looked in before we left was the place of all the photographs and other things left behind by visitors. I don't know who all those people are, but somehow leaving something behind made me feel like we were all connected-like a little cave of people's positive energy."
Adobe and straw bales with house paint
circa. Early 2000s
The Museum
In the early 2000s, Knight began work on his last work of art. He wished to add one last section to the Salvation Mountain site; a "museum." In a full circle narrative, Knight wished to create the Museum on the exact spot that his balloon had failed for the last time, in a shape that is modeled after the half-inflated structure on its side. The Museum would not necessarily be a museum in a traditional sense - rather, a monument to the history of his artistic ventures and his life's journey up to this point.

The Museum is a partially open semi-dome structure. One side of the structure is made up of a curved wall, painted in a hodge-podge of pastel colors, and installed with car windows that were brought to the site by local residents. This is the side through which visitors enter. Again, Annalise Flynn writes vividly of her experience upon entering The Museum: "With its ribbons of blue, orange, pink, green and yellow and its scattered, layered windows, it is a Dr. Seussian spectacle in itself. Upon entering the structure, you're met with rising tree trunks that create weaving tangles of branches assembled in a way that is seductively chaotic. Hay bales are stacked and stabilized by a surface coat of adobe and paint on top of the jumble of branches to make up the exterior. Areas of daylight and darkness alternate as you wind through the labyrinthine space. The entirety is painted with the same neon, floral fervor as the surface of the mountain - even ascending twenty and thirty feet high into the snarls of limbs."

Knight envisioned that The Museum would eventually hold pictures and artifacts from the mountain project, from the initial collapse and his battles with the county, to its declaration as a National Treasure and his various later additions and adaptations. This is still an ongoing venture; however, the structure itself stands as witness to Knight's lifetime of wondrous artistic expression.
Adobe, straw, car tires, car windows and natural materials - Slab City, Niland, California
Related Artists
Related Movements & Topics