"Great art has always the weight and form of material reality."
"I realize that I am in many important respects unmodern, and surely in art I do oppose current conceptions."
"The most important thing we can do is to work together to change the center of artistic production from Europe to America."
"I am pretty much of a landscape painter, but when I draw now I find that my art becomes more and more propaganda for the revolution."
"The only eloquent design is good design."
"Abstract is the cultural counterpart of the atom bomb."
"Do you want my life in a nutshell? It's this: that I have only one life, and I'm going to live it as nearly possible as I want to live it."
Summary of Rockwell Kent
Rockwell Kent was revered for his ability to capture the nature he so loved in visually arresting, oftentimes mystical landscape paintings. He was also an accomplished wood engraver and illustrator, whose works appeared in some of the most beloved books and iconic political posters of his time. While his leftist political views coupled with the advent of Abstract Expressionism caused his work to fall out of fashion near the end of his career, for decades his works captured the essence of natural wilderness. In addition, he was a strong advocate of a homegrown American art tradition. From today's perspective, he can also be seen as an early voice in eco-conscious art: "I'm not trying to make people love my art," he said, "Through my art, I'm trying to make people love nature. That's all."
Accomplishments
Kent came up with a signature painting style, paring down the details of his landscapes even while rendering the scenes realistically. Bathed in light, his clean and expansive visual style was well suited for his favorite subject matter: the natural beauty found in snow-filled northern climates.
Kent brought back the depiction of the sublime in art, which had fallen out of favor by the end of the nineteenth century. Rather than romanticizing or dramatizing the landscapes, however, his works often juxtaposed realistic natural elements with everyday, working people.
Kent traveled widely, and his paintings of Alaska, Tierra del Fuego, and Greenland sparked the imagination of many viewers at home. He was a pioneer in the role of the artist as voyager and captured the spirit of each place in his art.
Kent was equally adept in commercial arts. His work in this area left a lasting legacy on the visual culture of book illustration in the US. His engravings and poster designs still serve as models for politically-engaged art and design.
Kent had an appreciation and respect for workers' rights and, throughout his life, was outspoken about leftist causes, despite the repercussions, especially in a Cold War political climate. He was awarded the Lenin Peace Prize in 1967.
The Life of Rockwell Kent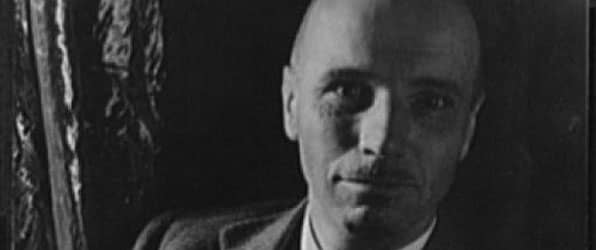 In addition to his paintings and illustrations, Kent also wrote down his travel experiences, which he published for readers hungry of stories about far-away land and cultures. Here he is photographed in his prime by the writer and photographer Carl Van Vechten, an influential voice in the artistic and literary vanguard of New York City.
Important Art by Rockwell Kent
Progression of Art
Biography of Rockwell Kent
Childhood and Education
Rockwell Kent was the first of three children born to parents Rockwell and Sara Kent. His father was a well-respected and successful lawyer, and he enjoyed an early childhood of security and prosperity. That came to an abrupt end, however, with the death of his father, from typhoid, when he was only five years old. After that, his family suffered financial hardships and often had to depend on the kindness of relatives. According to author David Traxel, "...Kent grew up knowing periods of luxury alternating with real, though genteel, poverty. He grew up with the sense of being a 'poor relation,' a sense of having fallen from a high position...."
A sometimes wild and often lonely child, from an early age Kent enjoyed being outdoors and fostered a love of nature that would remain with him for the rest of his life. Kent's exposure to art came at an early age thanks to his mother's sister, Jo Holgate, who came to live with them after his father's death. An accomplished ceramicist, she exposed Kent to processes of art-making. "From as early as I can remember, I drew pictures," he would recall. When he was thirteen, she took him with her on a trip to Europe. The art he saw there inspired him and, when they returned home, Kent started taking art classes and excelled early on in mechanical drawing. He even applied his talents to helping the family raise money by hand-drawing on decorative plates, which the family then sold.
Early Training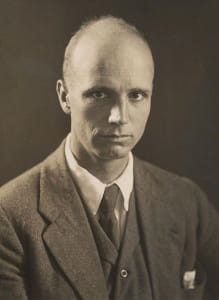 Despite showing a strong interest in and aptitude for art, Kent's mother worried about his chances for financial security in such a profession and so encouraged him to enroll at what is today Columbia University to study architecture. Before starting at Columbia, Kent spent the summer in Shinnecok Hills, Long Island, where he took art classes at William Merritt Chase's art school. Chase recognized Kent's talent and, after the young artist's third summer at his school, offered him a full scholarship to the New York School of Art. Not wanting to disappoint his family, Kent first began attending the art school at night so he could keep up with his architecture studies during the day. He eventually dropped out of Columbia to enroll in art school full-time, and it was there that, in addition to Chase, he also studied under Robert Henri and Kenneth Hayes Miller. All three helped to shape Kent's future artistic career.
In 1903, his aunt Jo arranged for him to have a summer apprenticeship with her friend, the painter Abbott H. Thayer. He spent that summer living and working with Thayer in his studio in Dublin, New Hampshire. Thayer was an amateur naturalist. His observation of nature inspired his art, and his sensitive perception of the natural world influenced Kent's way of working. Over the next several years Kent visited Thayer and his family frequently and became good friends with their son and fellow artist, Gerald. The first painting Kent ever sold were of subjects drawn from his time spent in New Hampshire.
It was also during his student years that Kent's life-long political outlook was formed, influenced by an international leftist discourse that was circulating at the time. In 1904, he joined the Socialist Party. He would be sympathetic to Socialist and Communist causes throughout his life.
Mature Period
Kent had a first taste of professional attention as an artist when he participated in the Exhibition of Independent Artists in 1910, where he showed four landscape paintings. It was also here that he began a friendship with the exhibition's organizer, the painter John Sloan, who referred to the up-and-coming artist as, "a fine energetic character [...] a big painter." Despite this, money was tight. To help support his art career, Kent took a job at the architectural firm Ewing and Chappell in New York. He would work on and off there for years, as well as taking on other architectural projects, whenever he needed to earn extra money.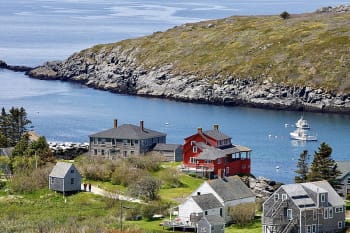 Because of his love of nature, he sought out wilderness not only to paint but also to enjoy the physical labors associated with working the land. He first caught the travel bug thanks to his former teacher Robert Henri, who encouraged him to travel to Maine in 1905. Kent stayed on Monhegan Island, which hosted a summer art colony. His art flourished here. He liked the island so much he decided, in 1906, to purchase land there, on which he built his own house.
"He built himself a small house there and spent his days in solitude - reading Emerson and Tolstoy, and painting; laboring as a lobsterman, and painting," arts writer Maria Popova notes. "Immersed in Thoreau's journals," she adds, "he absorbed the will 'to live deliberately' in wild places where he could find and nurture his inner wilderness." The external natural landscape provided a portal back into his authentic being, which he expressed in his art. As the art critic Henry McBride writes, "Wherever he goes, like Emerson, he finds himself."
In addition to his reading and contemplation, Kent found working with his hands to build a dwelling so rewarding that he would do so again in most new places where he and his family travelled and set up residence. The people of Monhegan were, according to Traxel, so impressed with, "Kent's superb energy [...] that [it] earned him the island nickname of 'Jumpstark.'" It was also here that he, along with fellow artist Julius Golz, started the Monhegan Summer School of Art, in 1910. Not long after Kent's paintings of Monhegan Island started to gain recognition, his contemporaries Edward Hopper and George Bellows (both his former classmates at the New York School of Art) would follow suit, creating their own distinctive visions of the island in their art.
In 1908, during another visit with the Thayer family, Kent fell in love with Abbott's niece, Kathleen Whiting. The two married that same year. Whiting gave birth to a son a year later, who would be followed by three daughters and another son. Their marriage was not an easy one, however, as Kent was often unfaithful and even fathered a son with a former girlfriend during their union.
Much of Kent's mature artistic output was determined by the places he travelled to. After Monhegan island, his next major trip was to Newfoundland. He first went there on a fishing trip, in 1910. Four years later, he moved there with his family. His political views and outspoken nature caused him issues there, however. According to art historian Constance Martin, "...Kent, who had been to Germany and loved German music, would traipse through the hills singing German songs, with easel and paints under his arm. He made no effort to hide his admiration for German culture from the locals, whose anti-German sentiment was rising as World War I approached." Concluding that he might be a spy, locals convinced the government to exile him from the colony. He was deported in 1915.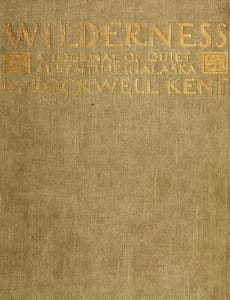 Back in New York City, Kent began creating illustrations for magazines, which were well received and provided a much-needed steady income. He didn't stay in the city for long, however. In August 1918, he and his eldest son, nine-year-old Rockwell, set off for Alaska, a journey which resulted in another major set of artistic outputs. In addition to painting, it was here that Kent began the practice of wood-engraving, for which he would also become well known. Many of the Alaska wood engravings were part of an exhibition held at the Knoedler Gallery in March of 1920, after he had returned home to his family in New York City. The Alaska trip also led to his first book, which the publisher G.P. Putnam & Sons commissioned. Comprising his writing along with reproductions of his drawings and engravings, Wilderness found an enthusiastic public reception when it came out in 1924.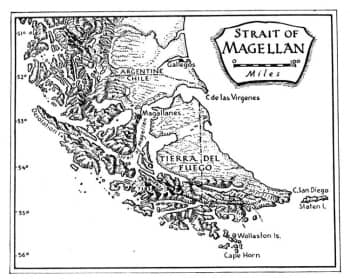 Once more feeling the need to leave the oppressiveness of city life, in 1919 Kent with his family moved to Arlington, Vermont, where he bought a farm he called Egypt and eventually oversaw the building of a house and studio there. While his domestic life was briefly happy, the call of the open road fell on him again and, in 1922, he set out for South America, travelling to Tierra del Fuego, where he tried to journey around Cape Horn but, due to weather, was unable to complete the trip as planned. He did, however, create several paintings during the journey, which led to another book, Voyaging: Southward from the Strait of Magellan (1924).
When he returned home, his marriage fell apart. Kent divorced his wife in 1925 and, shortly after, in April of 1926, married another woman, Frances Lee. After some time abroad in Ireland for a honeymoon, the couple returned to America and settled in the Greenwich Village area of New York City before purchasing a house in AuSable, New York in the Adirondack Mountains.
It was during these years that Kent became an outspoken proponent of American art. He began to use his now established reputation to not only sell his art but also to advocate for other artists. According to Traxel, for Kent, "the struggle, as he saw it, was to establish an indigenous American art. He made speech after speech before art clubs and design societies arguing that American collectors and museums should give better support to their own nation's artists." Articulating his concerns over the need to nurture a homegrown art scene, Kent once stated, "when the excavators dig in the ruins of this nation they will find a lot of old art and statuary and Grecian mummies. They will not know what our art has been."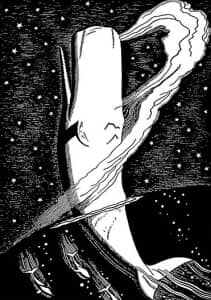 Paralleling his fine art career, Kent made professional advancements in commercial art, creating well-received designs for Rolls-Royce and logos for the publishing houses Viking Press and Random House. He also began to make good money illustrating books. Speaking of his proficiency in this field, author Paul Kennedy states, "he quickly established himself as one of the preeminent graphic artists of his time. His striking illustrations for two editions of Herman Melville's Moby Dick were extremely popular and remain some of his best-known works. All told, Kent illustrated 37 volumes during a career that extended more than 55 years." His illustrations for Moby Dick, in fact, played an important role in resurrecting the nineteenth-century text, which had been all but forgotten prior to his 1930 edition.
Another northern landscape important to his art and life was Greenland. His first trip there took place in 1929. The ship he was on crashed due to bad weather, and he was forced to trek by land across the wilderness, where he eventually met an Eskimo who helped him and his fellow travelling companions get to safety. Despite the initial life-threatening experience, Kent was deeply inspired by Greenland. Upon returning home after this first stay there, Kent painted more than three dozen works and published a book about his adventures there titled N by E (1930). He travelled there again in 1931 with his wife and a third time in 1934, accompanied by his son Gordon. A second book arising out of his Greenland stay, Salamina, was published in 1935.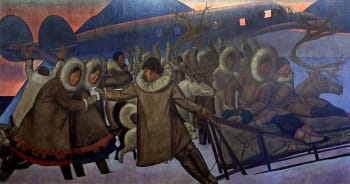 Throughout his life Kent remained committed to leftist politics and, as he got older, his political ideals also creeped into his work more explicitly. Of this he once stated, "I am pretty much a landscape painter, but when I draw now I find that my art becomes more and more propaganda for the revolution." In 1937, he received a public commission from the United States Treasury Department to create a two-part mural that would showcase the impressive reach of the US Post Office's services. Wanting to cover the Post Office's reach into both the north and the south, Kent travelled to Alaska and Puerto Rico and used the two locations as inspiration for his two panels.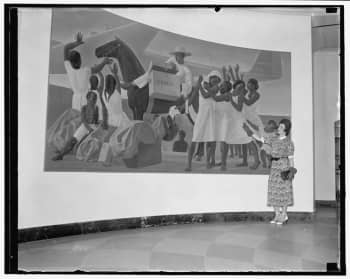 His Puerto Rico mural commemorated the first airmail delivery there. It was met with strong disagreement when it first debuted in September 1937, however, with many people taking issue with what they viewed as a revolutionary call to arms embedded in the work. A letter held by the woman in the foreground read, in Kuskokwim, a little-known Eskimo dialect: "To the people of Puerto Rico, our friends! Let us change chiefs. That alone can make us equal and free!" Kent was eventually convinced to change the message, but he felt that the inclusion of the letter had been successful, as he had drawn public attention to the plight of the Puerto Rican people through media coverage of the mural.
Later Period
The later decades of his life saw Kent asserting himself more in the political arena, even if that hurt his reputation. During World War II, Kent used his artistic skills to help design posters for the Office of War Information. He also expanded the dairy farm he was running at home to help alleviate a food shortage in America. More controversially, he was sympathetic to Russia's suffering during the war and sent what spare money he had to the Russian War Relief fund. The publication of his autobiography in 1940, This Is My Own, also caused issues for the artist. According to art historian Richard V. West, it was "...a book that was partly biographical and partly a statement of his political beliefs. In it, the artist pleaded for peace, defended the importance of labor, castigated the evils of corporate greed and mismanagement, and recounted some of his recent activities on behalf of progressive causes." The book caused a stir in the wake of its publication and, in part due to what he'd written, "Kent became persona non grata in both conservative and certain liberal circles due to his outspoken praise for the Soviet Union and criticism of the United States foreign policy."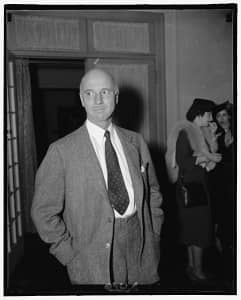 In 1946 Kent was elected to the Executive Committee of the American Labor Party and in 1948 had an unsuccessful run for Congress as the party's candidate. He became an advocate for non-violence, attended the World Congress for Peace in Paris in 1949, and travelled to Moscow to speak out about banning atomic weapons. As a result of his time in the Soviet Union, the United States government took away his passport leading to a fight that went all the way to the Supreme Court, which decided, in 1958, to re-instate his passport. Kent was also forced to appear in front of Senator Joseph McCarthy's House Un-American Activities Committee to answer about his political beliefs. While he was openly uncooperative, no charges were ultimately brought against him.
Due to the political climate, Kent's political leanings affected his career. This was most evident when the Farnsworth Museum in Rockland, Maine refused to host a planned exhibition of his paintings and even rejected a large collection of his works and archives that he was planning to gift the institution. "Infuriated at American galleries and institutions that shunned his art because of political controversies and changing attitudes," writes author Paul Kennedy, "Kent gave an enormous collection of his work - 80 paintings and 800 prints and drawings - to the Soviet Union," where his work had found an enthusiastic reception despite his waning popularity in his homeland.
In the last years of his life, Kent sought refuge in the Adirondacks, where he could once more paint nature. Tragedy struck there, however, when his home was destroyed in a fire. He never recovered from the loss of his beloved house and the many paintings that were also burned there. Kent's health, which had already been in decline, took a turn for the worse. The pacemaker he'd had implanted in 1965 had to be replaced in 1970. He died less than a year later.
The Legacy of Rockwell Kent
Fueled by his passion for nature, Kent became one of America's most prolific and well-known landscape painters of the twentieth century. Grounded in realism and inspired by his travels, his style of painting captured the spirit of place and people that, according to Traxel, "inspired the next generation of American landscape painters including Jamie Wyeth who, of his Monhegan paintings, stated that Kent was, 'the only artist who worked on Monhegan who got the true sense of the place.'" An advocate of a local artistic culture (at a time period when imported European art was highly valued), Kent situated his adventures in the fabric of "contemporary American character": wide-open expanse of landscape and wilderness uncaptured in European painting.
Kent left behind an impressive body of work that showcases his skills as an illustrator and wood engraver. As the author Paul Kennedy states, "his powerful and innovative book graphics, which included everything from full-page lithographs and wood engravings to borders, capitals and bookplates, have influenced generations of graphic artists." His stark and dramatic visual style for these works would be admired and emulated by generations of younger artists. At a time when the divide between fine art and commercial art was widening, Kent had his feet in both realms, stayed true to himself, and left a lasting legacy in both arenas. His is an example of an art practice that dives into the depths of his spiritual being even as it also looks out onto the world with integrity and an egalitarian political vision.
Influences and Connections
Influences on Artist

Influenced by Artist
Artists
Abbott Thayer
Friends & Personal Connections
Charles Daniel

Charles Ewing

William Macbeth

George Putnam

Marie Sterner
Artists
Arthur B. Davies

Julius Goltz

Kenneth Hayes Miller
Friends & Personal Connections
Charles Daniel

Charles Ewing

William Macbeth

Marie Sterner

Gertrude Vanderbilt Whitney
Movements & Ideas
Graphic Arts

Wood Engraving

Illustration

Printmaking
Useful Resources on Rockwell Kent
Books
The books and articles below constitute a bibliography of the sources used in the writing of this page. These also suggest some accessible resources for further research, especially ones that can be found and purchased via the internet.
biography
written by artist
artworks