Artists
Hans Holbein the Younger
Biography and Legacy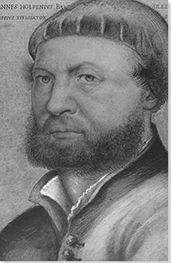 Born: 1497 - Augsburg, Germany
Died: 1543 - London, England

Biography of Hans Holbein the Younger
Childhood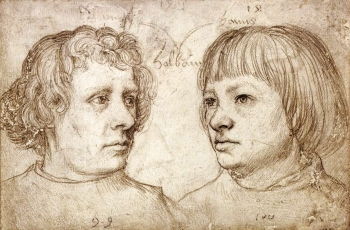 Hans Holbein the Elder, Portrait of his sons Ambrosius and Hans, 1511
Hans Holbein the Younger was born in the flourishing commercial center of Augsburg in Germany, where wealthy patrician families encouraged artistic and intellectual activity. He was the second son of Hans Holbein the Elder, one of the most renowned panel painters of the Late Gothic period, who specialized in both religious paintings and portraiture. A silverpoint portrait of the two brothers dated 1511 notes that Hans was 14 at the time, meaning that his date of birth was around the end of 1497 or early 1498. It is generally assumed that the elder Holbein trained both his sons as painters (Hans' brother Ambrosius also became one), however, many of Holbein's family were also artists including his uncle, Sigmund who was a painter and his grandfather who had been a goldsmith and it is possible that they, too, had an influence.
Early Training and Work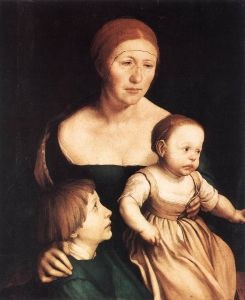 The Artist's Family (1528) is a somewhat unflattering portrait shows Holbein's wife with their two eldest children, Philip and Katherina. She looks tired, perhaps an indicator of the relationship between husband and wife, who spent many years apart, with Elsbeth left to care for their children alone.
Both Holbein brothers left Augsburg and relocated to the city of Basel, around 1515, where they were apprenticed to Hans Herbster, the city's leading painter. Legal records show that the Holbein brothers were involved in a brawl in Basel in the Summer of 1516. The following year, records show that Holbein was again involved in a fracas, this time with a goldsmith, for which he was fined 5 livres for fighting in the street. It is thought that the artist then travelled to northern Italy for a period, to learn from Italian masters of fresco such as Andrea Mantegna. On his return to Basel, he quickly established himself in the city, running a busy workshop and joining a painters' guild. He also married Elsbeth Binzentock, a widow a few years older, who already had an infant son; they had a further four children together.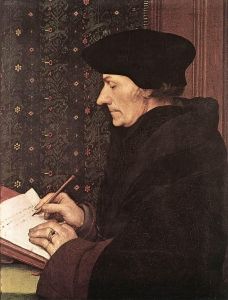 Holbein's portrait of Desiderius Erasmus (1523)
Between 1520 and 1524, Holbein's success in Basel grew with him producing murals, religious paintings, designs for stained glass and book illustrations. Yet despite this, it does not appear that he was particularly wealthy during this period, and he was only able to buy a house in 1528, after the success of his first residence in England. During this time, he was introduced to famous Dutch Humanist and theologian, Erasmus, and the two became well acquainted, with Holbein painting several portraits of him. Such portraits developed Holbein's reputation and when he travelled to England in 1526 the letters of recommendation from Erasmus, which he carried with him, secured his entry into well-connected circles, most notably that of Thomas More for whom he painted the famous portraits Portrait of Sir Thomas More (1527) and Thomas More and Family (c.1527).
This sober composition emphasizes Erasmus' focus on his writing. Although there is an intimate feeling from the closely cropped framing, there is also a sense of it being an official portrait with Erasmus' pose in profile referencing heraldic images.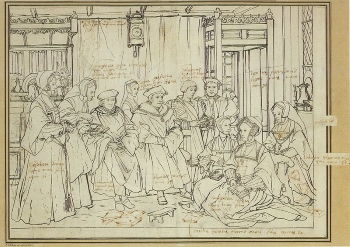 Study for the Family Portrait of Thomas More. c.1527
This preparatory sketch was completed during Holbein's first residence in England and it has been suggested that More sent it to Erasmus as a gift, following the Dutch scholar's recommendation of the artist.
Holbein returned to Basel in 1528 and stayed for four years, buying a second house in 1531. The city, however, had become politically and religiously unstable during his absence. Artistic imagery was banned from churches, being removed by reformers and either burnt or sold for firewood. The turbulent state of the city perhaps contributed to his motivation to reside elsewhere and he once again left for England with letters of recommendation from Erasmus.
Mature Period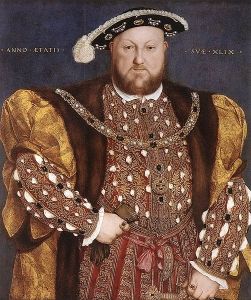 Holbein's 1540 portrait of Henry VIII, one of several that the artist painted of the king, these remain Holbein's most iconic works
On returning to England, Holbein distanced himself from the Humanist circles that had employed him on his first trip as they had fallen out of favor with reigning monarch Henry VIII and, indeed, Sir Thomas More was executed in 1535. Instead Holbein found employment as a portrait painter for a number of wealthy Lutheran merchants. In 1533 they commissioned him to produce a street tableau of Mount Parnassus for the coronation procession of Anne Boleyn, Henry VIII's second wife and this may have opened the door for his employment in the royal household. Initially charged with designing jewelry for the new queen, he was soon after described by court poet Nicolas Bourbon as 'the King's Painter.' The artist also enjoyed the patronage of Thomas Cromwell. As lawyer, statesman, and chief minister to the King, Cromwell masterminded Henry VIII's public rehabilitation in the wake of scandal surrounding his many marriages and his decision to reform and lead the English church. For this purpose, Holbein was commissioned to produce grandiose images of propaganda displaying the power and righteousness of the king.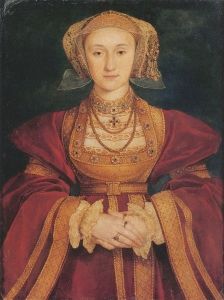 Anne of Cleves portrait (c.1539). Posed face-on and dressed in elaborate finery, Henry did not feel that Anne was as described and this betrothal portrait did not end in a happy marriage. Disappointed by her appearance, Henry swiftly divorced her and reassigned her as 'king's sister.'
The accounts for the royal household from 1536 include Holbein as a court painter with a yearly income of £30 and his employment continued for some years. Holbein seems to have painted the king a number of times, but the only surviving painting is a half-length portrait in the collection of the Thyssen-Bornemisza Museum in Madrid. Amongst his other royal commissions, he was also tasked with capturing likenesses of potential brides for Henry. For one such commission he was sent to Duren with orders to produce a portrait of intended bride Anne of Cleves. Treading a careful path, he had to both satisfy the foreign officials and create a true-likeness from which Henry could make his decision to wed or not. Holbein's diplomacy in his rendering of Anne may have exacerbated Henry's displeasure at finding his new bride more like a 'fat flanders mare' when she arrived for the wedding ceremony in January 1540.
Late Period
The blame for Henry's disappointment at finding his wife's appearance so unattractive fell firmly on Thomas Cromwell, as he had encouraged the marriage and reportedly exaggerated her beauty. He was swiftly executed and Holbein found himself without a patron, marking the decline of his career as court painter. He returned to private commissions including merchants and other members of Henry's court. It is possible that Holbein briefly returned to Basel in 1540, when his leave of absence expired, but he was definitely in London when he died in 1543, at the age of 45, possibly from the plague, although this diagnosis has been disputed. The site of his grave is unknown.
Although he remained married to Elsbeth until his death, Holbein does not appear to have been a family man and their marriage was likely strained by his long absences and infrequent visits. His 1543 will revealed that he had two illegitimate infant children in England, left to the care of a nurse. In addition to this infidelity, it has been suggested that the model for his Darmstadt Madonna was also his mistress. Despite this, he supported his wife and children throughout his residences in England and when Elspeth died in 1549, she was living quite comfortably.
The Legacy of Hans Holbein the Younger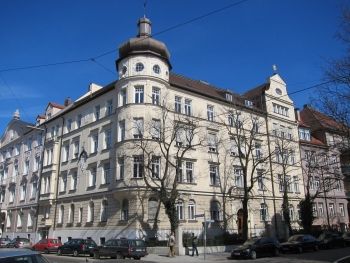 Holbeinstraße, a street in Munich, Germany named in the artist's honor
A street in the city centre of Munich was renamed Holbeinstraße in the artist's honor in 1899, illustrating his legacy, in Germany, as an artist of the Reformation. It is in England, however, that Holbein's legacy is most acutely evident. A combination of his prolific artistic output and the fame of the sitters cemented his reputation and shaped our visual notion of Tudor England. His portraits were so influential and so widely copied that many images of this period of English history can be seen to visually reference his works. There is no clearer example of this than his full-length portrait of Henry VIII. This famous image projected notion of health, wealth, power, and masculinity and was widely copied by contemporaries and successors, such as Hans Eworth and Regimus van Leemput, as well as many unknown artists. There is perhaps no other royal portrait which has so successfully captured, and even shaped our notion of the sitter. As a result of this, Holbein has gained a reputation for flattering his sitters and this has been celebrated and lampooned in popular culture, most recently in the West End musical Six, in the song Haus of Holbein.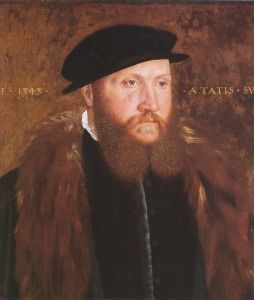 Man in Black Cap (1545) by John Bettes the Elder. This image shows Bettes' imitation of Holbein's later style, evident in portraits such as Margaret Roper (c.1535) and Henry VIII at 49 (1540)
Holbein had no studio and as such, only seems to have had one direct imitator, John Bettes the elder. His mastery in painting, in capturing light and space, and his incorporation of personal objects into images, however, influenced 16th and 17th century portraitists including Nicholas Hilliard, Rembrandt, Jan Vermeer, van Dyck, and Rubens. Holbein had a resurgence in the late-19th century when he inspired a number of artists that advocated for greater naturalism in painting.
He has retained his popularity since, and his style and techniques can also be seen to extend to the present day, influencing modern artists such as Jane Egan in her work Holbein Hands (1992) which incorporated part of Holbein's portrait Christina of Denmark (1538). Looking at Tracey Emin's confessional self-portrait My Bed (1998), the personal artefacts revealing something about herself are reminiscent of the items and symbolism which filled Holbein's works. In the same vein portraits, such as Kehinde Wiley's 2018 depiction of Barack Obama, still reveal his artistic influence. Wiley endows the former president with both regal and human qualities, and the richly ornate background and attention to detail in the chair upon which Obama is seated also evokes his work.
Most Important Art
The Body of the Dead Christ in the Tomb (1521)

In this panel, Holbein has created a life-size image of Christ, lying in his tomb. The greenish hue to the skin, in particular around the wounds on the hand, feet and torso, as well as on his face suggest the putrefaction of flesh and results in an almost grotesque image. Rather than creating a sense of calm or peace, the mouth and eyes are shown wide open, so that the pain endured on the cross seems to continue into the tomb. These elements emphasize Christ's humanity over his divine status and this is compounded by the unnaturally stretched and emaciated body being confined in an uncomfortably narrow space, imbuing it with an uneasy claustrophobia.

The recess in which Christ is laid is painted with an incredible sense of depth and this adds to the realism of the piece. This is further enhanced by the loose strands of Christ's hair which have fallen over the edge of the surface upon which he lies and his finger which also reaches over the edge and into the viewer's plane, reinforcing the dimensionality of the space. This is an early example of Holbein's use of trompe l'oeil, a technique that he would later apply to great effect in many of his portraits.

It is possible that the panel was intended as part of a Holy Tomb, in place of a sculpture or perhaps as a lid over a sepulchre. Above the body, angels hold instruments of the Passion and a Latin inscription reads 'Jesus of Nazareth, King of the Jews.' Art Historian Oskar Bsatschhmann notes that "Holbein transformed the image of the Christ at rest into the dreadful vision of a corpse, that of a man who had been condemned to death. Only the specific character of the wounds betray the identity of Christ." Although a fascination with the macabre was a common trait of early Protestant artists, their minds steeped in the apocalyptic horrors of the Reformation, this is not the only way in which to view Holbein's gory interpretation. The rotting flesh can also be seen to stress the sheer miracle of the Resurrection, occurring even after the human body has decayed.

Read More ...

Hans Holbein the Younger Artworks in Focus:
Hans Holbein the Younger Overview Continues Below
If you see an error or typo, please:
tell us
Cite this page

Content compiled and written by Lisa Huang-Taylor
Edited and revised, with Synopsis and Key Ideas added by Kate Stephenson
" Artist Overview and Analysis". [Internet]. . TheArtStory.org
Content compiled and written by Lisa Huang-Taylor
Edited and revised, with Synopsis and Key Ideas added by Kate Stephenson
Available from:
First published on 05 Nov 2019. Updated and modified regularly.


[Accessed ]