Progression of Art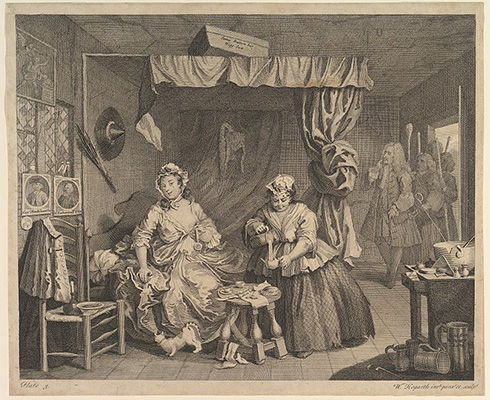 1732
A Harlot's Progress - Plate III
This plate was the third in a series of six engravings (based on paintings of the same name) that charts young Moll Hackabout's life in London. The fictional character came to the capital from the country in the hope of finding work in service. Instead she is taken advantage of and becomes a high-class prostitute, before falling on the hard times depicted in plate III. By plate IV she is dying, toothless and pockmarked by venereal disease, while the final plate shows her funeral wake with her young illegitimate son sitting by her coffin.

In this composition, Hogarth mimics the very common religious depiction of the Annunciation, to satirically highlight the fall of the young woman. Moll is in shabby room in Drury Lane, getting out of bed after a leisurely lie-in. The witch's hat and switch on the wall communicate to the viewer that her current position necessitate her to indulge in flagellation and black magic. Above her bed is a box belonging to the famous highwayman James Dalton, suggesting that he is now her principal lover. She is less well dressed than in the previous plate and she dangles a watch from her fingers, no doubt obtained illegally from the previous night's customer. The piece is full of pictorial puns and detailed references including the domestic cat at Moll's feet which hints at her profession.

Moll's ultimate downfall is foreshadowed by the serving woman at her side, who has lost part of her nose to syphilis, and has a sore on her face. While Moll looks smiling and suggestively at the viewer, behind her a magistrate and officers enter to arrest her. As writer Susan Elizabeth Benenson writes: "Like his great predecessor, the 16th-century Flemish painter Pieter Bruegel the Elder, Hogarth wanted to extract entertaining and instructive incidents from life. In telling the story of a young country girl's corruption in London and her consequent miseries, he not only ridiculed the viciousness and follies of society but painted an obvious moral."

This work was instrumental in securing Hogarth's reputation as the great moral and satirical artist of his time. The use of multiple scenes in his work allowed him a more complex narrative, and led to his reception as a "literary artist". 18th century essayist and poet Charles Lamb wrote: "His graphic representations are indeed books: they have the teeming, fruitful, suggestive meaning of words. Other pictures we look at - his prints, we read." The original paintings were destroyed in a fire in 1755. In 2006 the works were taken as inspiration for the film A Harlot's Progress, directed by Justin Hardy.
Etching and engraving - Andrew Edmunds, London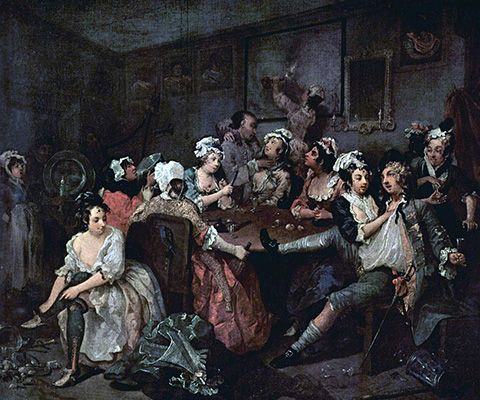 1734
A Rake's Progress
The Tavern Scene, plate III of the Rake's Progress Series, shows a debauched and lively evening of drinking at the heart of which is Tom Rakewell, the anti-hero of the work. Another fictional character, Tom, like Moll, came to the city to build a life, only to succumb to its temptations. The previous two plates show Tom returning from University to learn his wealthy father has died, leaving him everything. He immediately shuns his pregnant girlfriend, and by plate III we find him drunk in the early hours at a brothel. At his side is a prostitute with a face pock-marked by venereal disease, reaching under his shirt, probably to rob him. Surrounding him are other fallen characters; a stripper undresses in the foreground, a tradesman to the rear fondles a prostitute, and two women prepare for a spitting contest.

Before he produced engravings of the series of paintings, Hogarth exhibited the oils in his home, as a preview. They acted as an advert for the prints which he later sold on subscription. In the work we see Hogarth's expertise in creating a claustrophobic intimacy that forces us to look at the subjects, and therefore our own experience, as they gamble, cheat, and ultimately fail. The rake in this case ends up being arrested and ends his days in Bedlam, a London asylum.

As Christine Riding explains: "Hogarth in a masterly way presented each scene with a realism and intimacy that established his artistic identity as the roving satirist who observes with an unflinching eye the seedier side of London life." Ultimately, it was his skill in doing this, his eye for detail, and his ability to create comedy and caricature, that made him famous.
Oil on canvas - Sir John Soane's Museum, London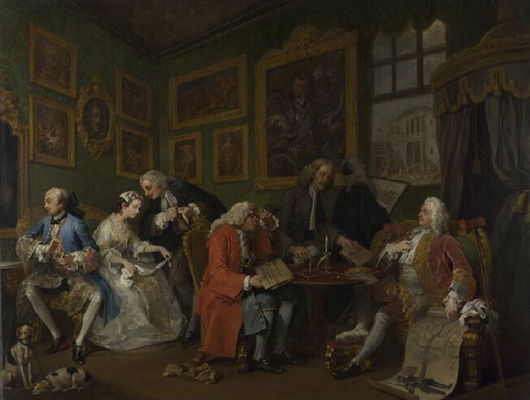 c. 1743
Marriage à la Mode: I The Marriage Settlement
Another of Hogarth's series, Marriage à la Mode tells the story of a disastrous union of convenience, between a profligate aristocrat's son and the daughter of an aspiring middle-class merchant - the sole purpose of which is the exchange of wealth for social status. This first scene The Marriage Settlement sets the stage, making it clear that this is a business arrangement, rather than a union of love. This is echoed in the dark and somber room in which the couple themselves have been pushed to the side of the canvas. The bride, dressed in white is almost doubled over in sadness as she grips at her handkerchief, indicating tears shed. She faces away from her foppish betrothed who, caught in his own reverie as he stares at his reflection, is completely oblivious to the business dealings going on around them.

The groom's father can be seen on the right of the canvas, gesturing to himself proudly while he rests his gout-ridden and bandaged foot on a stool. With his other hand he points to a family tree, indicating an unlikely lineage that goes back to the Normans. The message is clear; he is selling his son for cash. Meanwhile, the rich merchant on the other end of the transaction is flanked by his lawyer. The house framed in the window encapsulates the symbolism of the work; it is all for show, like the marriage.

The work has its origins in Dutch and French group portraiture, but in Hogarth's conversation piece, he uses satire to take it to another level. Historian Professor Amanda Vickery described the work as a "vicious depiction of aristocratic culture and marriage as barter and sale. The fact that this will be utterly loveless marriage is signified by two chained dogs - it will be a prison." This series was one of Hogarth's most popular and both the original paintings and the later engravings exemplify his skill in composition and in rendering individual characters. The work inspired James McNeil Whistler when he saw it exhibited at the National Gallery.
Oil on canvas - The National Gallery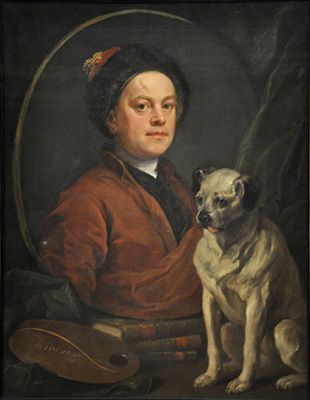 1745
The Painter and his Pug
Although finished in 1745, Hogarth actually began this painting around a decade before and X-rays show that he made various alterations over the period. He had originally painted himself in a wig and formally attired, but at some point he decided rather than a gentleman painter, he wanted to present himself as an artisan and introduced the hat and banyan (an informal robe). At the front of the work is Trump, Hogarth's pet pug. This is a very personal touch and possibly a reference to his pugnacious personality. Hogarth's image is displayed on an oval canvas which rests on three books by well-known English authors; Shakespeare, representing drama, Milton, representing epic poetry and Swift, for satire, the three tropes on which Hogarth built his oeuvre. In the foreground is a palette, emphasizing Hogarth's career in painting. The palette bears an s-shaped curve and the words "the line of beauty". In introducing these elements, Hogarth pre-empts his later treatise on The Analysis of Beauty and shows that he was already formulating the ideas that he presented in it.

Biographer Jenny Uglow wrote that the work should "be labelled a still life not a self-portrait - nature morte - not vivant. It is a painting of a painting, an oval stretched on the canvas with the nails still showing. In these receding dimensions, the pug who sits in front of the painting is more 'real; than his 'painted' master." This reflects Hogarth's lively sense of humor, as his beloved pet dog becomes a focal point of his own self portrait. In this same humorous vein, Trump appears in a number of Hogarth's other paintings, including as a puppy in The Fountaine Family (1730) and in Captain Lord George Graham in his Cabin (1746) in which he is portrayed wearing Graham's wig. The painting demonstrates both Hogarth's professional ambition as a painter and his skill in portraiture, evident in the use of color and tone and his assured brushstrokes.
Oil on canvas - Tate, London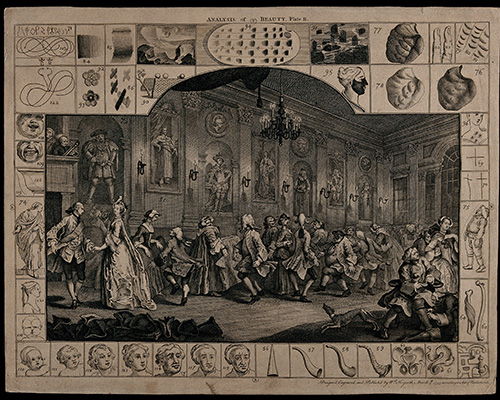 1753
The Analysis of Beauty - Plate II [The Country Dance]
This engraving, taken from Hogarth's book on beauty, acts as a demonstration of his key tenets. He employs the serpentine line throughout in an assertion of his belief that it was both beautiful and graceful. The artist wanted to propose a counter-argument to conventional teaching in art, an "alternative to the classicising aesthetic of the connoisseurs". The heart of his argument, according to art historian Christine Riding, was that the serpentine line was the essence of beauty, "as opposed to the straight lines that were emblematic of classism and the vulgar, exaggerated curve, both of which lacked 'variety'."

The scene shows a country dance and is characteristically busy with human activity. Curving lines can be seen in the dynamism of the dancers, the ruffles of their clothes in movement, the candelabra, and even the overall shape of the dance line. Framing the work on all sides are sketches that illustrate Hogarth's teachings. Elsewhere in the text Hogarth focuses on the real female form as a source of beauty, rather than inert marble busts from antiquity. A reference to this can be spotted in figure 74 in which a woman dressed in a toga comes alive, as if stepping off her plinth and into the dance. Whilst Hogarth's theories were predominantly well received, there were some dissenting voices who satirized and ridiculed the publication. Nevertheless, Riding notes that The Analysis of Beauty was a "complex, innovative and thoroughly modern theory on art, beauty and life. The concept reverberates even today, and is explored in Alan Hollinghurst's Booker-winning novel of 2005 The Line of Beauty.
Etching and engraving - Andrew Edmunds, London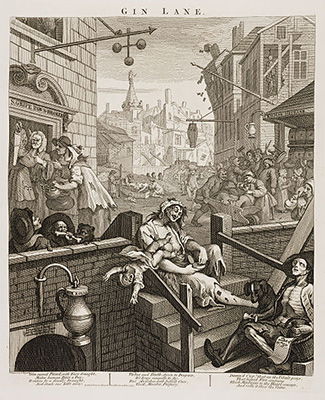 1751
Gin Lane
Hogarth produced this engraving as a counter to the gin-craze that he could see gripping London. In the foreground of this urban dystopia, are instances of infanticide (committed by a half-naked women covered in syphilitic sores) and starvation caused by the spirit, while behind a rabble causes chaos, destitute tradesmen sell their tools to buy more gin and a woman pours alcohol into an infant's mouth. There are also instances of suicide, madness, and murder. These activities are seen as foreshadowing wider societal breakdown, symbolized by the collapsing building in the distance.

The work was produced in tandem with the writing of Henry Fielding, a judge and one of Hogarth's friends. Fielding published influential writings examining the rise of crime and social unrest that accompanied mass urban migration into the capital during the first half of the 18th century. These problems were caused, in part, by a 1689 Act of Parliament that banned the import of French wine and spirits. As a result, gin, originally a foreign spirit, began to be produced in England. It was cheap and addictive and was seen to have an impact on health, productivity and crime. Gin Lane formed part of the campaign in support of the 1751 Gin Act, which aimed to reduce drinking in a bid to curb social disorder.

As art historian, Mark Hallett notes this work acted as a "horrific social satire in which anonymous, poverty-stricken alcoholics, their features depicted in the boldest of engraved lines, sprawl, fight and die among the ruins of a collapsing city". The prints were aimed to shock the working classes into reformation and would have sold for a cheaper price than Hogarth's previous prints. This ensured a larger circulation, but the cost would still have been prohibitive for many. The print was, however, displayed in shop windows, workshops, coffee houses, and taverns increasing its impact.

The piece forms one of a pair with Beer Street and the two were created to be viewed in unison. Unlike Gin Lane, Beer Street celebrates the traditionally British brewed drink, linking it to prosperity, health, and happiness and positing it as an alternative to gin. There are numerous links between the two pictures, for instance the pawnbrokers seen as so active in Gin Lane is dilapidated and run down in Beer Street as no one has need of it. These two pieces, along with works such as The Four Stages of Cruelty (1751), mark Hogarth's move away from satirizing fashionable high society to presenting a biting commentary on crime and poverty.
Etching and engraving - Tate Gallery, London
Related Artists
Related Movements & Topics