Artists
Henry Fuseli
Born: February 7, 1741 - Zürich, Switzerland
Died: April 16, 1825 - London, United Kingdom

"Our ideas are the offspring of our senses; we are not more able to create the form of a being we have not seen than we are able to create a new sense."
Summary of Henry Fuseli
At a time when moralistic reverence and factual accuracy were staples of British academic painting, Fuseli stood out amongst his peers as the artist who revelled in the macabre and fantastical. In the new age of scientific and liberal enlightenment, Fuseli played rather on the spectator's primal fears and instincts in painted scenarios that would often marry the supernatural with the erotic. Coming from a strong theological background, Fuseli's intellectual interests would evolve along more philological and humanitarian lines and he carved out a successful parallel career as a theoretician and professor. He had honed his artistic practice, however, in an eight-year study period in Rome where Michelangelo proved to be his biggest stylistic influence. Thematically his art is most famous for its intense emotional content which was expressed through a series of interpretations of poetic and theatrical works (including Milton and Shakespeare). Though not considered of great (or at least of a lesser) artistic merit, he produced a large number of erotic - most would say pornographic - sketches and drawings that have seen him aligned with the libertine movement that originated in eighteenth century France. He had a conspicuous influence on the style of the emerging generation of British artists, most notably, William Blake.
Key Ideas
Standing apart from his more austere Academy colleagues, Fuseli was considered the maestro of melodramatic exposition. Having fallen under the spell of the
Mannerists
while studying in Rome, Fuseli achieved his most powerful dramatic effects through a mastery of
chiaroscuro
lighting and the skilful foreshortening of figures and objects.
Though well versed in the ideals of the Enlightenment, Fuseli became closely associated with the German Sturm and Drang (storm and stress) literary group which sought to challenge what they saw as the "cult" of rationalism. His mistrust of rationalism manifested itself in his art through an individualistic style that dealt, not with the objective world, but rather with the experiences of the senses.
Because of his fascination with dream worlds, sexual symbolism and the supernatural - which he tended to explore through personal interpretations of poetic and tragic literary works - Fuseli is seen as the godfather of the twentieth-century
Surrealist
movement.
Fuseli's unabashed love of women played a crucial role in his art. The theme of the sheltered woman being terrorized by a demon saw his paintings singled out as an antecedent of the emerging strain of gothic horror in literature. Meanwhile, his most provocative work emerged out of his sexual relationship with his wife, the artist Sophia Rawlins. Known to be fetishists (predominantly about hair), Rawlins posed for her husband in a series of erotic pictures over the course of their long married life.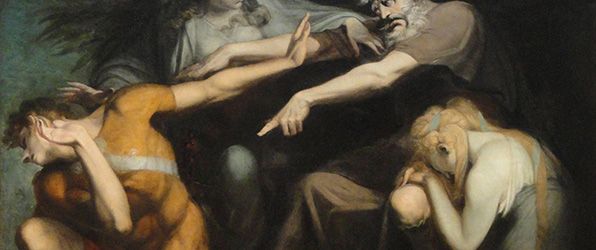 Johann Heinrich Füssli (known as Henry Fuseli) was born in Zurich on February 7th, 1741. He was the second of 18 children born to the Swiss portrait painter, Johann Caspar Füssli and his wife, Anna Elisabeth Waser. Caspar was a collector of sixteenth and seventeenth century Swiss art and passed his appreciation of fine art onto his son. Indeed, Fuseli's father introduced him to the ideas of the art historian Johann Joachim Winckelmann and the German painter Anton Raphael Mengs both of whom shared an enthusiasm for classical antiquity and an unwavering commitment to the values of Neoclassical painting.
Important Art by Henry Fuseli

The below artworks are the most important by Henry Fuseli - that both overview the major creative periods, and highlight the greatest achievements by the artist.

The Nightmare (1781)

Artwork description & Analysis: The Nightmare shows a dark bedroom scene in which a female figure lies prone on a dishevelled bed, seemingly unconscious, with her lifeless arms hanging limply. A goblin sits atop her still body. The goblin represents an incubus, a mythological male creature who sat on female victims delivering them a suffocating feeling associated with sleep paralysis and nightmares. To the left of the frame is a horse's head with its large eyes observing the scene from behind a red curtain.

Arguably Fuseli's most famous painting, and a subject matter to which he would return, it was one of his first paintings to carry charged erotic connotations. Considered innovative in its time, it addressed obscure meanings which are the source of nightmares. In this respect, the painting belongs to the realms of gothic horror that would soon inspire writers such as Mary Shelley and Edgar Allen Poe.

The work has been read on a more personal level, however. On the reverse of the canvas is an unfinished portrait of a girl leading some to believe that the painting may have been an act of vengeance against an unnamed former lover. Others identify the woman in the painting specifically as Anna Landolt, Lavater's niece, and a woman with whom Fuseli had fallen in love. Indeed, the painting depicts an erotic dream Fuseli had had involving her and which he described in a letter to Lavater. In this interpretation the incubus sitting on the woman represents Fuseli himself while the horse's head pushing through the dark red velvet curtains has been read symbolically: as a metaphor for sexual penetration.

Exciting "an uncommon degree of interest", the painting proved very popular with the public when exhibited at the Royal Academy in 1782. Indeed, the engraved versions that followed made The Nightmare widely available and catapulted Fuseli to widespread fame. The painting soon became a source of inspiration for contemporary artists, including William Blake who reinterpreted the composition in his motif for his famous poem Jerusalem, as well as the satirist James Gillray in his Duke William's Ghost (1799), in which he shows George, the Prince of Wales lying drunk on a dishevelled bed.

Oil on canvas - Detroit Institute of Arts

Titania and Bottom (c. 1790)

Artwork description & Analysis: This painting illustrates a scene from Shakespeare's A Midsummer Night's Dream when Oberon casts a spell on Queen Titania causing her to fall in love with Bottom whose own head has been turned into the head of an ass. Fuseli was intent on developing history painting beyond the retelling of events; to produce paintings based on literary and fantastical themes. Shakespeare was the ideal author for his project. Fuseli invented characters from folklore, such as the changeling at the right-hand corner of the painting, the small old man held on a leash by a fairy with a mischievous look, and the butterfly-headed girl on the left. But Fuseli also remained true to the theatrical nature of the work by placing the "players" in a stage setting and by having them look out at their audience.

The picture draws on many artistic influences including Titania's seductive pose from Leonardo da Vinci's Leda (1506), and elves that invoke Botticelli's illustration of Dante's Paradiso (1469). In seeking to portray dream worlds - dreams being the "royal road" to the unconscious according to Sigmund Freud - Fuseli's work is held by many to be a precursor to the work of the Surrealists who were devotees of Freud and his ground-breaking work The Interpretation of Dreams published in 1900. Predating Freud and the Surrealists, however, this painting ranks as an important example of Fuseli's preoccupation with supernatural motifs and he went on to paint several other fantastical scenes based on A Midsummer Night's Dream.

Oil on canvas - Tate Britain, London

Christ Disappearing at Emmaus (1772)

Artwork description & Analysis: The painting shows Christ rising to the heavens after the disciples recognise him through the breaking of bread, an allusion to the eucharist, the Christian sacrament commemorating the last supper in which wine and bread are consecrated and consumed. This subject matter was popular in the retelling of one of the early resurrection scenes on the road to Emmaus and it followed an artistic theme tackled by the likes of Titian, Pieter Bruegel the Elder, Caravaggio and Diego Velázquez.

The painting is unusual, however, since Fuseli very rarely painted biblical subjects. Although ordained as a priest, he moved away from religious doctrine, declaring himself a non-Christian in the late 1760's. Although ostensibly a religious painting, Fuseli seems to have been drawn to the subject on its own terms as a mythological dream sequence.

Oil on canvas - Yale Center for British Art, Yale University, New Haven, Connecticut
More Henry Fuseli Artwork and Analysis:
Influences and Connections
Influences on Artist
Artists, Friends, Movements
Influenced by Artist
Artists, Friends, Movements

Interactive chart with Henry Fuseli's main influences, and the people and ideas that the artist influenced in turn.
View Influences Chart

Artists

Personal Contacts

| | |
| --- | --- |
| | Joachim Winckelmann |
| | Anton Raphael Mengs |
| | J.J. Breitinger |
| | J.J. Bodmer |

Movements

Influences on Artist

Henry Fuseli
Years Worked: 1770 - 1825
Influenced by Artist

Artists

Personal Contacts

| | |
| --- | --- |
| | John Knowles |
| | Johann Kaspar Lavater |

Movements
If you see an error or typo, please:
tell us
Cite this page

Content compiled and written by Zaid S Sethi
Edited and published by The Art Story Contributors
" Artist Overview and Analysis". [Internet]. . TheArtStory.org
Content compiled and written by Zaid S Sethi
Edited and published by The Art Story Contributors
Available from:
First published on 09 Jan 2020. Updated and modified regularly.


[Accessed ]