Biography of Jean Dubuffet
Childhood
Jean Dubuffet was born on July 31, 1901, in Le Havre, France, into a middle-class family that distributed wine. Although he was well-educated, he came to reject his studies, preferring to educate himself by reading the work of Dr. Hans Prinzhorn, who drew comparisons between the art of asylum inmates and the artwork of children. Based on these observations, Prinzhorn stated that it was savagery, or base animal instinct, that lead to universal harmony, arguing that it was the primal instinct, not intellectual theory or analysis, that connected all living things. This concept had a strong influence on Dubuffet's later career.
Early Training
In 1918, Dubuffet moved to Paris where he studied painting at the Académie Julian. Dubuffet thought of himself as savage in comparison to the intellectuals at the art academy. Rebelling against the institution, Dubuffet took a stance that was anti-art and anti-culture, for example, refusing to be constrained by categories like "Surrealist" and "Futurist." After attending classes for six months, he withdrew from the academy, deeming his studies useless. In 1924, Dubuffet took over his father's wine business and continued to study on his own. He found solace with the common, everyday people of the country and believed there was meaning in living a simple life with a focus on music and poetry. It was not until 1942 that Dubuffet decided to return to painting where he could explore this fondness for quotidian life and the interiority of human emotion.
Mature Period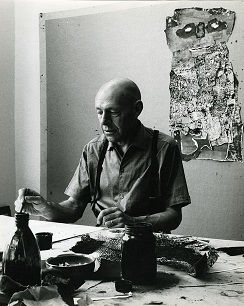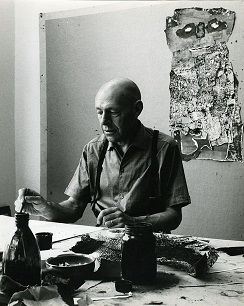 Frustrated by intellectual approaches to art, Dubuffet continued to admire the artwork of asylum inmates and children. In attempting to recreate what he saw as their uninhibited style, he chose to paint in seclusion where he could experiment with new methods and concepts, unfettered by theory or popular trends. Heavily influenced by the paintings of Jean Fautrier, Dubuffet began to take a similar approach to the texture of his paint, combining sand, gravel, tar, and straw to his paintings to create a thick emulsion. The mixtures created a highly textured surface, providing the ideal ground for his raw, primal figures. As Dubuffet became increasingly obsessed with texture, he began to drastically limit his palette, focusing on dark, monochromatic surfaces and figures.
Dubuffet's subject matter featured the surrounding countryside, including childlike depictions of cows and milkmaids, but shifted to focus on urban landscapes and city dwellers. Although he created many portraits based on urban individuals, he chose to depersonalize them, exaggerating features and proportions to create grotesque caricatures, challenging cultural standards of beauty, traditional academic notions of realism, and the more contemporary obsession with non-objective art. What is most striking about his work from this period is his deliberate evocation of ugliness. Dubuffet did not believe in the separation of the beautiful and the ugly, and, as such, declared that ugliness did not exist. He expressed this in many of his paintings, including the series of portraits Hautes Pates (c. 1945), which was exhibited in 1946 at the Galerie Rene Drouin.
In 1948, Jean Dubuffet joined with Surrealists André Breton and Charles Ratton to establish Art Brut, or outsider art, a style of image-making modeled after the art collection of Dr. Prinzhorn. The primitive, childlike approach to art was an alternative to the conventional art world aesthetic, and the return to figuration was a deliberate about-face from the abstract, non-objective canvases of his contemporaries.
Late Period
Dubuffet continued to challenge aesthetic boundaries through experiments with materials and through style. In his later career, he created some of his most important work, gravitating toward the tools used by the "common man," such as ballpoint and felt tip pens. Dubuffet's style began to accommodate Surrealist notions of automatic drawing, seeking to tap directly into his subconscious. He would begin with simple scribbles on paper and finalize the work with flashes of red, blue, white, and black. This approach allowed Dubuffet to break away from objectivity and, he believed, to arrive at art in the purest form. In 1962, Dubuffet titled these paintings the Hourloupe series.
From 1966 to his death, Jean Dubuffet would use the Hourloupe series as inspiration for several large-scale sculptures. These sculptures are comprised of papier-mache and polystyrene, many of which are large enough to walk through.
The Legacy of Jean Dubuffet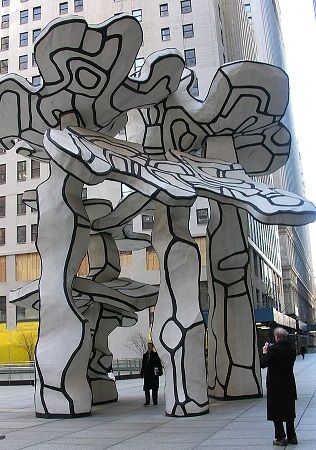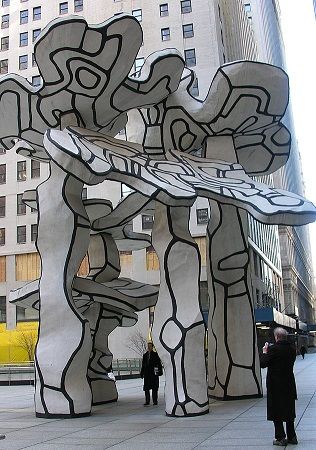 Until his death in 1985, Dubuffet was exhibited in retrospectives and exhibitions around the world. Rebelling against art, culture, and intellectualism, Dubuffet was instrumental in establishing the style of Art Brut, an aesthetic of his own that was devoid of the traditional standards of its time, both in style and subject matter. His primitive approach to art making, with its simple, childlike figures and bold, visually dramatic palette, has universal appeal and is instrumental in modern psychology and studies of mental development.
The artwork by Jean Dubuffet continues to be exhibited and collected by The Dubuffet Foundation, and is shown by the Pace Gallery in New York City.
Content compiled and written by Larissa Borteh
Edited and published by The Art Story Contributors
"Jean Dubuffet Artist Overview and Analysis". [Internet]. .
TheArtStory.org
Content compiled and written by Larissa Borteh
Edited and published by The Art Story Contributors
Available from:
First published on 01 Aug 2012. Updated and modified regularly
[Accessed ]