Artists
Mikhail Vrubel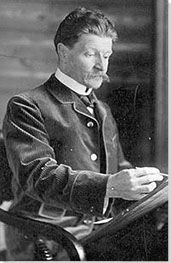 Born: March 17, 1856 - Omsk, Russia
Died: April 14, 1910 - St Petersburg, Russia

"Art - this is our religion"
Summary of Mikhail Vrubel
Vrubel's ground-breaking works challenged orthodoxies within Russian art, so much so that they were often misunderstood by his peers. Though under-appreciated in his own lifetime, he has now been 'reclaimed' by history as one of the founding fathers of the Russian avant-garde.

Vrubel made his early reputation on a series of oil paintings and earthenware sculptures based on Russian folklore and to which he brought elements of Symbolist painting and Art Nouveau. Later, he created graphic illustrations to accompany the poetry of Mikhail Lermontov and from whom he took inspiration for his famous "Demon" works. The figure of the Demon became a motif in Vrubel's oeuvre and was read thus as the personification of the artist's very own inner turmoil. Indeed, the artist spent the last years of his life in mental institutions though it was during those years that he painted some of his most unusual works, some of which are now cited as seminal examples of Russian Art Nouveau.
Key Ideas
Breaking with all the traditions and techniques of the Academy of Arts in St. Petersburg, Vrubel's painting conveyed a profoundly spiritual and lucid inner life that accommodated darkness and mental confusion. It is this mystical element to Vrubel's art that takes the spectator far beyond the frame of his paintings.
Put off by the Russian church's rejection of his art, Vrubel abandoned Catholicism and Russian Orthodoxy and turned his attention towards philosophy. He was drawn especially to Immanuel Kant believing that the route to true spiritual enlightenment was linked to the idea that one could only achieve full self-realization through personal creativity.
Once residing in Moscow, Vrubel was exposed to new artistic styles emerging from western Europe. The decorative and natural style of
Art Nouveau
, and specifically its focus on aesthetics, sat well with his Kantian worldview. Enthused by the possibilities for the new style, and willing to experiment with Symbolism and Middle Eastern decorations and designs, Vrubel became a pioneer in what would be a colorful, and specifically Russian, Art Nouveau. One finds several similarities between Vrubel and the Symbolist mosaics of
Gustav Klimt
.
Vrubel was revered for his dense brush strokes and his penchant for breaking his figures into an almost anarchic mass of facets and planes. This has led several enthusiastic commentators to cite Vrubel as an early forerunner of
Cubism
. In paintings such as
Venice
(1893) Vrubel had started to self-consciously experiment with collage and cube-shaped forms. Indeed, when
Venice
was first exhibited in Paris,
Pablo Picasso
was so taken with the work he called Vrubel a "genius".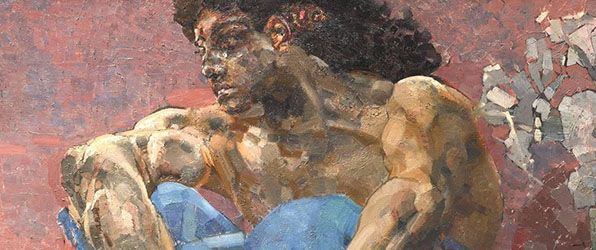 Mikhail Vrubel lived a troubled life; dogged with depression and put into an institution after his only son's death, he also spent his last years in a psychiatric clinic. It is little wonder then that the motif he is best known for is the demon which he depicted in paintings throughout his life.
Important Art by Mikhail Vrubel

The below artworks are the most important by Mikhail Vrubel - that both overview the major creative periods, and highlight the greatest achievements by the artist.

The Virgin and Child (1884)

Artwork description & Analysis: Hung between highly decorative columns and an arch, The Virgin and Child is one of several murals Vrubel helped restore in the Church of Saint Cyril in Kiev during the early 1880s. Though they were restorations rather than original works (Vrublev worked as part of a team of students restoring over 150 works over a period of seven months) the murals still carried the artist's signature style.

The formal composition of The Virgin and the Child is taken from conventional depictions of the Virgin and Christ and demonstrates the Vrubel's full engagement with Russian, Byzantine, and medieval Christian pictorial traditions. The folds of the fabric, the pensive facial expressions, and the use of rich colors and gold are akin to that which Vrubel would have seen in Russian orthodox churches growing up, and also on his travels to Venice undertaken in the same year that this piece was painted.

In his 1911 biography of Vrubel, the artist Stepan Iaremich described the works produced in Kiev during the 1880s as the best of Vrubel's career. Whilst this opinion may not hold up to scrutiny, Iaremich's comments do account for the importance of the Kiev paintings in developing a style seen throughout Vrubel's later work. The murals at the Church of Saint Cyril can be seen in fact as the beginnings of Vrubel's exploration of spirituality and personal faith, ahead of his rejection of religion and experiments with Symbolism. Here, in the solemnity and thoughtfulness of the figures' gazes, the viewer can begin to see Vrubel contemplating fulfillment and peace as attained through insight and personal reflection.

Oil on board - Church of Saint Cyril, Kiev, Ukraine

Demon Seated (1890)

Artwork description & Analysis: Whilst still working in Kiev on the restoration project, Vrubel began to experiment with illustrations of "The Demon" which he based on the description of a Demon in a poem by Mikhail Lermontov, the most important poet and writer of the period and, to this day, the greatest hero of Russian Romanticism. The influence of the Saint Cyril restoration is clear in Vrubel's use of thick brushstrokes to create a mosaic-like texture. This is particularly apparent to the right of the Demon figure, where the geometric shapes created by the brushwork break the plane down into an abstract space. As the art historian Maria Taroutina notes, here the viewer can see Vrubel employing "medieval means to modernist ends". Vrubel's treatment of the figure of the Demon is finely detailed while he emphasizes the mood of solitude by placing his subject against a blank and infinite, background. The monumentality of this work was described by Vrubel's patron Mamontov as the "fascinating symphonies of a genius".

Vrubel himself described the Demon as "a spirit which unites in itself the male and female appearances, a spirit which is not so much evil as suffering and wounded [...] a powerful and noble being". The ambiguity of the Demon's gender is mirrored in the uncertainty of the setting. The landscape is distant and creates feelings of solitude and uneasiness: the Demon could be looking off into the distant sunset, or it could be the fires of hell. This painting demonstrates Vrubel's own personal rejection of Christianity and the fixed stability of religion at this time in his life in favor of a view that creative accomplishment would bring him spiritual content. The Demon is pensive and expressive, weighing up in his mind personal faith, torment, and resignation, much like Vrubel himself did in these years before he was admitted to psychiatric care.

Isolated and reflective, Vrubel rejects the traditional religious view of the Demon as an evil being, blurring the boundaries between good and evil - Christ and Satan - to give a more modern view on the spiritual individual. In this rejection of traditional dichotomy, the artist urges the viewer to consider instead the individual soul: the sense that introspection is the path, not mass religion.

Oil on canvas - State Tretyakov Gallery, Moscow

Portrait of Savva Mamontov (1897)

Artwork description & Analysis: In this portrait, the viewer can see the influence of folk art and the church mosaics and murals Vrubel helped to restore in his early career. The artist uses thick brushstrokes to create a mosaic-effect in the background of the painting, using subdued colors to make the bolder figure of Mamontov stand out in the foreground. Surrounded by the objects associated with a wealthy art collector, such as luxurious fabrics and furniture, Mamontov is also dressed the part in his pristine suit. It demonstrates what art historian James Curtis describes as the "strong theatrical quality" of Vrubel's art.

Vrubel is less well-known as a portrait painter (perhaps as it is not abstract enough a medium to convey Symbolist ideas) but he did produce many during his lifetime. What is significant to note, however, is that his portrait work mainly consists of depictions of people he knew well, such as the poet Valery Bryusov and his own wife Nadezhda Zabela, who Vrubel painted repeatedly. Therefore it seems only natural that Vrubel would paint such a portrait of his patron and friend Savva Mamontov during his residency at Mamontov's artist community: the Abramtsevo Estate. The pair were close, with Vrubel accompanying the Mamontov family on a holiday to Italy in 1891. A descendent of a wealthy merchant family, Mamontov encouraged and celebrated artists working across disciplines with interests in traditional Russian folklore and crafts. The art historian Hanna Chuchvaha describes Abramtsevo as a place which "represented a revival of vernacular art and the stylization of folk art".

Oil on canvas - State Tretyakov Gallery, Moscow
More Mikhail Vrubel Artwork and Analysis:
Influences and Connections
Influences on Artist
Artists, Friends, Movements
Influenced by Artist
Artists, Friends, Movements

Interactive chart with Mikhail Vrubel's main influences, and the people and ideas that the artist influenced in turn.
View Influences Chart


Influences on Artist

Mikhail Vrubel
Years Worked: 1880 - 1910
Influenced by Artist

Artists

Personal Contacts

| | |
| --- | --- |
| | Konstantin Stanislavsky |
| | Sergei Diaghilev |
| | Konstantin Korovin |
| | Valentin Serov |

Movements
If you see an error or typo, please:
tell us
Cite this page

Content compiled and written by Alexandra Banister
Edited and published by The Art Story Contributors
" Artist Overview and Analysis". [Internet]. . TheArtStory.org
Content compiled and written by Alexandra Banister
Edited and published by The Art Story Contributors
Available from:
First published on 14 Nov 2019. Updated and modified regularly.


[Accessed ]