"The slave era is not something that is in the past. It's something that we are actually living in today."
"The thing about America: liberty, justice, equality are all terms that come to mind but, for millions of Americans throughout its entire history as a nation, that has never really been true."
"When we make art we're actually speaking to the future."
"I believe it's also important to participate in the things that we critique, because how do we really understand what we're critiquing if we're always above and beyond it?"
"I believe that the more voices that feel compelled to speak out against injustice, the better."
"The question for me is, 'How do we find new and innovative ways to respond and call out when we are oversaturated with image, music, text designed to distract and nullify us?' I'm still in search of answers."
"The crazy thing about blackness is that black people didn't create it [...] Europeans with a commercial interest in dehumanizing us created black people."
Summary of Hank Willis Thomas
Combining skills as a photographer with a deep interest in visual culture and history, Thomas became known through artworks that provide a new take on familiar imagery, such as a corporate logo, in order to interrogate how photography, systemic racism, and the commodification of Black bodies have been intertwined in American consumer culture. In addition to photography, Thomas has also expanded his practice into sculpture and mixed-media installation. In all of his work, Thomas prompts the viewer to look again at the visual culture that saturates everyday life in order to reveal latent meanings and histories.
Accomplishments
Thomas has an canny ability to use mass culture imagery to evoke painful historical resonances. With a contemporary sensibility, his visually spare yet hard-hitting works confront the viewer with the historical legacy of slavery in America.
Thomas developed a distinctive visual language that combines elements of advertising, popular culture, and historical references. His use of symbols, text, and found images is not only visually striking but also thought-provoking, making his art accessible and engaging to a broad audience.
In his public artworks Thomas zooms in on images and symbols important to African-American history, making Black experience-centered monuments that also remind the viewer of the ongoing struggle for equal rights and opportunities for Black Americans.
The Life of Hank Willis Thomas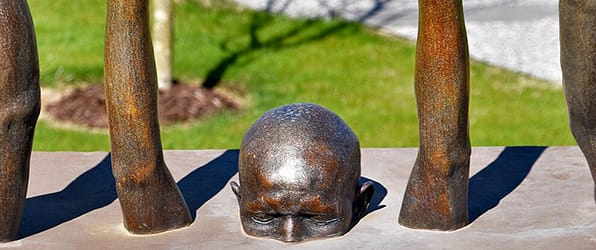 Thomas sees his role as a visual culture archeologist. "I am interested," he said, "in the ways that popular imagery informs how people perceive themselves and others around the world."
Important Art by Hank Willis Thomas
Progression of Art
Biography of Hank Willis Thomas
Childhood
Born in New Jersey, Thomas grew up in New York City surrounded by the arts. His father, Hank Thomas, is a jazz musician, and his mother, Deborah Willis, is a photographer and curator. As a child, he would often accompany his mother to work at the Schomburg Center for Research in Black Culture in Harlem. Thomas spent a great deal of time in archives and developed a passion for re-purposing and re-interpreting old visual materials.
Thomas recalls, "I had such a wonderful, awesome upbringing because I grew up in a place where, what we now refer to as Black excellence, was everywhere." Indeed, in New York he was witness to the golden age of subway graffiti and hip-hop emceeing (Master of Ceremonies), as well as to a generation of Black artists, such as filmmaker Spike Lee and the band Fishbone, who were defining what author Trey Ellis calls a "new Black aesthetic." In Ellis's definition, the new aesthetic expanded the boundary of Black art beyond stereotypical images of Africa and jazz, opening up new possibilities for younger artists. Within his parents' artistic and intellectual circles, Thomas witnessed countless examples of Black individuals rising above the roles expected of them in white America. On the other hand, outside of the artistic sphere, he also saw social issues and incarceration disproportionately affecting African-Americans.
Education and Early Training
Thomas earned a B.F.A. in Photography and Africana studies from New York University in 1998. He then went to the West Coast, where he earned concurrent M.A. and M.F.A. degrees in Photography and Visual Criticism from the California College of the Arts in 2004.
In the year 2000, Thomas experienced a major loss in his family when his cousin, Songha Willis, was murdered during an armed robbery outside a nightclub in Philadelphia. At the funeral, Thomas took a photograph of mourners, which he then edited and turned into a work called Priceless #1 (2004). The work mimicked MasterCard's well-known "Priceless" advertising campaign. Thomas superimposed the MasterCard logo and the text: "3-piece suit: $250, new socks: $2, 9mm Pistol: $80, Bullet: ¢60, Picking the perfect casket for your son: priceless" over the photograph. Making this work, he said, was the moment he "stopped being a photographer and became an artist." Priceless #1 is an example of what the artist calls "photoconceptualism," in which photography becomes a means through which to comment on contemporary conditions. The term references Conceptual Art, an artistic movement started in the 1960s that prioritizes ideas and the interrogation of linguistic signs in art.
One of the most important influences on Thomas was his own mother. Deborah Willis worked tirelessly to recuperate and publicize the work of forgotten Black photographers in history. Her work as a researcher and curator helped fill gaps in knowledge, undoing erasure and showing the vagaries of art historical narratives depending on who's doing the telling. The understanding of art history and visual culture as subject to power and racism undergirds Thomas's approach to artmaking, leading him to dig deep conceptually with each project.
Mature Period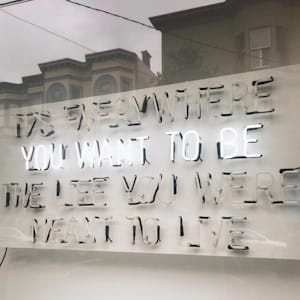 In 2005, Thomas participated in a much-anticipated group show called Frequency at the Studio Museum in Harlem. He exhibited Branded Head (2003), which references Nike's advertising campaign in order to question the use of Black male bodies in US commodity culture. Frequency puts Thomas's name firmly on the map as a key contemporary voice making work that interrogates race and representation in US history. From then on he continued to garner critical praise, leading to teaching jobs at renowned art and photography programs in the US and beyond.
Thomas's use of advertising visual language draws from a 1980s precedent by feminist artist Barbara Kruger, who was also active in New York City. Kruger pioneered the use of sharp, pithy text, like advertising copy, imposed onto eye-catching images in order to make social commentary. In the contemporary context, his use of text to explore Black identities and histories puts his work in dialogue with another important African-American artist, Glenn Ligon, who uses text as a conceptual gambit in his paintings. Both drew on precedents in Conceptual Art but added references to racial histories and identities in their works, Ligon drawing more on literature and Thomas on mass media.
In 2008 Thomas won the first Aperture West Book Prize given by the well-regarded photography magazine Aperture. The award recognized his monograph Pitch Blackness (2008), which provides an overview of his oeuvre up to that point, "chart[ing] his career as he grapples with the issues of grief, black-on-black violence in America and the ways in which corporate culture is complicit in the crises of black male identity."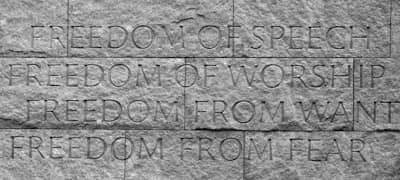 In 2016, Thomas, along with artists Eric Gottesman, Wyatt Gallery, and Michelle Woo, founded For Freedoms, an artist-based, "anti-partisan" organization that creates spaces and opportunities for "civic engagement, discourse and direct action." This takes place in the form of exhibitions, installations and billboard campaigns, and other public programs across all fifty states and Puerto Rico. In 2023, Thomas's public sculpture, The Embrace, was unveiled in the Boston Common. Depicting intertwined arms, the work abstracts from an iconic photograph of the embrace between Coretta Scott King and Martin Luther King Jr, after the latter had won the Nobel Peace Prize in 1964. Thomas's entry was chosen out of 126 submissions. With this permanent outdoor sculptural piece garnering much media coverage, the artist reached a new level of public prominence. Of the work, Thomas said: "You never wake up and think you'd be able to contribute meaningfully to the legacy of Dr. Martin Luther King and Coretta Scott King [...] And that alone, the fact that I was able to be a part of that, is just humbling and dumbfounding."
Throughout his career, Thomas has maintained a close and mutually supportive creative relationship with his family, whom he considered as his close collaborators. He reflected: "Friendship and collaboration are chosen in a way family isn't. [...] I learned and absorbed so much from my mom's work, and from my dad - friendship comes into our relationship by our choosing to continue collaborating beyond that early influence." He is married to Rujeko Hockley, assistant curator at the Whitney Museum of American Art, with whom he also exchanged creative ideas. With Hockley, Thomas said, they "have a shared language of our chosen crafts." They had a daughter in 2019. Thomas and his family currently live in Brooklyn, New York.
The Legacy of Hank Willis Thomas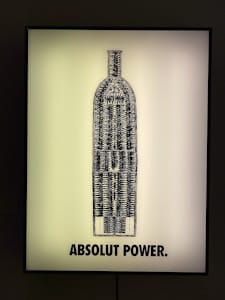 While conceptually complex, the vast majority of Thomas' works are characterized by simple elegance in form. His object-based practice (such as his quilts and sculptures) draws influence from, and carries on the legacy of, earlier African-American artists, writers, and intellectuals, like Jacob Lawrence, Faith Ringgold, and Trey Ellis. Meanwhile, he is pioneering in his use of newer dialogic and participatory art forms to generate active discourse amongst members of Black communities across the United States.
Though still quite early in his career, Thomas has shown and expanded the formal and conceptual possibilities for artworks that interrogate the history of Blackness in America, the lived realities of today's Black Americans, and the symbols of "liberty" and "Americanness" that are so strongly revered in the nation's visual culture. As curator Sara Krajewski puts it, "In both his solo work and his collaborations, Thomas asks us to reframe our perceptions of race, politics, history, and popular culture so that we can better understand and combat the systems that dehumanize us." Thomas said: "I'm interested in finding new ways of revealing things that are kind of latent in a given image." In engaging with framing, context, and the position of the viewer, Thomas questions how artistic value and judgment are created by "the institutional work assigned to the frame," as art historian Huey Copeland puts it. In this regard, writes art historian Krista Thompson, his work can be situated within a tradition of Black artmaking that engages with the "frame," both metaphorically and literally, from Lorraine O'Grady's Art Is (1983) to the work of contemporary painter Kehinde Wiley and Mickalene Thomas.
Influences and Connections
Influences on Artist

Influenced by Artist
Artists
Deborah Willis
Friends & Personal Connections
Chris Johnson

Bayeté Ross Smith

Kamal Sinclair
Movements & Ideas
Appropriation Art
Friends & Personal Connections
Chris Johnson

Bayeté Ross Smith

Kamal Sinclair
Useful Resources on Hank Willis Thomas
Books
The books and articles below constitute a bibliography of the sources used in the writing of this page. These also suggest some accessible resources for further research, especially ones that can be found and purchased via the internet.
written by artist
artworks