Biography of Peter Paul Rubens
Childhood and Education
Peter Paul Rubens was one of six children born into a working-class family of tanners, lawyers, and burgesses in Antwerp, the busiest and richest seaport in Europe at the time. His father Jan Rubens, a lawyer and alderman, was involved in politics and other social affairs while his mother Maria Pypelinckx was an heiress and writer from the Southern Netherlands. He was named for the Solemnity of Saints Peter and Paul, the liturgical feast in honor of the ancient martyrdom in Rome, which occurs on June 29.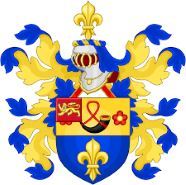 In 1589, Antwerp was deeply affected by religious strife and wars. Peter Paul was raised in his mother's faith of Roman Catholicism and educated according to the humanist traditions, which included the study of Latin and classical literature. He attended school in Cologne where he surpassed all his fellow students as his father had instilled a lasting love of learning in his boys.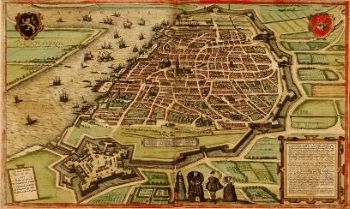 Peter Paul's life at court began as messenger to a noblewoman and widow. This was not a position that Peter Paul would have chosen, since painting was a stronger calling, but his mother desired to make her son a courtier due to his naturally diplomatic personality. Therefore, although "...the father dies when his son Paul was ten, the handsome, intelligent boy became a court page but was already drawing ...His happy view of the world, his love of the human figure and well-set table, gave Peter Paul Rubens a taste for the good life. He showed it in his portfolio of drawings celebrating women, horses, the play of gods and goddesses, the fruitful fields, the peasants dancing, the filled, smoking stables, the feel of silk and furs, armor and marble, marked out by his magic lines..." explained Stephen Longstreet in the introduction to his book The Drawings of Rubens (1964). These young experiences of courtly life and noble and royal circles were useful later in life since the young Rubens gained confidence and knowledge of the required social protocol to associate with aristocratic and royal patrons.
Early Period
At age 13, Peter Paul and his 16-year-old brother Philip were obligated to find more lucrative work to support their family after the death of their father and the costly marriage of their sister Blandina. In 1591, at age 14, Rubens was apprenticed to Tobias Verhaeght, a distant relative and uninspired landscape painter of little renown, in Antwerp. After one year, he began working in the studio of Adam van Noort, a more talented figure painter and popular master among the students, where he remained for four years. Then, he was made senior apprentice to Antwerp's most accomplished artist, Otto van Veen, foremost among the city's history painters. By 1598, at age 21, Peter Paul qualified as an independent master artist with the Guild. He could speak Latin, Greek, French, and Italian as well as the Flemish and Spanish of his native home. Within three years, he was made a franc-maitre of the Guild of St. Luke, which was the requirement for any artist to engage apprentices or sell paintings to the public. The guild was made up of lively artists, printers, ceramic makers, type designers, and goldsmiths who provided contacts for each other from all areas of society.
In May 1600, Rubens traveled to Italy where he first visited Venice to see the paintings of Titian, Veronese, and Tintoretto. He was immediately influenced by the rich colors and dramatic compositions. In Venice, he also met a gentleman who worked for the Duke of Mantua, Vincenzo Gonzaga, who was so impressed with Rubens' amiable, sober, and self-disciplined character that he recommended him to the Duke, who was "...a man very fond of luxury, painting and all the liberal arts..." as explained by Kristin Lohse Belkin in her book, Rubens. Rubens became court painter to the Duke, who supported him financially with travels to Rome and Spain to study classical art, paint his own masterpieces, and make copies of the Italian master paintings including those of Michelangelo, Raphael, Leonardo da Vinci, and Caravaggio. Rubens himself wrote many years later, "I served the Gonzaga family for many years, and while I was young the delights of a stay in that part of Italy were very much to my liking."
Mature Period
Rubens also recommended worthy purchases of art to the Duke and performed diplomatic missions until he returned to Italy in 1604. He and his brother Philip rented an apartment with a studio, hired servants, and enjoyed entertaining their friends with whom they discussed their work. On a second visit to Rome, Rubens studied the ancient Greek and Roman sculptures, and further explored the masters of the Renaissance. His own advice exists in the only surviving piece of his theoretical writing from a now lost notebook: "...I am convinced that in order to achieve the highest perfection one needs a full understanding of the statues, indeed a complete absorption in them; but one must make judicious use of them and before all avoid the effect of stone...". He painted many portraits during this period that influenced later artists such as Anthony van Dyck, Joshua Reynolds, and Thomas Gainsborough.
In October 1608, Rubens left Rome abruptly after learning that his mother was seriously ill but by the time he reached her, she had passed away. He decided to remain in Antwerp and in September 1609 became the court painter for the Archduke Albert and Archduchess Isabella in Brussels. Soon after, Peter Paul fell in love with Isabella Brant, the eighteen-year-old niece, of his brother's wife. Rubens and the charming and intelligent Isabella lived with her family while he had a new house built for them, now named the Rubenshuis Museum, which was finished by 1615. This Italian-influenced villa in the center of Antwerp accommodated his workshop, where he and his apprentices worked, along with his personal art collection and library, both of which were among the most extensive in the city.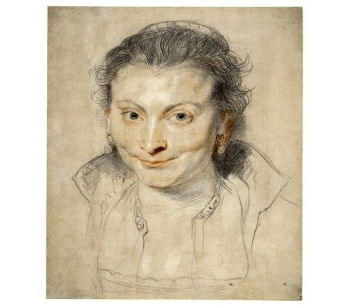 During this time, Rubens grew his studio to encompass numerous students and assistants, the most famous of whom was the young Anthony van Dyck, soon to become the leading Flemish portraitist. He also often collaborated with the many specialists active in the city, including the animal painter Frans Snyders, who contributed the eagle to his masterpiece Prometheus Bound, and his good friend, the flower-painter Jan Brueghel the Elder.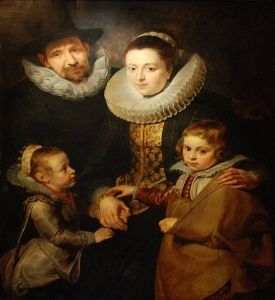 During the decade 1610 to 1620, the Rubens' studio produced an enormous amount of altarpieces for the Roman Catholic churches. Rubens felt compelled to blend Flemish realism with the power and fire of Michelangelo while utilizing color like Titian. Many paintings based on secular scenes of mythology, history, allegory, portraits, landscape, and hunting were also created, of which Rubens personally painted the most important people and sections. Rubens scholar Kristin Lohse Belkin noted that the Danish court physician Otto Sperling observed the process during a visit to Rubens' studio in 1621 as "...a good number of painters each occupied on a different work, for which Mr. Rubens had provided chalk drawings with touches of color added here and there. The young men had to work these up fully in paint, until finally Mr. Rubens would add the last touches with the brush and colors. All this is considered a Rubens' work; thus he gained a large fortune, and kings and princes have reaped gifts and jewels upon him." Rubens claimed to be "...by natural instinct, better fitted to execute very large works than small curiosities." This particular strength and talent played a very important role in his career as his focus shifted from Antwerp to the royal European courts.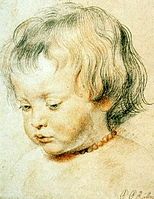 Between 1627 and 1630, Rubens' diplomatic career was in full swing as he moved between the courts of England and Spain in an attempt to bring peace between the two countries. A more private reason for the traveling was that his wife Isabella had died in the summer of 1626, probably due to the plague, and he desired a change of surroundings. As the artist said, according to Kristin Lohse Belkin "...I should think a journey would be advisable, to take me away from the many things which necessarily renew my sorrow...The novelties which present themselves to the eye in a change of country occupy the imagination and leave no room for a relapse into grief."
Unfortunately, these diplomatic meetings had little political consequence. Nevertheless, Rubens was greatly appreciated. He was knighted by Charles I of England, Philip IV of Spain, and awarded an honorary Master of Arts Degree from Cambridge in 1629. He resumed his study of the paintings of Titian; it has been said that Rubens copied every Titian in King Philip's collection. He also befriended the 29-year-old, soon to be infamous, court painter Diego Velázquez.
Late Period and Death
Rubens last decade was spent freely pursuing the most interesting commissions and his own artistic inspirations in and around Antwerp. In 1630, at the age of 53 years, he married his first wife Isabella's niece, the beautiful 16-year-old Helene Fourment, whom he also used as his model in many of his paintings.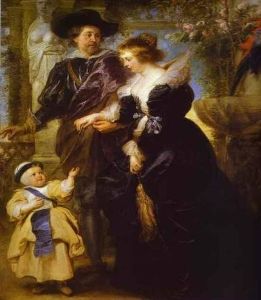 During these final ten years, Helene bore Rubens five children. Plagued by gout or arthritis, Rubens' body had become frail yet he continued to work. He wrote to his friend in 1634, "...Today I am so overburdened with the preparations for the triumphal entry of the Cardinal-Infante, that I have time neither to live or to write... I believe you would not be displeased at the invention and variety of subjects, the novelty of designs and the fitness of their application." In 1635, he bought a country estate near Antwerp, Het Steen in Elewijt, where he painted primarily landscapes of a countryside filled with humans in harmony with nature. He died in May 1640 and his remains were buried in the Jacobskerk in Antwerp.
A quotation from Juvenal, the Roman poet of The Satires, was carved in stone over the entrance to Rubens' garden. As Samuel Edwards explained, it was an apt description of Rubens' hearty and well-lived life: "...Let us leave to the gods the care of dispensing their benefits to us and of giving us what we most need. They love men better than men love themselves. Let us ask them only for health of body and soundness of mind, for a strong soul free from the fear of death and untouched by anger or vain desires."
The Legacy of Peter Paul Rubens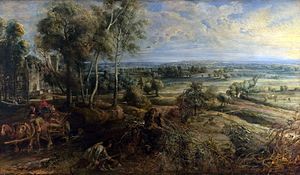 His profound stylistic influence would span over three centuries from van Dyck to the Impressionist Renoir. In Italy, he influenced Baroque painters Pietro da Cortona and Luca Giordano. In Spain, he befriended and influenced Velazquez and in England, Thomas Gainsborough and Sir Joshua Reynolds. The 19th century French Romantic painter Eugene Delacroix wrote that Rubens "...carries one beyond the limit scarcely attained by the most eminent painters; he dominates one, he overpowers one, with all his liberty and boldness."
As stated by his biographer, Samuel Edwards, "...he is known to have produced more than three thousand works of art, doing all or the principal portion of each himself..."
Content compiled and written by Cheryl VanBuskirk
Edited and revised, with Summary and Accomplishments added by Kimberly Nichols
"Peter Paul Rubens Artist Overview and Analysis". [Internet]. .
TheArtStory.org
Content compiled and written by Cheryl VanBuskirk
Edited and revised, with Summary and Accomplishments added by Kimberly Nichols
Available from:
First published on 02 Sep 2018. Updated and modified regularly
[Accessed ]