Artists
Auguste Rodin
Biography and Legacy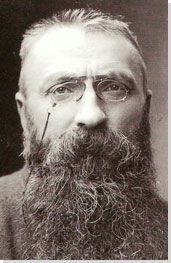 Auguste Rodin - Biography and Legacy
French Sculptor
Movement: Symbolism
Born: November 12, 1840 - Paris, France
Died: November 10, 1917 - Meudon, France

From Our Sponsor
"To any artist, worthy of the name, all in nature is beautiful, because his eyes, fearlessly accepting all exterior truth, read there, as in an open book, all the inner truth."

Biography of Auguste Rodin
Childhood
Rodin was born in a poor area of Paris's fifth arrondissement to Jean-Baptiste Rodin, an office clerk in the local police station, and Marie Cheffer, his second wife. Despite Jean-Baptiste's modest earnings, he and Marie attempted to provide a bourgeois upbringing by sending Rodin to a boarding school in Beauvais. He was not a successful student, perhaps in part because of his shortsightedness. In 1854, aged 13, he decided to pursue a career in the arts, attending the École Spéciale de Dessin et de Mathematiques (or "Petite École," to distinguish it from the Grande École des Beaux-Arts), which trained boys in the decorative arts.
Early Training
After three years of studying drawing and sculpture, Rodin applied to the Grand École. While he passed the drawing competition, he failed three times in the sculpture competition. Most likely, his pursuit of naturalism did not suit the school's academic style. After the third rejection, Rodin resigned himself, at the age of 19, to taking jobs in plaster workshops to create architectural ornaments. Although he disliked working for others, these workshops provided him with a meager living for the next 20 years. In his own time, he continued to make sculptures, including a portrait bust called The Man with the Broken Nose (1863-64). He considered this the best of his work and submitted it to the Paris Salon in 1864, but it was rejected.
In 1866, Rodin met Rose Beuret, who remained his lifetime companion despite his numerous affairs. The same year, they had a son, Auguste-Eugene Beuret, whom Rodin never recognized legally. Professionally, around this time, Rodin found better fortune-filling commissions in the workshop of Albert-Ernest Carrier-Belleuse, a successful commercial sculptor, but the steady work and increased income was disrupted by the Franco-Prussian War in 1870. Rodin served as an officer until the French surrendered in 1871, and then followed Carrier-Belleuse to Brussels.
Mature Period
In 1875, Rodin returned to Brussels after a trip to Florence to see the work of Michelangelo. He created a life-size sculpture of a young officer, which he called The Age of Bronze (1876), and this proved to be the turning point in his career. The Salon accepted the work in 1877, but doubts were raised about its authenticity, and many accused him of casting directly from the model's body. Though Rodin's protests were not acknowledged by most critics, the work was validated when it was purchased by Edmond Turquet, Under-Secretary of the Ministry of Fine Arts. Turquet would then commission Rodin to create a monumental bronze doorway for a planned museum of the decorative arts. This project went on to be perhaps Rodin's greatest work, though the planned museum was cancelled, and The Gates of Hell, as the doors came to be titled, were not even cast until after the artist's death.
The years during which Rodin worked on The Gates of Hell coincided with his relationship with Camille Claudel. A young sculptor who joined his studio as an assistant in 1884, Claudel had a tumultuous affair with Rodin that lasted until 1892, though they continued to see each other until 1898. During their time together, Rodin made several erotic sculptures of loving couples. Claudel separated from Rodin when it became clear that he would not leave Rose to marry her.
Paris held a centennial celebration of the French Revolution in 1889, called the Exposition Universelle. For the occasion, Rodin showed 36 works together with Claude Monet at the Gallery of Georges Petit. Almost all of these were figures from, or influenced by, The Gates of Hell. Rodin's style changed after this major exhibit, becoming more spontaneous and loose. His drawings of the female form were simplified and abstracted, while sculptures were often left "unfinished," a smooth face or figure emerging from rough stone.
Late Years and Death
By 1899, Rodin had a large studio with several assistants. His work, however, continued to elicit trouble and scandal. The Burghers of Calais (1889) was nearly refused for its depiction of the city's heroes as dejected victims. Similarly, in 1891, Rodin was commissioned by the Society of Men of Letters to create a memorial for the poet Honore Balzac. Instead of taking 18 month to complete the work, Rodin became infatuated with the topic, and completed the commision in 7 years. The commision was ultimately rejected, and after much controversy, Rodin decided to keep the sculpture for himself.
Rodin's pace slowed down after the sculpture of Balzac, but he had achieved financial success. Several exhibitions around the turn of the century brought him worldwide renown. He exhibited in Belgium and Holland in 1899, and was given his first retrospective in Paris in 1900. Subsequent shows took place in Prague, New York, and Germany. In 1908, Rodin moved to the now-famous Hotel Biron, where he rented rooms alongside other famous tenants such as Isadora Duncan, Rainer Maria Rilke, and Henri Matisse. The Hotel became his new studio and the home of his affair with the Marquise (and later, Duchess) Claire de Choiseul. She exercised great control over his life and the sale of his work for seven years, until she was accused of stealing a box of drawings. Because of her scheming and that of other women around Rodin, friends encouraged him to marry Rose Beuret in January 1917. Rose died two weeks after the wedding, and Rodin passed away in November of that same year.
The Legacy of Auguste Rodin
Before Rodin's death, he bequeathed all of his drawings, sculptures, and archives to the state of France to create a museum in the Hotel Biron at Meudon. Yet even without a national museum, his sculptures and drawings would still have had a huge impact on younger artists. Henri Matisse was influenced by the spontaneity of his drawings, while Cubists and Futurists were fascinated by his sense of motion and the fragmentation of his human forms. While Rodin's reputation declined in the decades immediately following his death, his rebellion against academic standards and his vivid expression of the human form planted the seed for a new French sculpture. Today, nearly every large encyclopedic museum owns a casting of one of his sculptures, and exhibitions of his work are held regularly, making Rodin one of the few artists recognizable to the general public.
Most Important Art
The Thinker (1880 (bronze cast in 1902))

Although The Gates of Hell was never completed to Rodin's satisfaction in his own lifetime, his work on the project did inspire many other finished works, and The Thinker is the most famous example. Deriving from a figure at the top of the sculpture who gazes with melancholy over the hellish scenes below him, he represents Dante, the author of the Divine Comedy that inspired The Gates of Hell (1899). Highly influenced by Michelangelo, the figure also represents modern, secular man - strong in mind and body, but lonely and doubtful in the position he has created for himself as master of his own universe. Although the seated figure is deeply lost in thought, the dynamic pose gives him a sense of movement. At first glance, the pose appears natural, but in fact the man's right arm on his left knee is twisted in an exaggerated fashion. Over fifty casts were made of this sculpture, which are today scattered throughout the world, making it one of Rodin's most famous works. Rodin also chose The Thinker as his tombstone.

Read More ...

Auguste Rodin Artworks in Focus:
Auguste Rodin Overview Continues Below
If you see an error or typo, please:
tell us
Cite this page

Content compiled and written by Julia Brucker
Edited and published by The Art Story Contributors
" Artist Overview and Analysis". [Internet]. . TheArtStory.org
Content compiled and written by Julia Brucker
Edited and published by The Art Story Contributors
Available from:
First published on 22 Jan 2012. Updated and modified regularly.


[Accessed ]