Progression of Art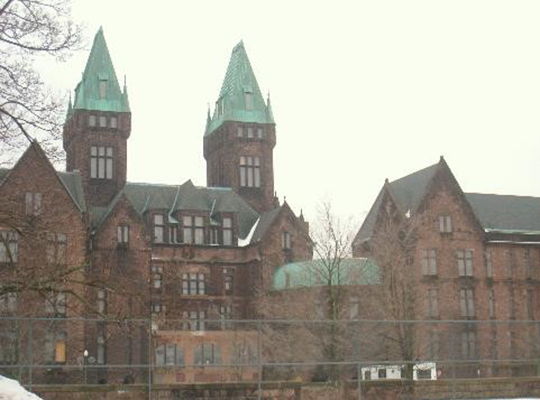 1872-80
H.H. Richardson Complex
First known as the Buffalo State Asylum for the Insane, the Richardson Olmsted Complex was built over an eight-year period after Richardson had won the commission in 1871. Describing its most eye-catching features, author Francis Russell notes that the, "sturdy, twinned towers [that] rise naturally from a structure [have] precisely the amount of jut and thrust that was needed. Corner turrets look spontaneous and not stuck on. The sweeping entranceway, consisting of three round arches, deep-set between projecting side bays, prevents the eye from moving uninterrupted upward. Hip-roofed dormers rehearse the forms of the towers and turrets. Lintels and colonnettes between the dormers show a finesse of detailing [then] new to Richardson's work ". Many of these elements were inspired by the Romanesque style of medieval Europe and the complex provides the first example of the so-called "Richardsonian Romanesque" style.

This work is also significant because it was the largest commission Richardson would receive in his short career. With so many elements to incorporate into a single complex, and because it was built to accommodate and provide the best surroundings for those battling severe mental illness, Richardson worked in conjunction with other design experts and medical professionals to provide a holistic environment. One of the contributors was Frederick Law Olmsted, the landscape architect of New York's Central Park and the Buffalo park system, a lifelong friend (and former assistant) of Richardson, who designed the grounds for the complex. His input led to the building being oriented to the southeast thus maximizing it exposure to daylight. This strategy, combined with the red sandstone and brick central administration tower block, and the five wards set back on each side, produced a more open, spacious site that offered a more considered and humane environment for treating patients than had been seen in America hitherto.

While the building's function has changed, first in 1927 when half of the complex was given over to Buffalo State College for campus use, and more recently in its conversion into a hotel and conference center, Richardson's original building, remains, according to the Richardson Olmsted Campus website, "one of Buffalo's most important and beautiful buildings ". This boast was confirmed in 1986 when it was awarded the official status of National Historic Landmark.
Buffalo, New York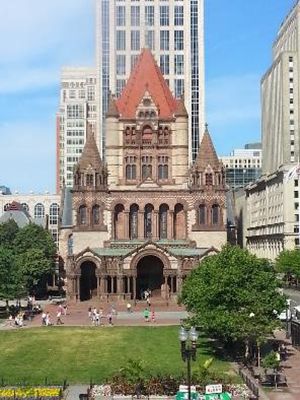 1872-77
Trinity Church
The Trinity Church on Copley Square in Boston is one of the great monuments in the history of American architecture. Trinity was an Episcopal Church that by 1869 had outgrown its old central Boston location and plans were afoot to relocate the church to the city's more affluent Back Bay area. This need to move was accelerated when the original Trinity church fell victim to Boston's Great Fire of 1872. The rector of Trinity, Phillips Brooks, was one of the great preachers of the day and it was he who pushed for the relocation on a tract of land facing Copley Square.

What would become one of Richardson's most iconic buildings, it became a crowning example of Richardsonian Romanesque styling and it is the first building in which the architect introduced his preference for rough stone (an estimated 90 million pounds of stone were used), his signature arches and, in this example, an elegant series of towers.

With the Trinity Church, Richardson had introduced American worshipers to a new style of church architecture. According to the architectural historian James F. O'Gorman, Richardson, "scrapped his first sketches, which called for a classic design typical of Gothic Revival Episcopal churches of the time, and, instead, sketched an unconventional Greek cross plan [...] This approach represented a radical departure for American ecclesiastical design. It presented an inclusive, open auditorium plan closer in spirit to the emerging needs of democratic contemporary American congregational practice, than to the hierarchical, conventional Episcopal designs and worship practices of the day". Indeed, Richardson followed Pastor Brooks's commitment to a "more honest" style of church, and in so doing Richardson had unwittingly provided a paradigm for future church designs.

What is perhaps most characteristic about the Trinity Church is the equal attention Richardson paid to all aspects of the building. As Francis Russell described it, visitors to the church would, "marvel at the way the exterior hints at the mysterious contents within ". Richardson had succeeded in creating what he termed a "color church" and to do so he turned to partnerships with other leading artists. According to Francis Russell, "Richardson was determined that the interior would be alive with color, a decision that led to his collaboration with various artists, including Augustus Saint-Gaudens, Englishmen William Morris and Edward Burne-Jones, and John LaFarge, who was responsible for the murals and stained glass. What Richardson wanted was nothing less than for the spirit of the age to take up residence in Trinity Church ". He succeeded in his task, and in so doing created a building that remains one of the most important and treasured in the Boston cityscape.
Boston, Massachusetts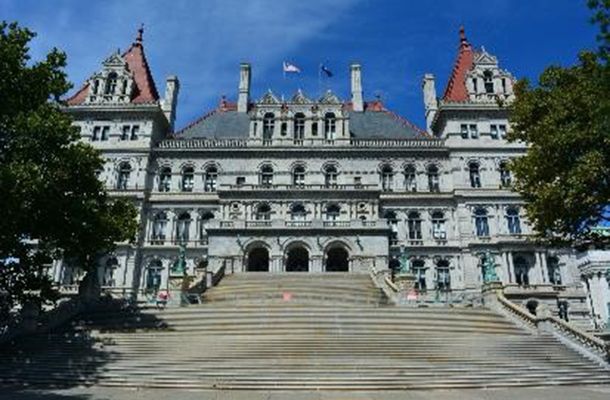 1867-99
New York State Capital
The New York State Capital building was arguably one of the most complicated collaborative commissions in which Richardson played a leading part. Over the course of the thirty-two years it took to complete this building, Richardson was a member of one of three different teams of architects who worked on the project and as such the building can be viewed as a collage of styles. This period saw him collaborate with architect Leopold Eidlitz and took place between 1875 and 1883.

The first team of architects had begun to build the capital in a classical Roman Renaissance style. When Richardson took over, he made additions in his Romanesque Revival style. This, according to Van Rensselaer, caused widespread "indignation at the thought of seeing in a single building a union of two different styles ". Undaunted, Richardson persevered and added key elements to the building including the governor's and court of appeals rooms. The most notable of his contributions was, however, the senate chamber. As it is described in detail on the New York State Assembly's official website: "this room has been acclaimed as one of Richardson's finest designs. Beginning at its highest point, the chamber's richly carved golden oak ceiling was designed with deep paneled 'pockets' or recesses, creating an acoustically perfect 'debate arena' for the senators. The walls are covered with beautiful, shimmering 23 carat gold leaf. A master at using the different materials of the world, Richardson imported Siena marble from Italy for the large arches above the visitor's gallery, red granite from Scotland for the pillars, and Mexican onyx to panel the north and south walls. The ultimate in luxury was attained with red leather and carved mahogany paneling on the walls below the galleries [...] At the back of the chamber are two large fireplaces, each with openings six feet high ".

Learning first-hand the difficulties often associated with government commissions, Richardson was dismissed when governor Grover Cleveland began his term in an attempt to curb what he felt were escalating building costs. Describing the difficulties associated with this job, Van Rensselaer states how it was for Richardson, "the only time in his life [that he was] publicly in opposition to other members of his profession".
materials - Albany, New York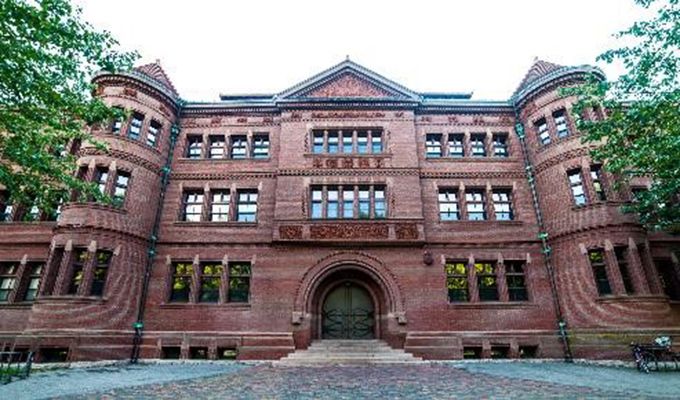 1878
Sever Hall, Harvard University
A work created for Richardson's alma mater as a classroom building, it is, with its two curved bays, grand arch entranceway and exterior detailing, the purest celebration of the Romanesque Revival style. This was the first work Richardson designed after the dissolution of his partnership with Charles Gambrill and thus represents his true independence as an architect. As Van Rensselaer states, "Sever Hall was designed at the period when Richardson had just given himself over, heart and soul, to the leadings of southern Romanesque art, and when the exuberant possibilities of this art had recently seduced him somewhat from sobriety. Therefore, its singular simplicity and its paucity of pronounced Romanesque features bear strong witness to the development of his feeling for appropriateness as a prime architectural virtue ".

The building also provides a clear example of Richardson's role as a master colorist. Choosing to substitute his preferred gray stone with red brick added to the building's New England character. Francis Russell states, "in contrast to the vigorous and extroverted character of so many of his eclectic constructions, Sever Hall has an aristocratic aloofness and perfection of detail that are all the more striking for being executed entirely in red brick. Red mortar and orange-tiled roofs complete the chromatic motif, which was no doubt adopted out of deference to Harvard's older buildings ". The building earned the admiration of the prominent American architect Robert Venturi who went so far as to call Sever Hall his "favorite building in America ". Indeed, Venturi, who preferred to think of architecture in terms of a functional "generic shelter" rather than as "abstract-expressive sculpture", spoke of the Richardson's design in quasi-poetic terms when he said, "I love Sever Hall [...] for its aesthetic tension deriving from its vital details. I could stand and look at it all day. Thank you, H.H. Richardson ".
Cambridge, Massachusetts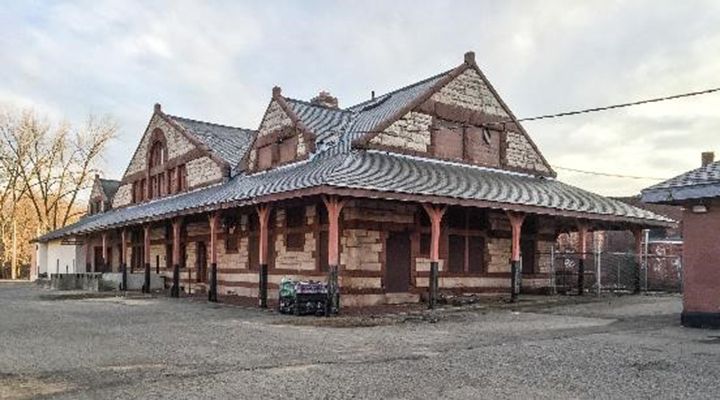 1883
Connecticut River Railroad Station
Richardson was commissioned to design a number of railroad stations for the Boston and Albany Railroad company, a prime example of which was the Connecticut River Railroad Station. His single-story buildings were variations on a basic symmetric layout featuring a pair of waiting rooms, and an outsized roof designed, in part, with Japanese architecture in mind. With its rugged granite exterior, arched windows, brownstone trim, and hipped hanging roofline (modelled on a temple in Nikko) would come to rank as a signature Richardson design. Of the interior design, the author Derek Straham described how "the central part of the station included the main waiting room, which occupied about half of the ground floor [and that there] was also a separate ladies' waiting room, and a room that, on the original floor plans, was labeled 'Emigrant's Room' [which was] used to screen and administer smallpox vaccinations to incoming immigrants, who comprised a large portion of Holyoke's population during this time. Other facilities inside the building included a baggage room, a ticket office, and a telegraph office, along with several restrooms ".

At this time in his career, with his star in the ascendence, Richardson could have turned down relatively modest projects like this. Van Rensselaer felt in fact that, "it is much to be regretted that Richardson was never commissioned to build a great terminal railway station [and that] success with smaller stations proves that such a problem would have given free outlet to his talent on its strongest side ". Nevertheless, it was Richardson's sheer love of the nuances of architectural design than was paramount in his thinking and he "put on no airs about which projects he took". Van Rensselaer adds that for Richardson "every structure, even the most basic, should be not only functional but also aesthetically pleasing" and that in this example "the drinking-fountains, gas-fixtures, the settees on the exterior and the long benches within, and the ticket-offices which project upon the platform as charmingly designed bays " all confirm Richardson's attention to detail.

It is a sad footnote to record that Connecticut River Railroad Station has suffered from serious neglect since its closure in 1965 and, save for a period after this when it was converted into a gas station, it has been left abandoned.
Holyoke, Massachusetts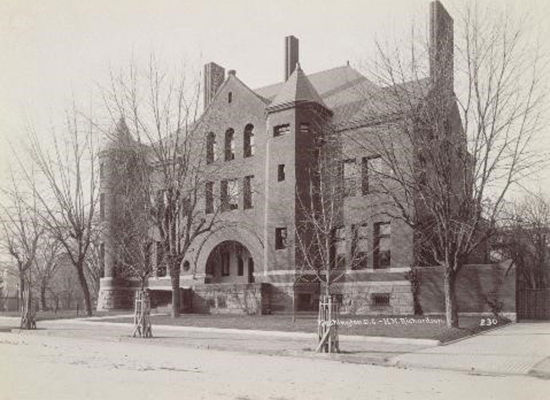 1884
John Hay Residence
An interesting personal project, Richardson was commissioned to build adjoining houses for two leading Washington, D.C. dignitaries and their families: the prominent historian, and man of letters, Henry Adams, and the prominent politician John Hay. Adams was the great-grandson of John Adams and the grandson of John Quincy Adams, both former presidents of the United States, while Hay served in key government roles including President Abraham Lincoln's personal secretary, and secretary of state for both Presidents William McKinley and Theodore Roosevelt. The two men's status brought added kudos to Richardson's house and helped bolster his already impressive reputation. Following the death of both men, their respective families sold the properties on to a developer in 1927 who converted the building into the now iconic Washington landmark, the appropriately named Hays-Adams Hotel.

Van Rensselaer notes that, "the finest external feature of Mr. Hay's house is the doorway on Sixteenth Street - an imposing arrangement of broad steps leading up to a balustraded platform with a richly carved door set back under a powerful round arch. Inside, even the fine hall is exceeded in beauty by the dining-room, one end of which is filled by a wide mantel of green marble recessed in a deep alcove of the same material ". Overall, the Adams/Hay building is an important example of the impressive domestic residences Richardson designed towards the end of his life. But, as Van Rensselaer observed, in his early career Richardson had had a "comparative distaste for domestic work [and he] would sometimes exclaim in his over-emphatic way that 'house-building is not architecture in the noble sense of the word'". However, commissions for domestic dwellings increased in number as his reputation grew and in "the last years of his life he felt the deepest concern and the most entire pride in the many houses he then had in hand ".
Washington, D.C.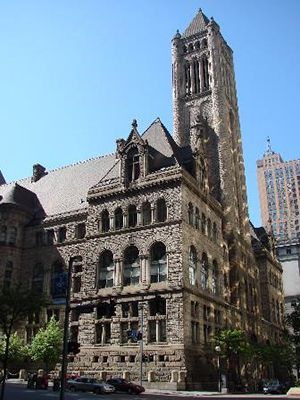 1884-88
Allegheny County Courthouse
A complex combining a courthouse and jail, surround by a spacious courtyard, Richardson's Allegheny County Courthouse flaunts its debt to European medieval architecture. Richardson pays homage to the European style predominantly through the high tower, the heavy solid gray stone bricks, and the rows of windows topped with arches which are framed by fake columns.

The courthouse features three main floors of courtrooms, city offices, and a library, with the five remaining floors located in the tower and intended for the sole purposes of storage. According to Dr. Charles L. Rosenblum, Richardson's "design refers to the Roman Aqueducts, Syrian monasteries and Roman Renaissance palaces, while providing master classes in stone detailing and grand stairway design " also adding that "the Bridge of Sighs, connecting the Courthouse and Jail, may even surpass the beauty of the Venetian structures that inspired it ".

Richardson was awarded the commission in 1884 and, once completed, the Courthouse dominated the city of Pittsburgh's landscape as no structure had before. Among his greatest achievements, this building confirmed his reputation as America's leading architect. Sadly, Richardson did not live long enough to see it open to the public (in 1888) but he had already claimed the building was his favorite design. Indeed, aware of the seriousness of his health conditions, he often told others of his desire to see the project fully realized and was convinced it would be his crowning achievement. Richardson stated: "if they honor me for the pigmy things I have already done, what will they say when they see Pittsburgh finished ".
Pittsburgh, Pennsylvania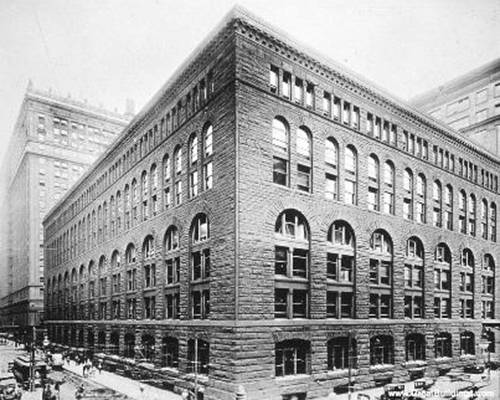 1885-87
Marshall Field's Wholesale Store
A seven-story building - three of which are below ground - Richardson's gray stone structure was created to be used as the wholesale store for the iconic Chicago Marshall Field's department store empire. By the time Richardson designed this building he had become famous for his revival of the medieval Romanesque style and there are obvious elements of that style here; most notably in the curved arches above the windows. These stylistic flourishes are, however, much less pronounced than in his earlier works. Noting this fact, Van Rensselaer describes the structure as a "vast rectangular box in its most uncompromising estate", adding that the whole "site measures three hundred and twenty-five feet by one hundred and ninety feet, and every foot is covered by a solid mass which rises to a height of one hundred and twenty-five feet. The roof is invisible, the doorways are inconspicuous, and decoration is very sparingly used. The whole effect depends upon the structure of the walls themselves. No building could more frankly express its purpose or be more self-denying in the use of ornament ".

This structure provides a glimpse of the direction his future architectural style might have taken had he survived his illness. According to author Francis Russell, "though stark in comparison with some of Richardson's more flamboyant buildings, the Field store is not lacking in detail. But the overtones of medieval splendor had been dropped, and in their place, Richardson had achieved what he called 'a careful study of the piers and a perfectly quiet and massive treatment of wall surfaces'". The fact that he could modify his style to reflect and support the use of the building shows his maturity and foreshadows the more modern aesthetic that would develop in American architecture in the following decades. Sadly, the effects of modernization also impacted the building when in 1930 the store was relocated and Richardson's building was demolished. The original store was the inspiration for Louis Sullivan's Auditorium Theater.
Chicago, Illinois
Related Artists
Related Movements & Topics