Biography of Ilya Repin
Childhood
Ilya Yefimovich Repin was born in 1844 in the small village of Chuguev, Ukraine, then part of the Russian Empire. Repin identified predominantly as a muzhik, or peasant, a man of humble origin. But his impoverished background did not stifle his potential. Rather, it gave him firsthand experience of the realities of life for the common Russian, infusing his work with a clarity of insight that few could match, at a time when demand was increasing both in Russia and the West, in line with the ascent of Realism, for authentic visual accounts of lived experience.
Repin's youth was spent in a provincial town, far from the cultural centers of the Empire, providing few opportunities for formal education or training. Repin's father was a military settler, part of a sub-category of state-owned peasants that occupied a lowly position in the social hierarchy into which the population was divided by law. At that time, membership of such a class was hereditary. At birth, therefore, Ilya was automatically registered on the list of military settlers and, so as far as the state was concerned, his life would run its course within those legal and social parameters.
While Repin's father was serving in the military away from home, the family lived in poverty, his mother having to work in the fields or on road construction to fulfill the labor quota assigned to each military settler's household. As a result, Ilya largely grew up in the company of women. He did, however, have two brothers - one of whom died at the age of ten - as well as an older sister.
Early Training and Work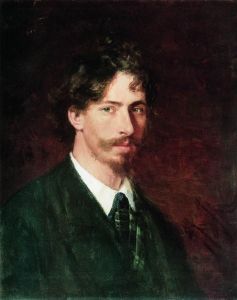 Ilya showed an aptitude and passion for art from an early age. At the age of eleven he received his first formal instruction in art, at the School of Military Topography. It is unlikely that he had any formal drawing lessons but he nonetheless furthered his abilities in drafting and coloring. When the school was disbanded he went on to study with a local icon painter, Ivan Bunakov. Repin apprenticed for around a year but soon gained the confidence and reputation to set himself up as an independent master in 1859. He worked as an icon painter in his own right for the next two years.
Although he enjoyed immediate success in this field Repin's ambition led him to the Imperial Academy of Arts in St. Petersburg. To have any hope of success as a professional painter, acquiring credentials at the Academy was absolutely necessary. For Repin, studying also offered the sole opportunity to liberate himself from the binding legal status he had inherited from his father. In preparation for the Academy he began to draw and paint the scenes of the everyday life around him.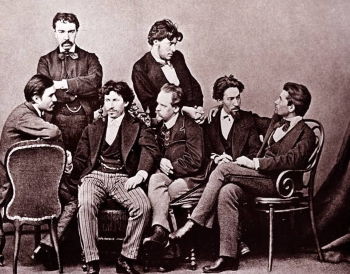 He arrived in St. Petersburg in 1863 and gradually progressed through the Academy, meeting influential figures along the way including Mark Antokolsky, who became the best-known sculptor of the Russian school, the portrait painter Ivan Kramskoi, and the critic Vladimir Stasov. Stasov, in particular, immediately took Repin under his wing and directed him towards his own subversive critical positions. Stasov opposed the neo-classicism of the Academy in favor of the burgeoning spirit of Realism, which, for Stasov, had to be both civic-minded and nationalist in spirit.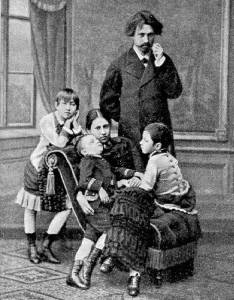 In 1872 Ilya married Vera Shevtosva, the daughter of his landlord. The couple had their first child, a daughter named Vera, the same year. Shortly afterwards they travelled to Italy and Paris. Repin was greatly attracted to the French art scene, and absorbed aspects of the Impressionists' approach, including their depiction of light, their use of color, and their preference for plein air painting. However, his experiences in Paris did not shift his focus away from the need to develop a specifically Russian Realism, and his style would remain closer in spirit to that of the Old Masters, such as Rembrandt, throughout his career. Ilya and Vera's second daughter, Nadia, was born in 1874. Repin lived and worked in Paris for two further years, returning to Russia in July 1876.
It was also in 1874 that Repin earned the full status of Academician, at the age of 22. It was also around this time that 14 young artists left the Academy to form the Society of Peredvizhniki, or Wanderers, which Repin joined in 1878. This group of exceptionally talented, free-thinking artists rebelled against the formal training they had received, insisting that art should reflect real life.
In 1877 Repin's son Yuri was born. His third daughter, Tatyana, followed in 1880. In 1878 he befriended Leo Tolstoy and the painter Vasily Surikov. Through these connections he joined an artistic circle that gathered at an estate near Moscow, through which he met many of the leading painters of the day, including Vasily Polenov, Valentin Serov, and Mikhail Vrubel. In 1882 Ilya and Vera divorced but they maintained a friendly relationship.
In 1887 he painted two portraits of Tolstoy and made preparations for his painting Leo Tolstoy Ploughing. Tolstoy was later to remark that Repin "depicts the life of the people much better than any other Russian artist."
Mature Period
Evidently a man of political complexities, Repin continued to create works of harsh social commentary while simultaneously making portraits of Russian intellectuals, and historical genre pieces, which suggested a more sympathetic view of the state and national history. In 1891 he withdrew his membership from the Peredvizhniki and in 1894 began teaching a class at the Higher Art School attached to the Academy of Arts, a position he held, on and off, until 1907.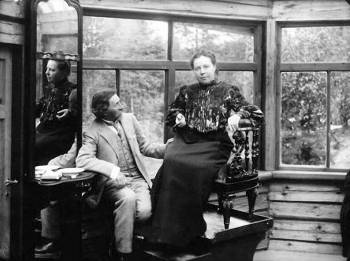 In 1900 he met the author Natalia Nordman and was immediately captivated by her, calling her the "love of his life". They went to live in her home, Penaty (or "The Penates", a reference to Roman household gods) in Kuokkala, Finland. Each Wednesday the couple invited notable artists from Russia to visit their home, which was only an hour by train from St. Petersburg. The list of visitors included the writers Maxim Gorky and Leonid Andreev, the artists Vasily Polenov and Isaak Brodsky, and the scientist Vladimir Bekhterev. Repin's lifestyle at the Penates was unconventional. After being advised of the health benefits of sleeping outside, he and his family took up this practice year round, even during winter in the rain and snow. He kept no servants and guests were often left to tend to themselves when they visited, while being obliged to follow his and Nordman's strict vegetarian diet. It was reported that a small railway station in the area made a very good trade in meat sandwiches from famished guests leaving the Repins' residence. Nonetheless The Penates became an important artistic and literary gathering place during the first years of the twentieth century.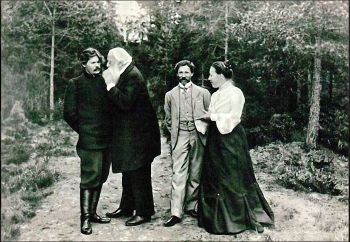 In 1901 Repin was awarded the Legion of Honour by the French state. However, his political allegiances remained complex, and during 1905 he participated in many protests against Tsarist repression. He conveyed his impressions of these emotionally and politically charged events in his paintings and in 1908 publicly denounced the use of capital punishment in Russia.
In 1914 Natalia Nordman died in Locarno, Switzerland. Repin attended her funeral there, and afterwards travelled to Italy before returning home to the Penates.
Late Period
Repin welcomed the Russian Revolution of 1917. Residing at the Penates at the start of the war, he remained in Finland for the remainder of his life, in what became a condition of forced exile, after the country declared independence at the end of the year, the frontier with Russia closed in 1918. He continued to compose work until the final and brief illness which ended his life although, following advice from doctors, he restricted his painting to two hours per day. During the intervening hours he would use the ends of cigarettes to draw on any surface he could find, quenching his thirst to create. He died in 1930 and was buried at The Penates.
The Legacy of Ilya Repin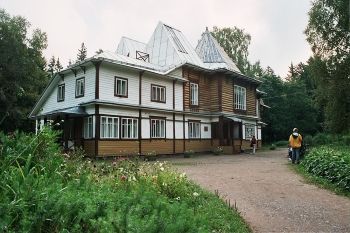 After his death Repin was celebrated as the ideal people's artist by the state of the USSR. Testament to the national regard in which he was held, after Kuokkala became a part of the Soviet Union in 1948, it was renamed Repino in his honour. His work was considered both progressive and realist, becoming a template for all Socialist Realist artists in the Soviet Union. Supposedly Stalin's favourite artist, Repin's portrayals of the heroic suffering of the working classes and peasantry under the Tsars provided a convenient alibi for the increasing brutality of the Soviet regime itself.
Socialist Realism, meanwhile, a movement which claimed origins in the work of Repin and the Peredvizhniki, became synonymous with the Soviet state. Despite the realities of Stalin's rule it portrayed the Soviet Union's future as filled with prosperity and growth while casting shame on capitalism and its beneficiaries. Soviet art would be for and about the workers, offering a hopeful, not to say propagandist, vision of everyday life. As a result of the state's political utilisation of art, the Socialist Realist style became an imposed norm in the Soviet Union. Artists such as Yuri Pimenov and Aleksandr Deyneka were amongst the most talented artists attached to the movement.
Repin's wider legacy is evident from the fame his work has achieved in Europe in spite of its specifically Russian themes. Working within the parameters of Realism, he created heroic images of Russian life achieving a degree of pathos and insight that no previous Russian artist had matched, and which resonated across continents. At the same time, within Russia he operated at the edges of seemingly contradictory milieux. Like the French pioneer of Realism Gustave Courbet Repin focused on the nature and character of everyday men and women over and above the classical conventions of the Academy. Yet he also continued to produce more conventionally academic and patriotic work throughout his career, including portraits of great Russians, and genre scenes depicting key moments in the history of the nation. Nonetheless, it was Repin's deep sense of personal responsibility and empathy for the lives of the ordinary people he represented, as well as his prodigious technical skill, that ensured the greatness of his work, as well as tying it into a vital international development in the emergence of modern art.
Content compiled and written by Lisa Huang-Taylor
Edited and revised, with Summary and Accomplishments added by Greg Thomas
"Ilya Repin Artist Overview and Analysis". [Internet]. .
TheArtStory.org
Content compiled and written by Lisa Huang-Taylor
Edited and revised, with Summary and Accomplishments added by Greg Thomas
Available from:
First published on 15 Jan 2020. Updated and modified regularly
[Accessed ]