Biography of Rembrandt van Rijn
Childhood and Education
Rembrandt van Rijn was the eighth of nine or more children born to Harmen van Rijn, a corn miller, and Cornelia van Zuijtbrouck, a baker's daughter. The prosperous family lived in Leiden near the Rhine River, originally called the Van Rijn River, and dedicated themselves to religion and education. Cornelia often read the Scriptures to her children, which provided a strong sense of God, man, and nature for the young and profoundly Christian Rembrandt. Rembrandt's parents recognized his talents as a young child so they sent him, from age 7 to 14, to the Latin School in Leiden for a classical education. He received the best education that an academic city in Holland could provide for a child with a deep interest in literature and scripture. He was duly prepared for admission to the University of Leiden, a fine institution. He entered the University as Rembrandus Hermanni Leydenis and signed early paintings as RHL, but after a few months he withdrew to dedicate himself to art.
Rembrandt secured a three-year apprenticeship with Jacob Swanenburgh who taught him the fundamentals of painting, drawing, and etching. When he was still in his teens, his father sent him to Amsterdam to study with Pieter Lastman, a skilled Italian painter of historical scenes. Lastman had studied the works of Caravaggio and Eisheimer, a German painter living in Rome. After several months, Rembrandt had mastered the techniques of chiaroscuro as well as the use of bright glossy colors and posing figures with theatrical gestures. Lastman also influenced Rembrandt to concentrate on historical and religious scenes although the local art buyers preferred scenes from their daily lives. As Paul Nemo quoted in his 1975 "Rembrandt Drawings," the young Rembrandt felt strongly about his subjects, saying, "Painting is the grandchild of nature. It is related to God."
Early Period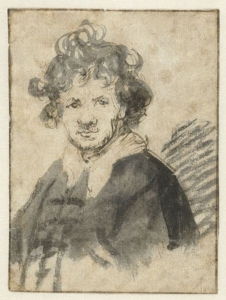 At the age of 18 or 19, Rembrandt returned to Leiden to set up his own studio. He looked more refined, dressed well, and worked closely with a student six years younger, Jan Lievens, who had also studied under Lastman. In 1629, Rembrandt met Constantijn Huygens, a statesman for the court of The Hague, who could procure commissions for the artists. Huygens was a remarkable Dutchman, well informed about art, who spent most of his life in service to the princes of Orange. He operated an art academy where copies of paintings were made and commissions were fulfilled. Huygens urged the two young artists to visit Italy, especially Rome, to learn from the masterpieces, but they were too dedicated to their work in their own beloved country. Simon Schama, in his remarkable historical biography Rembrandt's Eyes (1999), related that Huygens stated: "...I feel it incumbent upon myself to state that I have never observed such dedication and persistence in other men whatever their pursuits or ages. Truly these youths are redeeming the time. That is their sole consolation. Most amazingly they regard even the most innocent diversions of youth as a waste of time, as if they were already burdened with age and long past follies."
Huygens had influenced Rembrandt to be more ambitious so by 1632, Rembrandt moved back to the wealthy teeming metropolis of Amsterdam. There, he found great satisfaction as a professional portrait painter for the successful men of commerce, the intellectuals, and the religious leaders, who were all appreciating their positions and good fortunes and wanting to exhibit their excellent taste, especially through painted likenesses of themselves. Rembrandt was building his reputation by portraying the Dutch bourgeois burghers as men of action, in three-quarter or full-length poses.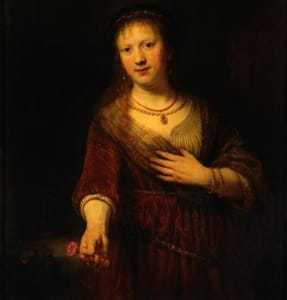 In Amsterdam, Rembrandt initially stayed with an art dealer named Hendrick van Uylenburgh. It was there that the artist met Hendrick's cousin Saskia van Uylenburgh, who was the daughter of a wealthy burgomaster. The two married in 1634. Rembrandt was known as a prosperous and fashionable young artist at this time but he yearned to be considered a gentleman and an intellectual. His new wife was able to introduce him to notable members of society through her well-connected extended family.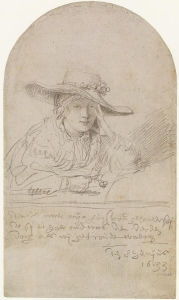 In 1632, Rembrandt painted a group portrait called The Anatomy Lesson of Dr. Tulp, which brought him enormous attention. That same year, he became a burgess of Amsterdam and a member of the local guild of painters. Throughout the 1630s, Rembrandt produced at least 65 commissioned portraits. He also painted biblical and mythological paintings, landscapes, and portraits of anonymous people who were interesting to him such as Jewish people, officers in uniforms, or foreigners in exotic dress. Like many wealthy men of the time period, Rembrandt collected works of art but also armor, costumes, Oriental turbans, and other curiosities from foreign places. Some of these acquisitions often ended up as props in his work such as curved sabers, Javanese daggers, and Polish stirrups. When he attended auctions, according to the Italian art historian and biographer Filippo Baldinucci, he "...acquired clothes that were old-fashioned and disused as long as they struck him as bizarre and picturesque," and he also "...bid so high at the outset that no one else came forward to bid; and he said he did this in order to emphasize the prestige of his profession." His paintings and etchings show that he had been greatly influenced by the exuberance of Peter Paul Ruben's style, characters, and poses; he wanted the rich life that Rubens enjoyed full of horses, servants, grooms, cooks, and paint-grinders. Rembrandt thoroughly enjoyed being at the height of his powers and reputation.
Mature Period
Ironically, in contrast to his piety, Rembrandt's private life was strewn with controversy. From his relationships with women to his management of his personal finances, he walked a line of perpetual disarray and chaos in direct opposition to his public popularity and career achievements.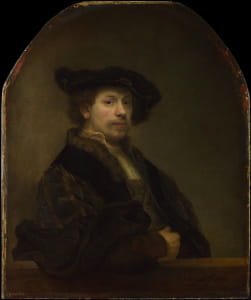 In 1635, Rembrandt and Saskia rented a house while waiting for a new one to be renovated in an upscale area that was quickly becoming known as the Jewish quarter. The steep mortgage on the new home was what ultimately caused the couple's later financial distress. It was there that Rembrandt frequently sought out his Jewish neighbors to model for his Old Testament scenes. Although they were by now affluent, the couple suffered several personal setbacks. Their son Rumbartus died two months after his birth in 1635 and their daughter Cornelia died at just three weeks of age in 1638. In 1640 they had a second daughter, also named Cornelia, who died after only one month of life.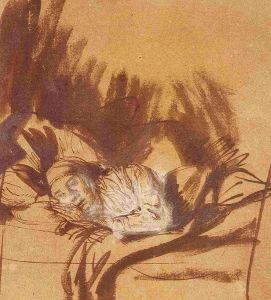 Only their fourth child Titus, who was born in 1641, survived into adulthood. Saskia died in 1642 soon after Titus's birth, probably from a long struggle with tuberculosis. Rembrandt's drawings of her on her sick and deathbeds are among his most riveting works.
As Douglas Mannering described in his Life and Works of Rembrandt "...Rembrandt's private life now became tangled, although the evidence is tantalizingly difficult to interpret..." In 1642, Rembrandt hired a widow of peasant stock named Geertghe Dircx to help care for nine-year-old Titus as Saskia was ill. Geertghe became Rembrandt's lover but their relationship had difficulties. He entered a period of poor behavior, amassing debts and coming under criticism from friends, the Church, patrons, and clients. Geertghe later charged Rembrandt with breach of promise by claiming that he had proposed to marry her. She was awarded yearly alimony although Rembrandt tried for years to have her committed to a poorhouse after learning that she had pawned some of Saskia's jewelry. Although he was in a strained financial situation, he still felt obliged to pay for her to live at a house of correction from 1650 to 1655.
Late Period and Death
Around 1647, Rembrandt hired Hendrickje Stoffels, a woman 20 years his junior, to be his maid. She was a simple, gentle person who helped to comfort the artist, and naturally, went on to complicate Rembrandt's relationship with Geertghe. As explained in The World of Rembrandt 1606-1669 (1963), "...Evidently her relationship to Rembrandt very soon changed from that of servant to model to wife in all but name, and she remained with him until her death at 37 in 1663." Hendricke had two daughters with Rembrandt, one who died as an infant, but the younger one, Cornelia, was healthy. Rembrandt seemed sustained by Hendrickje and his son Titus, with whom he was delighted. Maturity was bringing more calmness and wisdom to his life and art; he would go on to paint masterpiece after masterpiece.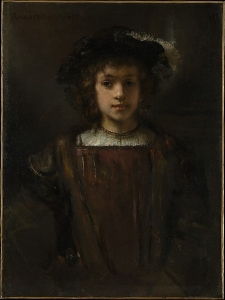 However, Rembrandt's Baroque style slowly fell out of public favor due to a change in Dutch tastes for art. A fondness for drama, elegance, bright colors, and graceful manners developed as seen in the work of the fashionable Flemish artist Anthony van Dyck. Although he desperately needed commissions, Rembrandt would not compromise his art; his work became quieter and more profound. Another reason for his decline in popularity may have been his continued dedication to Biblical themes. In the mid-1640s, he was one of a few Dutch artists still interpreting the Scriptures and there were not many commissions.
During the 17th century, the Dutch favored landscapes of many types: canals, dunes, panoramas of towns, views of the sea or woods, and wintery or moonlit scenes. Rembrandt, "...used the medium of oil paint to express his more imaginative concepts of nature. He reserved his realism in landscapes almost entirely for etchings and drawings..." as was noted in The World of Rembrandt 1606-1669. Rembrandt's interest in landscape painting lasted through the next two decades. A series of drawings and etchings show his keen observation of nature, great originality in composition, and marvelous economy of forms.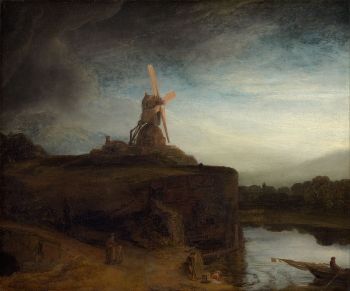 Nineteenth-century connoisseurs considered Rembrandt's painting of The Mill (1645–48) to be one of the master's greatest creations. It has all the characteristics of having been painted from life, although it probably was not, since that was rare in seventeenth-century Dutch landscape. The collectors and critics celebrated the dramatic silhouette of the mill against a dark, stormy sky and attributed the heavy atmosphere to Rembrandt's frame of mind when he encountered severe financial difficulties.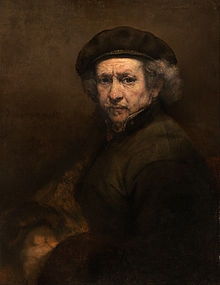 Rembrandt certainly lived beyond his means, bidding up his own work at sales to increase his profit, and buying paintings and prints, which may have contributed to a court arranged auction in 1657. He sold most of his prized possessions, which included Roman busts, Japanese armor and Asian objects, sets of minerals, paintings, and a large collection of other antiquities. He later sold his house and printing press to move into a more modest dwelling on the outskirts of Amsterdam with Hendrickje and Titus. The Amsterdam Painter's Guild had introduced a new ruling to establish that no one in Rembrandt's financial situation could trade as a painter. However, Hendrickje and Titus set up a partnership for a new business as art dealers with Rembrandt as an employee.
By 1662 Rembrandt via the new business was fulfilling major commissions for individual portraits, group portraits, and other works. When Cosimo III de' Medici, Grand Duke of Tuscany, came to Amsterdam in 1667, he honored Rembrandt with a visit to his home.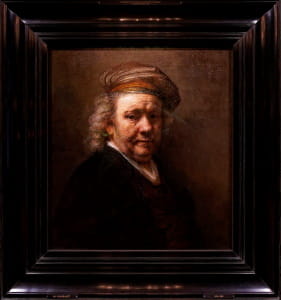 Rembrandt outlived Hendrickje, who died in 1663. He passed in 1669 in Amsterdam and was buried as a poor man in an unknown grave. The grave was a kerkgraf, numbered and owned by the church, under a tombstone. After twenty years, his remains were taken away and destroyed, which was customary for the remains of such poor burials.
The Legacy of Rembrandt van Rijn
One of the first "modern" artists, Rembrandt had a deep understanding of the importance of detail in the depiction of the world around him. He was renowned for his outstanding ability to not only depict very natural, realistic human figures but even more importantly, to portray deep human feelings, imperfections, and morality. He trained many painters of his time who were eager to emulate the characteristics synonymous with his name, including the many pupils who rotated throughout his workshops in Leiden as well as Amsterdam. His influence on painters around him was so great that it is difficult to tell whether someone worked for him in his studio or just copied his style for patrons eager to acquire a Rembrandt.
His dedication to the truth and beauty in everyday life was adopted by other artists of his time like Spanish painter Diego Velázquez and by painters in 18th century Germany and Venice. His style was reinterpreted by, among other, the German engravers Johann Georg Schmidt and Christian Wilhelm Ernst Dietrich, and later served as inspiration for painters like Jean Honore Fragonard and Giovanni Battista Tiepolo. The 19th century saw a "Rembrandt revival" for realist painters working in places like France, Germany, and America.
In 1888, Vincent van Gogh wrote to his brother Theo that he thought about Rembrandt's work a lot but also about the master as a man and a Christian. He explained, "...Rembrandt goes so deep into the mysterious that he says things for which there are no words in any language. It is justice that they call him Rembrandt - magician - that's no easy occupation." Van Gogh also painted directly from life, portraying his subjects with realism and dignity. He described Rembrandt's religious works as "metaphysical magic" and strove to emulate him. Rembrandt's dry points and etchings furthered van Gogh's expressive freedom with a reed pen as well as his choice of subject matter.
In the 20th century, Rembrandt influenced artists such as Frank Auerbach and Francis Bacon. He was "...crucial to Bacon in terms of mark-making and the handling of paint," explained Pilar Ordovas, Director of the Ordovas Gallery in London. Similar to Rembrandt's late self-portraits, such as Self-Portrait with Two Circles (1665), Bacon's self-portraits are unsettling and mysterious. In 2013 an art exhibition titled Raw Truth opened in the Rijksmuseum of Amsterdam that featured paintings by Frank Auerbach and Rembrandt. The evidence of Rembrandt's influence was shown through six of Auerbach's 1960s oil paintings. Both artists were dedicated to penetrating to the core of their subjects; "raw truth" was Auerbach's description of the quality that ensured the Dutchman's enduring influence.
As Director of Collections at the Rijksmuseum Taco Dibbits summed up best, "...Over the centuries, Rembrandt has inspired artists in different ways...he depicts different humours, different moods, different psychologies. There is such depth to his personalities; the essence of his genius is that rather than trying to make the people more beautiful than they are, he depicts them as they really are. That makes his portraits immensely humane and approachable - unlike, say, classic Italian portraits, which are far more aloof and less direct. Rembrandt didn't try to please his subject or the viewer. With Rembrandt, you are looking at real people."
Today, Rembrandt's work remains a pivotal element in art history, reflecting Dutch-ness and painterly greatness. Artists continue to draw upon his exquisite realism, infusing contemporary works with the master's indelible legacy.
Content compiled and written by Cheryl Van Buskirk
Edited and revised, with Summary and Accomplishments added by Kimberly Nichols
"Rembrandt van Rijn Artist Overview and Analysis". [Internet]. .
TheArtStory.org
Content compiled and written by Cheryl Van Buskirk
Edited and revised, with Summary and Accomplishments added by Kimberly Nichols
Available from:
First published on 12 Oct 2018. Updated and modified regularly
[Accessed ]