Artists
Judith Leyster
Biography and Legacy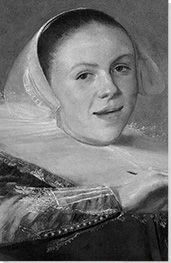 Born: c. July 28, 1609 - Haarlem
Died: February 10, 1660 - Heemstede

Biography of Judith Leyster
Early life
Judith Jans Leyster was born in Haarlem, the Netherlands, in July 1609, the eighth of nine children. Her mother, Trijn Jaspers, was a weaver, and her father was a brewer who was born as Jan Willemsz, but had adopted the surname "Leyster," meaning "lodestar," in 1603.
Art historians speculate that Judith Leyster was trained in painting from a young age, perhaps studying with Frans Pietersz de Grebber, a well-respected Haarlem-based painter. Although there is no firm evidence, stylistic similarities between Leyster and the painter Frans Hals have led some scholars to believe that the two artists may have also worked together.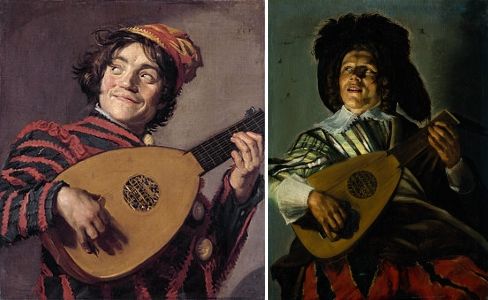 Frans Hals, The Lute Player (1623-24) on the right and Judith Leyster Serenade (1629) on the left. We can see the similarity in composition, as well as subject matter - partly from dominant trends in Dutch painting at the time, but also, potentially the two have worked together at some point.
In 1629, Leyster's first known paintings, Serenade and Jolly Topper, are signed with her very particular monogram: JL accompanied by a star, suggesting the meaning of her name. This detail was critical to her legacy, helping her to avoid the fate of many women artists who have been forgotten by history. It provided a clear and unique signature that connected many paintings that had been historically attributed to her male colleagues.
In 1633, Leyster applied to join Haarlem's Guild of St. Luke's, an organisation for painters at the beginning of their careers. She was accepted into the guild and in that same year set up her own studio. She later took on three pupils, which led to a legal dispute with Hals; it appears that one of her students left Leyster's studio for Hals's without paying her for tuition. The two artists ended up going to court over this matter and her attempt to stand up to an older, more established painter suggests her bravery and assertiveness. As art historian James A. Welu notes: "Though it is dangerous to come to conclusions about someone's personality on the basis of a few legal documents related to business transactions, from all accounts, Leyster appears to have been a confident individual."
Middle Period
Between 1629 and 1635, Leyster seems to have worked steadily, producing much of the oeuvre we know today. She specialized in mixed-genre paintings, often including aspects of both portraiture and still life, and set in enclosed, indoor spaces. She followed the overarching style of many other painters from the time such as Frans Hals and his brother Dirck as well as Jan Steen. She was also very influenced by the Utrecht Caravaggisti, a group of painters who were themselves influenced by the work of Caravaggio. Though this scene only flourished for a few years, and ended in about 1630, Leyster would have certainly come into contact with some of the artists in this time.
However, this busy period was short lived: In June 1636, Leyster married the painter Jan Miese Molenaer in Haarlem. Molenaer was already a prolific artist, and was also a member of the Haarlem's Guild of St. Luke.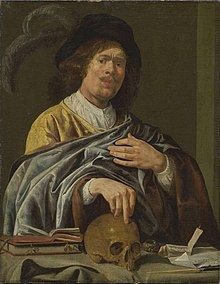 Jan Miese Molenaer, Self-portrait, (1640). Leyster's husband was also a painter, and was very prolific before and during their marriage.
The couple moved to Amsterdam that same year, where they lived until 1648. The city promised increased work for the couple, as they knew various clients and art dealers there. Leyster had her first son in 1637, followed by another in 1639. She then had two daughters, Helena in 1643 and Eva in 1646. Leyster, had a son Constantijn in 1650. Sadly, only Helena and Constantijn survived into adulthood.
It seems that throughout their married life, Leyster and Molenaer worked together in their studio, which was probably a room in their family home. They seemed to have produced work that sold throughout their time together, as well as dealing on the art market in general.
Later years
With the comfortable income they seem to have made from their time in Amsterdam, in 1648 the family moved to Heemstede in North Holland. There are very limited works found from this time, leading many scholars to believe that Leyster had all but given up painting in this decade. It remains possible, however that paintings from this period are yet to be discovered or properly attributed to Leyster.
The couple seem to have been friends with many other painters from the Dutch Golden Age, including Jan Steen, the still life painter Jacque de Claeuw, and Dirck Bleker. Molenaer owned paintings by de Claeuw and they may have owned or sold paintings by the other artists too.
Leyster died around the beginning of February 1660. Her funeral was held on the 10th February, at Heemstede Church.
The Legacy of Judith Leyster
For more than 200 years after her death, Leyster's work was either attributed to her husband Molenaer or Frans Hals. This seems partly due to their similarity in style, but there also seems to have been deliberate forgery: in 1893, Leyster's signature was discovered underneath a forged signature of Hals on the 1630 painting called The Carousing Couple or The Jolly Companions.
With the rise of feminist studies of art history in the 1970s, scholars such as Linda Nochlin questioned the historical treatment of women artists. She named several artists including Artemisia Gentileschi and Rosa Bonheur as examples of maligned great artists whose careers had been repressed because of their gender. Nochlin's essay, "Why Have There Been No Great Women Artists?" sparked the reassessment of many female artists, including Leyster, whose work had largely been misattributed to her male colleagues.
Because Leyster's legacy was overlooked for centuries of art-making and history, it is difficult to say precisely who has been influenced by Leyster's work. It would seem that many of the artists who studied or cited Frans Hals or Molenaer as an influence may well be citing Leyster without realizing it. The realist paintings of Netherlandish painters such as Jacoobus van Looy and Isaac Iraels owe much to the style of Dutch Golden Age painting, where she was a leader among her contemporaries. Similarly, many key figures in both Impressionism and Realism studied the works of Dutch Golden Age painting as a means of considering the interaction between interior spaces and human life. Her impact is most likely larger than modern art historians can document.
Most Important Art
Jolly Toper (1629)

This painting is one of two earliest paintings attributed to Leyster. Here we see a good natured, ruddy-cheeked man, lifting up his beer jug as if to show us that his drink has just run out. He wears a greenish-blue long tunic, and the sloping angle of his beret suggests it may be in danger of falling off at any moment. On the table in front of him is a small pipe and some wrapped tobacco.

As art historian Cynthia Kortenhorst-Von Bogendorf Rupprath tells us, the subject of this painting was popularized by the group of artists known as the Utrecht Carravaggisiti before becoming a subject common among Haarlem painters from the 1620s. The subject's clear enjoyment of smoking and drinking might have suggested both the pleasures of life and the dangers of excess. Many paintings of this period included subtle moralizing messages on the transience of life and its indulgences. In adapting this common theme, Leyster clearly shows her knowledge of contemporaneous painterly trends and the desire to give them her own spin.

The idea of vice is contrasted to cheerful demeanour of the subject of the painting. The intricate detail of the sitter's face conveys a sense of the individuality and personality that recognizes his enjoyment of his evening (or afternoon) and predicts that he has not had his last drink.

Read More ...

Judith Leyster Artworks in Focus:
Judith Leyster Overview Continues Below
If you see an error or typo, please:
tell us
Cite this page

Content compiled and written by Katie da Cunha Lewin
Edited and revised, with Synopsis and Key Ideas added by Sarah Archino
" Artist Overview and Analysis". [Internet]. . TheArtStory.org
Content compiled and written by Katie da Cunha Lewin
Edited and revised, with Synopsis and Key Ideas added by Sarah Archino
Available from:
First published on 27 May 2019. Updated and modified regularly.


[Accessed ]