Artists
Josef Koudelka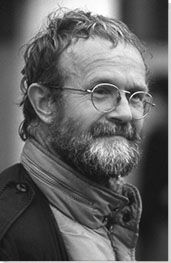 Born: January 10, 1938 - Boskovice, Czech Republic

"What matters most to me is to take photographs; to continue taking them and not to repeat myself."
Summary of Josef Koudelka
Josef Koudelka is a Czech-born French itinerant photographer known for his seminal photo-books about the gypsies in Eastern Europe, the Soviet invasion of Czechoslovakia in 1968, and the Black Triangle, a region of environmental devastation. The black and white images in these photo-books represent key moments in human history that afford us the opportunity to learn from the experiences of alienation, conflict, despair, waste, loss, and departure. He uses photography to distill and visualize human values that have shaped our current human condition.
Key Ideas
While working as a photographer for the Czech theater, Koudelka developed a visual, graphic language defined by its economy, high-contrast lighting, raw graininess, and effective compositions. He pre-visualized the image, used repetition, cropping, and even manipulated the image to capture the detail he was after. In this manner, Koudelka produced a striking image that engaged the viewer. Koudelka not only captured the essence of every theatrical performance he photographed, but also succeeded in documenting what was quintessential in the epic drama of life he subsequently photographed.
His photographs of the Soviet invasion in 1968 are not only his singular foray into photojournalism, but more importantly, they stand as a definitive testament to the Czech people's spontaneous mass protest against Soviet military domination. Koudelka's photographs render this historical event from various viewpoints as it ensued in real time.
Later, the panoramic format has become Koudelka's preferred approach. It allows him to visualize the spatial relationship between man and nature, the individual and the world. With this format, he has produced iconic images of man-made environmental devastation and the frailty of human civilization. His panoramic photography has also persuaded us to gaze at subjects we are prohibited from viewing for security reasons or that go unnoticed, because they are not part of our everyday world.
He believes that one can acquire knowledge through one's eyes, as he states: "...if you look enough and give enough time, even if you do not have a fantastic brain, ... you will get to certain conclusions and I think I get to the conclusions." His philosophy is visualized poignantly in his photographs of the Roma gypsies and the way in which he learned how to live by observing their way of life and culture.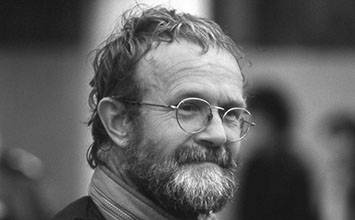 Josef Koudelka, born in Boskovice, a town in Moravia, was fascinated throughout his childhood by folk music, planes, and family photographs taken by the local baker. He seems to have grown up in a close-knit family, which can be inferred from what he has said in interviews about his parents in general. At the age of fourteen, the local baker, also an amateur photographer, introduced him to photography. Koudelka saved up for a Bakelite 6x6 camera by selling wild strawberries picked from bushes on the roadside outside Boskovice. He started taking photographs of his family and the town's surrounding landscape until he left for Prague at the age of eighteen to take up a sensible career in engineering.
Important Art by Josef Koudelka

The below artworks are the most important by Josef Koudelka - that both overview the major creative periods, and highlight the greatest achievements by the artist.


Artwork Images

An Hour of Love (1965)

Artwork description & Analysis: Koudelka contrasts the faces of a man and a woman: his expressionless, calm face and her expressive, articulate countenance. She faces the viewer head on, speaking directly to the audience, while he is seen in profile, gazing down. His head appears suspended in mid-air and his face is graphically abstracted into shapes of light and dark. While her head emerges out of the dark background, anchored by her neck and shoulders. The raw graininess of the black and white image lends drama to the scene, which pulls the viewer in, drawing an emotional response to the noise of the image which belies the silence of the photograph. As the art historian Anna Farova explains, "his theatre photography succeeds in effectively conveying the essence of every performance."

These images of Czech theater were an important first step in Koudelka's process of developing a unique way of depicting theatrical performances in the 1960s. His photographs of theatrical scenes foretell his love for the emotional and stylized rendition of drama. These pictures not only provided the material for his first exhibition in Prague, which took place at the Semafor theatre in 1961, but also the cover images for the important theater magazine Divadlo.

- Magnum Photos, New York, New York


Artwork Images

CZECHOSLOVAKIA. Slovakia. Zehra. 1967. Gypsies. (1967)

Artwork description & Analysis: Three young gypsy boys proudly display their toughness to survive the challenges of their nomadic existence, in spite of their thin bodies, as they puff up their chests like Western bodybuilders. Koudelka's empathy for these peoples living on the edge of society, defined by a homogenous nationalism, enabled him to capture the epic drama of their everyday lives. Koudelka described the gypsy series as the "theatre of the real," as he identified how their lives involved drama, large gestures, boldness, camaraderie, and loneliness.

Koudelka lived among the Roma (gypsies) in Slovakia and Romania in the 1960s, as well as among gypsies in other European countries, spanning a period of sixteen years. Through hard won trust, he established understanding and acceptance between subject and artist, and a symbiosis of respect. The Roma accepted Koudelka as an outcast and even considered him more of a displaced person by comparison. Thus they interchangeably observed one another as the viewer and the viewed. In the mid-1970s, Koudelka published his photo-book The Gypsies, in which he records and preserves the identity of these peoples, as they faced the need to integrate into socialist society in exchange for the promise of equality.

- Magnum Photos, New York, New York


Artwork Images

Invasion of Warsaw Pact troops in front of the radio headquarters (1968)

Artwork description & Analysis: Koudelka captures a male youth's bold gesture of dialogue and peace toward the armed soldiers sitting on top of a moving tank, during the Soviet invasion of Prague in the summer of 1968. He entered the heart of the resistance with an unflinching sincerity: he climbed tanks, mixed with the protesters, positioned himself between the demonstrators and armed soldiers with machine guns. Koudelka vividly documents how Czech citizens resisted by inciting dialogue with the armed soldiers to challenge them to question the reasons given for this aggression. He even photographed the many paintings and posters that appeared daily on the city walls, which were torn down by the invaders by each evening. His work documents the invasion by some 200,000 soldiers and 2000 tanks of Warsaw Pact troops on the night of August 20, 1968 to crush the Prague Spring.

Throughout the weeklong invasion, from August 21st to 27th, Koudelka reputedly took some 5000 photographs. He spent the winter selecting and printing the images. These photographs were published anonymously on the anniversary of the invasion in an ample reportage for the Sunday Times magazine in London and Look magazine in New York. These photographs were prepared from the negatives, which were clandestinely sent to the United States and entrusted to the Magnum Photo Agency. Not until 1984 did Koudelka identify himself as the photographer of these images, which are suffused with a sense of outrage, anger and disbelief. These photographs provide a unique record of a historical event as it unfolded, which is particularly poignant when viewed in relation to the political acquiescence that ensued.

- Magnum Photos, New York, New York
More Josef Koudelka Artwork and Analysis:
Influences and Connections
Influences on Artist
Artists, Friends, Movements
Influenced by Artist
Artists, Friends, Movements

Interactive chart with Josef Koudelka's main influences, and the people and ideas that the artist influenced in turn.
View Influences Chart

Artists

| | |
| --- | --- |
| | Jiri Janiček |
| | David Hurn |
| | Elliot Erwitt |

Personal Contacts

Movements

Influences on Artist

Josef Koudelka
Years Worked: 1958 - Present
Influenced by Artist

Artists

Personal Contacts

| | |
| --- | --- |
| | John Szarkowski |
| | Anna Farova |
| | Cornell Capa |

Movements
If you see an error or typo, please:
tell us
Cite this page

Content compiled and written by Zaid S. Sethi
Edited and published by The Art Story Contributors
" Artist Overview and Analysis". [Internet]. . TheArtStory.org
Content compiled and written by Zaid S. Sethi
Edited and published by The Art Story Contributors
Available from:
First published on 13 Sep 2018. Updated and modified regularly.


[Accessed ]