"I am interested in art as a means of living a life; not as a means of making a living."
"Good composition is like a suspension bridge - each line adds strength and takes none away."
"War deals with man's power - his control over others. Art deals with man's control over himself. Art's desire is to give, war's desire is to possess."
"Never mind bothering about the detail...The camera reproduces the best likeness, but it is only the artist who can produce the temperament of the model."
"There can be no delight in considering a technique that is without a motive."
"I regard the...big annuals as institutions detrimental to art....Art should be persistent; exhibitions should be small...."
"As I see it, there is only one reason for the development of art in America, and that is that the people of America learn the means of expressing themselves in their own time and in their own land. In this country we have no need of art as a culture; no need of art for poetry's sake, or any of these things for their own sake. What we need is art that expresses the spirit of the people of today."
"To succeed as a portrait painter, the artist must combine a certain distinction of work with concessions to the taste of his sitters, for he who pays must be pleased. The artist must also dine and make tea and otherwise waste time, for his clients not only want a good workman to interpret them but also a lion to exhibit. I want to paint better portraits than can be done that way. It's hard enough to do portraits even when there are no other tastes to please."
Summary of Robert Henri
The leader of a group who became known as the Ashcan School, Henri can take credit for paving the way for the development of twentieth-century American Realism. The Ashcan School, or "The Eight" (as they were first known) turned away from the romantic idyls of the Impressionists, focusing instead on the hard realities of urban living; a style that Henri famously coined "art for life's sake". Henri's early works were small landscapes, but he made his name as a painter of larger-scale, unsentimental, portraits.

More than just a painter, however, Henri organized two independent exhibitions that challenged the hierarchal norms of the American art establishment by dispensing with jury selections and the awarding of prizes. Equally well respected as an art educator, Henri encouraged a process of self-discovery among his students, some of whom would join the ranks of America's most important twentieth-century artists. His philosophies on art were published in the book The Art Spirit (1923), a tome that still exerts influence on artists to this day.
Accomplishments
Before Henri, American modernism was represented by the likes of Mary Cassatt and William Merritt Chase whose light palettes and en plein air style saw them carry the torch for American Impressionism. As an artist who was driven rather to represent more relevant (and more urgent) social matters, Henri provided the inspiration for a contemporary group of painters - The Eight and/or the Ashcan School - that concerned itself with subject matter centered on the realities of metropolitan street-life.
Henri's loose brushwork mimicked the expressive style of the earlier Impressionists. But in Henri's hands, the gaiety associated with the former, became subdued through his toned down, more sober, color palette. Indeed, it was a style that, when taken onto the streets of New York by the Ashcan Group, would be transformed into what was to become known as American Urban Realism.
Henri's own reputation as an artist stands on a series of portrait and figure paintings which adopted a candid approach to "ordinary" sitters. His was a democratic approach to portraiture in that he chose his sitters from diverse racial groups and different social classes. As he matured as an artist, he became strongly influenced by the color theories of Hardesty Maratta and adopted the idea that color should be blended like musical cords to achieve the most congruent pictorial effects.
Henri was the key player in the rise of the American independent arts exhibition. A vocal opponent of Academy shows - "to award prizes is an attempt to control the course of another man's work [since] no way has been devised for measuring the value of a work of art" he said - Henri played the key role in putting on the 1910 Exhibition of Independent Artists. The exhibition set the tone for the ground-breaking Armory Show of 1913.
The Life of Robert Henri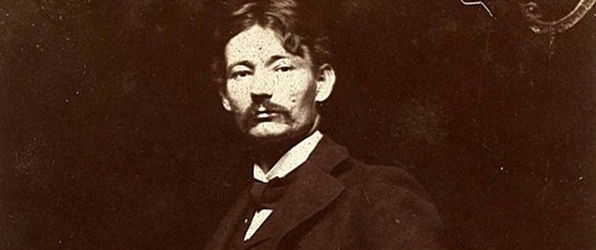 Very much a "man of the people", Henri stated that "In this country we have no need of art as a culture; no need of art for poetry's sake, or any of these things for their own sake". For Henri modern American art should be "art that expresses the spirit of the people of today".
Important Art by Robert Henri
Progression of Art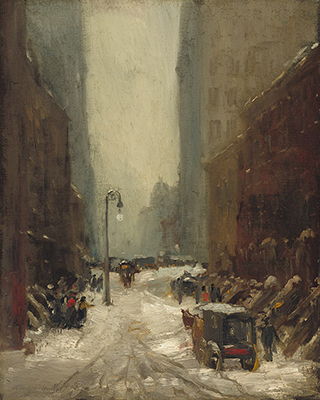 1902
Snow in New York (aka New York Winter)
Having returned from a stay in Paris in 1900, Henri turned to his immediate New York surroundings for inspiration, using its streets as the subject for several paintings. Here he presents a clear winter view down 55th Street which had recently been blanketed by snow. In the aftermath of the snowstorm, there is little human activity and a lone horse-drawn wagon struggling to make it down the street in the right foreground of the canvas offers only a hint of any narrative element.

This painting was made while Henri was the de facto leader of a group that would later become known as the Ashcan School. It bears many of the hallmarks of the Ashcan style: loose gestural brushstrokes, the preference for dark colors, and scenes that often focused on the working-class side of the city and its residents.

Markedly different from the more traditional approaches to art seen in America at the time, according to Washington's National Gallery of Art, "Henri's energetic but stark image of New York in the snow deviates from impressionist urban snow scenes of the period in several ways: it represents a common side street rather than a major avenue; there is nothing narrative, anecdotal, or prettified about the image; the straightforward, one-point perspective composition is devoid of trivial details the exceptionally daring, textured brushwork resembles a preparatory study rather than a finished oil painting; and the somber palette creates a dark, oppressive atmosphere".
Oil on canvas - Collection of National Gallery of Art, Washington DC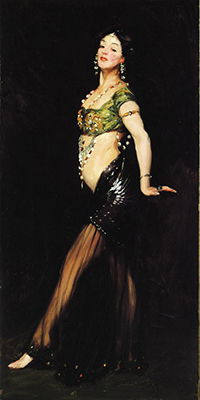 1909
Salome
In this portrait, Henri has depicted the singer and dancer Mademoiselle Voclezca who appeared on stage in the opera Salome about the biblical figure who danced for Herod and requested the beheading of John the Baptist as a gift. In describing this figure, author Alice Murphy states, "unable to see the opera himself, Henri invited [Voclezca] to perform the notorious 'Dance of the Seven Veils' in his studio and painted her there. The artist's brushwork suggests the alluring, undulating rhythms of her dance: Long strokes render her bare waist and transparent skirt. These, in contrast with the rapid staccato paint marks that indicate her jewelry, give the impression that this dance is happening right before you".

This painting is unique in Henri's oeuvre. It is a rare example of a religious-themed work, and a highly controversial subject at that. While Henri painted many portraits, the decision to paint Salome was a highly provocative act given that Voclezca's performance had shocked New Yorkers when the opera premiered in 1907. According to the painting's home, the Ringling Museum, "in choosing this notorious subject, Henri seems to issue a challenge to the conservative fine art world of his day". Given its uncompromising subject, and Henri's innovative style, it also proved to be a rather ironically prophetic painting when one considers that just four years later, Henri, currently the trailblazer for American modernism, would be usurped from that position by European avant-gardists following the 1913 Armory Show.
Oil on canvas - Collection of John and Mable Ringling Museum of Art, Sarasota, Florida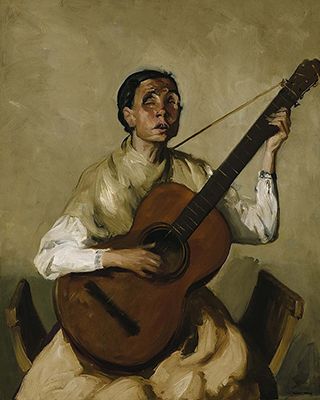 1912
Blind Spanish Singer
Henri made a total of seven trips to Spain during his career. He travelled there more than any other foreign destination and the country and its people provided him with inspiration for many artworks. As with his other portraits, he treated his subjects, drawn from a wide cross section of the Spanish public - including famous dancers, bullfighters, gypsies, street singers and elderly peasant men - with a candid directness. Among his early subjects were two blind street singers who he invited to his studio to play their guitars. Although Henri treated this subject with his typical candor, he worried (unnecessarily) that the painting would be shunned by the public because of his refusal to disguise his sitter's physical deformity.

Holding a guitar which rests in her lap, the woman's mouth is open to indicate she is also singing. The portrait represents Henri's desire to capture something of the ambience of Spain through its citizens. As he once said of the art of modern painted portraiture, "never mind bothering about the detail [...] The camera reproduces the best likeness, but it is only the artist who can produce the temperament of the model". During his first visit to Madrid in 1900, Henri spent many hours at the Prado copying paintings by Diego Velázquez. Indeed, one can see the influence of Velázquez here specifically in the subdued color palette and bland background (that does not distract from the sitter). The portrait fully illustrates Henri's departure from his early Impressionists style that drew more on the influence of Claude Monet and that circle.
Oil on canvas - Collection of Smithsonian American Art Museum, Washington DC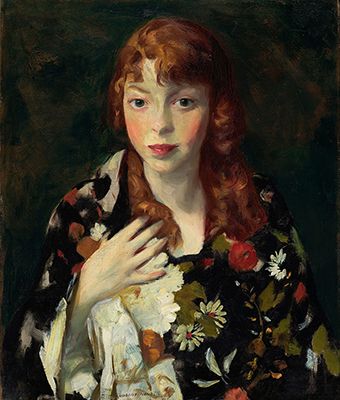 c. 1915
Edna Smith in a Japanese Wrap
In this portrait, a young woman (Edna Smith) is shown in front of a dark background. She is draped in a Japanese-styled shawl that wraps around her shoulders. Covered in white and red flowers and vibrant green leaves, Edna draws our attention to the garment with her right hand which holds it in place across her chest. Edna Smith was a favorite model of Henri's in 1915 and she had already appeared in several portraits that year, including some of her nude or semi-nude. With her red hair and pale skin coloring, Edna represented the artists preference for a particular "type" of model (that included the dancer Jessica Penn and his second wife, Marjorie Organ).

Yet this portrait is more animate than his earlier works, underlining the artist's move away from the darker palette associated with the Ashcan School and his relatively newfound belief in the harmonious qualities of color. According to the Indianapolis Museum of Art, Edna's portrait is quite "typical of Henri's ability to capture his subject's spirit" but by now he had (from around 1909) also "adopted the color system of theorist Hardesty Maratta, which assigns a letter and number to 144 harmonically related colors. Painters could use the system of letters and numbers to carefully plan the color relationships of their paintings [and so, the] rich harmonies of this image based on red and green show Henri's use of the Maratta system".
Oil on canvas - Collection of Indianapolis Museum of Art, Indianapolis, Indiana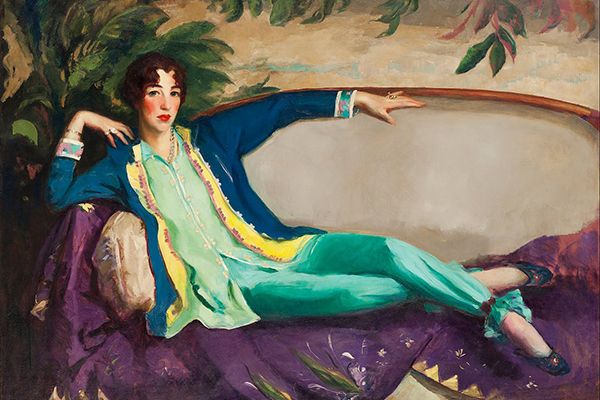 1915-16
Gertrude Vanderbilt Whitney
A formidable figure in the art world, Gertrude Vanderbilt Whitney's first interaction with Henri was in 1915 when she was establishing her charitable organization, Friends of Young Artists. At her request, Henri, with fellow Ashcan artists George Bellows and John Sloan, served as jurors (presumably Henri relaxed his stated aversion for juried selections because of the event's charitable status) for a benefit exhibition for her organization. Whitney duly commissioned Henri to paint her portrait, although she exercised considerable control over how her commission was to be executed.

Where one might have expected Henri to apply the blended Maratta color system he was employing elsewhere, author Bennard Perlman describes how Whitney rather, "chose to wear a brightly colored Chinese costume that she had purchased in San Francisco - a blue jacket with red decorations and yellow lining over a loose-fitting pale blue-green blouse and silk pants [...] and embroidered Chinese slippers". Added to that, she is seen "reclining on a gray sofa, is a tapestry that provides a mass of decorative foliage to frame her bobbed hair [while a] bracelet, four rings and a string of pearls are the finishing touches of this portrayal, at once sumptuous and provocative".

The painting was not without controversy and provides a good example of Henri's approach to realism. As the Whitney Museum describes, "Mrs. Whitney's husband, Harry Payne Whitney, refused to allow her to hang it in their opulent Fifth Avenue town house. He didn't want his friends to see a picture of his wife, as he put it, 'in pants.' Mrs. Whitney's attire and self-possessed demeanor were highly unusual for a well-bred woman of her day [...] Henri transformed the traditional genre of a recumbent female - usually a nude courtesan or the goddess Venus - into a portrait of the quintessential 'modern' woman. The portrait hung in Whitney's West 8th Street studio, which in 1931 became the first home of the Whitney Museum".
Oil on canvas - Collection of Whitney Museum of American Art, New York, New York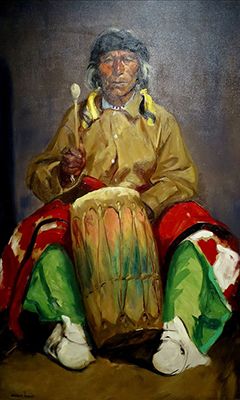 1916
Portrait of Dieguito Roybal, San Ildefonso Pueblo
This portrait is one of twenty Henri painted during a two months stay in Santa Fe in the summer of 1916. His subject, Dieguito Roybal, was a member of the Tesuque Pueblo tribe and here the artist has depicted him wearing a yellow jacket, green pants, and white moccasins. Between his red blanket covered legs sits a large drum which he would play during important tribal ceremonies; a fact that is reinforced by the mallet he holds upright in his hand while he stares fixedly out at the viewer.

Henri was invited to stay in Santa Fe by the director of the American Archeology School who was an admirer of his work and so set him up with a studio in the prestigious Palace of the Governors. According to Perlman, Henri "originally made a memory sketch of the subject as he appeared drumming and chanting the eagle dance during a rehearsal for a performance that was held on the patio right outside of the artist's studio [...] Henri presented the work to the Museum of Art and Archeology immediately after its completion, and Dieguito would sit by the hour staring solemnly at his likeness, oblivious to anyone else in the gallery".

The indigenous people he saw, and the new culture he experienced, had a profound impact on Henri. He later told his students, "I was not interested in these people to sentimentalize over them, to mourn over the fact that we have destroyed the Indian [...] I am looking at each individual with the eager hope of finding there something of the dignity of life, the humor, the humanity, the kindness, something of the order that will rescue the race and the nation".
Oil on canvas - Collection of New Mexico Museum of Art, Santa Fe, New Mexico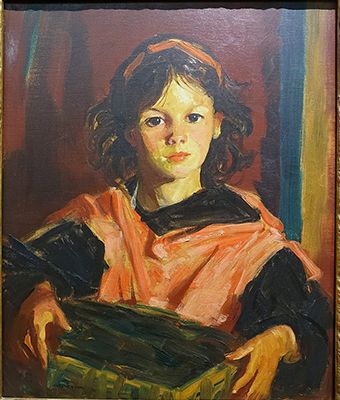 1926
Mary Anne with Her Basket
In the last years of his life, Henri spent a considerable amount of time (half the year at a time) living on Achill Island, in Ireland. Henri purchased a house there in 1925 and devoted most of his creative energies to painting portraits of local children. Amongst those children were siblings Mary Ann and Thomas Cafferty. He painted Mary Ann on several occasions (including Pink Pinafore: Mary Ann Cafferty (1926), and The Pink Ribbon (1927)). As the Currier Museum describes Mary Anne with Her Basket: "Mary Ann is shown to be about ten years old. Wearing a pink smock over a black dress and holding a rectangular basket in her arms, she gazes at the viewer with large, dark eyes. Her serious expression is framed by wavy black hair tied back in a pink ribbon".

As the Currier Museum explains, the painting is not unlike many of Henri's other portraits of children in that he treats his young subjects with "little that is sentimental or indulgent". As it describes: "The sense of frankness that characterizes the sitter stems in part from Henri's realist bent, yet it is also a testament to the respect accorded to children by the artist.

While living in Ireland, Henri established a bond of trust with local boys and girls, enabling him to paint images that are notable for their easy dignity and naturalism. Henri himself was acutely aware of the ability of children to discern the genuineness of adults, and in his well-known treatise, The Art Spirit, he stated: "If you paint children you must have no patronizing attitude toward them. Whoever approaches a child without humility . . . and without infinite respect, misses in his judgment of what is before him".
Oil on canvas - Collection of Currier Museum of Art, Manchester, New Hampshire
Biography of Robert Henri
Childhood and Education
It would be something of an understatement to say that Henri, born Robert Henry Cozad, had an unconventional upbringing. His father, John Cozad, who was distantly related to the American artist Mary Cassatt, was a real estate developer and professional riverboat gambler who set out to build a new town near Cincinnati that he named Cozaddale. Eventually the town would be abandoned due to financial troubles and Henri's father moved his family to Nebraska where, in 1873, he established the town of Cozad. It was here that Henri, now a teenager, gained his first real experience of art making when he helped his father write and illustrate articles for the new town's newspaper.
When Henri's home was burned down in an arson attack, the family, including Henri's mother Theresa, and his brother, Johnny, moved to Denver. Further tragedy struck in 1882 when Henri's father returned to Cozaddale on business and became embroiled in a fight over land rights with a rancher called Alfred Pearson whom he accidentally shot dead. Indicted for manslaughter, and fearing John would be apprehended and brought to trial, the family moved from Denver to Atlantic City (via New York) and changed their identities; keeping them even after John was cleared of all charges by the Nebraskan state. Pronounced "hen rye", Robert became Robert Earl Henri; his brother, Frank Southern Henri, with both boys being passed off in public by their parent's as foster children.
Early Training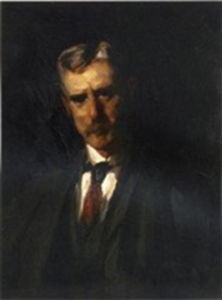 Once settled in Atlantic City, Henri began to focus on his drawing. His career as an artist took their first tentative steps when, in the winter of 1885, the family milkman, himself a former art student, saw Henri's drawings hanging on the walls and, recognizing his innate talent, recommended he attend formal art classes. In the fall of 1886 Henri enrolled at the Pennsylvania Academy of Fine Art (PAFA) where he thrived under the direction of teacher Thomas Anshutz who was especially interested in anatomy.
In 1888 Henri traveled to Paris where he was enrolled at the Académie Julian. He studied under the academic painters Adolphe-William Bouguereau and Tony Robert-Fleury, but he became more enamoured with the technique of Impressionism, and especially the paintings of Claude Monet. Henri took especially to the Impressionist preference for painting outdoors (en plein air) and soon adopted the practice in his own art. His main goal during this time, however, was to become a student at the prestigious École des Beaux-Arts which he achieved (at the second time of trying), following short painting excursions to Brittany, Barbizon, and Venice, during the spring of 1891. However, he found the Beaux-Arts program stifling and took the decision to return home in September of that year.
Mature Period
Once back in America, Henri settled in Philadelphia where he again enrolled in classes at the PAFA. He studied under the American Impressionist Robert William Vonnoh and began submitting paintings to the school's annual exhibition. Henri took up his first teaching post in May 1892 at the School of Design for Women (where he taught drawing and composition classes until 1895). According to author Bennard Perlman, "teaching was rewarding to him from the start, and soon after the initial class he informed his parents that he was a 'considerable success' with his pupils".
While still attending classes at the PAFA he made the acquaintance of a group of four illustrators - William Glackens, George Luks, Everett Shinn, and John Sloan - working for the Philadelphia Press newspaper. The five men met at Henri's studio where they came together to paint and to discuss philosophy and critique art. They called themselves the Charcoal Club. By now, Henri had already started to rebel against what he saw as the sentimental subjects that dominated American art. He implored his new friends and colleagues to free themselves from the dominant European styles and to turn rather to American subjects that should be based on the lived experience of contemporary American life. Finally, he championed individual creativity over any prescribed formal approach. Even after the Charcoal Club disolved, Henri established the practice of holding Tuesday evening gatherings at his studio which also became a meeting/practice space for an amateur dramatic troupe.
In 1885, Henri embarked on what would become a two-year trip to Europe where he made art and taught classes to American students; marking the start of a pattern of travel between home and abroad that would continue throughout his life. It was on this tour that he became enamored with the art of Frans Hals and Édouard Manet. Their influence led him to adopt a darker color palette and initiated his move away from the lighter, more idyllic, Impressionistic style.
Once back in Philadelphia, Henri met and fell in love with a student, Linda Craige, who was enrolled in one of his private art classes. The couple were married six months later (on June 2, 1898) and moved to Paris where they lived for more than a year. Henri painted many city scenes of Paris and European life, and was thrilled when one of his paintings, La Neige (The Snow) was purchased for the Musée National du Luxembourg. Sadly, the couple's happiness was broken when Linda suffered a miscarriage. The personal tragedy was the catalyst for his wife's declining health.
In the summer of 1900, the couple moved to New York City where Henri began painting scenes from his studio window. Having reestablished links with his circle of friends (many of whom were also now living in New York) including Glackens, Luks, Shinn, and Sloan, he planned a group exhibition at The Allan Gallery. The group depicted gritty, unpolished, scenes of daily city. It was a style that became known as Urban Realism and later earned them the label "Ashcan School". (As historian Barbara H. Weinberg records, "The term Ashcan School was suggested by a drawing by [George] Bellows captioned Disappointments of the Ash Can, which appeared in the Philadelphia Record in April 1915; was invoked by cartoonist Art Young in a disparaging critique that appeared in the New York Sun in April 1916; and was given curatorial currency by Holger Cahill and Alfred H. Barr Jr. in a 1934 exhibition at New York's Museum of Modern Art".)
While never organized into a formal group, it was Henri who set out to attract other younger artists to the "Ashcan" style. His most notable "new recruit" was George Bellows who had been Henri's student at the New York School of Art (where Henri had been teaching since 1902). Of his oft-quoted recollection of his very first lesson with Henri, Bellows stated, "my life begins at this point".
In December 1905, Linda suffered an attack of gastritis which was so severe it would take her life. The tragedy coincided with a major shift in Henri's approach to art that came to light at the National Academy of Design's annual exhibition of 1907. The jury had to review more than fourteen hundred works and Henri took issue with the negative evaluations of some artists, notably works by Glackens and Luks. Henri argued that they were criticized simply because they were more modern in their approach and therefore offered an afront to the traditional techniques promoted by the Academy. Henri demanded a second vote on the paintings (which was his right as an Academy member) and when the original verdict was upheld, he removed his own two paintings from the exhibition in protest. The Academy responded to the negative press Henri's gesture generated by removing him from the 1908 jury and by rejecting prospective new members, including Henri's friend, Arthur Davies.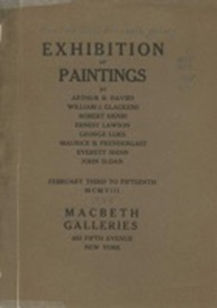 Not long after Henri's public reproach of the Academy's "old-fashioned" practices, he planned an independent exhibition. Opening in February 1908 at New York's Macbeth Gallery, the exhibition featured the work of Henri, Davies, Glackens, Luks, Shinn, Sloan, Maurice Prendergast and Earnest Lawson. The exhibition, which dispensed altogether with the jury review process, proved a resounding success, with several thousand visitors attending in New York before travelling to eight other cities. The exhibition introduced Americans to a different style of art, and although the group only came together for one organized exhibition, critics began referring to them as "The Eight".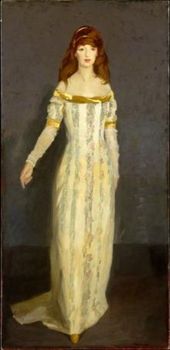 Henri's personal circumstances also improved when, on the New York opening night of "The Eight" exhibition, he met a comic book artist named Marjorie Organ. Twenty-two years his junior, they were married five weeks later. As well as sitting for him (as a model) Marjorie encouraged his work and his teaching and supported Henri in the founding of the Henri School of Art in Manhattan which opened in January 1909 (he sold the school when faced with financial difficulties but continued to teach there under the new owners).
Henri's new wife replaced Jessica Penn, the Ziegfeld Follies dancer who had been Henri's preferred model (calling her "one of the finest nudes I have ever seen") since the turn-of-the-century. Like earlier works such as Jessica Penn in Black with White Plumes (1908), The Masquerade Dress was executed in the style of full-length seventeenth century portraiture which set the model against a plain dark background. Indeed, one can see the direct influence of Diego Velázquez had on Henri here. While he would never paint Penn again, it is point of interest that, like Marjorie, and several other of Henri's female models, Penn was a striking redhead.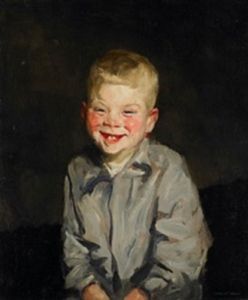 In 1910, Henri made one of two visits to the Netherlands where he became captivated by portraits by Frans Hals. He had painted several portraits of laughing children, and Henri sought to pay homage to the Dutch master after meeting local children, including a lad called Jopie van Slouten. Henri described Jopie indeed as "a great, real human character to paint" and, in the words to author Bennard Perlman, the grinning Jopie "responded to the childless artist's sincerity, warmth and friendship".
Also in 1910, Henri organized a second, larger, exhibition by way of a direct challenge to the National Academy. As The Oxford Dictionary of American Art and Artists describes: "In the United States, Robert Henri first made significant use of the independent exhibition as a vehicle for enlarging aesthetic debate [...] In 1910, along with Walt Kuhn and John Sloan, he instigated the 'Exhibition of Independent Artists.' Presenting about five hundred stylistically varied works in rented space on West Thirty-fifth Street, this event followed the policy of 'no jury, no prizes,' which remained a cornerstone of subsequent independent efforts. Although sales were disappointing, the show drew a huge crowd and provoked controversy, proving that large, inclusive, anti-academic shows could be successful without institutional support". Indeed, the Exhibition of Independent Artists is often cited as the precursor to America's most famous independent exhibition of all, the 1913 Armory Show.
Later Period
Henri's reluctance to embrace the avant-garde styles being fostered on the European continent marked the beginning of his decline as a pioneer of American modernism. His fall from eminence was accelerated by his former friend and fellow artist Davies, with whom, according to Perlman, "resentment had been quietly building for years" over what Davies believed to be the lack of credit he received for his part in planning both The Eight and Independent Artists exhibitions. Davies succeeded in limiting Henri's participation in the planning of The Armory Show in 1913 and when Henri's paintings were seen among the other exhibited pieces, they seemed somewhat conservative and outdated (or "unmodern"). Speaking of the impact of the aftermath of The Armory Show, author RL Foster describes how Henri, "retained his preeminent academic standing as an instructor [...] but the appreciation for the realist work of The Eight was quickly overwhelmed by European modernism. What was viewed as progressive and innovative only five years ago had suddenly became viewed as interesting but not innovative".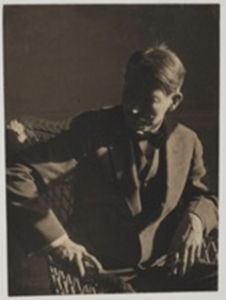 Despite artworks that no longer ranked higher than "interesting", Henri continued to exert considerable influence through his teaching roles. He taught at the libertarian Ferrer School (a school inspired by the influential Catalonian anarchistic pedagogue, Francesco Ferrer) and, from 1915, teacher at the Arts Students League. His classes were always filled to capacity and included some of modern art's great future players such as the Abstract Expressionist Adolph Gottlieb who enrolled in his class in 1921. Henri's teachings on art were so inspiring that when the artist, and former student of Henri, Margery Ryerson approached him about turning her classroom notes into a book he agreed. The Art Spirit was published in 1923.
Much of the artmaking in the last decades of Henri's life were based on his travels overseas. In 1913, for instance, he made the first of what would be several extended trips to Ireland where he would paint both landscapes and portraits (mostly children) of the inhabitants of Achill Island. Henri also made several trips to America's Southwest where some of his most notable works were portraits of Native Americans. The summer of 1928 was to be the last period of painting for the artist who created several portraits while staying in Ireland but was forced to return to America in September when he suffered an attack of neuritis. The pain was so intense he had difficulty painting. It was eventually determined he had prostate cancer and, while it is unclear if Henri was ever made aware of that diagnosis, he succumbed to the illness less than a year later at the age of sixty-four.
Henri's passing is appended by a sad footnote. While his estate had been inherited by his loving wife, she too died less than twelve months later (also from cancer). Marjorie in turn bequeathed Henri's estate to her sister, Violet Organ, who mistakenly believed that the best of her late brother-in-law's' paintings would be worth more if they were fewer in number. As Perlman explains, over the course of several years she, "destroyed an estimated five hundred fifty of his works [...] The canvases were slashed and ripped in order to fit them into the fireplace, and then were burned in the artist's own studio!".
The Legacy of Robert Henri
Henri played a key role in advancing modern art in America at the beginning of the twentieth century; firstly through his leading role in the development of the Ashcan School, and secondly, through the sweeping change he brought to arts exhibition in America. With the former, Henri was instrumental in establishing an American school of art that left behind the pleasing idyls that characterised American Expressionism in favor of a more fluid and "immediate" urban art that captured the dynamic energy of the streets and people of New York. In the case of the latter, Henri abandoned the Academy conventions of juried shows, and through the (retrospectively named) exhibition of The Eight (1908), and the Exhibition of Independent Artists (1910), he helped lay the foundations for America's most important and influential independent exhibition of all, The Armory Show of 1913.
Equal to his reputation as an artist, was Henri's contribution to arts education. In a career teaching at various schools and in private classes, Henri implored his students to free themselves from traditional constraints, forgo the worry over competition and the attainment of prizes, and instead create art that was personal to the student; what he called "art for life's sake". Throughout his career he taught many of America's greatest modern artists including George Bellows, Stuart Davis, Adolph Gottlieb, William Groper, Edward Hopper, Rockwell Kent, Man Ray, and Morgan Russell. Moreover, his musings on art and teaching philosophies were published in the 1923 book The Art Spirit which has become a staple of fine arts education. Indeed, according to author Maria Popova, the world-renowned filmmaker and artist, David Lynch, "cites [The Art Spirit] as a major influence in the introduction to his [own] treatise on mediation and creativity [Lynch's 2006 book - Catching the Big Fish]".
Influences and Connections
Influences on Artist

Influenced by Artist
Artists
Thomas Anshutz

Hardesty Maratta
Friends & Personal Connections
Jay Hambridge

William Macbeth

Gertrude Vanderbilt Whitney
Artists
Rockwell Kent
Friends & Personal Connections
Jay Hambridge

William Macbeth

Gertrude Vanderbilt Whitney
Useful Resources on Robert Henri
Books
The books and articles below constitute a bibliography of the sources used in the writing of this page. These also suggest some accessible resources for further research, especially ones that can be found and purchased via the internet.
biography
written by artist
artworks