Artists
Jean-Honoré Fragonard
Biography and Legacy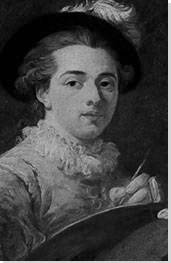 Jean-Honoré Fragonard - Biography and Legacy
French Painter
Movement: The Rococo
Born: April 4, 1732 - Grasse, France
Died: August 22, 1806 - Paris, France

"I paint with my backside."
Biography of Jean-Honoré Fragonard
Childhood and Education
Jean-Honoré Fragonard was born into a family of artisans and merchants in Grasse; his father was a glove maker. The family moved to Paris in 1738, when Fragonard was six, but little else is known about the artist's upbringing. He began to study art as a teenager after a failed apprenticeship to a notary.
Early Training
While Fragonard is sometimes romanticized as an outsider, his artistic pedigree and early success shows that this was far from the case. Fragonard studied with two of the great artists of the preceding generation, Jean-Baptiste-Siméon Chardin and François Boucher, both of whom strongly influenced the themes, settings, and symbolism that would characterize his work throughout his career. Fragonard won the Prix de Rome on his first attempt, in August 1752, and became a student at the École Royale des Élèves Protégés, where he worked to become a history painter. He left Paris for Italy in October 1756 and spent five years in Rome studying art with the support of the French Academy. Upon his return, he worked on his admission piece for the Academy, Coresus and Callirhoë, which was purchased by the Crown for embroidery as a tapestry, winning Fragonard a studio in the Louvre and a commission for a second painting to complement it. He quickly obtained, alongside this, a number of private commissions for both murals and smaller scale easel paintings.
Mature Period
In 1769, Fragonard married Marie-Anne Gérard, fourteen years his junior. Their marriage was subject to some scrutiny, in part because a daughter, Henriette-Rosalie, was born only several months after the ceremony. There would be, over the course of the marriage and after the death of the couple, rumors of infidelity, though concrete evidence for this has not been found. The pair had a son, Alexandre-Evariste Fragonard, in 1780, who would go on to study with Jacques-Louis David and work as a painter. Marie-Anne Fragonard would work as her husband's treasurer for much of her life, painting a number of canvases that were until recently attributed to her husband.
Only a few years after admission to the Academy, Fragonard began to frustrate the artistic establishment, who saw him as a great hope for French history painting, by focusing instead on smaller paintings, drawings and etchings of light-hearted scenes that sold well both to private clients and on the open market. By the end of the decade, Fragonard was being criticized for his professional choices, described by Louis Petit de Bachaumont in 1769 as a painter of "ladies boudoirs and dressing rooms;" in 1771, Louise d'Epinay summarized the establishment sentiment in writing that Fragonard "wastes his time and his talent. He makes money." Fragonard was among the century's wealthiest artists.
Fragonard continued to receive large-scale commissions, but often alienated his clients and supporters by neglecting these commissions or failing to complete them to others' satisfaction. In the early 1770s, he was commissioned to create murals for the home of Marie-Madeleine Guimard, a celebrated dancer, but postponded this work and eventually asked Guimard to raise the fee from 6,000 to 20,000 francs and allow four additional years. The commission was transferred instead to Jacques-Louis David, to Fragonard's apparent satisfaction; this may have been the beginning of the long friendship between the two artists. Guimard's commission was to focus on the Progress of Love series, a group commissioned for Madame du Barry, the King's official mistress. This series was rejected in 1773, likely due to the paintings' mismatch with the more restrained style of Claude-Nicolas Ledoux's architecture.
Shortly after this, Fragonard was employed to travel to Italy as a guide for Pierre Jacques Onésyme Bergeret de Grancourt, a position in which he made many drawings of both the travelling party and the surrounding environment. Bergeret de Grancourt subsequently claimed these drawings as his property, in response to which Fragonard initiated a lawsuit; accounts differ on its resolution. Despite such difficulties working with clients, Fragonard was commissioned in 1775 to create five monumental paintings for the Hôtel de Toulouse in Paris, which he completed in 1780.
Later Period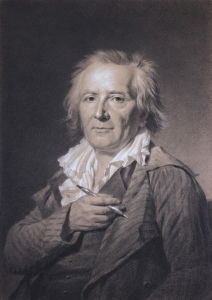 Jacques Antoine Marie Lemoine's Portait of Fragonard in Chalk
After this, Fragonard worked primarily for the open market, producing cabinet pictures that regularly fetched high prices. This was an unusual mode of production for a successful painter in this period and Fragonard has been described, as a result of this, as the first artist to adopt a modern relationship to the art market. This approach to sales afforded Fragonard greater independence than working to commission, though those purchasing his work continued to be in French aristocratic circles.
Despite his relationship with the Ancien Régime, Fragonard was a supporter of the French Revolution, though it is unclear if this was opportunism or geniuinse conviction. The market for his work, however, dried up in this period and fell out of fashion; changes in taste were exacerbated, at this moment, by the association of Fragonard's aesthetic with the lavish society that was in the course of being overthrown. From 1790, Fragonard rented the Villa Maubert in Grasse for his family, where he extended and installed the Progress of Love series rejected two decades earlier. The painter was appointed a curator at the Louvre in 1792, with the support of Jacques-Louis David. Fragonard's death, in 1806, was largely overlooked by the French press and public.
The Legacy of Jean-Honoré Fragonard
Fragonard had only two serious pupils, those being his wife, Marie-Anne Fragonard and her younger sister, Marguerite Gérard. His work had an influence on many contemporary imitators and competitors, though none of these painters achieved the same level of virtuosity as Fragonard himself and their names have generally been forgotten. Fragonard's influence, due to the French revolution's radical reshaping of taste, skipped two generations, with interest in his work resurging after Edmund and Jules de Goncourt accorded him a prominent role in L'Art du XVIIIe siècle (Eighteenth-Century Art), published in 1865. Fragonard's work became quickly popular, resulting in the rediscovery of the Progress of Love series, forgotten in Grasse. His application of paint, with its attention to light and reliance on quick, expressive brushstrokes, had a strong influence on the Impressionists, particularly Berthe Morisot and Pierre-Auguste Renoir, and a lineage can be traced from his work through to the Abstract Impressionists in the United States. His best-known work, The Swing, has become iconic and has been widely referenced by contemporary artists, such as Yinka Shonibare and Kent Monkman, interested in drawing upon or querying the European canon. While Fragonard's thematic concerns were long considered outdated, recent interest in gender, the body and the male and female gaze have given his subjects new relevance; and many artists referencing Fragonard's work do so in order to explore the constructed or performative dimensions of sexuality.
Most Important Art
The Seesaw (1750-52)

The See-Saw is one of a pair of paintings intended to be seen together, both of which show popular games with sexual undertones; the pendant is Blind Man's Bluff, in which a girl peeks out from under her blindfold while a man approaches from behind. Blind Man's Bluff suggests courtship while The See-Saw, intended to be seen immediately afterward, suggests the consummation of the relationship. The See-Saw shows a young man and woman balanced on a plank of wood; the man's end of the plank is at the ground, flanked by two small children, while the woman is raised in the air, her hand catching hold of a branch above. The scene is largely framed by trees, with hints of blue sky and an architectural element visible in the background. At the base of the seesaw are the remnants of a picnic, including a wine bottle that has toppled over.

The garden was often used as a site for fantasy in 18th century painting and games such as these were familiar to contemporary audiences as sexual allegories. This painting was completed while Fragonard was a student of Boucher, who was known for his own paintings of such scenes. Fragonard's treatment of the scene is considerably subtler than those of Boucher, though audiences at the time would have recognized the double meaning in the ripe fruit and blossoming flowers alongside the see-saw itself and the posture of the young girl, who leans backward, her limbs outstretched; it is unclear, however, if the two children are intended as cupid figures or if they are included so as to imply the seduction of a governess. The painting showcases Fragonard's early mastery of many of the elements that would come to distinguish his work, including his use of bright colors, strong tonal contrasts and foliage as a framing element.

Read More ...

Jean-Honoré Fragonard Artworks in Focus:
Jean-Honoré Fragonard Overview Continues Below
If you see an error or typo, please:
tell us
Cite this page

Content compiled and written by The Art Story Contributors
Edited and revised, with Synopsis and Key Ideas added by Anna Blair
" Artist Overview and Analysis". [Internet]. . TheArtStory.org
Content compiled and written by The Art Story Contributors
Edited and revised, with Synopsis and Key Ideas added by Anna Blair
Available from:
First published on 14 Mar 2018. Updated and modified regularly.


[Accessed ]