"I want to express my feelings and thoughts, and I want to distill them so they will be pristine and clear and come back at me...with a new life they never had when inside me."
"The minute I started doing sculpture I felt that it was something I had done all my life. I had no problems with energy."
"I knew my work was good. I didn't doubt it. That was the curious part. I doubted me, but I had faith in my work."
"I don't care about the art world...That isn't it. I live in my own art world now. But just making the art itself is the great thing. It has always been my biggest thrill. It's a joy, a high; better than 10 martinis!"
"I never wanted fame. There's nothing that fills you with joy like finishing a piece that you love."
"I think I've been influenced by everything I ever saw, and by every artist's work."
Summary of Dorothy Dehner
For an artist who came into her own in early middle-age, Dehner left an indelible mark on twentieth century American sculpture. Though critics are apt to attach her to the rise of the New York School, her work remains rather difficult to pigeonhole. It does reveal, however, a consistently in its commitment to the legacies of the early century European avant-garde. Her standing is that of a highly accomplished sculptor - and, to a slightly lesser degree, her drawings/watercolors - whose most famous pieces are totem-like structures that incorporate abstract symbols and place stress on contour over mass. Having escaped a suffocating and cruel marriage to the sculptor David Smith, Dehner saw the potential for abstraction to convey personal and universal emotions, sometimes even with a feel for humor that was conspicuously absent in the work of so many of her contemporaries.
Accomplishments
The strength of Dehner's style is that it remains rather allusive and difficult to situate within a single style or movement. However, her "signature" sculptures, often realized through wax planar slabs (to which she might introduce other textures such as small metal pieces) tended to marry natural and architectural elements. Dehner's liking for totem-like structures remained constant throughout her career and typically incorporated motifs in the shape of arcs, hemispherical (crescent) moons, ellipses, wedges, circles and arches.
Inspired by her tours of Europe, Dehner's sculpture reflected most the influences of Constructivism and classical Greek sculpture. These pieces saw her combine the mythological (Classical) and the monumental (Constructivist) as a means of self-examination. Touching on themes such as the passing of time and memory, Dehner stated, "[I wanted] to express my feelings and thoughts [and to] distil them so they will be pristine and clear and come back to me".
Dehner's vertical compositions were complemented by a selection of smaller horizontal - "open scaffold" - sculptures that represented the landscape, and iconography drawn from nature. The emphasis on layering and line allowed these fragile sculptures to catch light in a way that recreated the natural world. The spectator was able to experience the shifting light patterns as they moved around Dehner's abstract structures.
Dehner produced a series of pen/ink/watercolor images that stand as a reminder of her life at Bolton Landing. Though these pieces provided the blueprints for her more famous sculptures, the drawings/watercolors possess a unique quality all of their own. Taking her inspiration from nature and the organic forms she found in her immediate surroundings, these pieces possess, in the words of art critic Jo Ann Lewis, "sculptural impulses that seem ready to burst into three dimensions".
Important Art by Dorothy Dehner
Progression of Art
Biography of Dorothy Dehner
Childhood
Dorothy Dehner was the eldest of three children born to liberal parents. Her father was the proprietor of a Cleveland pharmacy and a would-be author who penned several unpublished short stories. Speaking of his leftist leanings in an Oral History interview for the Smithsonian Institution's Archives of American Art, Dehner claimed that her father inherited his political views from his émigré grandfather who brought with him his "interest in Socialism [from] Germany". She added that although he "stopped being a Socialist [...] because he thought America was a paradise anyhow and didn't need any such thing", his political ideals "hung on to my father" who became a Democrat and "very active in Cleveland politics [by way] of the populist movement in the Middle West".
Her mother, meanwhile, was a pacifist and actively involved in the American suffragette movement. It was she who is credited with instilling in her daughter the belief that women were capable of great creativity and individual achievement. Indeed, such was Dehner's love of art she was drawing and painting with watercolors - and already telling anyone who would listen: "I am an artist" - before she had arrived at high school. Her formative years were, however, beset by tragedy having lost both parents and both siblings by the time she was seventeen years old. It was following the death of her father that she relocated from Cleveland to Pasadena in 1915 with her mother and her mother's two sisters. Her mother died when Dorothy was still just 15, leaving her in the care of her aunts. Like their sister, Dehner's aunts encouraged their niece's creative activities and passed on to her their own love of music, dance and theater.
Dehner pursued her interest in the creative arts at high school where she was first encouraged to create abstract patterns through cutting and tearing paper. Dehner held fond memories of her her high school art teacher, Miss George of whom she said: "I'll never forget [her] I loved her [...] I remember sitting at my desk, right in front of her, with my mouth open, so I could get more of what she said than just what came in through my ears". On graduating high school, Dehner enrolled as a Drama major at University of California, Los Angeles (UCLA) where she attended between 1921-22. She joined an acting troupe called the Pasadena Playhouse and wrote and performed for/in the Playhouse's theater productions. She also made time to write poetry, study modern dance, ballet and the piano. After a year, however, Dehner had become restless and made the decision to head East, to New York City.
Early Training and Work
Once in New York, she joined the American Academy of Dramatic Arts (AADA). Dehner landed supporting roles in a clutch of Off Broadway productions but, in 1925, she embarked on a trip to Europe which would alter her whole career trajectory. She traveled through Italy, Switzerland, and France. While in Florence, she studied works by the Old Masters and attended a performance by the pioneering German Expressionist dancer, Mary Wigman. In Paris she attended l'Exposition Internationale des Arts Décoratifs et Industriels Modernes which was promoting the Style Moderne (Art Deco), Fauvism and Cubism. These early exposures to European culture left a lasting impression on Dehner.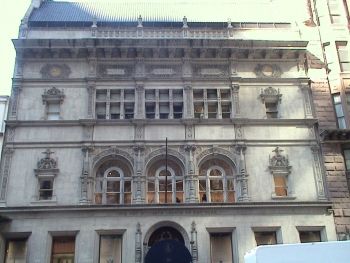 Once back in New York, and giddy from her newfound appreciation of the European avant garde, Dehner committed to becoming a visual artist and duly joined the Arts Students League (ASL), studying and working alongside future members of the New York School. She described her feelings of enrolling at ASL as the "most exciting thing in the world". However, Dehner found the sculptural instruction, then under the supervision of William Zorach and Robert Laurent, too conventional and shifted her focus to drawing and painting which was being taught, respectively, by the renowned teachers Kimon Nicolaides and Kenneth Hayes Miller. Though neither showed much interest in the avant-garde, Nicolaides was instrumental in helping Dehner finesse her drawing skills. It was left to the Czech-American artist Jan Matulka to tutor Dehner in avant-garde techniques such as mixing paint with various textures including ground coffee, sand and even cement. Dehner formed a close platonic friendship with Matulka and the pair would mix socially.
In 1926 Dehner met David Smith with whom she shared a residence on Manhattan's Upper West Side. She recalled: "He and I had the same landlady. He had just come to New York from Washington, D.C. And I had just come from California and he had announced to this landlady that he wanted to be an artist and wanted to go to art school, so she said, 'Oh, I have a girl that lives in one of my rooms and she goes to the Art Students League and she'll tell you all about it.' I arrived that afternoon and I hadn't put my bags down when there was a knock on the door and of course it was David. So he said that she had told him about the League and asked me all about it. We immediately fell into this enormous conversation that lasted until about 2 o'clock in the morning".
Married in 1927, and with a shared appreciation of the European avant-garde - they were part of a social group including Burgoyne Diller, Edgar Levy, Irene Rice Pereira, Mary Lorenc, and Jim Robertson all of whom had fallen under the influence of Matulka's teachings at the ASL - Dehner and Smith committed to the aim of (amongst other things) building a creative partnership of mutual artistic interest. Ever presents amongst New York's bohemian community, they formed close friendships with the Scottish-Irish American realist artist and teachers, Thomás and Wilhelmina Weber Furlong, and with the influential painter and philosopher, John Graham (with whom they would form an especially close bond). It was through these friendships that the couple was introduced to the natural charms of Bolton Landing, near Lake George, in upstate New York. Indeed, the couple purchased a farmhouse in Bolton and spent summers there during the 1930s before making the move away from New York permanent in 1937.
The couple took a trip to the Virgin Isles - because, as Dehner recalled, "we wanted to be like Gauguin" - where they lived on the Island of St. Thomas between October 1931 and June 1932. The island's landscape, and its exotic fauna and flora, proved influential on her own abstract experimentations with texture and organic forms. These elements, which formed her Virgin Islands Series, would carry into Dehner's later career but by which time she would be focused almost exclusively on sculpture.
The couple took a second overseas trip, this time to Europe - visiting Paris, Brussels, London, Greece and the Soviet Union - during the fall/summer of 1935-36. While in Paris, they made the acquaintance of English artist Stanley William Hayter who was a key figure within the surrealist movement and, as founder of the famous Parisian studio, Atelier 17, generally regarded to be amongst the most important printmakers of the twentieth century. While Smith was happy to work with Hayter, Dehner was not won over by surrealism. Once back in America, Dehner produced in fact a series of black and white sketches all or which carried iconographic residues of Greek classicism. Blending these influences with the lessons of Constructivism, and direct observation, Dehner's mature style was beginning to take shape.
Dehner stated that she and Smith's social circle was now made up of "mostly other artists in Brooklyn [...] We knew Rothko and we knew Gottlieb, of course [and] Edgar Levy and his wife, Lucille Corcos were our closest friends". The couple were involved in local and national liberal causes, and active supporters of the Communist Party, but by 1937 the couple had abandoned Brooklyn for Bolton Landing. Here they cemented their friendship with their neighbour, and Dehner's would-be mentor, John Graham.
In her fond recollections of their friendship, Dehner said of Graham: "he was a painter, he was a collector, he was an intellect, he opened great windows for both of us. A very sophisticated, a very intellectual man. And very erratic and as mad as a hatter in many ways, you know, but very wonderful [...] I remember he took us to Gorky's studio. And he said to Gorky, 'These are very talented young American artists.' And Gorky said, 'They look like college kids to me, they'll never be artists.' And of course we hadn't acquired the kind of bohemian thing that was well-developed in Gorky at that time".
Once settled in Bolton Landing, Dehner found that her own career took second place to her husband's and the well documented tensions in their marriage had started to show. In the afore mentioned Oral History interview Dehner was pushed on their time at Bolton Landing by interviewer Garnett McCoy:
"GM: He [Smith] really wasn't a person with what you'd call a sunny disposition?
DD: At times marvellously sunny! Why do you think I stayed up there [in Bolton Landing] twenty-five years? Marvellous! Just wonderful. full of gaiety, full of tenderness but with very unreconcilable extremes of temperament. And his angers and his rages were monumental.
GM: Yes. Really a very contradictory person.
DD: Oh, very! Very extreme in both, but you know warm, delightful, tender, beautiful in his concerns and his tenderness [...] He would do something absolutely lovely [...] and yet there was the opposite extreme that was equally prominent".
Dehner was working mostly on Matulka-influenced oil paintings but, despite Smith's support for her experiments in abstraction, she chose at this time to pursue more representational subject matter. She said later in her Oral History interview: "Although I abandoned abstract art myself and began painting realistically [...] I had a feeling that I wasn't sure enough of what I was doing, and it wasn't then until the 40s that I began painting abstractly again and then it was total dedication. I knew what I was doing, that was what I wanted to do, that was how I wanted it to look. But it took an awfully long time for me, I had all kinds of inner problems about working at all that were going on in the situation".
Joan Marter, President of the Dorothy Dehner Foundation, writes "Both Dehner and Smith were inspired by the same images: the skeleton of a prehistoric bird from the American Museum of Natural History was the basis for Dehner's drawing Bird of Peace (1946) and Smith's Royal Bird (1947-8). For both artists the prehistoric creature became a menacing predator, which can be related to their views about war [both were pacifists] and the destruction caused by World War II. For Dehner, however, Bird of Peace held personal associations; the spectral presence of the skeletal creature and the barren, jagged peaks below it alluded to the anguish of her private life at Bolton Landing".
According to Dehner, Smith saw her principal role as that of homemaker, and her artistic activity was of secondary importance (when compared to his). Dehner said, "David was demanding and competitive [...] He made his sculpture in the basement, but I did all my painting on a little drawing table in the corner of the living room, so his house wouldn't be disordered because of me". He also discouraged her interest in sculpture: "No woman married to David Smith could be a sculptor" she rued in a 1994 interview. Indeed, it is well documented that Smith was altogether dismissive of Dehner's talents as a sculptor though he was publicly supportive of her painting and drawing stating on one occasion that "there are qualities of the dance, delicacies, refinements and harmonies which I greatly admire because they are so far from my own world [and] in this particular family [she] is the one and only prize winner in a national competition". Indeed, Dehner participated in a number of group exhibitions during this period and in 1948 she won the Audubon Artists first prize for drawing.
Despite his ambivalence towards his wife's art, Dehner made a silent impact on Smith's sculptures to which she contributed ideas, titles and assistance in the fabrication process. Dehner's ink and watercolor, Star Cage, for instance, was one occasion where Smith showed outward indifference towards the image but later reinterpreted it as an original work. Dehner nevertheless persisted with drawings, watercolors and some small tempera paintings, and, in due course, began to garner recognition and awards through local jury-led exhibitions. A second incident involving physical violence in the fall of 1950 led to Dehner to separate from Smith permanently.
Mature Period
Dehner had achieved a spectacular reversal of fortune by the mid-to-late 1950s. As Jo Ann Lewis, art critic for The Washington Post, writes, "Within seven years [of leaving Smith] with a new (but still penniless) husband [publisher and art dealer Ferdinand Mann] two stepchildren, a first-rate art dealer to market her work, and a studio of her own on Union Square - Dehner's career took off like a bird let out of its cage".
On leaving Bolton Landing, "she stopped" as Lewis states, "just once: at Skidmore College to finish off, in one year, the three years of credits she'd failed to complete at UCLA". Having earned her degree, she was awarded a solo exhibition (from Skidmore College) in 1952 and also exhibited pieces at the Whitney Annual Exhibition in the same year. While at Skidmore she discovered Ernst Haeckel's seminal 1904 study of natural forms, Kunstformen der Natur (Artforms in Nature), and this inspired her to embark on a series of drawings of microscopic organisms. With renewed confidence she produced several abstractions in gouache and ink. These pieces were related, as Marter pointed out, "to works by such artists as Paul Klee, Joan Miró and Mark Rothko".
Dehner also began to incorporate biomorphic shapes into her paintings, but responding to suggestions that there was a surrealistic bent to these pieces, Marter stressed that "Dehner did not emphasize the disquieting aspects of her imagery [as was the want of the Surrealists] but celebrated [rather] the animate energy of these unicellular forms of life, as seen, for instance, in her [...] 'Virgin Island Series'".
Dehner took on three part-time teaching positions, including one at Barnard School for Girls, and experimented with new improvisational techniques that melded her interest in Constructivism with fantastic flights of imagery. In 1952 Dehner (now aged 51) staged her first solo exhibition at the Rose Fried Gallery. The following year, as a result of a group show at the Metropolitan Museum, she sold a drawing to the Museum of Modern Art and was soon showing regularly in Whitney Annuals. Juxtaposing the spontaneity of Action Painting with linear, biomorphic, and geometric forms in pen and ink, Dehner had arrived at the textured abstractions that anticipated her career-defining sculptures. Indeed, for the mid-'50s on, Dehner focused all her efforts on making sculpture: "I'd always wanted to", she said, "Now I was free to do it".
Her desire to create sculpture was fully reignited when Dehner accepted an invitation from Peter and Florence Grippe to study at the Atelier 17 studio in New York in 1952. Previously forbidden by Smith to join the studio (he told her she would be "embarrassed" by the exacting standards of its teaching) Dehner used the studio to plot her transition to sculpture through a series of intaglio prints. While at Atelier 17, Dehner met Worden Day, Doris Seidler, and the sculptor and printmaker Louise Nevelson. Nevelson had produced a series of bold prints using intricate patterns that were inspired by her travels through Central America. These, and a series of assemblages (which Dehner later photographed for posterity), were much admired by Dehner and the two women became lifelong friends.
In 1955 Dehner held her second solo exhibition, this time featuring small abstract bronzes (which would form the basis of her larger late-career steel and aluminum works), at New York's prestigious Willard Gallery. She enrolled at the Sculpture Center on Long Island City where she was able to learn about the lost wax technique (which she first came across at Atelier 17 in the work of fellow student David Slivka). The Lost-wax process (also known as cire-perdue) is a method of metal casting whereby the molten metal is poured into a wax mold and, once the metal mold is made, the melted wax is drained away. She said of her time at the Sculpture Center, "I was never taught sculpture at all, I didn't need it. The minute I had [the wax] in my hands, I knew what to do". Dehner also experimented with casting bronze although the lost-wax process would be her preferred medium: "[I found the material] so malleable and yet it isn't messy like clay, which never appealed to me. It was a great revelation, I loved working with the material", she remarked.
Late Period
Marter notes that "The serenity and inner harmony that came into Dehner's life and art [became] amply reflected in her achievements of the sixties and seventies". She had continued to employ the stylistic hallmarks of improvisational abstraction throughout her career. Working with bronze, she adapted the lost-wax process to accommodate solid, rather than the traditional hollow, sculptures. At the same time, the scale of her sculptures became larger, ranging from an almost Giacometti-inspired linearity to a flatter, more Constructivist aesthetic. In her use of wax, moreover, Dehner found an especially expressive medium. She said: "I work in wax because it so readily translates the images I want to make. It is so direct, and so sensitive to the hand. My work is constructed, the wax is cut and stuck together-very little modeling is used". By 1965, Dehner had produced enough significant pieces the Jewish Museum in New York was able to present a retrospective of her previous ten years' work.
Throughout the 1960s Dehner experimented with mixing wax slabs with other textures such as small pieces of metal and simplified geometric sculptures cast in bronze. Dehner had also maintained her interest in print making, and through an association with New York's Pratt Graphic Art Center, she exhibited some twenty lithographs at the Tamarind Centre in Albuquerque in 1970-71. Around this time she also produced a series of colour screenprints which were published by the Modern Classics Company owned by her husband. After his death in 1974, Dehner's work reflected a greater architectural aesthetic and a change in medium from cast metal to wood. Her architectonic structures took the form of vertical stacks that resembled cityscapes and skylines. She complemented these with smaller-scale - what Dehner referred to as "toy-like" - wooden pieces that emphasized the wood's natural grain.
Lewis wrote that by the 1980s, with her eyesight deteriorating, it became more difficult for Dehner to conceive of new works and so she and her dealer "undertook to enlarge several of her earlier works with the dual hope that they might raise some much-needed cash and revive interest in the artist, whose reputation had waned in the trend-worshiping art world of the 1970s and '80s". Their plan worked. Dehner began a new sculpture series formed from Cor-Ten and black painted steel. The fabricated sculptures were evolved from the wax and bronze works Dehner produced in the sixties and seventies and in 1983 she received the Women's Caucus for outstanding achievement in the visual arts.
By 1990, Dehner was working with fabricators who helped transform some of her earlier drawings into sculptures such as the painted aluminium wall-piece, The Stretcher Series (sic). In 1993 she produced what would be one of her last important works, Fortissimo (very strong). It was a monumental (some 19 feet tall) aluminium sculpture based on a 1970s bronze entitled Fist. As writers Joan Marter and Paula Wizotski observed, "The result is a dynamic interplay of space and mass that reflects on her later-life interest in the concept of a personal journey". In one of her last statements, Dehner said: "I can't see well enough, and that is a sadness. But on the other hand, I feel I've had a helluva long life, and have been at it more than most people have a chance to. So, I'm lucky". Dehner died in 1994 in Manhattan; she was 92.
The Legacy of Dorothy Dehner
Overcoming adversity in her domestic situation, and despite only coming into her own as an artist in her early fifties, Dehner managed to put her seal on the timeline of mid-to-late twentieth century American modernism. She starred in no fewer than fifty solo exhibitions across the US between 1948 and her death in 1994 and yet for many her work remained stubbornly difficult to categorize. As Lewis writes, "The fact that Dehner never settled down to one signature style - something art commerce favors - has surely helped keep her work from being widely or easily recognized". Indeed, the artist herself had acknowledged that "Some critics have complained that my work was too different, that it took too many forms".
The fact that she produced a body of work that neither followed convention nor bowed to fashion (such as the vogue for welding), lend her sculptures an aura of timelessness. But, as Lewis adds, "No matter how non-objective her works became, they were never without warmth, or reduced to stark geometries". More than that from a personal level, perhaps, her art showed that there were "rare and important lessons to be learned [...] not just about art, but about life and the triumph of positive energy over adversity, of persistence over advancing age". Writing in 2015, the critic Mark Pohlad said of her work, "compared to the sensationalist, politics-saturated art of our own time, there is a wisdom and warmth about Dehner's art - like carefully chosen words spoken in low tones".
Influences and Connections
Influences on Artist
Influenced by Artist
Artists
Jan Matulka
Friends & Personal Connections
Thomas Furlong

Wilhelmina Weber Furlong
Friends & Personal Connections
Edgar Levy
Useful Resources on Dorothy Dehner
Books
The books and articles below constitute a bibliography of the sources used in the writing of this page. These also suggest some accessible resources for further research, especially ones that can be found and purchased via the internet.
written by artist
artworks