"Brewster lived outside Deaf culture, yet he could not escape the way of experiencing the world that being Deaf bestowed on him. He was a visual person."
"What entitles Brewster to his standing as foremost artist among the limners[...]was his ability to project elements of the character of his sitter...."
"More than 150 years after his death, John Brewster Jr. still represents the triumph of art over adversity and the enduring rewards of a meaningful life."
Summary of John Brewster Jr.
A extremely popular portraitist in colonial America, John Brewster, Jr. had an important and influential career spanning four decades. He painted more than 250 images of New England's middle and upper classes, creating a fascinating historical record. He developed a personal Folk art style that went on to influence other painters of the period as well as becoming a reference point for, later, modernist experimentation with flattened perspectives.

Brewster's career was particularly interesting as he was born deaf and was non-verbal, instead communicating via gesture and the written word. As The Fenimore Art Museum in New York notes: "Brewster was not an artist who incidentally was Deaf but rather a Deaf artist, one in a long tradition that owes many of its features and achievements to the fact that Deaf people are, as scholars have noted, visual people."
Accomplishments
Influenced by 18th century British Grand Manner portraits exemplified by Joshua Reynolds and Thomas Gainsborough, Brewster placed a greater focus on domesticity and the everyday, making paintings more intimate and accessible to the wider population in the process. Through this work, Brewster became a key figure in the development of American Folk Art, contributing a simplicity and directness to the style.
Brewster captured the characters and appearances of his sitters, portraying them with an intensity and sense of personality that was novel. He achieved this through the use of a muted palette, soft flesh tones, the inclusion of narrative objects and carefully rendered and expressive facial features. He is particularly known for his sensitive portraits of children.
Most of Brewster's portraits contain a measured stillness and a sense of calm, conveyed through the poses of the sitters and the serenity of any external landscapes or backgrounds. Through this it is possible to gain an idea of the silence that Brewster experienced when navigating the world.
Despite facing many obstacles as a deaf artist working in the late-18th and early-19th century, Brewster overcame these to have a successful career. As a prominent and well-regarded figure, he consequently did much to gain acceptance for the early Deaf community, challenging stereotypes and misconceptions and playing a role in the development of

Disability Art

. His achievements and advocacy also inspired other deaf artists and educators to follow in his footsteps.
The Life of John Brewster Jr.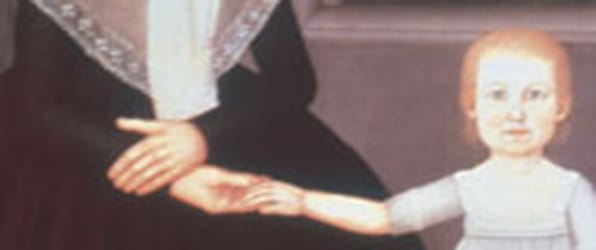 Before the invention of photography, a family's desire to record and preserve images of their loved ones was only achieved through the painting of their likenesses. It was in this climate that John Brewster, Jr. became one of the most famous portraitists of Early America. Through his paintings, Brewster created a visual record of the lives of upper- and middle- class colonial Americans. His achievements were all the more impressive as Brewster was a deaf and non-verbal man; his paints and brushes became one of the ways in which he communicated with the world.
Important Art by John Brewster Jr.
Progression of Art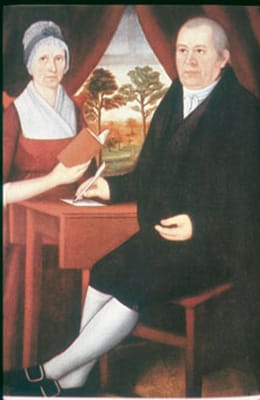 1795-1800
Dr. John and Mrs. (Ruth Avery) Brewster
The subject of this portrait are Brewster's father and stepmother. Seated together at a table and simply, but fashionably attired, John Brewster appears ready to write, while his second wife Ruth Brewster, holds an open book. Both look out towards the viewer, however, and not at these items. Behind them, a red curtained window reveals a rural scene with fields and trees. The feeling of the portrait is one of truthfulness and the sitters' differing facial expressions and postures and the inclusion of details such as the large mole on Ruth Brewster's face, give it a realness not seen in some other portraits of the period, which employed artifice to ensure sitters conformed to the fashionable standards of the day. Characterful faces and poses are seen throughout Brewster's work and he had a clarity of vision and lack of bias that gives an insight into the people behind the portraits.

Typical of Brewster's work, and more generally of portraits of the early American era, the subjects were often depicted with things important to or associated with them. These items can give a glimpse of what life was like at the time, reflecting family life, and societal and gender norms. As professor Harlan Lane explains, "in Brewster's joint portrait of his parents, Brewster's father is positioned in front of his stepmother, consistent with the role of men, who were expected to represent the family in government and commerce and to make important decisions such as purchasing property and livestock. Women were to prepare and preserve food; make clothes, candles, and soap; bear children and attend to them; and manage visitors and the hired help. Dr. Brewster is writing a text; Mrs. Brewster, in a receptive rather than an active role, is reading one."
Oil on canvas - Old Sturbridge Village, Sturbridge, Massachusetts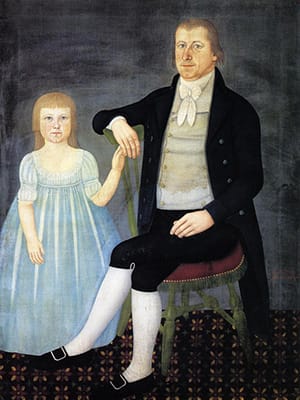 1799
Comfort Starr Mygatt and His Daughter Lucy
This portrait features a formally attired man seated on a red velvet cushioned chair with his left hand resting in his lap and his right holding the hand of a child. His daughter is dressed in a pale blue colored dress and stares formally out at the viewer. The only detail in the background is the vibrantly patterned carpet below their feet.

The wealthy middle class were the most common subjects for John Brewster, Jr. of which this portrait sitter, Comfort Starr Mygatt, a wealthy merchant and silversmith from Danbury, Connecticut is a good example. This painting importantly shows Brewster's ability to capture the spirit and humanity of his subjects and according to the Yale University Art Gallery website, "the heart of the painting lies in [...the figures] barely touching fingers. Stripping the scene of inessential detail, Brewster focuses attention on the unspoken bond between the relaxed father and the solemn little girl raising her hand to touch him. The emotion inherent in the gesture transcends the specifics of time and place." In this way, while depicting people of a particular era, Brewster's figures more broadly represent the timeless and universal love between parent and child.
Oil on canvas - Yale University Art Gallery, New Haven, Connecticut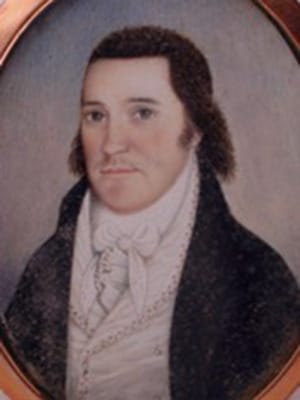 c.1800
Prentiss Mellen
While Brewster is best remembered for his large, often full-length portraits, he also did a number of extremely small works, known as miniatures - this one is just 6cm by 7cm. Made by painting watercolor on ivory, the usually oval-shaped portraits were then placed in a small portable frame. Describing the importance of these diminutive works at this time, Lane states, "miniatures had appeal in the early nineteenth century, as they were portable; thus limners could use them to show a sample of their work. They were also more intimate and less expensive than standard portraits - Brewster charged $5 for miniatures and $15 for portraits."

Unlike many painters, traveling from place to place without planned commissions, Brewster often benefited from the people his wealthy and well-connected family knew for clients, as was the case with this miniature. The portrait is of Prentiss Mellen, an important political figure in Maine. Prentiss initially pursued a career in law in Massachusetts, before moving to Maine in 1792. In 1820, when Maine became a state, Mellon was the first Chief Justice of the state's Supreme Court. He was also a leading abolitionist.
Watercolor on ivory - Maine Historical Society, Cumberland County, Maine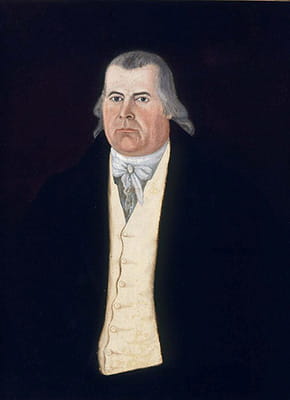 1801
Captain Daniel Tyler
In this striking portrait, Brewster captured his sitter, Daniel Tyler, in a serious pose. Staring straight out at the viewer his expression is a somber one and the figure appears deep in thought. His black coat blends into the dark background of the painting offering a stark contrast to the vivid cream-colored vest and the white cravat and shirt he wears, as well as his gray hair.

In the period in which Brewster painted, those who could afford it strove to have their portraits, as well as those of their children and other loved ones, captured to help preserve their memory for future generations. A portrait was meant to reflect the character of the individual and here, Daniel Tyler is appropriately conveyed as a serious and hardworking member of early-19th-century Connecticut society. Tyler was a typical sitter for Brewster, who were generally middle-class merchants and sometimes military or politically-active individuals. According to professor Harlan Lane, Tyler was both in that he was "a Harvard graduate...[who] served in the Revolution as an artillery captain", but by the time this portrait was painted, he was "a farmer and produce merchant." Brewster's ability to capture the true likeness of his sitter's facial expressions is also evident in this portrait. According to the Fenimore Art Museum, "deafness may have helped to shape his mature portrait style, which emphasizes the sitter's face, particularly their gaze. He achieved a penetrating grasp of personality in likenesses that directly engage the viewer through the use of a muted palette, highlighted flesh tones, and excellent draftsmanship that draws attention to the sitter's eyes. The importance of direct eye contact for a deaf person cannot be overstated. Modern viewers glean a palpable sense of silence in Brewster's serene and ethereal paintings."
Oil on canvas - Museum of Fine Arts Boston, Boston, Massachusetts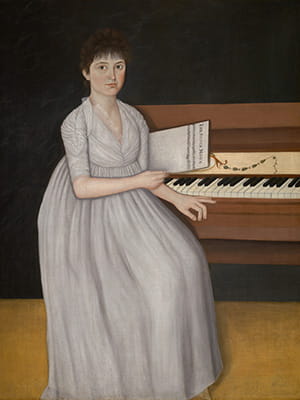 1801
Sarah Prince
A young woman, dressed in a floor length white dress, is the subject of this portrait. Seated at a piano, she turns to look out at the viewer as her left arm rests on the piano as if pointing to the keyboard, while in her right hand she holds a sheet of music. The importance of objects depicted in Brewster's portraits is illustrated in this work. The rarity and costliness of portraits, even for the financially well off, meant that deliberate thought and consideration went in to what the artist was asked to include in the image. Here, the composition provides a look into the life and ambitions of the young woman portrayed. As the Yale University Art Gallery records, the subject is "sixteen-year-old Sarah Prince of Newburyport, Massachusetts, seated at her piano, a symbol of her musical accomplishment. She holds a piece of popular music entitled "The Silver Moon," a love song by English composer James Hook, first published in 1794 and widely reprinted in the United States. Because sheet music was printed from a single engraved plate, Prince's partial copy must have been transcribed by hand. A study of the source music reveals that this is only the first line of the music, not even enough to capture the song's full refrain. In Brewster's thoughtful and eloquent portrait, Sarah rehearses the unfinished song of love while herself at the threshold of adulthood."
Oil on canvas - Yale University Art Gallery, New Haven, Connecticut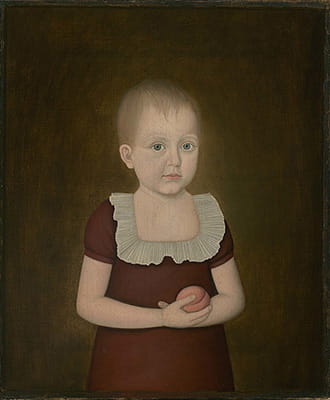 c. 1810
Child with a Peach
While John Brewster Jr. is known to have painted at least 250 portraits in his career, an impressive number for the period in which he worked, his portraits of children are arguably some of his most moving. Here, an unidentified girl is depicted in a burgundy dress with a white ruffle collar. Her cropped blonde hair serves as an indicator of her young age and she stares out with wide-eyed innocence, as if trying to hold the viewer's gaze. Her arms are crossed in front of her and in her right hand she holds a peach. The background is a simple blending of shades of brown and yellow to ensure the focus is solely on the child. As with many of Brewster's portraits, a sense of quiet and calm permeates the piece which is at odds with the age of the child and may reflect the artist's silent experience of the painting process.

While folk art of which Brewster is a part, has sometimes been described as overly simplified, this did not prevent the artist from touchingly capturing the personalities of his subjects, which he often achieved by the inclusion of items surrounding the sitter, and or in this case, being held by the subject. The Museum of Fine Arts Boston notes that the peach the child holds may be of significance in that, "the sweet fruit's season is brief in New England's cool climate, so the artist may have included it to remind the viewer of the preciousness of childhood. Brewster's rendering of the child's expression is tender and convincing. His delicate paint handling and quiet colors enhance the serenity of this image and communicate the frailty and innocence of children."
Oil on canvas - Museum of Fine Arts Boston, Boston, Massachusetts
Biography of John Brewster Jr.
Childhood and Education
John Brewster Jr., whose ancestors could be traced back to the Mayflower and some of the earliest settlers in America, was born the third of seven children to Puritans John and Mary Brewster in 1766. His family was well established in their community and his father was a prominent physician. Brewster was born deaf and non-verbal into a hearing family at a time when any established means of formal communicative language such as American Sign Language had yet to be developed. It is believed that Brewster lacked any formal education and instead developed his own way of communicating with those around him and this may have contributed to his passion for painting which he possessed from an early age. Brewster's mother died when he was a teenager and his father remarried six years later, giving him a large extended family.
Early Training
Brewster's talent was first recognized by family friend, the Reverend James Cogswell, with whom Brewster went to stay in 1790. Cogswell and his son Mason would become Brewster's first patrons. According to professor Harlan Lane, "since religion and the church played a central role in Puritans' lives, it is not surprising to find the eminent pastor of the church in Scotland, Connecticut...receiving the son of his former parishioner. Cogswell's diary entry dated December 13, 1790 [describes Brewster as] ...a deaf and dumb young man...He is very ingenious, has a genius for painting, and can write and converse by signs so that he may be understood in many things". Cogswell organized for the twenty-four-year old Brewster to take his first formal art lessons with Cogswell's friend and artist Reverend Joseph Steward. Steward, was influenced by the portraits of Ralph Earl, and it is in that style that he trained Brewster.
The earliest subjects for Brewster became his own family and friends including his young half-siblings. According to Lane this choice of subjects was likely because, "family members were readily available [and that] Brewster had found a form of communication with the people he loved, a form in which he was the expert and whose messages were intelligible to them too".
Mature Period
Brewster soon found that his skill as a portraitist would allow him to make a living, as Lane states, "painting was one of the few professions in which Deaf people did not have a marked disadvantage". Brewster was also fortunate to have a moderately well-off family which meant he could count on them for financial support, housing accommodations, and introductions to potential clients as he entered the world of commercial painting.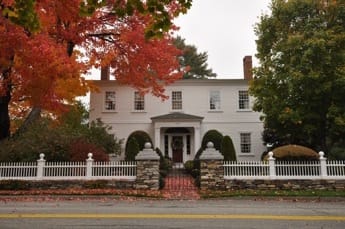 In 1795, Brewster made his first significant journey for his art, when he left his family in Hampton, Connecticut for Maine, to visit his younger brother Royal, a physician who had got married and set up home in Buxton. In addition to painting their portraits, for the two years he lived with his brother, Brewster traveled to nearby towns and painted many wealthy and important merchant families. After returning to Connecticut in 1797 and painting more portraits in towns near his father's house, he, once more, travelled to Buxton to rejoin his brother. It was here that he made his home for the remainder of his life. Brewster was never short of sitters and as Lane explains, he, "adopted Buxton as a base from which he would sally forth to numerous clients in New England and to which he would return. Buxton was well situated for the purpose, not far from Portland (sixteen miles away) and on a major trading route linking that port with rapidly expanding settlements in central New Hampshire."
Like iterant painters of the period, Brewster traveled from town to town for his work, but his ability to anchor himself with his family allowed him more security than other artists of the period. Many of Brewster's commissions also came through his family, as Lane explains, "Brewster did not have to go door to door to obtain his commissions. Because he came from a distinguished and well-established family that included three doctors with their wide circle of patients, kin, and connections, Brewster secured commissions, generally from a middle-class or upper-class clientele, in advance of traveling to their homes. Once there, Brewster would paint their portraits and place advertisements in the local newspaper to secure other clients."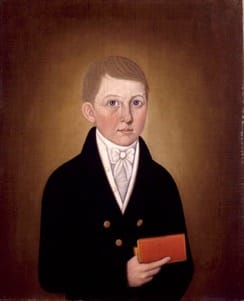 Fortunately for Brewster, as he began to establish himself as an artist, a desire for family portraits was increasing and, along with it, demand for his work. According to Lane, the growing mercantile middle classes, "wanted their likenesses taken and their achievements displayed. For these patrons, a portrait was not only an affirmation of self-importance, a badge of achievement in a young society that distributed few titles and honors, it was also...a mark of elect status, since the Puritans believed that early rewards went to those in a state of grace. The portrait may have been as well a record of the family and a legacy for the sitters' descendants, so that they might have an image of the man who created the family fortune." As Brewster's reputation continued to grow so did his travels and newspaper advertisements of the period offer proof that he worked in numerous places including Portland, Maine; Hampton, Connecticut; and Newburyport, Massachusetts. In these cities he would often be engaged by a family to paint portraits of each member and several groupings such as mother and child and father and son.
Later Period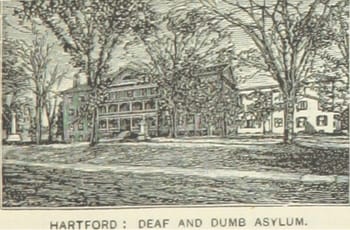 After three decades of work, Brewster made a significant decision to pause his career in 1817, at the age of fifty-one. It was at this time that the first school for deaf education, the Connecticut Asylum for the Education and Instruction of Deaf and Dumb Persons, opened in Hartford and Brewster. Eager to see what the institution had to offer he enrolled in the groundbreaking program. In so doing he became the oldest of the seven students in the inaugural class. The school, run by Thomas Gallaudet, was an amazingly positive experience for Brewster who stayed there for three years. In addition to learning sign language, he became part of a Deaf community of peers and friends for the first time in his life.
Unlike his other classmates who went on to pursue further studies, after concluding his academic program, Brewster returned home to his family and went back to portrait painting. Interestingly, after his return, Brewster's paintings seem to focus more on the details of his subjects' faces, although whether his time away and perhaps his new-found confidence, influenced this change or whether it was just an overall maturation of his style is not clear. Of this new approach, Lane states, "when Brewster returned to painting canvases in 1820, after spending three years at the school for the Deaf, he modified his technique to produce great modeling of facial features with more shadowing; facial expressions became more somber. He also allowed gray priming to show through the thin layers of paint, making complexions ruddier and less delicate than the skin tones of his earlier works."
The last years of Brewster's life were not easy or nearly as productive and he struggled financially. Brewster's brother Royal died in 1835. Even without the financial security of his brother, Brewster's reputation at the time was great enough that he would have been able to continue earning a good living as a portraitist, had it not been for the development of the first photographic images around 1837, which changed everything. From that point forward Brewster was left to observe the decline of the public's interest in the commissioning of family portraits and the rise in popularity of the photograph. The height of Brewster's career had ended and the last known painting of his is dated 1835. He lived quietly for the last years of his life and died in 1854 at the age of 88.
The Legacy of John Brewster Jr.
At a time when travel was difficult and marketing means were limited, John Brewster Jr. managed to make a significant career for himself as a portrait artist. According to professor Harlan Lane, "in all, approximately 250 portraits have been found and attributed to Brewster. All were painted [within]...a span of about forty years, starting when Brewster was twenty-nine and ending when he was sixty-eight." Although a recognized and highly-regarded artist in his own lifetime, the development of photography eclipsed Brewster's career and his art was forgotten for decades. As Lane states, "it required half a century of living with photography for us to rediscover the merits of the limner's art [an iterant portrait painter], which comes to us not only framed by human vision but processed over time by human apprehension." Regardless, Brewster left the world with "an invaluable record of his era and an artistic legacy".
While Brewster helped to define the art of the colonial portrait, and influenced other portrait artists of the period, his choice of both a muted color palette and flat style, was one that would later be used by modern artists in their work. According to Lane, "like the Post-Impressionist Paul Cézanne more than a half century later, for example, Brewster gave less importance to linear perspective and more importance instead to separating people and objects with overlapping forms and contrasting color planes" in what was at the time a completely new and modern approach to painting. Of this modernity, Lane adds, "the limners [and specifically Brewster] created a modern look in part because both they and modern artists moved toward the picture plane and were concerned with the structural properties of a painting...Since the rise of cubism and nonobjective painting, the work of the limners is appreciated as never before. In these two art movements, as in liner art, simply stylized forms are often favored, there is an emphasis on surface pattern and design, the underlying geometry of shapes is exposed on the surface, and multiple perspectives can coexist. Further, like Brewster, some major modern artists worked outside the discipline of academic art because they were largely self-taught and invented their own methods, such as Calder's mobiles, Oldenburg's soft sculptures, Pollock's drip paintings, and Stella's shaped canvases."
Influences and Connections
Influences on Artist

Influenced by Artist
Artists
Winthrop Chandler

Ralph Earl
Friends & Personal Connections
Laurent Clerc

James Cogswell

Mason Cogswell

Thomas Gallaudet
Movements & Ideas
American Folk Art

Colonial Art

Early American Art

Elizabethan Painting
Artists
Winthrop Chandler

Rufus Hathaway
Friends & Personal Connections
James Cogswell

Mason Cogswell
Movements & Ideas
American Folk Art

Colonial Art

Limner Art

Portrait Painting
Useful Resources on John Brewster Jr.
Books
The books and articles below constitute a bibliography of the sources used in the writing of this page. These also suggest some accessible resources for further research, especially ones that can be found and purchased via the internet.
biography
artworks