Artists
Rebecca Belmore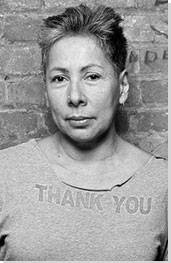 Rebecca Belmore
Canadian Performance and Installation Artist
Movement: Performance Art
Born: March 22, 1960 - Upsala, Ontario, Canada

"As an Indigenous woman, people don't think I know what I'm doing"
Summary of Rebecca Belmore
Rebecca Belmore's work is permanently infused with a sense of distress, displacement, and ultimately full-blown rage regarding the long-standing prejudice and brutal violence experienced by Indigenous peoples. She is dedicated to giving voice and raising awareness surrounding the attempted erasure of Native-American culture and, as such, Belmore was the first aboriginal woman to represent Canada at the Venice Biennale in 2005. She uses a sophisticated aesthetic language privileging beauty as an important artistic tool necessary to make even the most hideous of subject matter accessible. She has an unwavering interest in human connectivity and generates conversation - however painful - from an intimate starting point reaching outwards. As an Indigenous woman, Belmore feels at once silenced and nourished by her roots. Thus although she focuses intensely on her own heritage, a similar tension lies at the heart of all in-depth discussions surrounding identity.
Key Ideas
Belmore is devoted to exposing the magnitude and tragedy of violence against women. More Native-American women are murdered in America and Canada than any other ethnic group. Perpetrators of these heinous crimes are often not brought to justice. Accordingly, traces of violence, including piercing screams, blood, and cut flesh all appear in Belmore's work. Through art, she successfully brings to our attention that even in so-called "civilized" countries at peace, women continue to be humiliated and mindlessly killed.
Belmore often evokes religion and ritual in her work, including circles of candlelight and shrouded Madonnas. These are similar motifs to those that appear in the work of Cuban émigré artist,
Ana Mendieta
. Both artists instill certain objects with particular significance and manipulate these with care to explore meaning, a tendency shared with other performative multi-disciplinary female artists including
Marina Abramović
,
Mona Hatoum
, and
Yoko Ono
. Interestingly, all strangers occupying new lands, Belmore joins these notable
Performance
artists in exploring notions of universal belonging alongside being objectified and labeled as "foreign".
The use of color symbolism is particularly strong in the work of Belmore and she often uses the color red to signify pain. Furthermore, red usually has the association of blood spilled in the literal physical abuse of aboriginal people. Some works show people bound in red and white fabric in very awkward and difficult-to-maintain positions. Belmore uses these strong colors alongside certain aspects of beauty to capture the viewer's attention. On closer inspection, she reveals that trauma is at the core of her practice but retains too strong belief in the healing power of aesthetic harmony.
The artist feels a strong connection to nature, and describes herself and all people as "elemental". This idea translates into Belmore's use of materials, as she often uses mud, water, wood, cotton, and animal skin. The natural materials appear at first to bring comfort, but they often also allude to absence and loss, with blood and water spilled and voids created beneath hides and empty clothes. The artist consistently highlights the fact that human misdemeanors betray nature.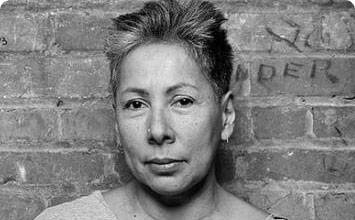 Rebecca Belmore was born into a large Anishinaabe family (part of the Lac Seul First Nation) in Upsala, Ontario, Canada. She was raised in Sioux Lookout, and spent every summer until the age of 16 with her maternal grandparents in Northwestern Ontario, with whom she spoke only in the language of her ancestors, Ojibwa. She explains that her grandmother "resisted the English language" and refused to learn English, whereas Belmore's mother was committed to her speaking only English in order to be able to survive and thrive in "this new world". Belmore's two older brothers were both sent to residential schools where they were forbidden to speak their Native language. During these summers, Belmore also learnt from her grandmother about harvesting/foraging food from the land, as well as trapping and fishing.
Important Art by Rebecca Belmore

The below artworks are the most important by Rebecca Belmore - that both overview the major creative periods, and highlight the greatest achievements by the artist.


Artwork Images

Creation or Death: We Will Win (1991)

Artwork description & Analysis: This work, presented as part of the Fourth Havana Biennial in Cuba, was video recorded and subsequently presented at other venues. During the actual performance, staged in a sixteenth-century colonial fort, Belmore stands at the bottom of the staircase of a large courtyard, with her ankles and wrists bound with bright red string. Suddenly, she raises her head and screams in frustration, before dropping to her knees and pushing piles of sand up the stairs one at a time, working hurriedly and with intense concentration. She breathes heavily and grunts with the labor of physical exertion. Once she has reached the top, she stands up, unties the cords binding her ankles and wrists, and cries out triumphantly.

The performance alludes to the way that marginalized peoples (including Canada's First Nations population, as well as the people of Cuba) struggle to preserve elements of their heritage (represented by the trail of sand left behind as Belmore attempted to move the sand to the top of the stairs) whilst at the same time escape oppression. The colonial fort in which Belmore carried out the performance, the Castillo de la Real Fuerza, was constructed by slaves and prisoners forced to labor for the Spanish military. Belmore recalls of the performance, "I realized I didn't have to speak [before the performance]. I could use my body to speak and speak without language. That was really a turning point. I was bound with my hands and ankles moving towards the sky and freedom, which I think really changed, for me, the way I saw myself working in the future. That was a pivotal moment." Beyond the direct connection of supporting and standing up for marginalized Native Canadians, Belmore's work speaks up for identity more generally. The red cord signifies a tie of origin, possibly referring to umbilical connection. The work therefore demonstrates that exploration of identity from it's earliest beginnings can be at once invigorating and revelatory, but also potentially suffocating.

Performance - Castillo de la Real Fuerza, Havana, Cuba


Artwork Images

Mawa-che-hitoowin: A Gathering of People for Any Purpose (1992)

Artwork description & Analysis: In this installation, Belmore placed several chairs (from her own kitchen as well as the homes of other women in her life) in a circle upon a floor she constructed out of plywood and painted with flowers. A pair of headphones sat upon each chair, and visitors were invited to take a seat and put on the headphones, through which they heard stories of struggle and triumph from various indigenous Canadian women. This work was commissioned for the National Gallery of Canada's exhibition Land, Spirit, Power, which was an exhibition of indigenous art marking the 500th anniversary of Columbus' arrival in Hispanola.

It was important for Belmore to use Native traditions of storytelling and the oral transmission of elder wisdom in this work, as well as the use of the circle as a site of listening, speaking, and developing understanding. Belmore's personal influences were a driving force behind the work, and she explains, "I have with me the influence of my Kokum (grandmother) and my mother... I see their hands in my work... I can see their hands touching hide, cloth, and bead, creating color, beauty: working hands. I look at my hands and I am aware of their hands. That is how I wish to work" The wooden floor she constructed for the chairs to sit on alluded to the importance of the connection between man and nature.

Highlighting connectivity through female family linage is a notion also fully explored by the British/Palestinian artist, Mona Hatoum, and particularly in the work Measuring Distance (1988), which features a series of tapped conversations between the artist and her mother. Hatoum is also interested in the kitchen as a setting for art and she returns to this marriage often. As in the work of Belmore, throughout the career of Hatoum, the out dated idea that domestic environments are passive is entirely subverted and kitchens (alongside other previously unremarkable locations) become vibrant places for dialogue and conscious happenings.

Interactive installation (audio recordings, headsets, chairs, plywood, linoleum, wood stain) - National Gallery of Canada, Ottawa, Ontario, Canada


Artwork Images

State of Grace (2002)

Artwork description & Analysis: This black-and-white photographic work presents a young Indigenous woman (Belmore's sister), serene and with eyes closed, draped in white fabric, with her arms cradled across her chest and stomach. The photograph has been cut into inch-wide vertical strips that waver as gallery visitors move past, making the image quite unstable and suggesting that it could change or disappear at any moment. The woman appears angelic, even iconic in her slumber.

British curator Rebecca Travis writes that this work offers "a gentle and intimate reflection on family, memory and sisterhood," with the fluttering of the vertical strips of paper being "breath-like". By contrast, artist and writer Rupert Nuttle sees the physical slashing of the photograph as "suggestive of a latent violence inflicted on her body". Art historian Claire Raymond asserts that the work actually satisfies both interpretations. Raymond recognizes that State of Grace alludes to motherhood; indeed, the sleeping figure's arms are positioned as if cradling an invisible infant, yet at the same time, the image is haunting as it is left ambiguous as to whether the female subject is merely sleeping, or is in fact dead.

In Raymond's words, "in death, she hovers at the edge of the living, she has been given a place of honor, in this image, signifying that she is among the innocent. She inhabits a state of grace, this being a condition of being free from sin - either because she has never sinned or because she has been entirely absolved. The peacefulness and sorrow of the photograph do not cover up the violence of the abduction and murder of indigenous North American women, but instead the image face that fact with a concern for the remembrance of the dead. It commemorates the women who are blameless for the violence that was done to them [...] the model performs symbolically as the holy dead; she gives the dead voice, body, and space". This is a very real concern in Canada and North America, as an unusually high percentage of indigenous American women are reported as missing or murdered. They are entirely innocent as the white cloth signifies; victims of mindless racism, they are stolen from the earthly realm to be restored in the heavenly dimension conjured in this image.

Photograph - Morris and Helen Belkin Art Gallery, Vancouver, British Columbia, Canada
More Rebecca Belmore Artwork and Analysis:
Influences and Connections
Influences on Artist
Artists, Friends, Movements
Influenced by Artist
Artists, Friends, Movements

Interactive chart with Rebecca Belmore's main influences, and the people and ideas that the artist influenced in turn.
View Influences Chart

Artists

Personal Contacts

| | |
| --- | --- |
| | Scott Benesiinaabandan |
| | Osvaldo Yero Montero |
| | Florene Belmore |

Movements

Influences on Artist

Rebecca Belmore
Years Worked: 1986 - present
Influenced by Artist

Artists

Personal Contacts

| | |
| --- | --- |
| | Scott Benesiinaabandan |
| | Osvaldo Yero Montero |
| | Florene Belmore |

Movements
If you see an error or typo, please:
tell us
Cite this page

Content compiled and written by Alexandra Duncan
Edited and revised, with Synopsis and Key Ideas added by Rebecca Baillie
" Artist Overview and Analysis". [Internet]. . TheArtStory.org
Content compiled and written by Alexandra Duncan
Edited and revised, with Synopsis and Key Ideas added by Rebecca Baillie
Available from:
First published on 02 Dec 2019. Updated and modified regularly.


[Accessed ]