Progression of Art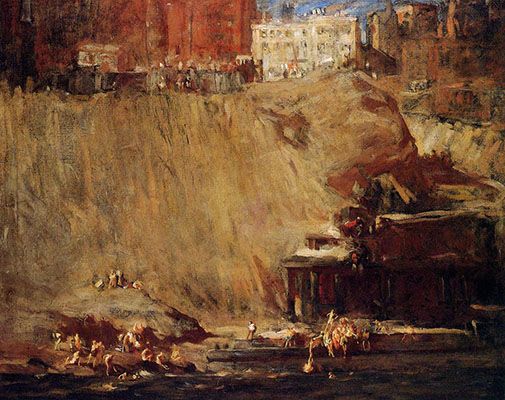 1906
River Rats
The focus of George Bellows's painting River Rats is a group of boys in the foreground lounging and splashing at the insanitary East River. The boys are playing in the shadow of a construction site and behind them is a large mound of dirt that acts as a barrier between the boys and the buildings that make up the cityscaped horizon. Under the direction of his teachers Robert Henri and John Sloan, Bellows took inspiration from the everyday events such as these which he observed while wandering, flaneur-like, through the streets of New York City. Here Bellows creates a stark and grittily modern realism in which the urban poor find their moments of amusement and escape.

This work serves as a good example of how Bellows's approach to painting would secure him a place in the Ashcan School of art. While many of this group's paintings have been interpreted as statements about the social inequality, for Bellows it was more an act of using his canvas to document the world he as he observed it. According to Mary Sayre Haverstock, "if such subjects seemed sordid, and many critics found them so, Bellows saw them in terms of movement and color. [...] social reform was not on Bellows's artistic agenda because, yes, there was beauty in the way the other half lived".
Oil on canvas - Private collection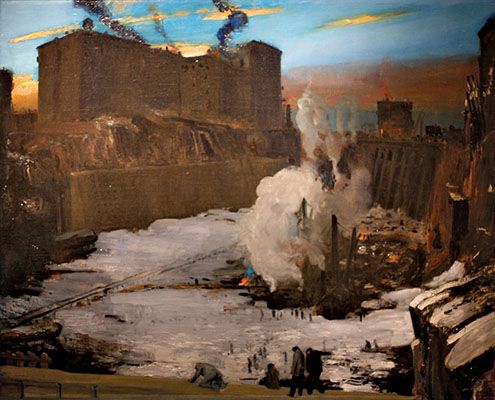 1907-08
Pennsylvania Station Excavation
In the middle foreground of the canvas is a large area of snow-covered land on which excavation machines are at work. That the digging takes place below street level is clear from the walls around the site and the loosely rendered dark shapes intended to represent city buildings behind it. Steam billows from the machinery while the foreground is broken up by four silhouetted figures, looking down on the activity below.

Perhaps inspired by his father's work as an architect, Bellows took a great interest in the construction of New York City's Pennsylvania Railway Terminal (built between 1903 and 1910 and demolished in 1965). As an adopted son of the city, Bellows would have had many opportunities to stop and observe the ongoing construction in various stages over the years which he then memorialized. Bellows rendered this scene in a modern style consisting of broad swatches of color yet lacking detail to a point that hints at semi-abstraction. The dynamic, unbalanced composition signifies the rapid transformation of New York City in the early part of the century. The frozen winter atmosphere and the onset of dusk, meanwhile, bring an added sense of drama the scene; workmen are humbled both by the sheer scale of the manmade pit and by the unstoppable forces of nature.

When included in a New York School of Art exhibition (under the direction of Robert Henri) this painting, like those produced by his colleagues, was met with mixed reviews. According to Mary Sayre Haverstock however, John Sloan, another teacher at the school, foresaw the importance of these early works and described the exhibition as, "a great show" and suggested that "If these men keep on with this work (they don't need to 'improve') it means that art in America should wake. Henri is as proud as a hen with a brood of ducks". Sloan's prediction proved insightful as the exhibition led to the formation of The Eight, and the Ashcan School.
Oil on canvas - Collection of Brooklyn Museum, New York City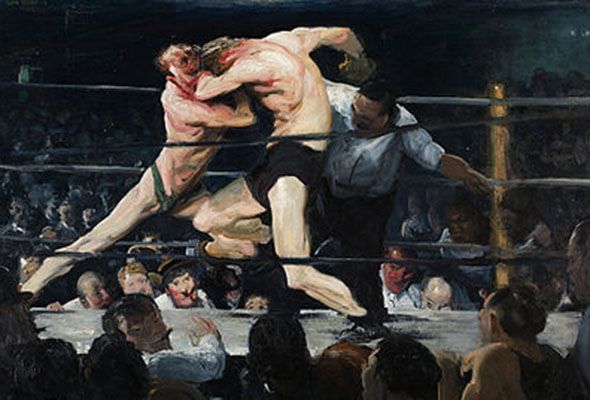 1909
Stag at Sharkey's
One of his many sports/boxing-themed paintings, and one of the most iconic paintings of twentieth-century American art, the work depicts two boxers locked in a hold as they compete in the center of a ring. The rivals are presented through pyramidal composition that hints at classical sculpture. Looking for potential rule infringements, meanwhile, a referee is hunched closely the right of the fighters. A cigar-chewing ringside spectator turns towards the painter, imploring him (or maybe us), through his pointing finger, to give our full attention to the fight at hand. Indeed, Bellows separates the fighters from their surroundings, not only through the ringside ropes, but through the bold use of color and shading. Notwithstanding his ability to intensify the drama of the picture in this way, the quality of the painting is evident in Bellows's skill at rendering the intense physicality - in the interlocked, sinewy bodies of the boxers - and energy - the rumbustious crowd and the urgent (futile?) intervention of the referee - by means of fluent impressionistic brushstrokes.

A sports lover since his childhood, the series of boxing paintings reflected Bellows's growing interest in the sport which developed only after he moved to the city. Amateur boxing bouts were illegal in New York and so contests such as this had to take place in privately run clubs. Tom "Sailor" Sharkey, a US Navy veteran, and former boxer himself, founded his eponymous club as a venue for men seeking to watch and/or participate in amateur boxing bouts. When an outsider came to compete, they were given temporary membership and were known as "stags". Bellows, whose studio was located across the street from the venue, was able to watch fights and produce several preparatory sketches. Yet he once claimed that he didn't know anything about the sport itself - he was "just painting two men trying to kill each other". At the time of the painting, boxing was beginning to shake off its status as a "barbaric" spectacle and was in fact becoming a more gentrified sport. In Bellows's picture, however, the tendency amongst observers is to read it as being analogous to the idea that only the strongest will survive this brutal encounter.

It is interesting to note that in 1917 (by which time prize-fighting had been made legal) Bellows produced a lithograph of the same image (and under the same title). In fact, Bellows produced a total of sixteen boxing lithographs at this time but A Stag at Sharkey's was the most ambitious and monumental of these, indicating, perhaps, the artist's own pride in his most famous painting. In the latter, however, Bellows, who used fine lithographic crayons to delineate his fighters from their more impressionistic surroundings, elected to remove the boundary of the ringside ropes, thereby placing the viewer more fully in the midst of the action.
Oil on canvas - Collection of The Cleveland Museum of Art, Cleveland, Ohio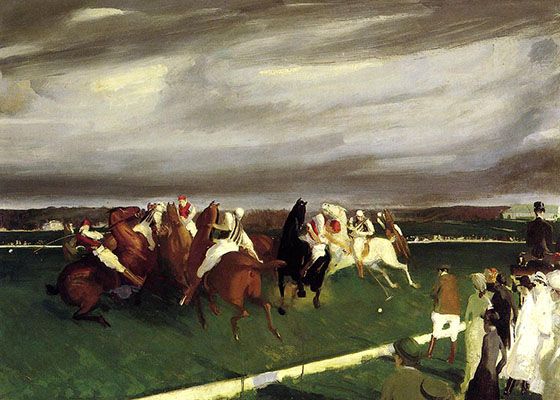 1910
Polo at Lakewood
Set on a green field and under a stormy sky, the polo players are engaged in an equine sport played on the backs of black, brown, and white horses. A well-attired gathering of ladies and gentlemen watch the action at the left foreground of the canvas. While Bellows had often depicted sporting events, the polo match was a new theme for him; one that stood in sharp contrast to the working-class situations that dominated his earlier Ashcan School paintings. Bellows was introduced to the upper-class crowd and leisure activity by Joseph B. Thomas who, having purchased three of his paintings in 1908, invited Bellows to a tournament.

Polo at Lakewood is vast in scale, measuring almost four feet high and over six feet wide. When standing in front of the painting the spectator sees that it is formed of broad, barely-separated, brush strokes and daubs of paint. Bellows conveys the impression of spontaneity with the shape of the figures and with the juxtaposition of light and dark adding to the sense of dramatic action. The whole event must have been fascinating for Bellows who later commented wryly on his experience: "Let me say that these ultra rich have got some nerve tucked away under the breast pocket [...] It's an Aladdin's lamp sort of game [...] The players are nice looking; the horses are beautiful. I believe they brush their teeth and bathe them in goat's milk. It's a great subject to draw".
Oil on canvas - Collection of Columbus Museum of Art, Columbus, Ohio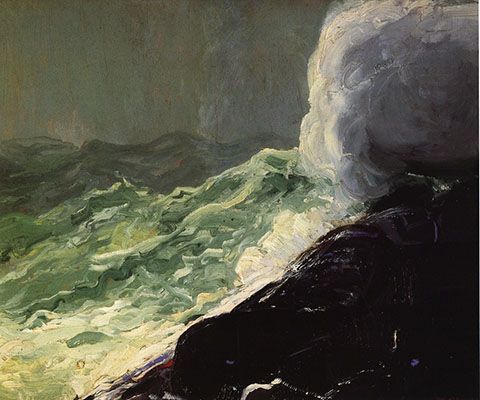 1913
Churn and Break
In Churn and Break, rough waves, rendered in tones of blue, green, and yellow, crash into the black rocks occupying the right foreground. The white spume created by the waves hitting the rocks brings a fierce contrast to a landscape which is compounded by the dark storm clouds that fill the sky overhead. This is one of the many paintings Bellows produced during his stay on Monhegan Island in Maine during the summer of 1913. This was a highly productive period for the artist when he created no fewer than 117 works ranging from completed canvases to sketches (many of which he would turn into paintings when he returned to his studio in New York).

The time away from the gritty reality of the city proved to be a tonic for Bellows who thrived in the peace and quiet that the remote island offered. Moreover, he was not under the influences of others and able to create without outside interferences. As Bellows biographer Mary Sayre Haverstock noted, "his mentor, Henri, was not around to make suggestions, and his father was gone, too. So, in some ways, whether he realized it or not, Bellows was freer now to make decisions, artistic and economic, on his own". Bellows was captivated by the range of pictorial possibilities: "the island is endless in its wonderful variety", he wrote, "It's possessed of enough beauty to supply a continent". He was so enamoured by topography he returned to the area two summers later, producing his most primeval depictions of nature.
Oil on panel - Collection of Columbus Museum of Art, Columbus, Ohio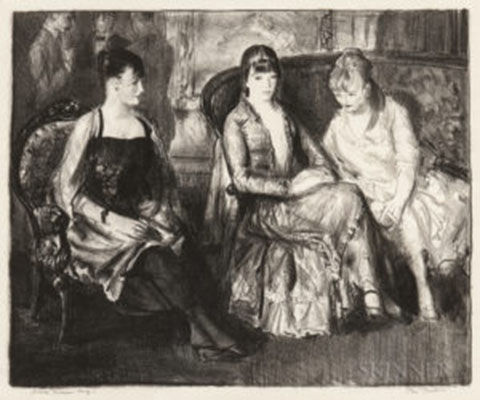 1921
Elsie, Emma and Marjorie, Second Stone
Two practical factors influenced Bellows's decision to take up printmaking seriously. The first was a need to provide financially for his wife and two children - the quickly-produced lithographs offered him a steady stream of income. Second was more a matter of aesthetics. Bellows, whose studio was on an upper level on East 19th Street, quickly discovered that the winter months in the city robbed him of a dependable natural light source, making it more difficult to explore new possibilities with color and composition. Lithography offered a more immediate and more functional and creative outlet in this respect.

Bellows produced the majority of his lithographs, however, during the second half of his career, and while not a particularly revered medium amongst aficionados and purists, prints like Elsie, Emma and Marjorie, went a long way towards broadening the artist's popularity with the public. Like his paintings, his lithographs encompassed a wide range of subjects. Adding to his signature urban subject matter, for instance, Bellows's earliest lithographs (c.1916) were marked by a number of harrowing war scenes (Bellows had been deeply affected by the onset of WWI) and even a collection of nudes.

This family portrait belongs however to a later period when family life became a more predominant theme in his output. Though they lacked the gritty realism for which he was best known, his portraits embodied the sort of "observational" distance that marked all his work. Eugene and Elsie Speicher, and Robert and Marjorie Henri, were dear friends of George and Emma Bellows and this was one of several portraits of the group he produced. The three women are shown here in conversation on a settee and armchair, while their spouses are engrossed in conversation in the top left corner of the frame. Speicher, himself a successful portraitist, was part of the Woodstock art colony with which Bellows would soon become affiliated.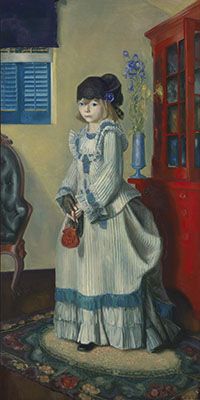 1924
Lady Jean
In this late canvas a young girl is dressed in a blue pinstripe dress, black lace gloves, and dark blue hat clutching a small red bag. She stands in a domestic setting with a floral rug at her feet, a blue chair partially visible on the left, and a red hutch behind her next to which rests a blue flower vase.

In addition to his numerous realist scenes of city life, sports, and landscapes Bellows painted many portraits during his career. Here the subject is Bellows's nine-year old daughter Jean. Family was very important to Bellows which is reflected in this tender portrait. The picture of innocence, she looks out at the viewer with an intense stare. Sadly, this painting was created less than a year before Bellows's death, which would clearly alter her carefree childhood.

Working with models was an interesting endeavor for Bellows who once stated, "It's a queer thing about models. Do you know some people have the design of a painting in their features and their bodies, and some haven't". Perhaps that is why depictions of cherished family and friends was something he returned to often. To create this work, Bellows used a more controlled hand, giving up on the looser brushwork that characterized his street and landscape scenes. There is also a fuller complexity to the color choices of the work that make it compositionally advanced; here especially in the way that the red of the girl's bag echoes the red in the hutch behind her and the tall slender blue vase is reinforced in the tall column of blue in his daughter's dress. Bellows devoted his whole (but short) artistic life to the search for new ways to capture the essence of modern American life. It was in the pioneering spirit of this quest that his portraiture pushed existing boundaries for color and design.
Oil on canvas - Collection of Yale University Art Gallery, New Haven, Connecticut
Related Artists
Related Movements & Topics