Movements, Styles, and Tendencies
The Aesthetic Movement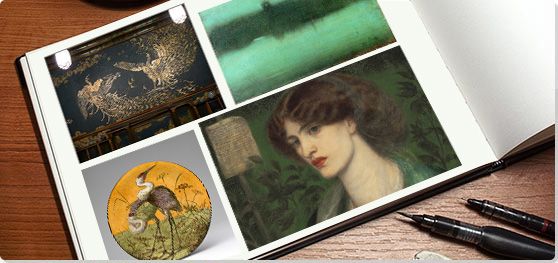 The Aesthetic Movement
Started: 1860
Ended: 1900

"My picture of 'Harmony in Grey and Gold' is an illustration of my meaning - as snow scene with a single black figure and lighted tavern. I care nothing for the past, present, or future of the black figure, placed there because the black was wanted at that spot. All that I know is that my combination of grey and gold is the basis of the picture. Now this is precisely what my friends cannot grasp."

Synopsis
During the mid-19th century, the provocative and sensuous Aesthetic movement threatened to dismantle Britain's fussy, overbearing, and conservative Victorian traditions. More than a fine art movement, Aestheticism penetrated all areas of life - from music and literature to interior design and fashion. At its heart was the desire to create "art for art's sake" and to exalt taste, the pursuit of beauty, and self-expression over moral expectations and restrictive conformity. The freedom of creative expression and sensuality that Aestheticism promoted exhilarated its adherents, but it also made them the object of ridicule among conservative Victorians. Nonetheless, by rejecting art's traditionally didactic obligations and focusing on self-expression, the Aesthetic movement helped set the stage for global, 20th-century modern art.
Key Ideas
Rebelling against Victorian materiality and modern industrialism (particularly what they criticized as the impoverished and repetitive designs of consumer products created cheaply by "soulless" machines), Aesthetic artists placed a premium on quality craftsmanship in the creation of all art. Some even revived pre-industrial techniques in the process.
Aesthetic artists touted the adage "art for art's sake," divorcing art from its traditional obligation to convey a moral or socio-political message. Instead, they focused on exploring color, form, and composition in the pursuit of beauty.
Distinct from the Victorian preference for fussy decor, curvaceous forms, and abundant detail, Aesthetic art is characterized by subdued colors, geometric designs, and simplified linear forms. The movement took as its primary sources of inspiration Pre-Raphaelite painting's of flaming red haired beauties, medieval geometric designs, and Japanese motifs and aesthetics.
The Aesthetic Movement maintained that art should not be confined to painting, sculpture, and architecture, but should be a part of everyday life. To this end, Aestheticism embraced not only the "high" arts, but also ceramics, metalwork, fashion, furniture-making, and interior design. Many Aesthetes, most notably Oscar Wilde, even adopted public personas through which they lived according to Aesthetic principles.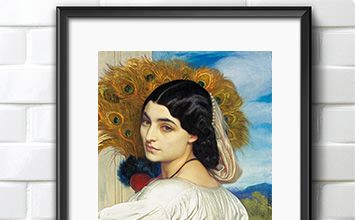 Beginnings:
The Great Exhibition of 1851 marked a turning point for the visual arts in Britain. Although the event showcased important recent innovations, including the new medium of photography, much of the work on display conformed to the fussy and shallow design style of the Victorian era. Worse still was the mechanization of the creation process, which according to famous critic John Ruskin, meant the dehumanization of design. These predictable, repetitive designs coupled with the strict Victorian standards for art that placed greater importance on the moral message conveyed than quality of the work fostered a stifling environment from which many artists were desperate to escape.
If you see an error or typo, please:
tell us
Cite this page

Content compiled and written by Anna Souter
Edited and revised, with Synopsis and Key Ideas added by Sandy McCain
" Overview and Analysis". [Internet]. . TheArtStory.org
Content compiled and written by Anna Souter
Edited and revised, with Synopsis and Key Ideas added by Sandy McCain
Available from:
[Accessed ]