Artists
Paolo Veronese
Biography and Legacy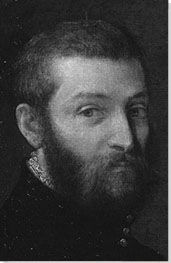 Born: 1528 - Verona, Italy
Died: 19 April 1588 - Venice, Italy

"I paint my pictures with all the considerations which are natural to my intelligence, and according as my intelligence understands them."
Biography of Paolo Veronese
Childhood and Early Training
The youngest of five siblings, Paolo Caliari, nicknamed Veronese after his birthplace, was born in 1528 in the Italian city of Verona, then a mainland province of the Republic of Venice. His father, Gabriele, was a stonecutter; his mother, Catherina, the illegitimate daughter of a nobleman called Antonio Caliari. He was born moreover in Verona's artists' quarter in the district of San Paolo, which may well have accounted for his parents' choice of Christian name. Paolo initially apprenticed under his father which meant he went for a time by his professional name too: Paolo Spezapreda ("Paolo the Stonecutter"). However, while working with his father, Paolo's precocious talent for drawing became apparent and, aged 14, his apprenticeship was transferred to the studio of a local master named Antonio Bandile (he would later marry Bandile's daughter). It is suggested in some unconfirmed accounts that he may have studied simultaneously in the workshops of Giovanni Francesco Caroto, from whom, he may have inherited his fascination with the application of color.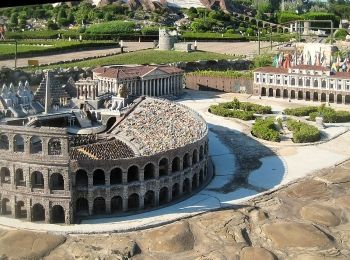 Antiquity and classicism contrast in the city of Verona (seen here in a miniature representation)
Veronese's talent soon saw him exceed the standards usually demanded of Bandile's students. He had already moved away from the naturalistic tones of the High Renaissance and started to develop his own preference for a more colorful, more expressive, palette. He assisted Bandile with altarpieces in 1543 and 1544 and sections of these works would already bear his signature style. Having seen Veronese's work on the altarpieces, Michele Sanmicheli, the architect of many important buildings in Verona, provided Veronese with his first important commission working on frescoes for the Palazzo Canossa (1545-46). Veronese moved briefly to Mantua in 1548 where he made the acquaintance of Giulio Romano, Raphael's principle pupil and assistant, and one of the pioneers of the Mannerist style, a style well suited to Veronese's penchant for painterly elegance. Veronese created frescoes in the city's Duomo (Roman Catholic Cathedral) before he left for Venice in 1552.
Mature Period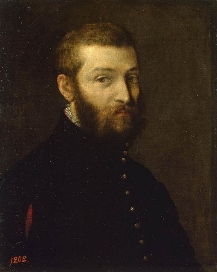 Self portrait painted between 1558 and 1563
1553 was an important year for Veronese. Not only had he relocated to Venice, but his father died. He took the name Caliari from his mother in the hope that this would afford him greater access to the Venetian aristocracy, while he used the name "Veronese" predominantly for signing purposes and to draw attention to his place of birth. Working in Venice allowed him to take advantage of the new demand for Venetian painting stirred by the likes of Giorgione, Titian, and Tintoretto. Following in their esteemed footsteps, Veronese quickly received commissions from governing bodies including the Hall of the Council of Ten and confraternities like San Sebastiano.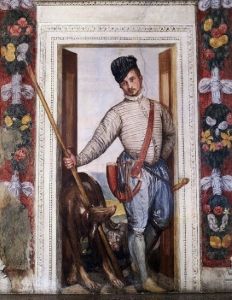 Possible self portrait as a hunter from the Villa Maser (c.1560)
It is unusual to talk of a painter's "Mature Period" starting in their mid-twenties. But such was Veronese's talent even Giorgio Vasari, author of newly published The Lives of the Most Eminent Sculptors, Painters, and Architects (1550), was taken by the fact that someone so young could have already made such an illustrious career for himself. Indeed, Veronese's first Venetian commission was his Sacra Conversazione (Holy Conversion) for the San Francesco della Vigna church in 1552. This was followed in 1553 by his first state commissions: ceiling paintings for both the Hall of the Council of Ten (Sala dei Cosiglio dei Dieci) and Doge's Palace (Palazzo Ducale), the latter being the supreme seat of power for the Venetian republic. He followed with a History of Esther in the ceiling for the church of San Sebastiano and further works in the Ducal Palace and the Marciana Library sealed his standing as a Venetian Master.
Late period

Exterior of the Villa Barbaro, near Maser. Photo from British Academy
Veronese soon began receiving patronage from powerful aristocratic families such as the Barbaro family for whom he decorated the Villa Barbaro (their stately home near Maser). In the latter part of the 1550s, Veronese decorated the villa of Venice's most renowned architect Andrea Palladio. The collaboration between artist and architect was widely regarded as a triumph of art and design and Palladio would later describe Veronese in his Four Books on Architecture (1570) as "the most excellent painter". For his part, Veronese referenced their professional ties by including Palladian buildings in his great masterpiece, The Wedding at Cana (1563). Meanwhile, Veronese continued to work (as did Tintoretto) on restorations at Doge's Palace (Palazzo Ducale) during the 1560s and 1570s following a succession of serious fires. Veronese married Elena (Bandile's daughter) in 1566, welcoming their first of five children (fours sons; one daughter) in 1568. Veronese's mother Catherina had also moved to Venice by this time.
Though a decade of great uncertainty for Venice, Veronese consolidated his status and strong family ties during the 1570s. In 1571, as part of the Holy League (that being a league comprised of the great Catholic maritime powers) Venice defeated the Ottoman Empire and Veronese named his only daughter, Vittoria, in honor of this victory in 1572. The resultant Counter Reformation, which saw a great resurgence in Catholic culture, was beginning to bring its influence to Venice. There was now less demand for erotic or mythological works and Veronese was called on to produce smaller devotional paintings. Between 1574 and 1577 major fires and plagues afflicted Venice (the plague claiming Titian in 1576) and Veronese began investing his substantial wealth in land and property. By the 1580s he had established a workshop with his sons and brother Benedetto and while initially the quality of the studio's work was considered uneven (at best), the workshop eventually began producing great works independently of its Master's hand. Veronese, who, incidentally had reverted to his proper name Paolo Caliari in 1575, died from pneumonia in 1588 and was buried in the Church of San Sebastiano, surrounded by his artistic contributions to the church.
The Legacy of Paolo Veronese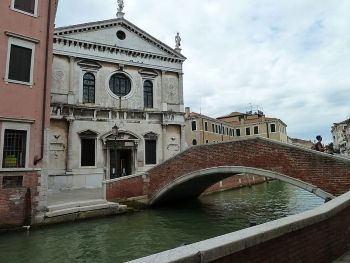 The Church of San Sebastiano in Venice, Veronese's resting place
For at least a decade after his passing Veronese's family used sketches and drawings to complete more works from the studio signed under the name "Heirs of Paolo" while prints of Veronese's work were in high demand even during his own lifetime; something highly unusual for a living artist at that time. This allowed for his Mannerist style to be transported and admired far beyond its time and place of origin. Art historian Clare Robertson links Veronese for instance to the important French artist Eugene Delacroix, whose Liberty Leading the People (1830) utilises dramatic lighting and references contemporary architecture in the manner of the Veronese tableau The Wedding at Cana. Xavier F. Solomon, author of the National Gallery's catalogue on Veronese, meanwhile, has linked him to Flemish Baroque painter Peter Paul Rubens through his focus on narrative and luminous color as seen in works like The Descent from the Cross (1612-14).
It is also known that Diego Velazquez, acquired Veronese's Venus and Adonis (c.1580) at some point during his trip to Italy between 1649 and 1651, and, through an intricate composition of figures set in a rigid architectural setting, Veronese's influence can be traced in works such as Las Meninas (1656). It is known too that in 1797 Napoleon had thought so highly of The Wedding at Cana (1563) that he ordered his troops to roll up the canvas and transport it to Paris. It eventually took its place in the Louvre opposite the Mona Lisa where it was admired, not only by Delacroix, but also by the poet Charles Baudelaire who was moved enough to write about Veronese's "heavenly, afternoon colors."
Most Important Art
Crowning of Esther (1556)

Shortly after arriving in Venice, the 25-year-old Veronese accepted a prestigious commission from the Prelate, Bernardo Torlioni, to work on the San Sebastiano ceiling. His painting shows an early point in the biblical story of Esther as she is crowned Queen by the Persian King Ahasuerus. Esther went on to save the Jewish people (from the evil Haman pictured in the lower-right of the painting) and this deliverance from destruction became the Jewish religious celebration of Purim.

Ceiling paintings like this, the function of which was to provide the Church with historic narrations, iconographic images and decorative motifs, were not intended to be viewed at eye level. De Sotto in su ("from below to above") describes a Renaissance painting technique which requires the foreshortening of figures with the effect (when seen from the ground up) that the figures are suspended in air. The "floating" figures here are complemented by Veronese's brilliant coloring which helps intensify the sacred nature of the painting and its decorative impact. Art historian Carlos Ridolfi saw this early work as emblematic of Veronese's style in the way it displayed the "kings richly adorned, the diversity of draperies" against a stage of "ornate architecture". Veronese's contract with San Sebastiano was renewed several times between 1558 and 1561 making it a most fitting building for his own funerary monument.

Read More ...

Paolo Veronese Artworks in Focus:
Paolo Veronese Overview Continues Below
If you see an error or typo, please:
tell us
Cite this page

Content compiled and written by The Art Story Contributors
Edited and published by The Art Story Contributors
" Artist Overview and Analysis". [Internet]. . TheArtStory.org
Content compiled and written by The Art Story Contributors
Edited and published by The Art Story Contributors
Available from:
First published on 20 Nov 2018. Updated and modified regularly.


[Accessed ]