Progression of Art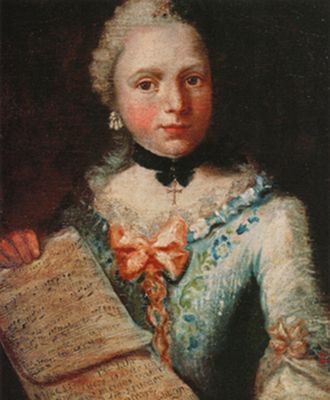 1753
Self Portrait Aged Thirteen
When she was thirteen, Kauffman painted this exquisite self-portrait to show that she was equally talented in music and painting. In a double message, she proudly showcases her talents as well as revealing from the outset that she is interested in self-investigation and discovery. Her palette of icy pink and pastel blue is very reminiscent of earlier eighteenth century Rococo painting and the likes of Jean-Antoine Watteau. Indeed, Kauffman, by this age was already well versed in art history and had frequented art galleries with her influential artist father.

Interestingly, at age fifty she returned to this very same subject, recalling the episode in her youth (perhaps at age thirteen) when she had asked a priest whether she should follow art or music as her profession. To convey the experience of being psychologically torn by choice, or by the multi-faceted strands of a complex personality is a very modern subject. Amazingly, Kauffman (through self-portraiture) had successfully uncovered the major theme that would become one of the central leitmotifs in twentieth century art.
Oil on Canvas - Tiroler Landesmuseum, Innsbruck, Austria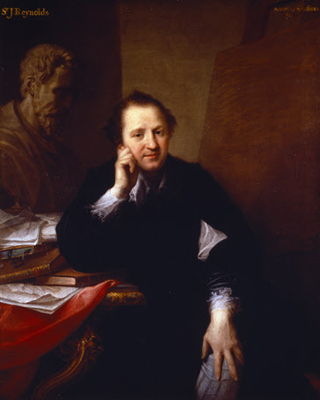 1767
Sir Joshua Reynolds PRA (1723-1792)
Here is Kauffman's portrait of the influential English painter Joshua Reynolds. He is her friend and accordingly, the tone of this picture is extremely relaxed. Reynolds is surrounded by his books and papers, and there is a bust of Michelangelo to the far left, there to pass inspiration from one artist to another. The rich colors of the scene and the fact that Reynolds wears seventeenth-century clothing recalls the portraits of Flemish artist, Anthony van Dyck. Indeed, when she arrived in London Kauffman was soon hailed to be van Dyck's successor. In contrast to the unwavering formality of van Dyck however, Kauffman skillfully captures a more personal glimpse into the life of her subject; she uncovers a touching sentimentality that would come to be an important defining feature of her portraiture.

Indeed, however notable and considered grandiose to others, Kauffman always rendered her subjects more humble, and so, more human. This was the case for her portrait of the actor David Garrick - which she submitted to the Society of Artists' exhibition whilst still in Rome in 1765 - and also for her Portrait of Winckelmann (1764), her view of the widely acclaimed German archaeologist and antiquarian. Reynolds in particular remained a friend and very important contact for Kauffman throughout her time in England. As well as introducing skill and talent to potential clients, he also helped Kauffman to retain her reputation following the scandal of her first marriage. We see the intimate and trusted friendship that the two artists have through the expression on Reynold's face in this portrait.
Oil on canvas - Saltram, Devon, UK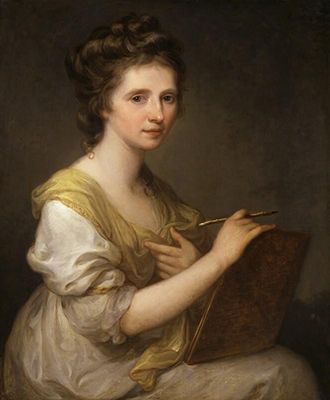 c. 1770-75
Self-portrait
Unusually in this painting, and also in a further self-portrait from 1787, Kauffman shows herself with crayon at the ready and her portfolio. This pose was developed during the eighteenth century, notably in England, for portraits of lady amateurs. There was a strong barrier between professional and amateur female artists at this time; amateurs did not have artistic training, they could not sell their work, and largely, their work was not particularly strong. For unknown reasons however, Kauffman associated with the amateur and repeatedly painted herself in the given pose throughout her career.

One can only speculate why the artist did this as there is limited research on the subject, but it seems that Kauffman was interested in the popularisation of her work in many ways. Maintaining a strong connection to everyday life, even when having become famous, it seemed important to Kauffman that her paintings could be widely reproduced as prints. Furthermore, it has been suggested that by painting herself as a lady amateur(albeit an especially talented one) Kauffman retained her ladylike status and kept dangerous gossip and malice at bay. In reality, she was a wealthy, independent, and vigorously talented woman, but she was also clever and understood that society was not yet ready for such a bombastic unstoppable female force. She thus retained in her self-portraits - alongside strength and the will to work - a disarming and sweet feminine charm.
oil on canvas - National Portrait Gallery, London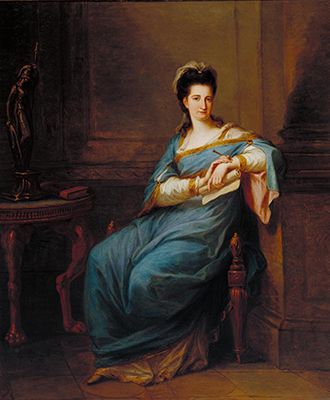 c. 1775
Portrait of a Lady
As a technical masterwork, the accuracy of tone, detail, and proportion in this painting is remarkable. The unknown female sitter leans on a plinth which forms part of a column sculpted in the neoclassical style. On the table, to the left of the poised and dignified woman, there is a statue of Roman goddess of wisdom, Minerva. Minerva bore particular significance for Kauffman throughout her life - the artist wore a belt representing the battle between Minerva and Neptune for the control of Attica. As Minerva won over the male god, the illustration acts as a subtle reminder that Kauffman believes in and supports the powers of women. Indeed, the unknown woman that Kauffman paints here holds a book and a writing implement, and these attributes have led viewers to believe that the sitter was in fact a female intellectual of the time, possibly the historian Catherine Macaulay, or the writer Elizabeth Montagu. The sitter appears confident, empowered and yet also graceful, very much like a Roman goddess.

This portrait therefore also endorses the style of Neoclassicism and at the same time showcases female decorum and celebrates the wealth of artistic skill of women. On the left-hand side of the portrait, there is a table with carved and decorative lion's feet. This type of furniture is indicative of the popular style seen widely across all of the arts in European throughout the eighteenth century. The same style was endorsed by the famous architect, Robert Adam within building design, as well as by Josiah Wedgwood through pottery. There was a revival and a contemporary fascination for all things Roman or Greek. Artists including Kauffman explored these curiosities further when they embarked on European Grand Tours. Both Kauffman and the unknown intellectual woman in the portrait are presented here as equals to their male counter parts, also travellers, also curious, and also artists.
Oil paint on canvas - Tate, London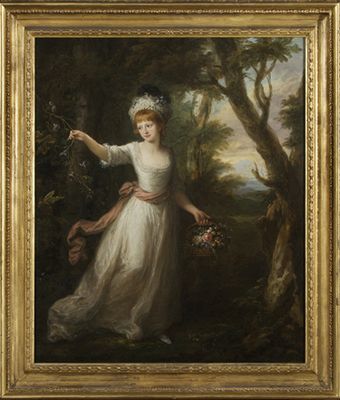 c. 1777
Henrietta Laura Pulteney
Kauffman not only emphasised human emotion and added a sense of theatre to her portraits, but she also played with and altered size and scale. Here, she paints a child of about eleven years old, neither miniature nor full-length but somewhere in between. The play of light, treatment of the fabric and the wispy landscape in the background also recall the portraits of Reynold's great rival, Thomas Gainsborough. Gainsborough too painted many well-to-do young women amusing themselves outside. Indeed, this portrait of Henrietta had been described as an "indefatigable dancer" and Kauffman accordingly paints her in this very graceful pose giving the dress's fabric and sash a life of their own, almost leaping off the canvas.

Art historian Ian Dejardin describes the evident sense of freedom in this work as being illustrative of an important shift in thinking towards children during this period. Two of the most influential thinkers at the time, John Locke and Jean-Jacques Rousseau advocated the benefits of open-air education and the need to respect childhood, seeing it as a distinct life phase in need of its own guidelines. Henrietta Pulteney was raised by parents who followed this new and free philosophy and as such allowed their daughter to ramble through the woods and learn through play. Kauffman likely feels that she shares much in common with Henrietta, for she too enjoyed a good education without restriction, supported by forward-thinking parents.
Oil on canvas - The Holburne Museum, Bath, UK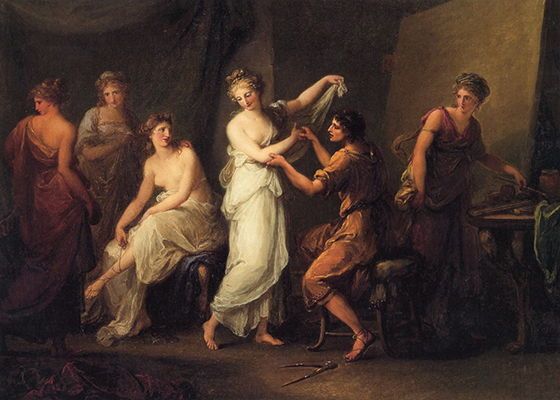 c. 1780-82
Zeuxis Selecting Models for His Painting of Helen of Troy
Made in the style of an epic history painting, this tableau tells the story of Zeuxis, who, in order to portray the world's most beautiful woman - Helen of Troy - is combining the best features of five other models. The artist, Zeuxis, is in the act of anatomical study, inspecting one of the models as three others prepare for the master's gaze. It is with the fifth 'model', however, who interestingly has Kauffman's features, where the real interest of this painting lies. The fifth model, on the far right of the painting, defies the patriarchal conventions of representation bound up within this narrative, steps behind the male artist, picks up his brush, and is about to start painting.

Henceforth, the Neoclassicists used this image to illustrate the superiority of art over nature. Overall, the painting is an affirmation of Kauffman's artistic beliefs, as well as a manifesto painting in terms of her own views on the talents and capabilities of women as artists. A few years later, in 1780, Kauffman painted herself face to face with a helmeted goddess that is likely Mineva (the Roman version of the Greek Athene), patron of the arts. In both this painting and in Zeuxis Selecting Models for His Painting of Helen of Troy, Kauffman not only confirms her allegiance to Neoclassicism, but also associates herself with a classical female ancestor and as such inserts herself into the revealing lineage of time.
Oil on Canvas - Annmary Brown Memorial Library, Brown University, Rhode Island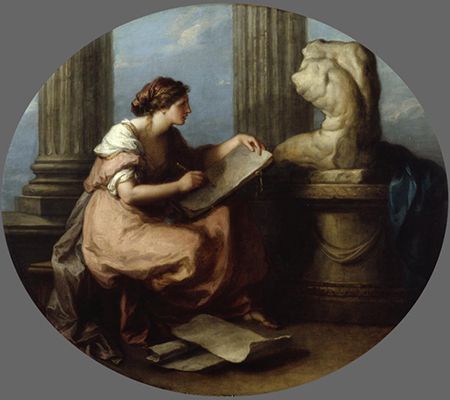 1778-80
Design
Design is one of four paintings (the others being Invention, Composition, and Color) commissioned of Kauffman for the Council Room ceiling of Somerset House, the Royal Academy's first purpose-built home. American history painter Benjamin West was also involved in painting for the scheme and he created his own version of The Four Elements, typical and lifeless nude figures accompanied by their attributes. Whilst Kauffman's four circular ceiling panels are also allegories, in the sense that each person represents an idea, they are not as impersonal as the renditions by West. Kauffman instead shows women in action, working on their art. In Design and Color the figures are physically engaged in the act of creation whereas in Composition and Invention the figures are engaged in reflection. In Invention the figure looks to the sky for inspiration and in Composition she is deep in thought with her head in her hands. When displayed together, the paintings are thus paired-up, with one practical and one theoretical at each side of the room.

It was forbidden for a female artist to work from the male nude, which is why in Design, Kauffman is forced to look to a classical bust to learn about male anatomy. Even doing this was very unusual and frowned upon in its day. Overall as a series, Kauffman's four paintings were inspired in part and represent her friend, Joshua Reynold's theories in his Discourses on Art, on which he had given lectures at the Royal Academy and published later in 1788.

Despite Kauffman's artistic credentials, classical training, and her innovation in history painting the Royal Academy did not give this set of four paintings pride of place. Visitors would not have easily seen the significance of Kauffman's works including Design as they graced the ceiling rather than the walls of the building. Now, unfortunately, the panels on the ceiling are not Kauffman's original paintings but rather photographic reproductions, whilst the original panels have been re-hung in the entrance to Burlington House, another part of the Royal Academy of Arts in London, and do not get noticed much due to the nature of large crowds entering the building this way.
Oil on canvas - Royal Academy, London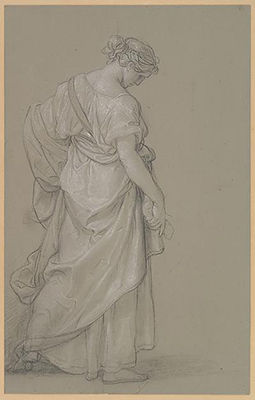 c. 1792-96
Study of a Standing Woman
Kauffman returned to Rome in 1782. In 1791, she received a papal commission from Cardinal Ignazio Buoncompagni for an altar painting. She greatly enjoyed the commission and as such during the latter part of her career there was a stronger emphasis on religion than in earlier works. Nonetheless, this study, a preliminary drawing of a mother, one of the figures for Kauffman's painting Let the Little Children Come unto Me (1796) shows that she retained focus on the Neoclassical style.

Kauffmann took inspiration for this painting from Matthew 19:14 in which Christ blesses the children that are brought to him. In her preparatory drawing, Kauffman captures the great detail of the mother's heavy drapery. White chalk is used in contrast to the stone colored paper, adding softness to the darker contours of the woman. In the final painting, the mother has an infant in her left arm and with her right hand she holds the hand of another child (figures that have not yet appeared in this drawing). By contrast to her subject, Kauffman did not become a mother and instead devoted her life and affections to art.
Black and white chalk on grey paper - Metropolitan Museum of Art, New York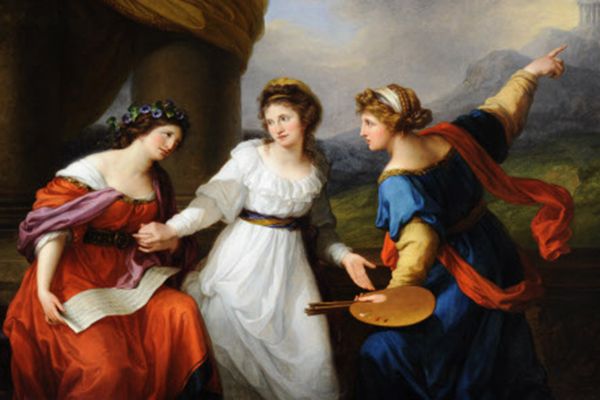 1794
Self-portrait of the Artist hesitating between the Arts of Music and Painting
This vibrant and revealing self-portrait was painted as a commission for Princess Holstein-Beck of Russia after Kauffman had returned to Rome. The picture clearly shows the two different career choices that were open to Kauffman during her innocent youth - painting on the one hand and music on the other. Contemporary opinion of female singers was often however linked to promiscuity, as some became mistresses at the royal courts that they performed in. Indeed, Kauffman had asked a priest for advice in her youth as to which vocation to pursue and he - for this reason and also because he thought that art was ultimately more satisfying - pointed her towards painting.

The allegorical nature of the painting led to writer Friedrich von Matthisson to make its comparison with Hercules at the Crossroads Between Virtue and Vice by Annibale Carraci (1765), a much-favoured image of the period. As such even though Kauffman's paintings were on occasion criticised because they did not showcase the virility and manly strength normally associated with a history painting, her decision to make a picture similar to one already revered highlights the artist's shrewd understanding of the art market, building on what was already familiar and popular. The American art history professor Waltraud Maierhofer, describes this iconic self-portrait of Kauffman as ''unprecedented in the history of art'', particularly because it portrays the subject of a female artist making her own, important decisions.

Furthermore, the artist's placement of female protagonists distinguished Kauffman from her male contemporaries. French Neoclassical painter Jacques-Louis David, in The Oath of the Horatii (1785) shows men as powerful and decisive whilst the group of women to the side are weak and wailing. Kauffman, by contrast, bestows the same compliment to women and renders them with equal strength and potential. The fact that "choice" paintings were generally popular at this time shows an early interest in the investigation of where our individuality comes from and what a unique psychology may be comprised of.
Oil on canvas - Nostell Priory, West Yorkshire, UK
Similar Art
Related Artists
Related Movements & Topics